Genshin Impact 2.7 Banner and event details
Yelan and Kuki Shinobu debut in Genshin Impact's newest content update.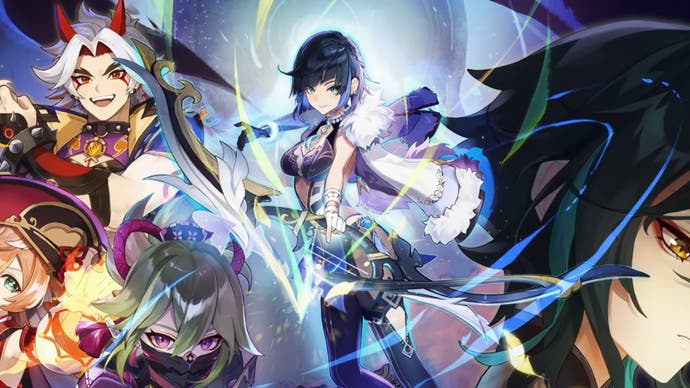 The Genshin Impact 2.7 banner and event details have been announced for the delayed patch.
As always, there will be two Banner phases and new time-limited events in the latest update, with the Genshin Impact 2.7 Banner Wishes including two new characters, and some returning favourites.
Below, you can find out when Genshin Impact 2.7 is releasing, who the new characters are, and what new events and weapons are getting added with the upcoming patch.
Be sure to check out our Genshin Impact codes page to get free Primogems that can be used towards unlocking new characters and weapons.
On this page:
Version 2.7 "Hidden Dreams in the Depths" Trailer | Genshin Impact.
Genshin Impact 2.7 Banner characters and weapons
There are two new playable characters making their debut in the 2.7 Banner Wishes: Yelan during the first Banner phase, Discerner of Enigmas, and Kuki Shinobu as part of the second Banner phase, Oni's Royale. Joining them are Arataki Itto and Xiao, back with rerun Banners.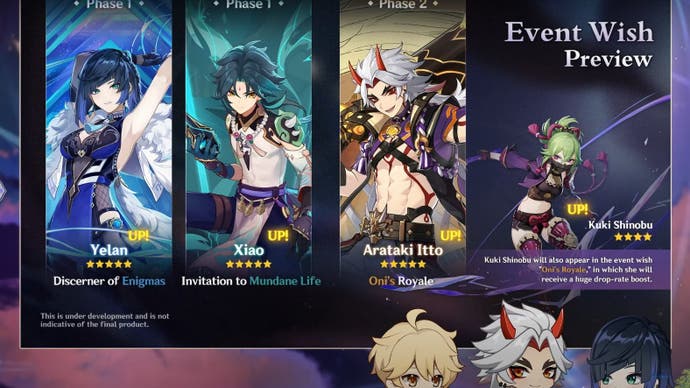 All featured Banner characters you can spend Wishes on during the 2.7 update include:
Yelan (Discerner of Enigmas Banner - Phase 1): New Hydro 5-Star archer character with high sub DPS (damage per second) and swift movement speed, who can also be used in a pure DPS role.
Xiao (Invitation to Mundane Life Banner - Phase 1): Returning Anemo 5-Star Polearm wielder with high DPS, who is also good at exploring.
Arataki Itto (Oni's Royale Banner - Phase 2): Returning Geo 5-Star Claymore character with very high DPS and critical damage capabilities.
Kuki Shinobu (Oni's Royale Banner - Phase 2): New Electro 4-Star Sword user who is best used in a support role, but also deals good Electro AoE (Area of Effect) damage.
The only new weapon in 2.7 features in the Epitome Invocation Banner is the Aqua Simulacra, a 5-Star bow, which you can spend Wishes on during the first phase only. This weapon Banner also contains Xiao's best weapon, the Primordial Jade Winged-Spear.
Phase 1 will run for three weeks until 21st June then change to Phase 2 for three weeks until the 2.7 Banner events conclude on 12th July in preparation for the 2.8 update.
---
Version 3.7 is here, so redeem those new codes for Primogems if you want Yoimiya or Yae Miko - and check them out on our tier list. You'll need luck from the Pity and 50/50 systems to Wish with Fate for them and future Banners, and you always need the right Adventure Rank for events. Elsewhere, we have tips and tricks for beginners, Dendroculus locations, fishing locations, and TCG card locations.
---
Genshin Impact 2.7 event list
Along with a permanent new story in the Archon Quest Interlude Chapter, there are four time-limited events occurring during Genshin Impact 2.7.
Perilous Trail (Realms of Guile and War)
Starts after the 2.7 update and ends 20th of June.
These combat challenges will unlock as part of the Archon Quest Interlude Chapter. After each Domain round, you must rearrange your party according to the Domain's rules. The event includes trial characters to use in each Domain to help under-levelled Travelers, or those who don't own a lot of characters.
The Fading Twilight bow and its Ascension materials are the main reward of the Perilous Trail event.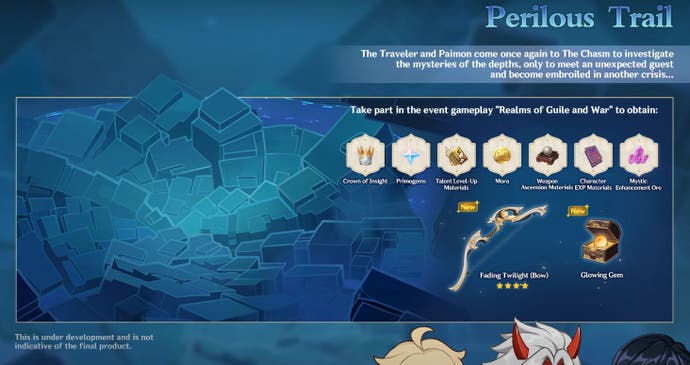 A Muddy Bizarre Adventure
Starts 22nd June and ends 4th July.
A Muddy Bizarre Adventure takes place in The Chasm. You must avoid mysterious dark mud while defeating monsters, escorting hot air balloons, and attempting to reach a high score in order to complete a rotating pool of challenges.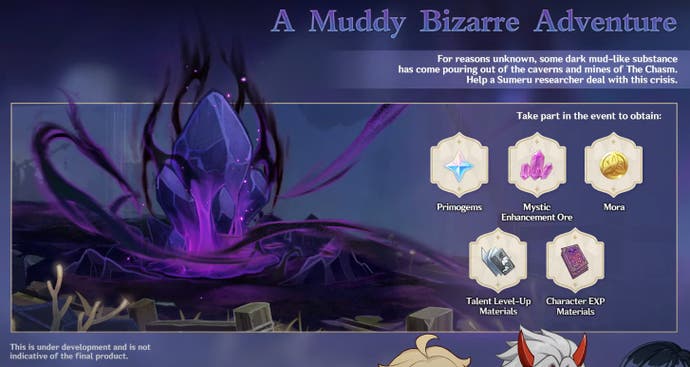 The Almighty Arataki Great and Glorious Drumalong Festival
Starts 13th June and ends 4th July.
As part of the Almighty Arataki Drumalong Festival, you will receive a drum to use. Choose from Normal, Hard, and Pro difficulties to earn more rewards with harder challenges. Additionally, new lag calibration and music note speed adjustment options will be available from the settings menu. You can also find special gifts and messages left by some familiar friends at the festival.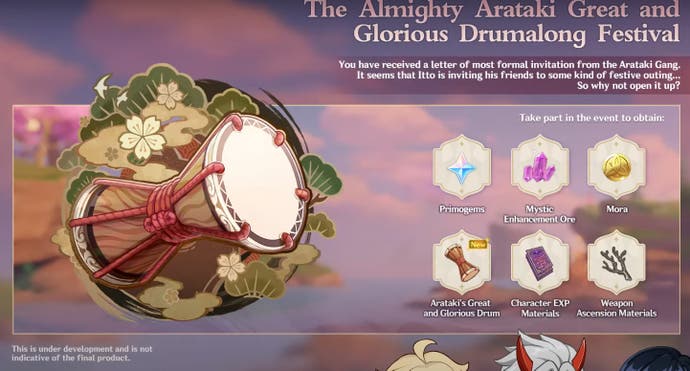 Core of the Apparatus
Starts 29th June and ends 11th July.
In this collection event, you get to build your own robot! Collect and process materials by using the new 'Material Collector', then place them in the Serenitea Pot to create a variety of different robotic cosmetic designs. Each model type and animation is determined by the materials you use and how you process them during the event.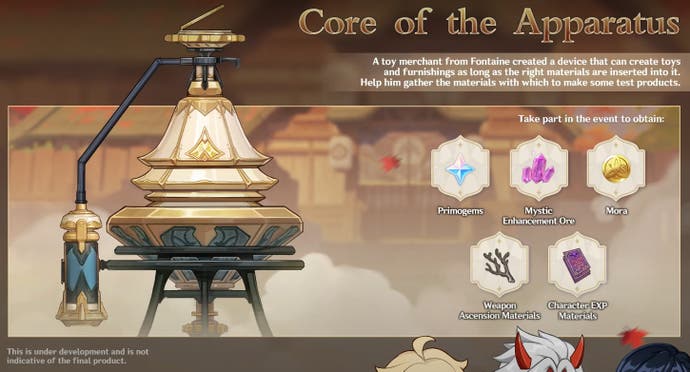 You must have done three things to take part in the Core of the Apparatus event:
Reach Adventure Rank 30
Complete the 'Ritou Escape Plan' part of the Chapter 2, Act 1 Archon Quest 'The Immovable God and the Eternal Euthymia'
Complete the 'Chisato's Letter' World Quest
By completing challenges as part of the Core of the Apparatus event you can earn Primogems, Hero's Wit, weapon Ascension materials, Mora, Mystic Enhancement Ore, and other unnannouced rewards.
Each event lasts a limited amount of time, so make sure you're regularly logging in to earn all the rewards you can during the Genshin Impact 2.7 event schedule.
Genshin Impact 2.7 release time
Announced ahead of the content reveal livestream, developer miHoYo revealed that Genshin Impact 2.7 will release on Tuesday, 31st May 2022, after approximately five hours of server downtime starting at 6am (UTC +8)
As this is only an approximate time for how long the servers are down, you might be able to play the 2.7 patch a little before or after the times below.
Keeping this in mind, the times Genshin Impact 2.7 is scheduled to release for other time zones are as follows:
UK: Tuesday 31st May, 4am (BST)
Europe: Tuesday 31st May, 5am (CEST)
East Coast US: Monday 30th May, 11pm (EST)
Central US: Monday 30th May, 10pm (CST)
West Coast US: Monday 30th May, 8pm (PDT)
Australia: Tuesday 31st May 1pm (AEST)
New Zealand: Tuesday 31st May 3pm (NZST)
Japan: Tuesday 31st May 12pm (JST)
You can pre-install some 2.7 content now on PC and Mobile devices in advance to save time when the actual 2.7 patch is available on Tuesday.
If you play on Mobile, either press the 'Pre-Install Resource Package' icon in the bottom-left corner of the login screen, or go to the Paimon Menu and select 'Settings', 'Other', and finally 'Pre-Install Resource Package'.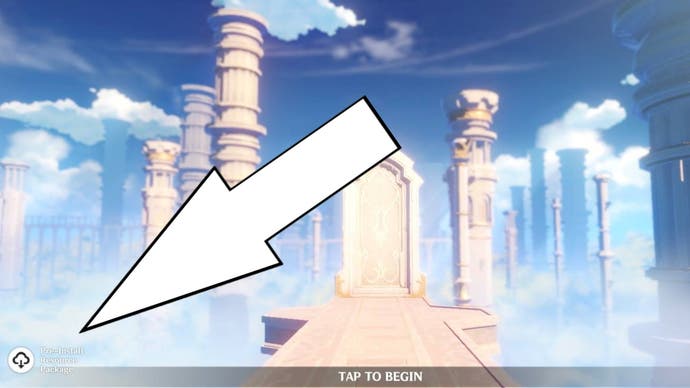 When finished installing, those on iOS devices must enter the App Store and tap 'Update'. Android users can open the game and follow the directions on-screen or open Google Play and tap 'Update'.
If you play Genshin Impact on PC, you can pre-install some of the 2.7 update by updating the Genshin Impact Launcher. After updating the launcher, a 'Game Pre-Installation' button will appear to the left of the 'Launch' button. Click 'Game Pre-Installation' to download the 2.7 resources.

Although this patch was delayed for a few weeks, the regular content update schedule is expected to resume as normal. This means the active 2.7 Banners and events will end Tuesday, 12th July 2022, then the 2.8 update will launch after some brief server downtime.
Until Genshin Impact 2.7 is released, don't forget to check your in-game inbox to collect compensation rewards for the update delay!