Fortnite Star Wars skins 2022 and May the 4th challenges explained
Everything you need to know about the Star Wars Day celebration in Fortnite.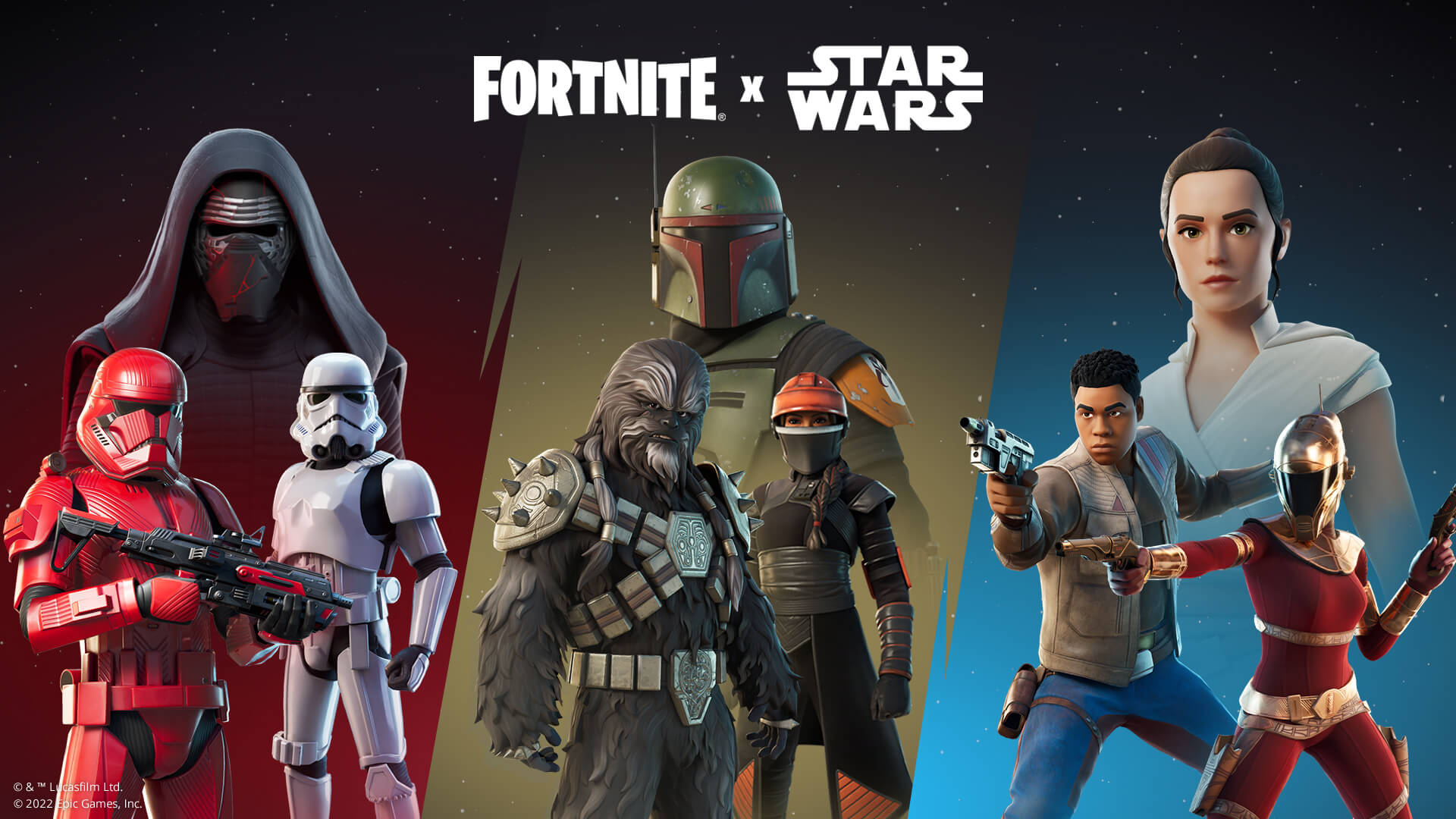 The Fortnite Star Wars Day 2022 update actually runs for nearly two weeks past the usual May the 4th celebrations this year in Fortnite.
During this celebration, you can earn Fortnite XP toward the battle pass with special timed quests, earn rewards, and buy skins like Kylo Ren and Boba Fett from the Item Shop.
Below you will find information on all May the 4th challenges, all Fortnite Star Wars skins.
On this page:
---
Note this particular challenge is no longer able to be completed. What's new? Chapter 3 Season 3 has arrived! New additions include Reality Seeds and Saplings and riding animals, along with the new Battle Pass, characters collection and map changes. It's a good idea to know how to get XP fast in Fortnite.
---
Fortnite Star Wars Day May the 4th challenges and rewards explained
Starting the 3rd of May, you can complete special May the 4th challenges in Fortnite to get XP. If five of the six special quests are completed before the end of the Fortnite Star Wars Day celebrations, you will get the Empire Banner.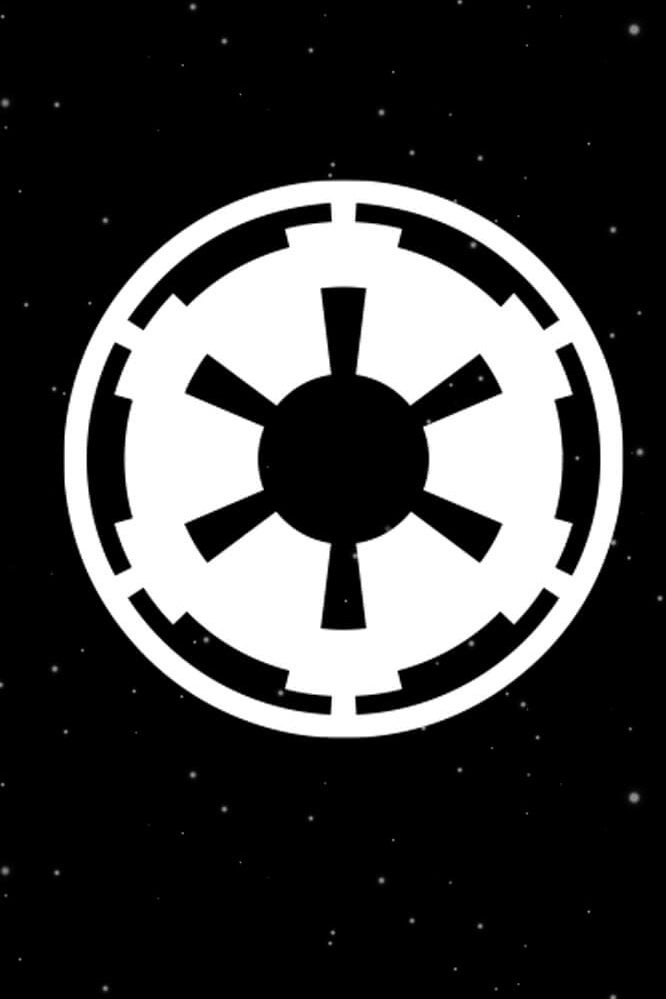 Each Star Wars May the 4th quest rewards 30k XP when completed, for a total of 180,000 XP for completing them all. Here are the all May the 4th Star Wars quests:
Land at a Stormtrooper Checkpoint, then place top 25 (1)
Complete a bounty from a Stormtrooper (1)
Damage opponents within 30 meters using the E-11 Blaster Rifle (1,000)
Drive a vehicle from Chonker's Speedway or Logjam Lumberyard to a Stormtrooper Checkpoint (1)
Survive storm phases while carrying a Lightsaber (5)
You will need to find a Lightsaber in order to complete a few of these quests. Lightsabers are included in the Star Wars Day update until the event ends.
---
Fortnite Chapter 4 Chapter 1 is here, complete with a new augments system, Geralt, the School of Llama web event, Falcon Scout, and the Ageless Champion to beat! Meanwhile, learn how to get XP fast, earn the Victory Umbrella, find character locations and earn a Victory Crown.
---
All Fortnite Star Wars skins explained
There are nine Fortnite Star Wars skins returning to the Item Shop for this special event:
Imperial Stormtrooper: 1,500 V-Bucks
Kylo Ren: 1,500 V-Bucks
Zorii Bliss: 1,500 V-Bucks
Finn: 1,500 V-Bucks
Rey: 1,500 V-Bucks
Sith Trooper: 1,500 V-Bucks
Boba Fett: 1,500 V-Bucks
Fennec Shand: 1,500 V-Bucks
Krrsantan: 1,500 V-Bucks
As The Mandalorian was part of a previous battle pass, he will unfortunately not be available for purchase as part of the event.
Fortnite Star Wars bundles
You can also purchase multiple skins in Fortnite with other Star Wars cosmetics as part of bundles:
| Bundle Name | Price | Skins | Back Bling | Glider | Emote | Harvesting Tool |
| --- | --- | --- | --- | --- | --- | --- |
| Rise of Skywalker Pack | 3,500 V-Bucks | Rey, Finn, Sith Trooper (Red) | The Jedi Order, The Resistance, Sith Trooper Blaster | N/A | N/A | N/A |
| Bounty Hunter Bundle | 2,300 V-Bucks | Fennec Shand, Krrsantan | Mythosaur Signet, Hutt Clan Symbol | Fennec's Ship | This Is The Way | N/A |
| Boba Fett Bundle | 2,300 V-Bucks | Boba Fett | Z-6 Jetpack | Boba Fett's Starship | Targeting Computer Online | Gaffi Stick |
| Order and Peace | 2,000 V-Bucks | N/A | N/A | N/A | N/A | Rey's Quarterstaff, Vibro-Scythe, Riot Control Baton |
| Starfighters | 1,800 V-Bucks | N/A | N/A | First Order Tie Fighter, Y-Wing | N/A | N/A |
Fortnite Star Wars cosmetic items
Some cosmetics in these Star Wars bundles are also available to purchase individually, along with other items not included in any bundle:
Glider:
First Order Tie Fighter: 1,200 V-Bucks
Y-Wing: 1,200 V-Bucks
Vanguard Squadron X-Wing: 1,200 V-Bucks
Fennec's Ship: 800 V-Bucks
Boba Fett's Starship: 1,200 V-Bucks
Emote:
Dark Side: 200 V-Bucks
Resistance Thumbs Up: 200 V-Bucks
Traitor!: 300 V-Bucks
This Is The Way: 200 V-Bucks
Harveting Tool:
Vibro-Scythe: 800 V-Bucks
Rey's Quarterstaff: 800 V-Bucks
Riot Control Baton: 1,200 V-Bucks
Gaffi Stick: 800 V-Bucks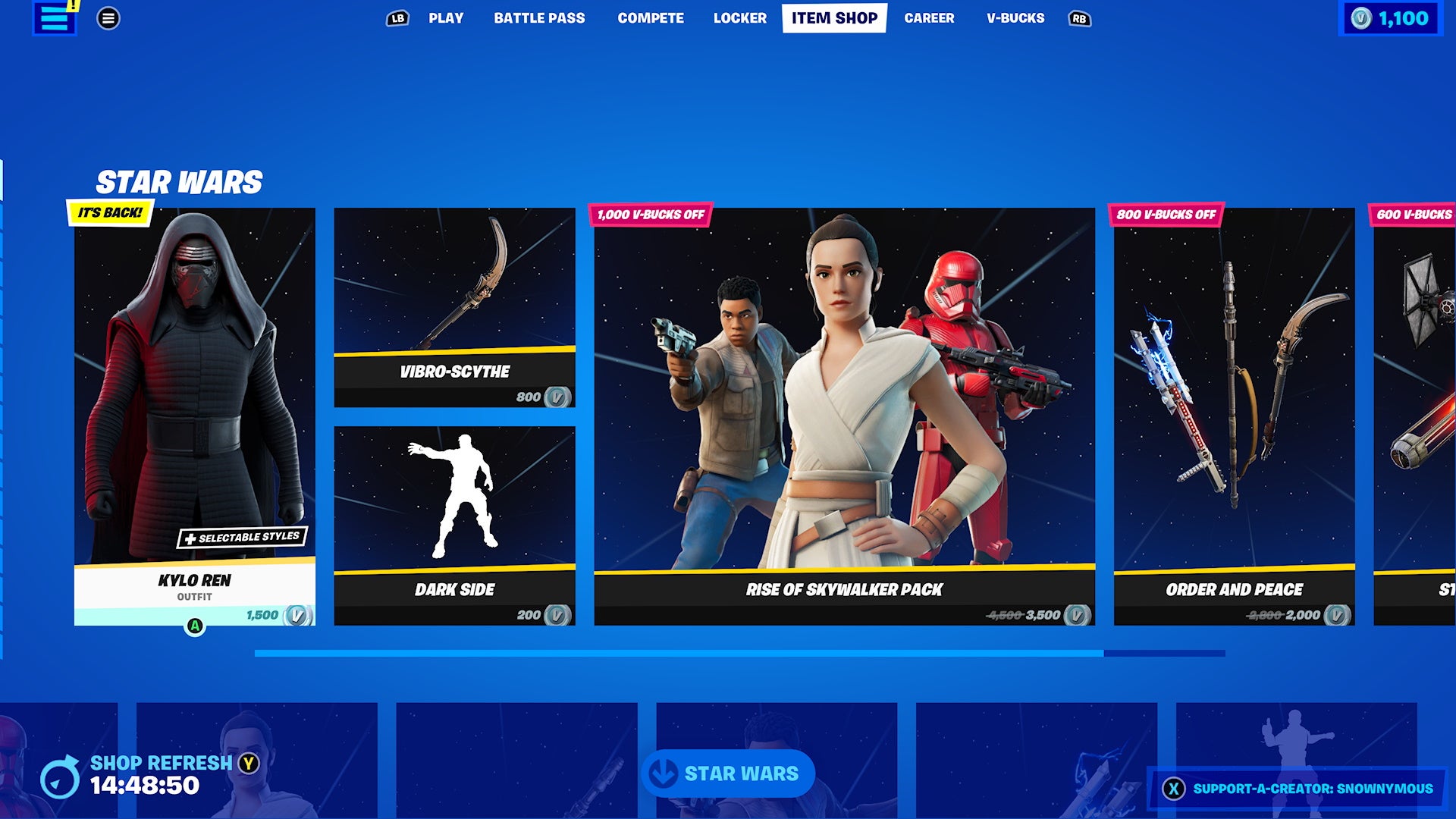 These are all the returning Fortnite Star Wars skins and cosmetics, but there might be some new outfits and items added over the course of the event. Keep checking the Item Shop when when new challenges get added and when the shop refreshes at 1am (BST), 2am (CEST), 8pm (EDT), and 5pm (PDT) every day to see if new Star Wars skins have been added.
Fortnite Star Wars Day 2022 end times explained
The Fortnite Star Wars Day challenges and Star Wars skins availability end at the following times:
UK (BST) - 5am on Thursday, 17th May
Europe (CEST) - 6am on Thursday, 17th May
East Coast US (EDT) - 12am on Thursday, 17th May
West Coast US (PDT) - 9pm on Wednesday, 16th May
If you'd like to learn more about Fortnite Chapter 3 Season 2, visit our guides on
character locations
,
how to unlock the Prowler skin
,
thermal weapons
, and
Jetpacks
.
May the 4th be with you this extended Star Wars Day in Fortnite!