Fortnite - Gas up a vehicle at Catty Corner explained
Time to round up some petrol money.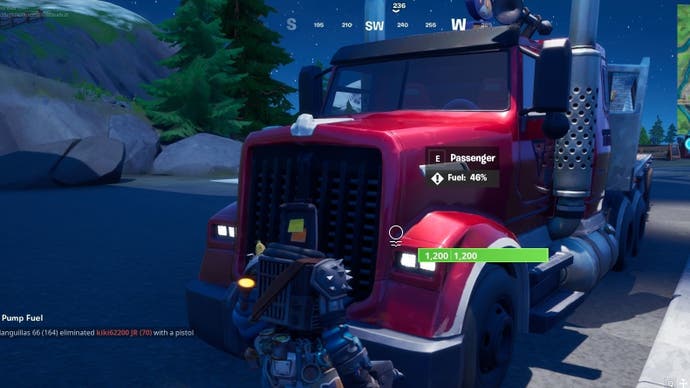 Gasing up a vehicle at the Catty Corner gas station is one of the challenges for Fortnite Season 3 that encourages you to use the new cars and gas stations mechanics.
You've probably already visited Catty Corner a couple of times this season to enter the vault and find Balls of Yarn, so you'll know that this can be quite a popular area with other players.
Completing this challenge will reward you with some XP, which will help you continue your climb through the Season 3 battle pass and unlock more of it's exclusive skins.
---
Note this particular challenge is no longer able to be completed. What's new? Chapter 4 Season 2 has arrived! New additions include the Grind Rails and Kinetic Blades, along with the new Battle Pass, character collection and Eren Jaeger skin. It's a good idea to know how to get XP fast in Fortnite.
---
On this page:
Catty Corner location in Fortnite
Catty Corner is one of the new locations that appeared on the Fortnite map after it's flooding. It can be found in G7 south of Retail Row and south-east of Lazy Lake.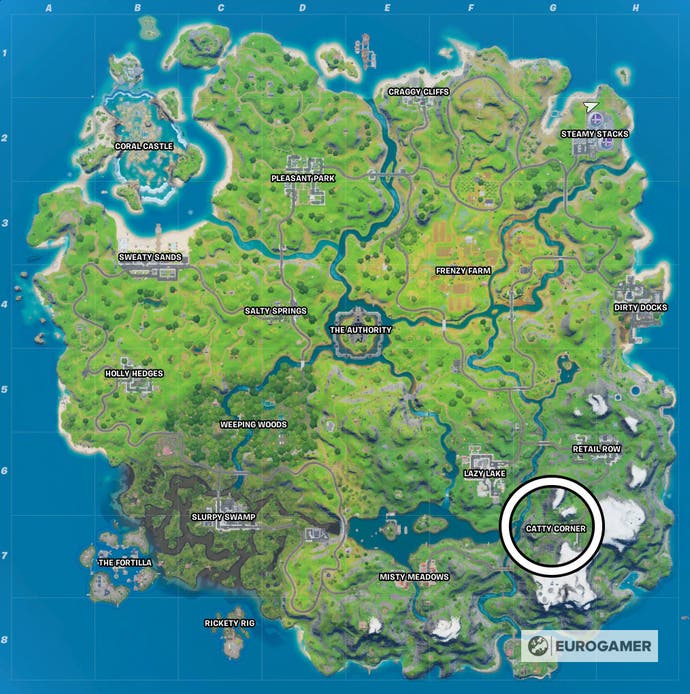 Catty Corner is split in half by the road that runs through it, with the gas station being located in the southern half of the area. You should never let your guard down in Catty Corner though, because it's home to a number of hostile NPCs.
Due to the vault, it's also quite a popular place for players looking for items that give them the upper hand in a match.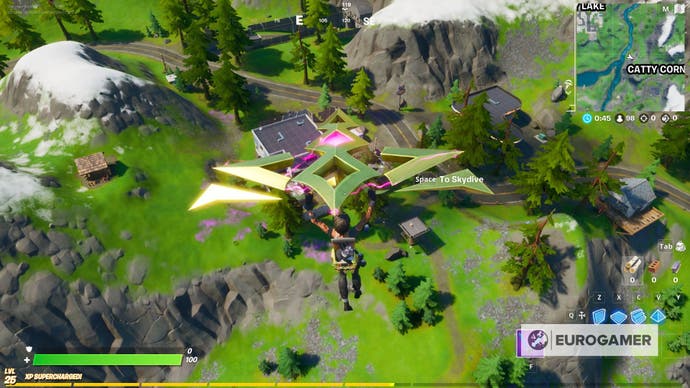 Before you can complete this challenge, however, you need to find a car.
---
Fortnite Chapter 4 Season 2 is here and with it comes Force Abilites and Lightsabers in the Star Wars 2023 event and a new selection of Battle Pass skins! Take a look at the Eren Jaeger skin too! If this is something you want, take a look at our challenge guides that show you the Jaeger's Family Basement location, plus how to find and use ODM Gear. Don't forget to complete the new challenges, including winning arcade games, knocking back players with the Kinetic Blade, shooting targets while on a Grind Rail and restoring health or shields on a Grind Rail. Meanwhile, learn what the best weapons are, new map changes, how to get XP fast, use the best PC settings, earn the Victory Umbrella and earn a Victory Crown.
---
How to gas up a vehicle at Catty Corner in Fortnite
Before you head over to the Catty Corner gas station in Fortnite, we recommend you put on a disguise by using the telephone booth opposite the gas station. Doing so will prevent the NPCs from attacking you, allowing you to move freely in the area, though you will still be visible to other players.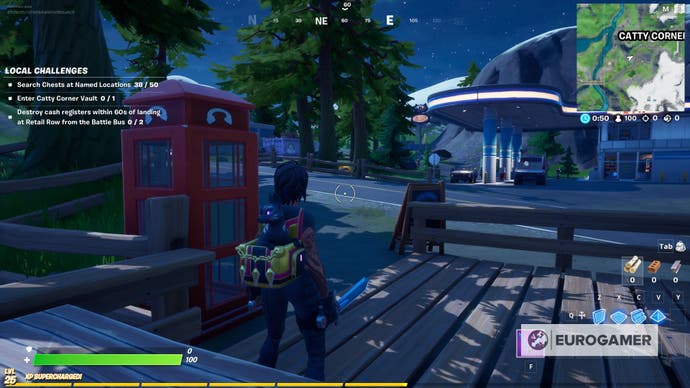 Wearing your disguise, head over to the gas station and you should find a vehicle waiting to be refuelled. If this vehicle isn't there, you can head north to Retail Row and borrow one of the many cars you'll find parked on the streets.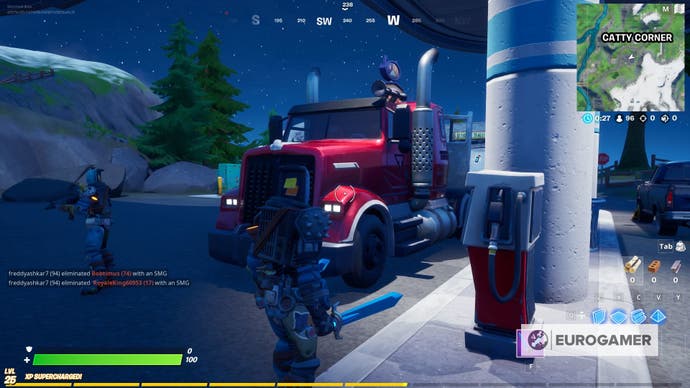 Next you'll want to interact with one of the pumps and, nozzle in hand, you can begin to fill up the gas tank of the nearby vehicle.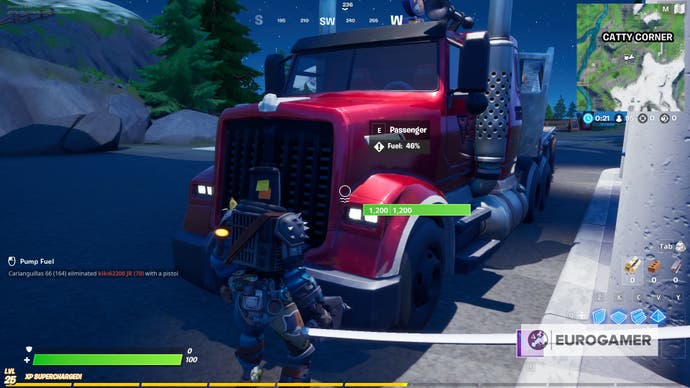 Keep going until the gas tank is full, but be prepared to defend yourself at a moment's notice from both other players and hostile NPCs.
When you've filled up the gas tank enough, you should receive confirmation that you've successfully completed the challenge and, with that, the XP reward.
If you want to learn about the new season of Fortnite, then check out our Season 3 Battle Pass skin page and other challenges, such as finding the Floating Rings at Lazy Lake, Weeping Woods and Pleasant Park.