Fortnite Catty Corner Vault location and how to open it with the Catty Corner Keycard
How to complete the Season 3 Challenge.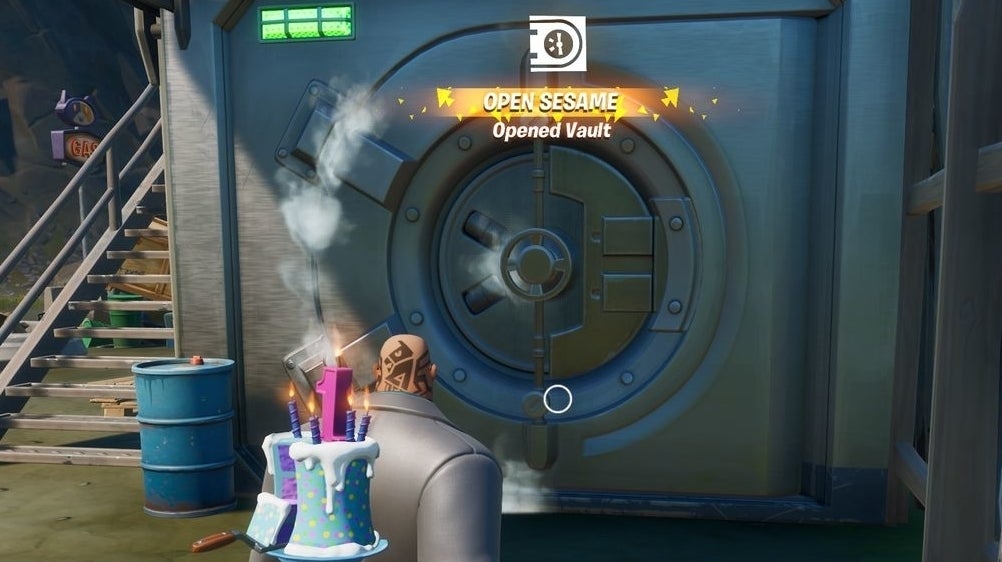 Fortnite's Catty Corner Vault is the focus one of of Season 3's challenges.
Vaults made their debut in Season 2, and require you to defeat a boss to unlock their contents. The same applies here - requiring you to find and take down Kit, who is roaming within the location.
Of course, with Catty Corner being a new location, you might need some pointers of how to get there in the first place.
---
Note this particular challenge is no longer able to be completed. What's new? Chapter 3 Season 3 has arrived! New additions include Reality Seeds and Saplings and riding animals, along with the new Battle Pass, characters collection and map changes. It's a good idea to know how to get XP fast in Fortnite.
---
On this page:
Looking for more from the new season? The new map features several additions - such as Sharks, the Fortilla whirlpool, Homely Hills Gnomes - while our Season 3 Battle Pass skins and Aquaman skin pages showcase all the new rewards.
Where to find the Catty Corner Vault location
Catty Corner is a new location within Fortnite Chapter 3's map, and you can find it in the south-east corner, at the foot of the mountains south of Lazy Lake and Retail Row.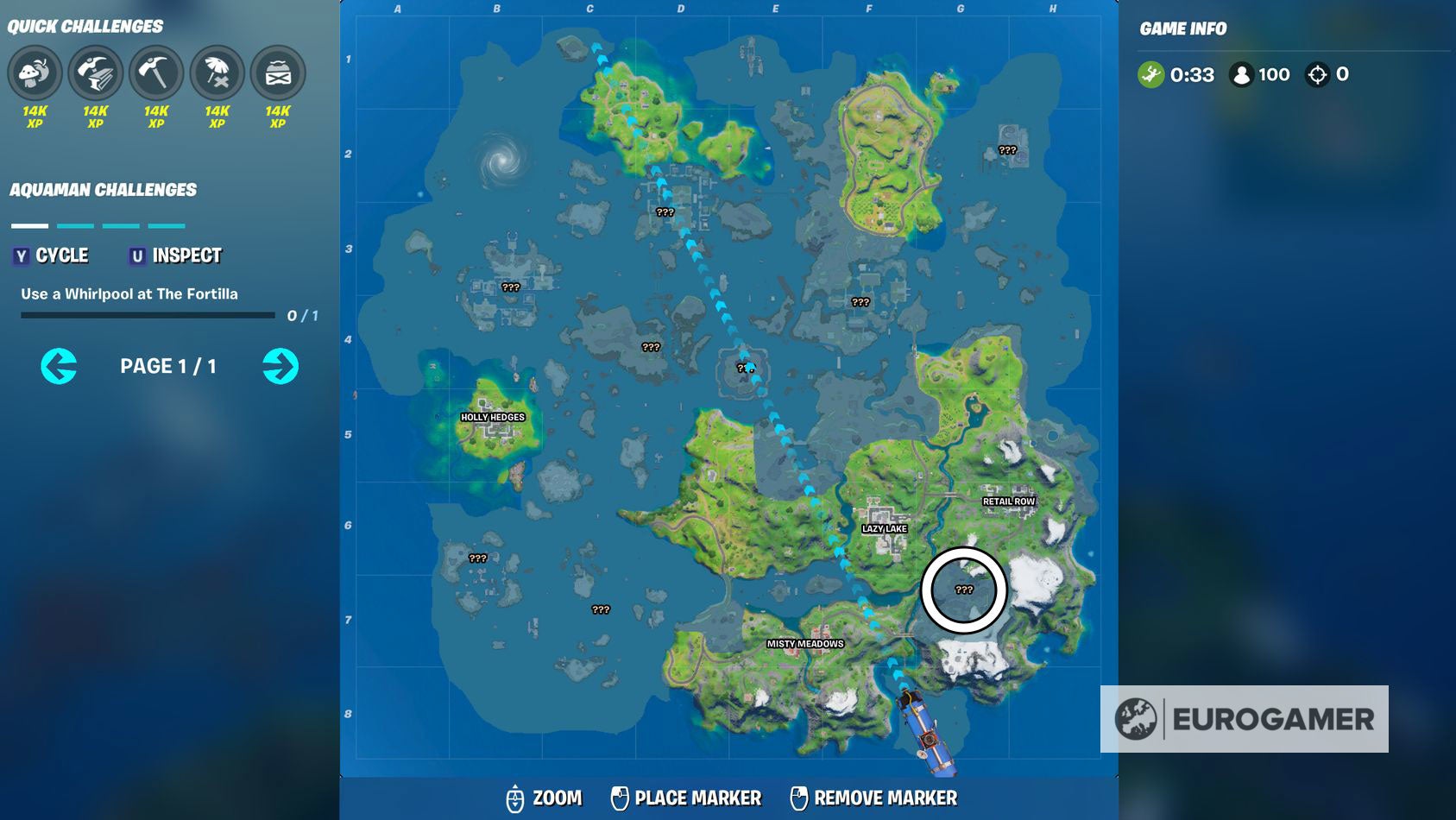 Catty Corner is an area split into two by a road. To the south is a gas station, and to the north is a scrapyard-style area.
You'll want to go to the north side, then to the west, you'll find the vault, on the ground floor of a structure, facing north.
If you go to the 'TY' part of CATTY on the mini-map, you should find it.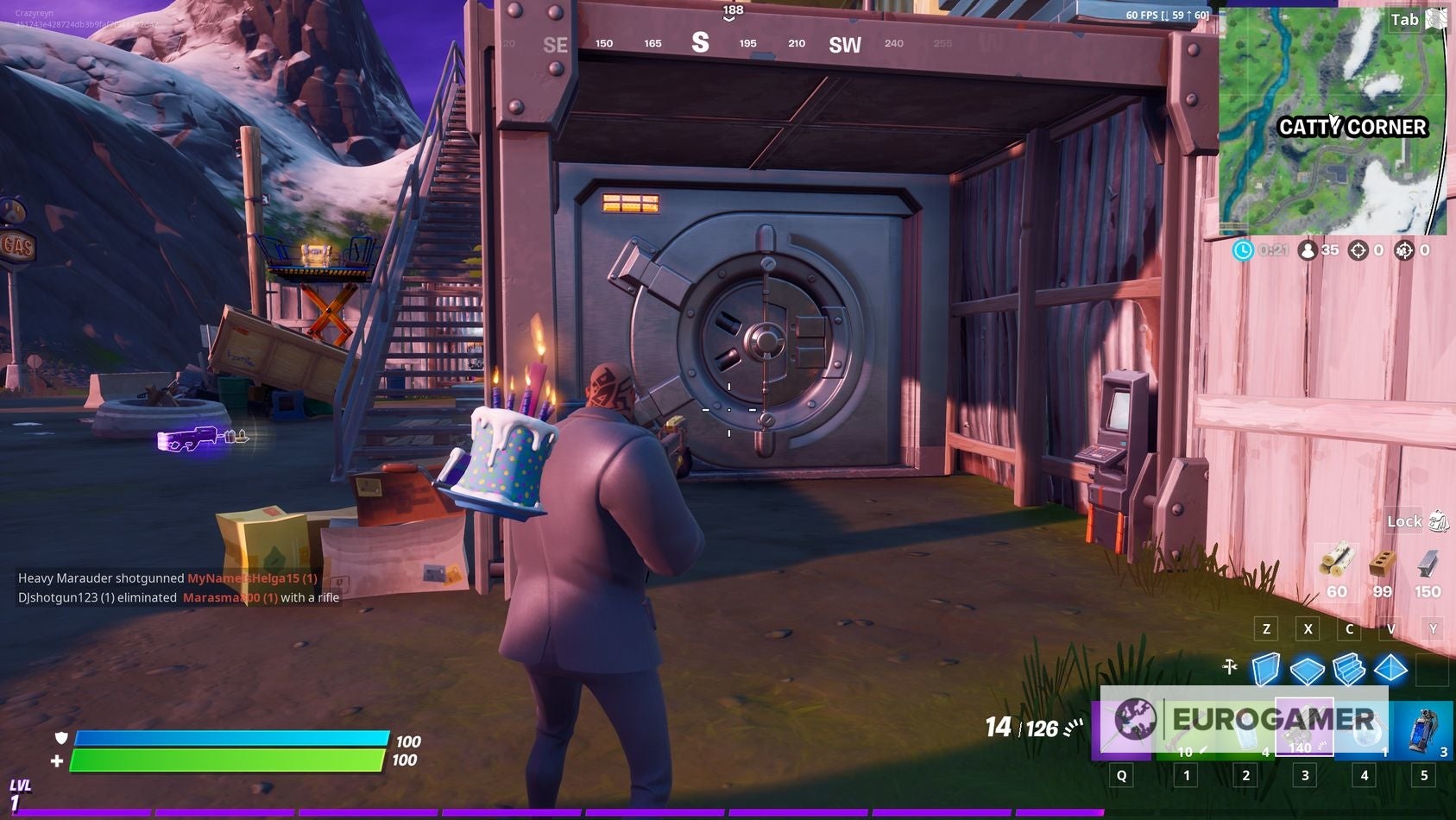 If you can't find it then don't sweat it, as when you get there, you cannot open the vault right away since it requires a Catty Corner Keycard. That's our next task!
How to get a Catty Corner Keycard in Fortnite
The Catty Corner Keycard is a special item you must pick up from Kit, a boss and Season 3 Battle Pass skin character.
We found Kit roaming around the south side of the area, near the gas station. Kit of course might roam, so have an explore if they aren't there.
You must defeat Kit in battle once you stumble upon them. Kit's special weapon is a Shotgun, so keeping a decent distance should help to minimise damage.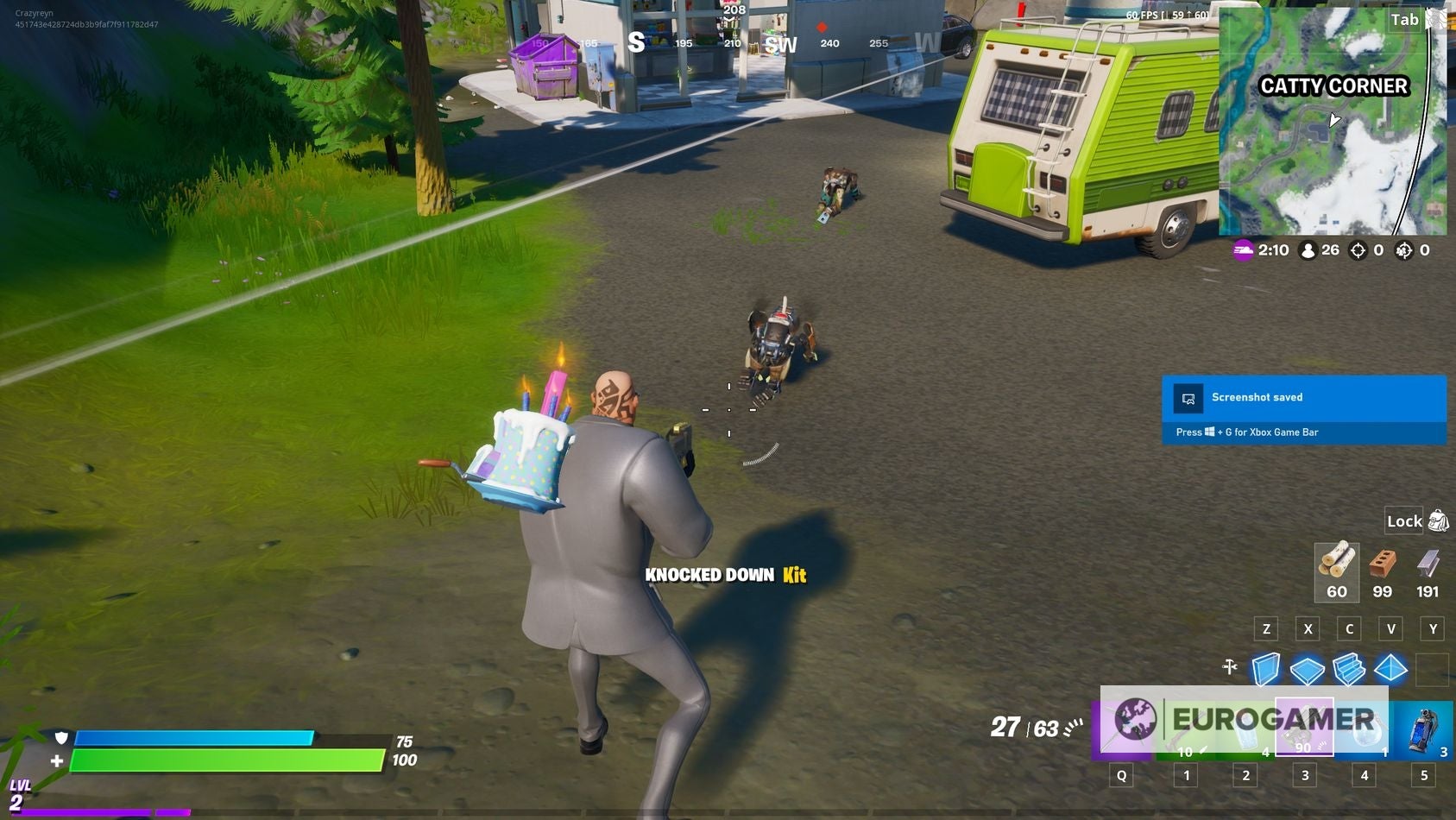 There might be other marauders defending the area, too - so if you are able to, thin out the numbers first before turning your attention to Kit.
Once knocked down, keep firing until properly out for the count, dropping their stash of items - including the Catty Corner Keycard.
Pick it up in a spare spot in your inventory. When you do, the Catty Corner Vault location will be highlighted on your screen. This is useful if you couldn't find it earlier.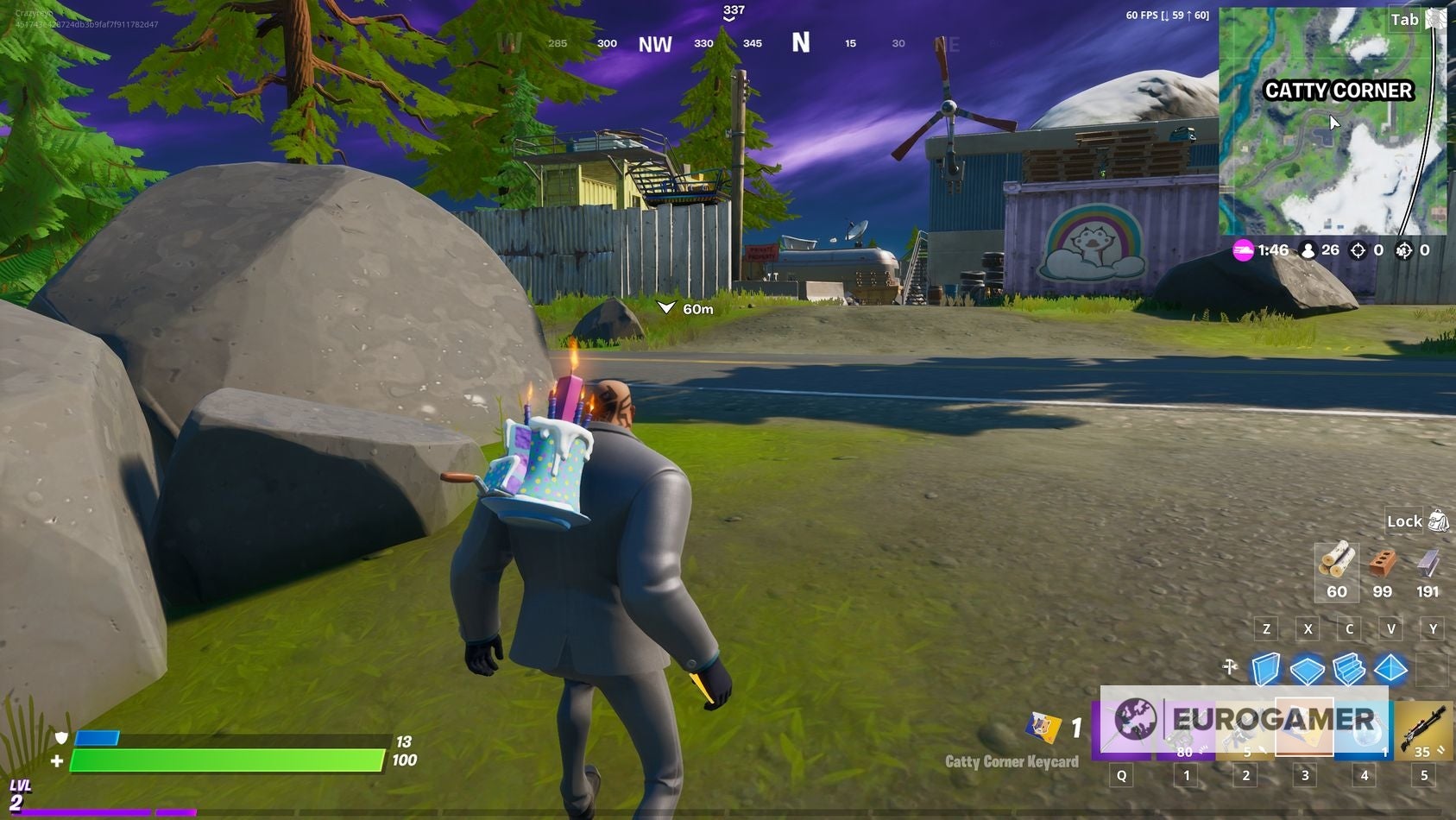 ---
Fortnite Chapter 4 Chapter 1 is here, complete with a new augments system, the coming arrival of Geralt and the Ageless Champion to beat! We've also got a present list for Winterfest and Cozy Lodge and pizza slice locations. Meanwhile, learn how to get XP fast, earn the Victory Umbrella, find character locations and earn a Victory Crown.
---
Now swipe the card at the console to the side, and the vault will open.
Challenge complete! Inside is a bunch of chests and useful items to help give you the edge for the remainder of the match.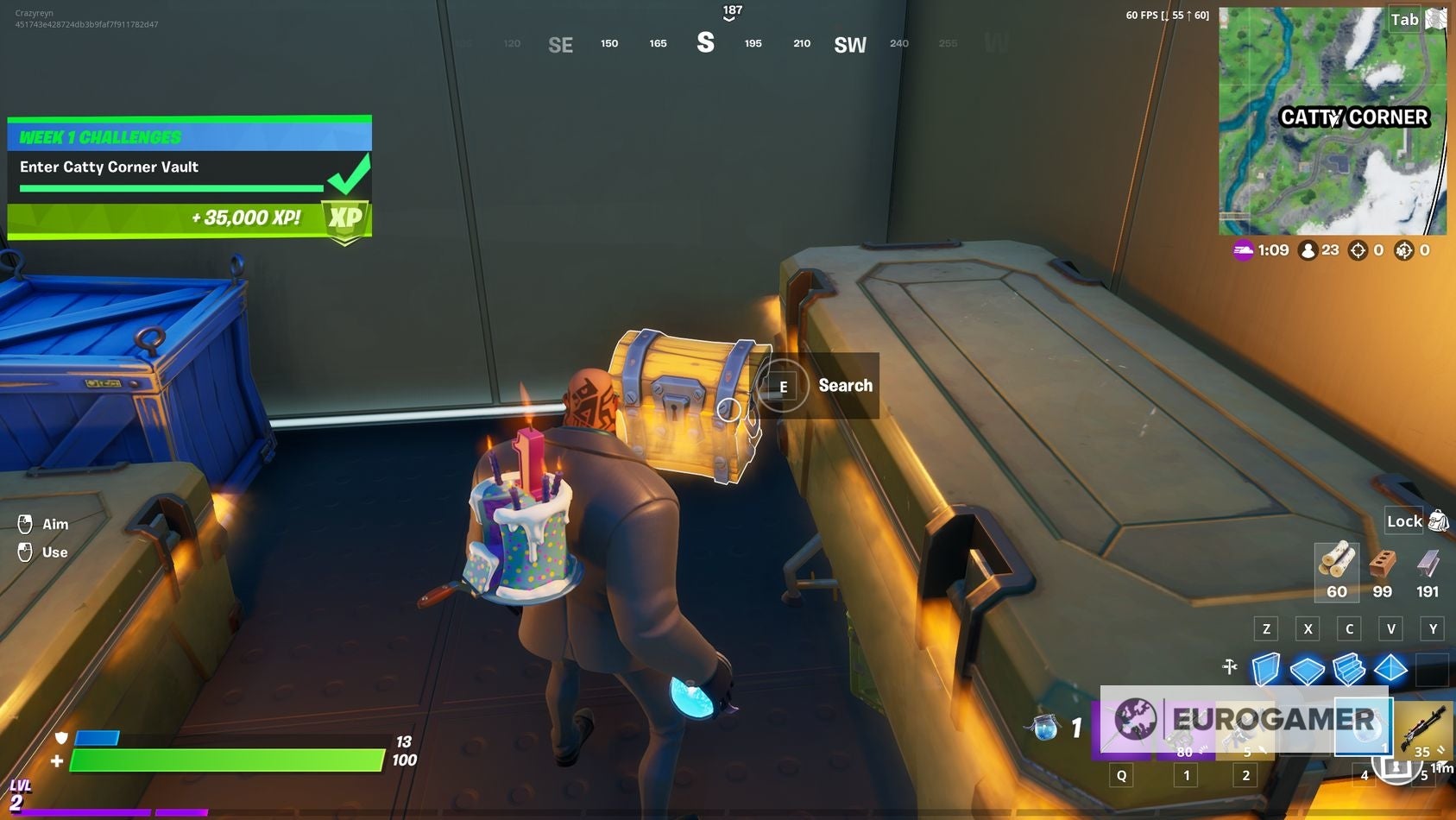 Looking for more from the new season? Our Season 3 Battle Pass skins page showcases all the new rewards.