Fortnite - Visit Scenic Spot, Gorgeous Gorge and Mount Kay location explained
Where to find these three landmarks in Fortnite.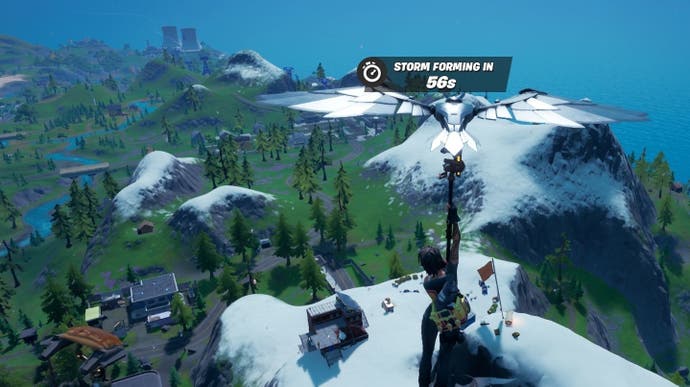 Visiting Scenic Spot, Gorgeous Gorge and Mount Kay is one of the challenges in Fortnite Season 2 Chapter 5.
All three of these locations are landmarks, which means they don't appear on the Fortnite map, making them rather hard to find if you don't know where to look.
Completing this challenge will reward you with a good amount of XP, which will help you unlock new Battle Pass skins.
---
Note this particular challenge is no longer able to be completed. What's new? Chapter 4 Season 2 has arrived! New additions include the Grind Rails and Kinetic Blades, along with the new Battle Pass, character collection and Eren Jaeger skin. It's a good idea to know how to get XP fast in Fortnite.
---
On this page:
Fortnite Scenic Spot, Gorgeous Gorge and Mount Kay locations at a glance
Scenic Spot, Gorgeous Gorge and Mount Kay can all be found in the following locations on the Fortnite map: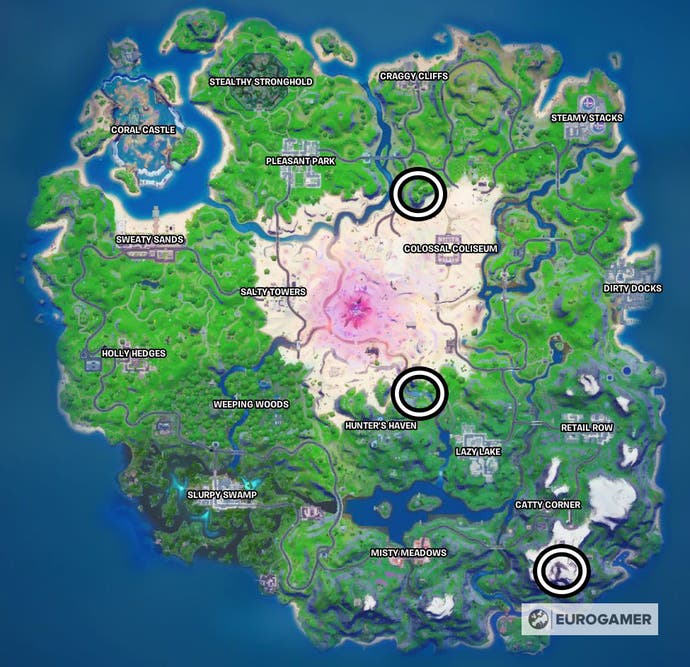 These locations can be rather hard to find since they are all landmarks, which means their names don't appear on the map. You'll know when you've correctly visited one though, because the challenge marker will appear on screen as you visit them.
Thankfully, you don't have to visit all three of these locations in a single match, so you have the choice of visiting one at the beginning of every match or simply passing by one during your travels about the map.
Still, to complete this challenge, you do need to visit all three of these landmarks at some point before the end of Season 5.
---
Fortnite Chapter 4 Season 2 is here and with it comes Force Abilites and Lightsabers in the Star Wars 2023 event and a new selection of Battle Pass skins! Take a look at the Eren Jaeger skin too! If this is something you want, take a look at our challenge guides that show you the Jaeger's Family Basement location, plus how to find and use ODM Gear. Don't forget to complete the new challenges, including winning arcade games, knocking back players with the Kinetic Blade, shooting targets while on a Grind Rail and restoring health or shields on a Grind Rail. Meanwhile, learn what the best weapons are, new map changes, how to get XP fast, use the best PC settings, earn the Victory Umbrella and earn a Victory Crown.
---
Gorgeous Gorge location in Fortnite explained
Gorgeous Gorge is by far the easiest landmark to find for this Fortnite challenge, because located at the bottom of the waterfall which lies between Hunter's Haven and Lazy Lake.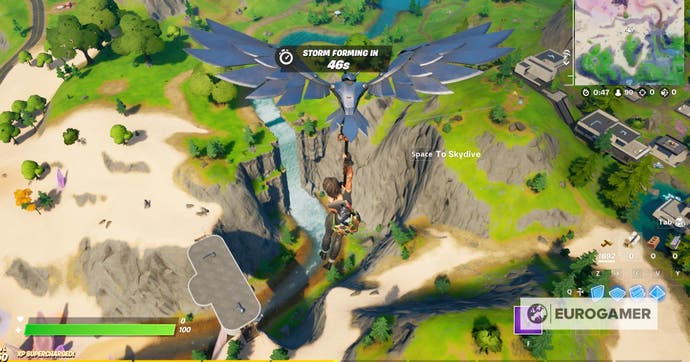 All you have to do is land within the gorge itself to tick it from this challenge list and, thanks to its prime location, you can quickly make your way to either Hunter's Haven or Lazy Lake for some loot hunting.
Mount Kay location in Fortnite explained
Mount Kay can be found directly south of Catty Corner on the Fortnite map.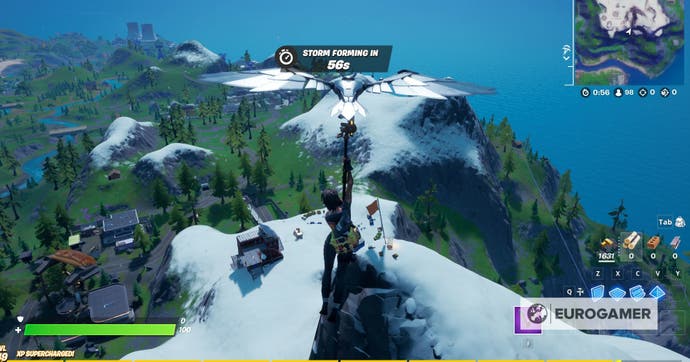 The easiest way to ensure you complete this section of the challenge is to land at the summit of Mount Kay which is marked by a flag.