Fortnite - Ride a Motorboat under different coloured bridges explained
Where to find all the colourful steel bridges in Fortnite.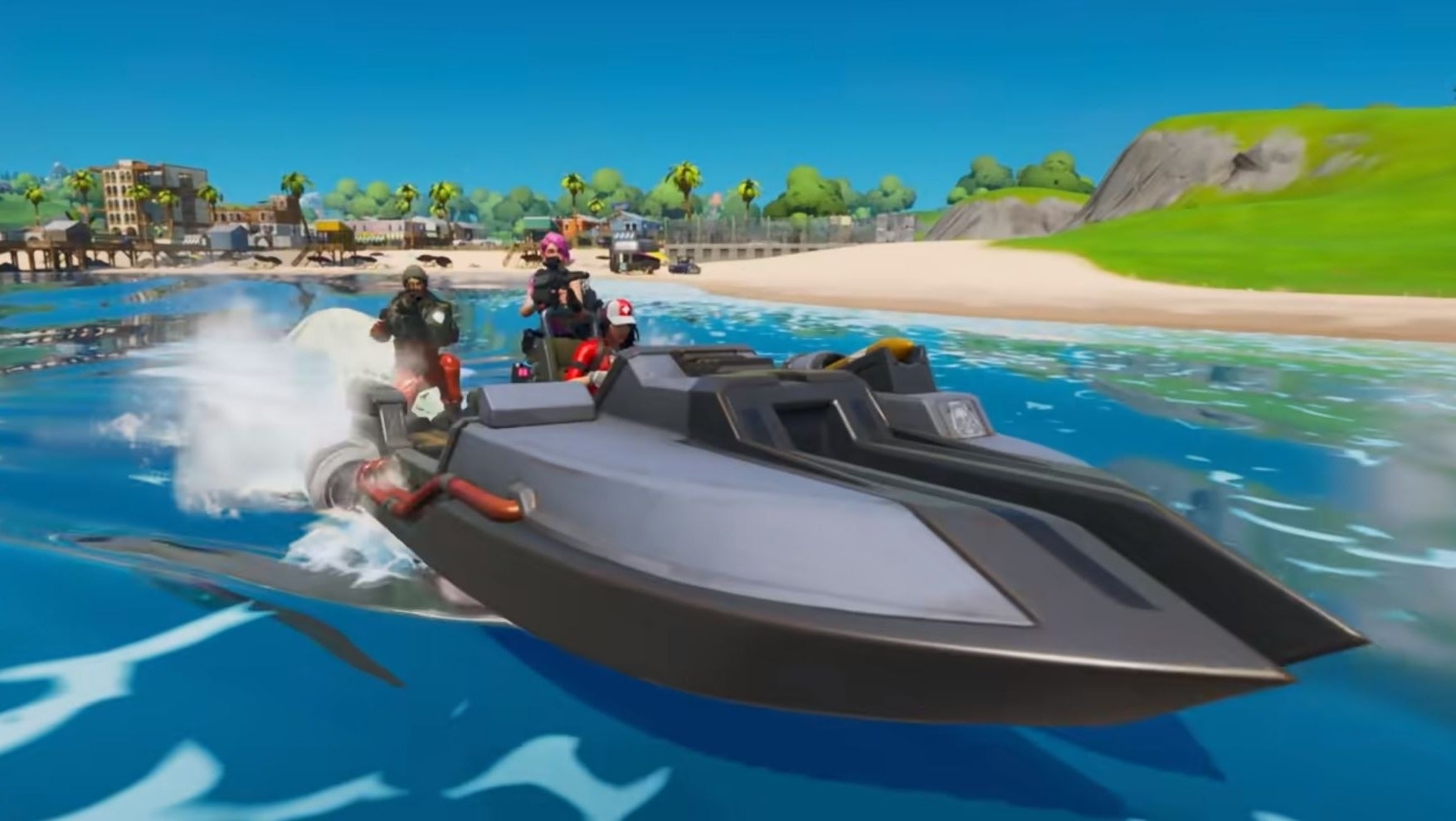 Riding a motorboat under different coloured bridges is a challenge for Fortnite Season 2 Chapter 4.
Unlike other challenges that require you to visit specific locations on the Fortnite map, this one requires you to locate a motorboat first.
Completing this challenge will earn you XP, which will help you unlock new Fortnite Chapter 2 Season 4 battle pass skins.
---
Note this particular challenge is no longer able to be completed. What's new? Chapter 3 Season 3 has arrived! New additions include Reality Seeds and Saplings and riding animals, along with the new Battle Pass, characters collection and map changes. It's a good idea to know how to get XP fast in Fortnite.
---
On this page:
Fortnite different coloured bridges locations at a glance
There are currently five different coloured bridges to be found on the Fortnite map: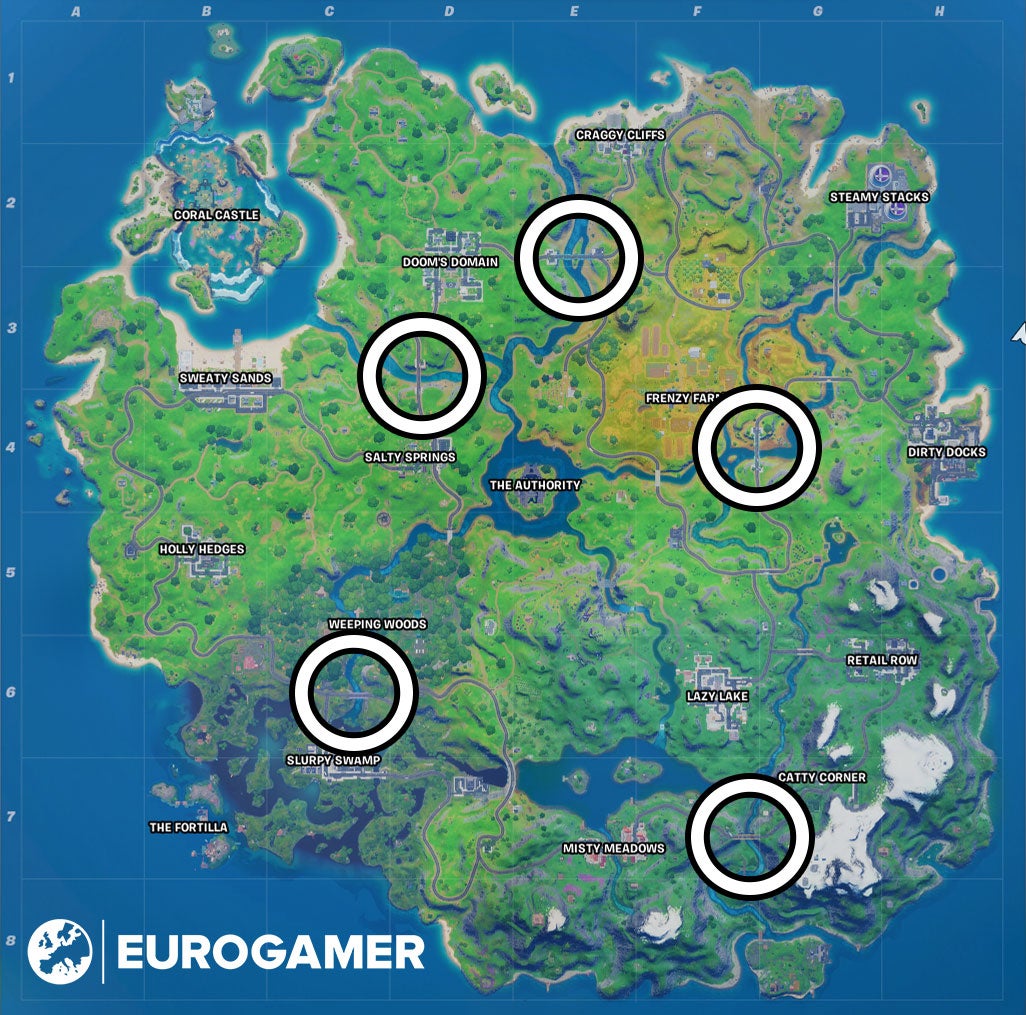 Before you can visit any of these bridges, however, you need to find a motorboat. The best places to look are anywhere along the coastline, riverbanks or at one of the many lakes located on the Fortnite map. Once you've got a motorboat, you can head towards your first bridge.
Since you only need to ride beneath three bridges, we recommend that you start in the north section of the map with the blue bridge, follow the river south-west so that you can visit the red bridge and then return travelling south, past The Authority, to reach the purple bridge in Weeping Woods.
You can, however, follow a different path and, depending on how the storm is brewing in your match, you might find yourself having to visit other beaches instead.
Just remember - you need to drive your motorboat beneath each bridge to complete this challenge.
Fortnite Blue bridge location explained
The blue steel bridge is located in the middle of E2 and directly east of Doom's Domain, formerly known as Pleasant Park.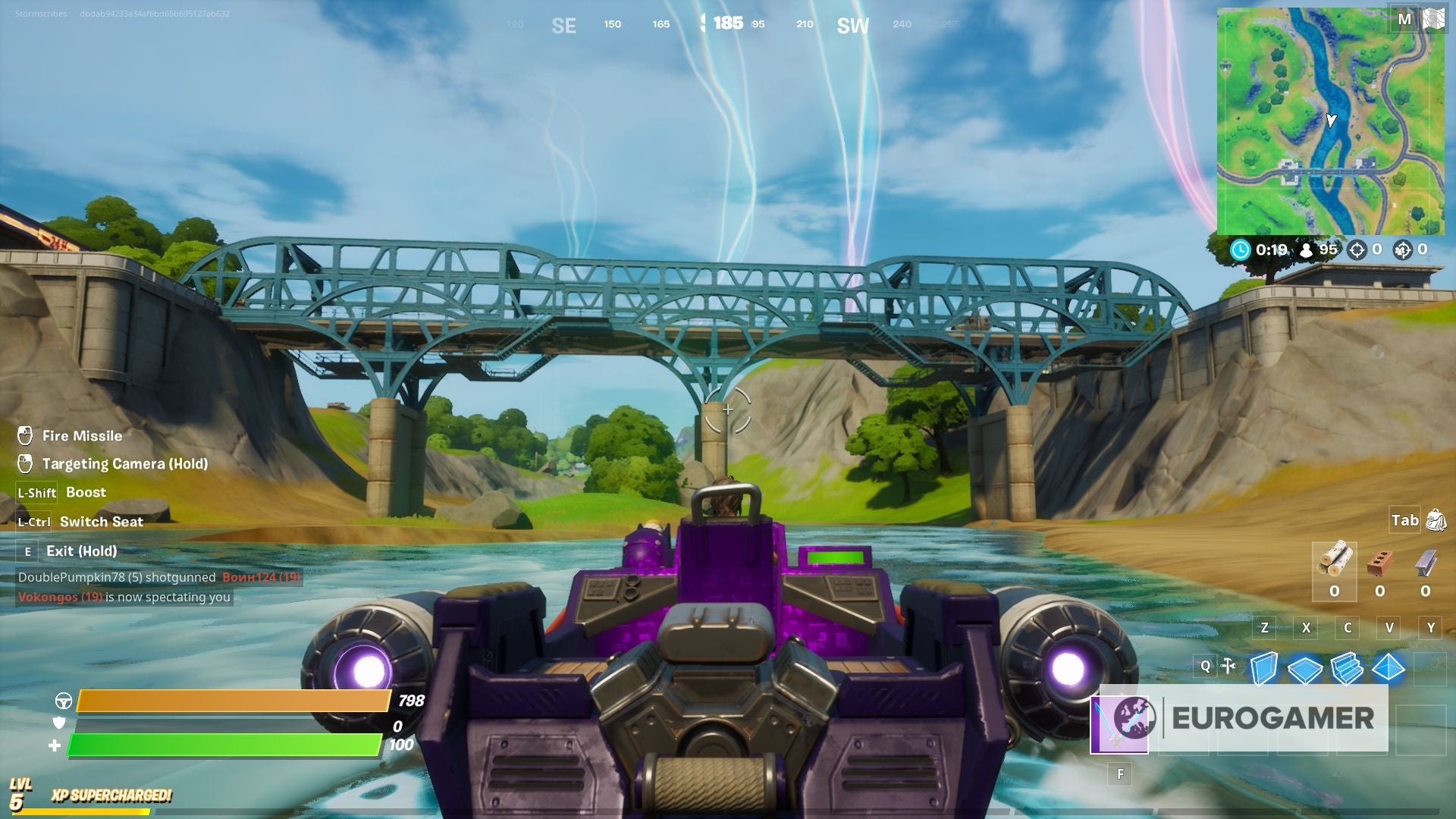 If you're planning on following our recommended route, then this is the bridge you need to start with. We recommend that you look for a motorboat around Craggy Cliffs.
Fortnite Green bridge location explained
The green bridge is located on the border of F4 and G4.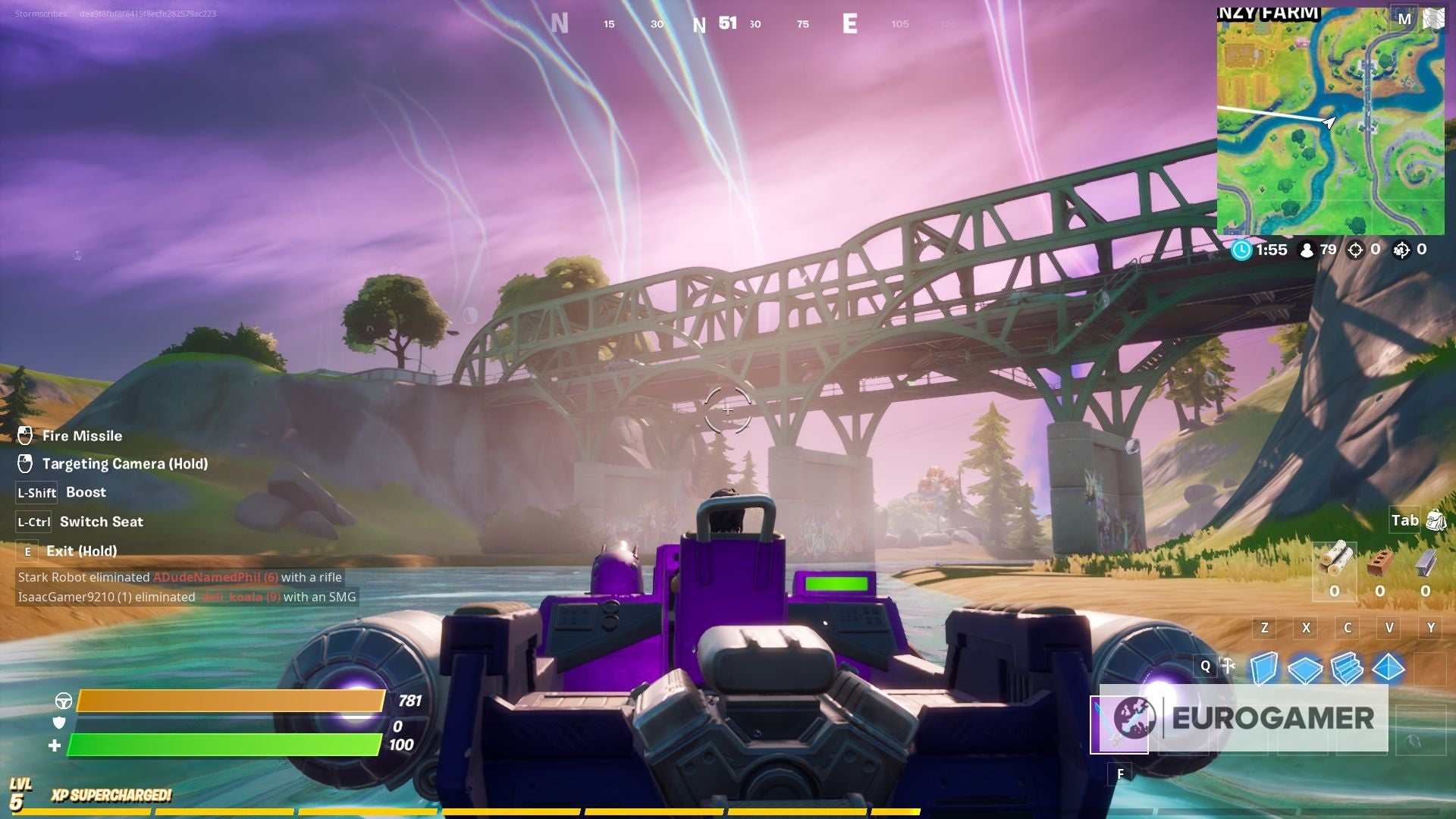 It connects the small island that sits in-between Frenzy Farm and Dirty Docks to the mainland; you've probably visited this location a couple of times, because it's where you can find one of the gas stations.
Fortnite Purple bridge location explained
The purple bridge is located in C6 between Weeping Woods and Slurpy Swamp. You can easily find it by following the river that flows through the woods.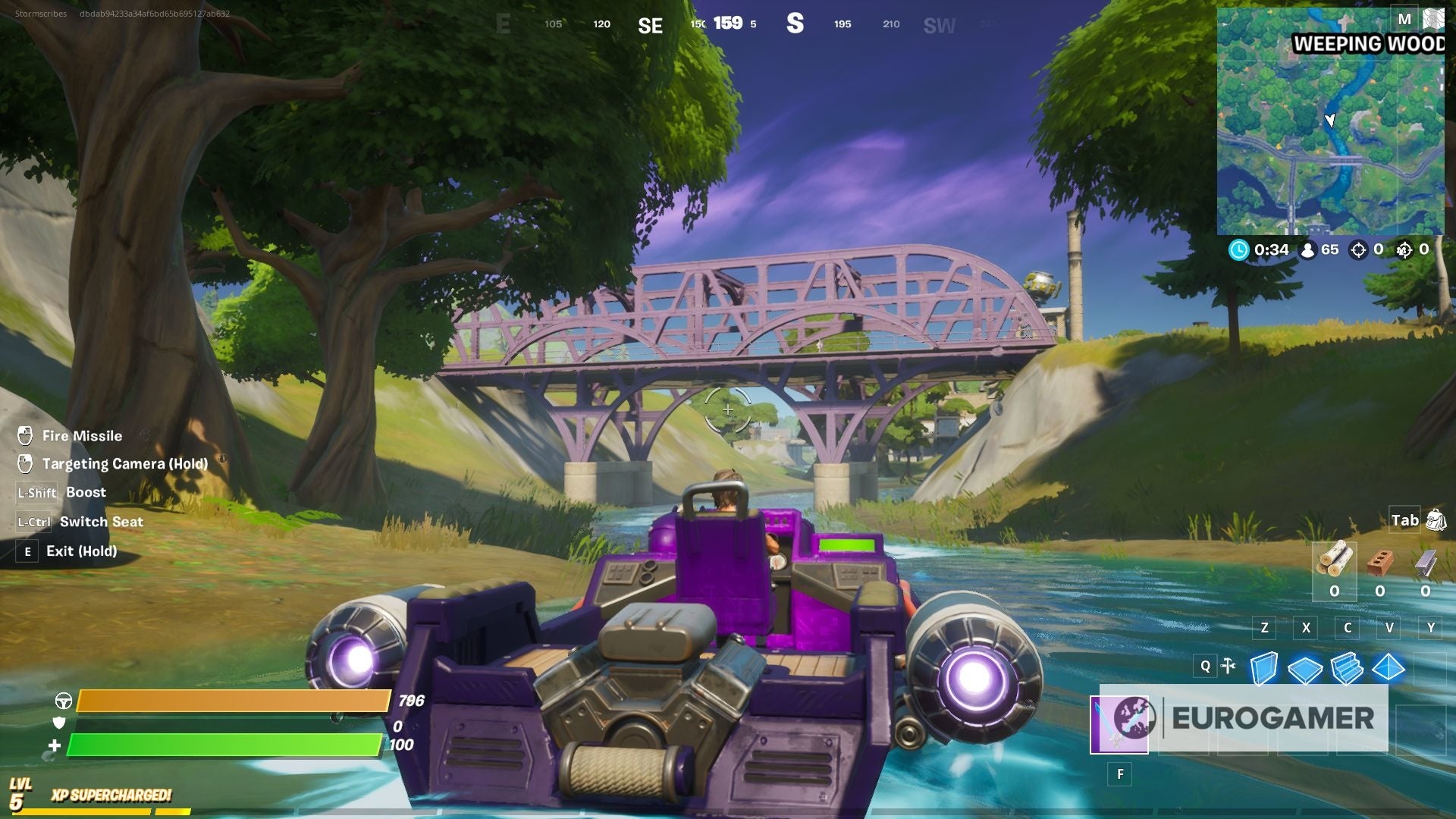 If you're following our recommended route, then this is the final bridge that you need to drive your motorboat beneath.
Fortnite Yellow bridge location explained
The yellow bridge is located in F7 and is directly east of Misty Meadows.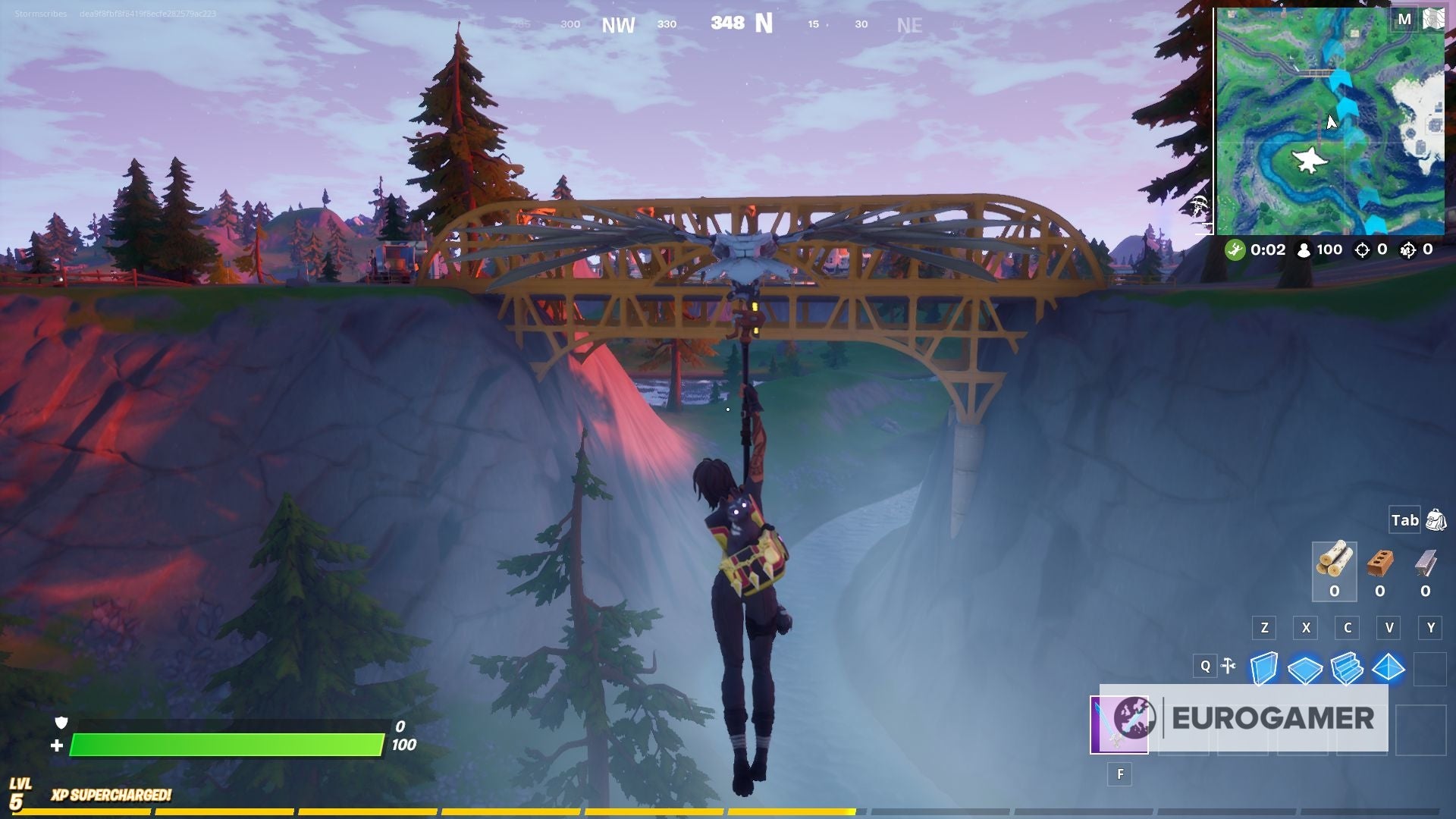 If you'd like to learn more about Season 4 of Fortnite, check out our guides on the Season 4 battle pass skins and the Wolverine challenges.