FIFA 23 OTW upgrade tracker, including Wins to Watch, Nations to Watch, Team of the Week predictions
Regularly updated with all the latest Ones to Watch movements!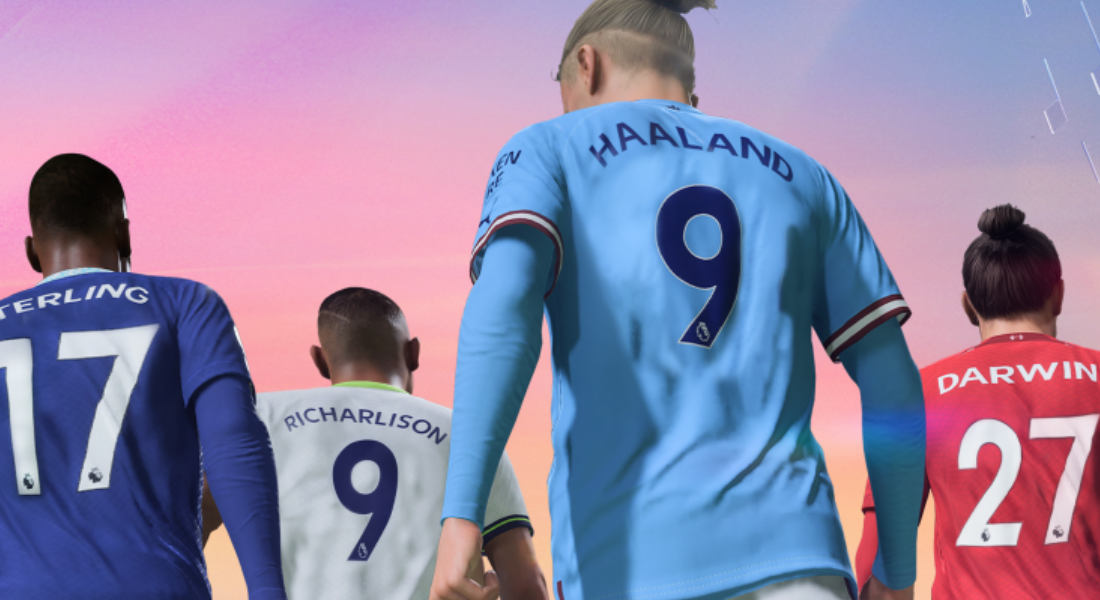 FIFA 23 Ultimate Team is already awash with overpowered promo cards, but the lure of Ones to Watch is eternal, and thanks to the addition of Nations to Watch upgrades on top of last year's Wins to Watch mechanic, these cards may actually remain usable in the game for longer than is traditional. Haaland certainly will, if nobody else!
But with three separate sources of potential upgrades for these cards—wins for the team, wins for the country, and of course Team of the Week cards for the individual—it can be tough to keep track of which card is about to get a performance boost and potentially go up in value. With that in mind, we have assembled this absolutely cutting edge tracker page. OK, it's just a fancy table, but it is prettier than EA's one, so there.
So! Follow this guide and you will never have to wonder whether that Tyler Adams or Corentin Tolisso you got in your FIFA 23 Ultimate Team pre-order pack is still in with a chance of getting an upgrade or nah. Good luck!
On this page:
If you're interested in Ultimate Team, we have pages on best starter teams, Squad Battles, Milestone rewards and FUT Coins and trading.
FIFA 23 Ones to Watch progress and tracker
Ones to Watch cards are upgraded each Friday, or thereabouts, to reflect any changes based on Wins to Watch, Nations to Watch or Team of the Week.
The tracker below features every OTW card, including SBC and Objective players, their ratings, and progress towards their next upgrade.
Last Updated: Friday, December 2nd, 2022.
Player
Ratings
Wins to Watch
Nations to Watch
Positions
Nation & Club
Robert Lewandowski
Starting: 91
Current: 93
Won: 3/3
Won: 1
ST, CF
Poland
Barcelona
Sadio Mane
Starting: 89
Current: 92
Won: 3/3
Won: 1
LM, LW, CF
Senegal
Bayern Munich
Erling Haaland
Starting: 88
Current: 90
Won: 3/3
N/A
ST, CF
Norway
Man City
Antonio Rudiger
Starting: 87
Current: 88
Won: 3/3
Won: 1
CB
Germany
Real Madrid
Paulo Dybala
Starting: 86
Current: 88
Won: 3/3
Won: 1
CF, CAM, ST
Argentina
Roma
Raheem Sterling
Starting: 86
Current: 88
Won: 3/3
Won: 1
LW, LM, RW
England
Chelsea
Matthijs de Ligt
Starting: 85
Current: 88
Won: 3/3
Won: 1
CB
Netherlands
Bayern Munich
Angel Di Maria
Starting: 84
Current: 87
Won: 3/3
Won: 1
RW, RM
Argentina
Juventus
Franck Kessie
Starting: 84
Current: 86
Won: 3/3
N/A
CDM, CM
Ivory Coast
Barcelona
Gabriel Jesus
Starting: 83
Current: 86
Won: 3/3
Won: 1
ST, CF, RW
Brazil
Arsenal
Aurelien Tchouameni
Starting: 82
Current: 86
Won: 3/3
Won: 1
CM, CDM
France
Real Madrid
Antony
Starting: 82
Current: 86
Won: 3/3
Won: 1
RW, RM
Brazil
Man United
Darwin Nunez
Starting: 82
Current: 86
Won: 3/3
Won: 0
ST, CF, LW
Uruguay
Liverpool
Richarlison
Starting: 81
Current: 86
Won: 3/3
Won: 1
ST, CF, LW
Brazil
Spurs
Renato Sanches
Starting: 80
Current: 85
Won: 3/3
Won: 1
CM, RM
Portugal
PSG
Steven Bergwijn
Starting: 80
Current: 85
Won: 3/3
Won: 1
LW, LM, RW
Netherlands
Ajax
Corentin Tolisso
Starting: 81
Current: 84
Played: 7/8
Won: 2/3
Won: 1
CM, CDM
France
Lyon
Nico Schlotterbeck
Starting: 82
Current: 84
Won: 3/3
Won: 1
CB
Germany
Borussia Dortmund
Sergino Dest
Starting: 77
Current: 81
Won: 3/3
Won: 1
RB, RWB, LB, RM
USA
AC Milan
Tyler Adams
Starting: 76
Current: 76
Played: 7/8
Won: 2/3
Won: 1
CDM, RWB, CM
USA
Leeds
---
If you're just getting started in FIFA 23, check out our Ultimate Team best starter teams page. You can improve your team by trading and spending FUT Coins - some of which can be earned by completing Milestone Objectives. It's also a good idea to learn how Squad Battles and Champions work in FIFA 23. We also have an OTW tracker and RTTK tracker. Chemistry has been completely changed in FIFA 23 too and don't forget about the wide variety of Skill Moves, and make sure to claim your Ted Lasso and AFC Richmond rewards in FUT while you can! Finally, if you need help building the perfect team, we have pages on the best players overall, best Premier League players and fastest players. Along with FIFA 23's best lengthy players, wonderkids, best strikers, best wingers, best midfielders and best defenders.
---
FIFA 23 Nations to Watch upgrades
The start of the 2022 World Cup in Qatar means that the Nations to Watch upgrade path is active for Ones to Watch players. If any OTW player's nation wins a game at the World Cup, they will get a +1 in-form upgrade (meaning the upgrade follows the usual in-form upgrade progression). Players do not have to play for their national team to get this upgrade, so if Tolisso doesn't play for France but France secure a win, the Lyon man will still get his +1 IF upgrade.
Several players secured their upgrades in the first few matches of the tournament, and EA finally updated their in-game ratings on November 28. The correct ratings are listed in the table above and here's a quick summary of the changes at a glance:
Robert Lewandowski - 92 > 93
Sadio Mane - 91 > 92
Raheem Sterling - 87 > 88
Matthijs de Ligt - 87 > 88
Paulo Dybala - 87 > 88
Angel di Maria - 86 > 87
Aurelien Tchouameni - 84 > 86
Gabriel Jesus - 85 > 86
Antony - 84 > 86
Richarlison - 84 > 86
Renato Sanches - 83 > 85
Steven Bergwijn - 83 > 85
Corentin Tolisso - 81 > 84
Players who are likely to be upgraded in the next wave of card upgrades are as follows:
Antonio Rudiger - 88 > 89
Nico Schlotterbeck - 84 > 86
Sergino Dest - 81 > 84
Tyler Adams - 76 > 81
Team of the Week is now suspended while the 2022 World Cup takes place in Qatar, meaning that Team of the Week 10 will not be available until the conclusion of the tournament.
Darwin Nunez was the last Ones to Watch player to receive a TOTW-based upgrade, bagging an in-form following his two-goal performance in Liverpool's win against Southampton before the break.
Corentin Tolisso (Lyon) and Tyler Adams (Leeds United) both have one more chance to earn a 'Wins to Watch' upgrade, but the mid-season World Cup break means their clubs will not be in action again until late December.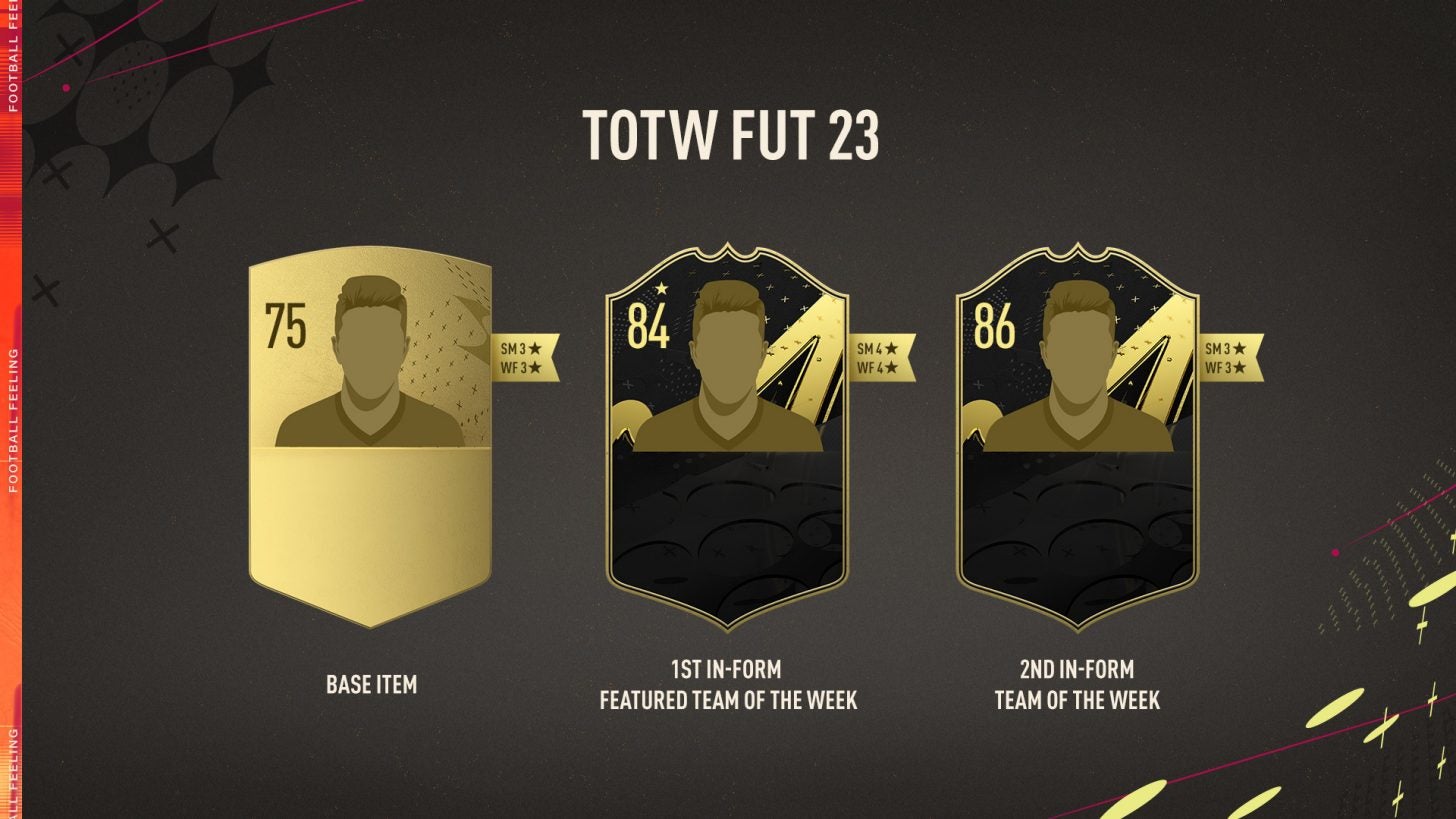 How OTW upgrades work in FIFA 23
Ones to Watch is the first Ultimate Team promo of the cycle, and went live when FIFA 23 went on general sale. Cards are chosen based on high-profile summer transfers, and this year there was only one squad released. This was due to a truncated real-world football schedule owing to the winter World Cup.
These are dynamic cards that can receive upgrades for three reasons:
Team of the Week - OTW cards will always be upgraded if a player is included in Team of the Week. Cards will not receive performance-based boosts based on other promotions, so if Tyler Adams is featured in Team of the Year, for example (GO TYLER), then his OTW will not be affected.
Man of the Match - As with TOTW, OTW cards can receive a performance-based upgrade if the player earns a Man of the Match card. These are released less frequently and often tie in with domestic cup competitions.
Wins to Watch - Introduced last year, this mechanic means OTW cards can receive an extra +1 upgrade if their team secures three wins within eight domestic league matches of the card's release. That is domestic league matches. Cups, European matches, etc, do not count. You'd be surprised how many people forget this. The player does not have to play in these matches to receive the upgrade.
Nations to Watch - New for FIFA 23, players will also receive a +1 upgrade if their nation wins a match at the World Cup in Qatar. The player does not have to play in these matches (or even feature in the World Cup squad!) to be eligible.
In other words, it's all about watching out for things that happen in real-life football. Or watching this tracker page, obviously.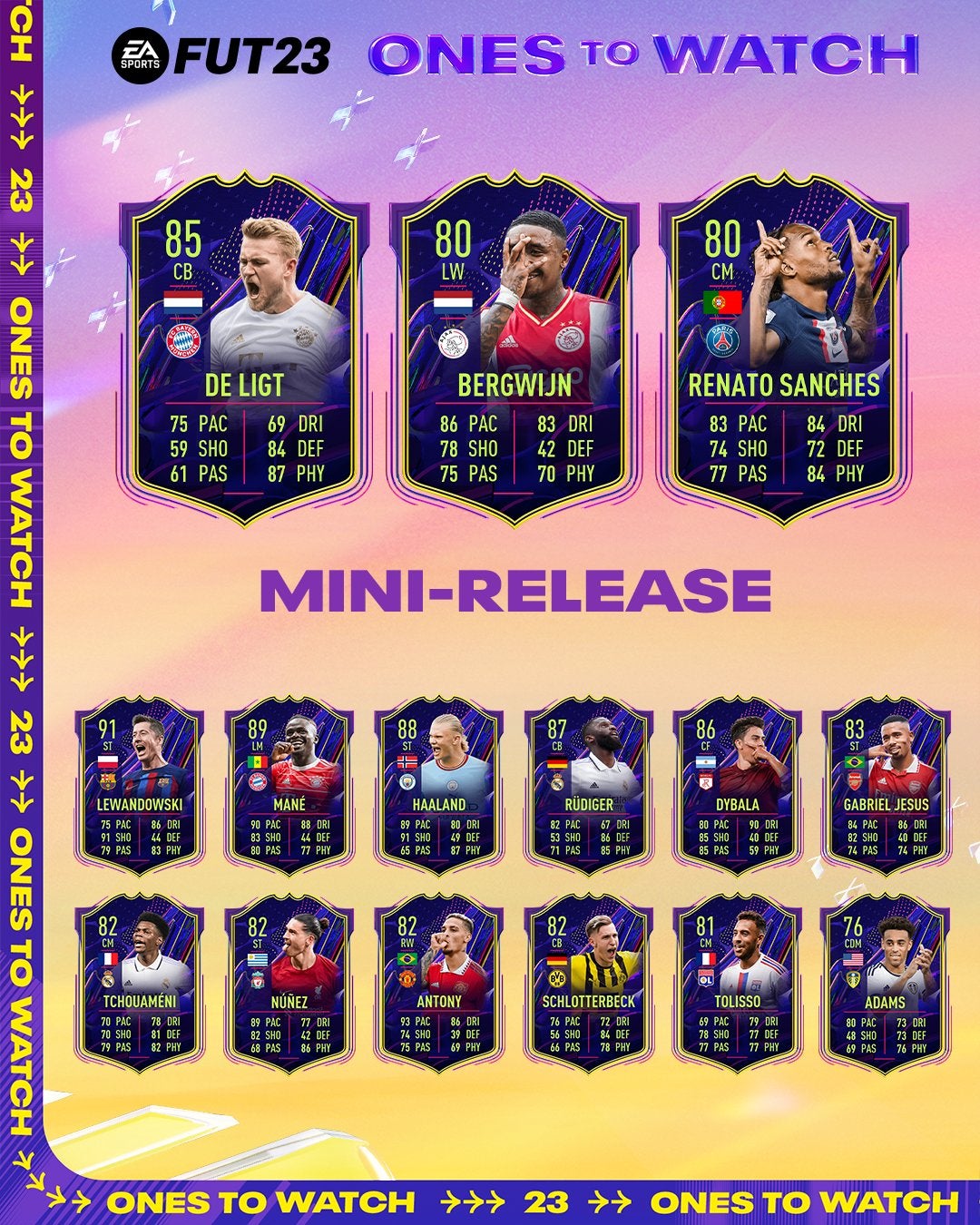 FIFA 23 Ones to Watch trading tips
While you may have stumbled in here hoping to find out if your Tyler Adams is due an upgrade, it also seems possible that you want to judge whether any of the current OTW crop are worth investing in and trying to flip for profit. Good news! They may be!
Trading dynamic cards, as this sort of thing is known, is a high-risk, high-reward method of turning your modest stack of FIFA coins into something more substantial. The idea is to buy them when they are least desirable and then sell them when they start to accumulate hype.
How it works - OTW cards usually go up in price in the run-up to a player's latest match. To use a recent real-world example, Antony's OTW card was lurking around the 200k mark on Friday October 7th, but rose to around 230k on Sunday October 9th when Man United beat Everton and the Brazilian winger scored in the first half. Anyone who bought in at the lower price could have sold for around 18.5k profit (after EA takes its 5% transaction tax).
When to buy - If you want to buy an OTW card for trading, look for opportunities based on dips in the market and distance to the next game. If cards are dropping in price after the Weekend League, for example, and a player lost their last game, it might be a good time to buy. Buying later in the week as people are purchasing Weekend League teams, or in the immediate run-up to a match, is less of a good idea, because the player's price will be inflated. Keep an eye on price-tracking sites like Futbin and Futwiz to spot these patterns.
When to sell - The prime time to sell is right before the real-world match starts. Cards rise in the run-up to a match as people buy the card in the hope that its value will go up, and this makes the card more scarce and increases the price. Waiting until the match takes place can yield even better results, but there is no guarantee that the player will score. What you can guarantee, however, is that if the player is subbed or their team loses, the price will drop.
One thing we should also add is that some cards already have upgrades baked into their market value. For example, everyone knows that Man City is going to win three out of eight domestic league matches, and the price of Erling Haaland's OTW reflects that. It will probably not go up at all when City clinch the third win. If someone is playing for a dominant club like Bayern Munich or Real Madrid, bear that in mind!