Animal Crossing Fireworks Show: Raffle prizes, how long it lasts and custom fireworks in New Horizons explained
Add your own ideas to the firework display!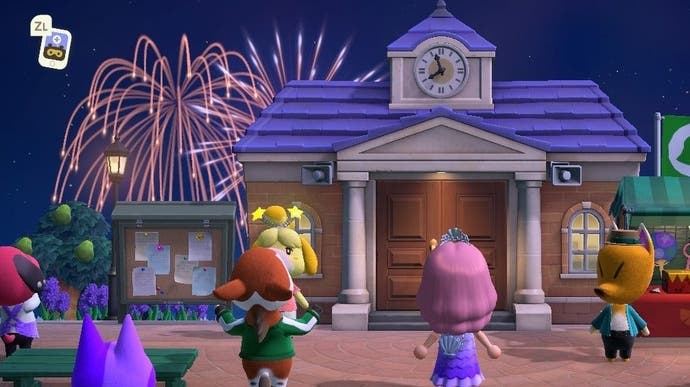 Fireworks Shows will run throughout August in Animal Crossing: New Horizons.
Once a week, you can watch fireworks fly through the night's sky and you can even add your own Custom Fireworks to the display.
There is also the Redd Raffle, which sees everyone's favourite kitsune handing out some exciting prizes.
On this page:
How long does the Fireworks Show last in Animal Crossing: New Horizons?
Throughout August in New Horizons, you'll be able to enjoy a Fireworks Show on your island every Sunday evening.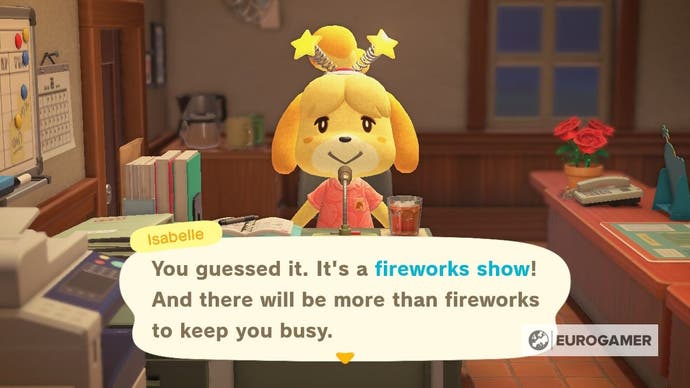 This Fireworks Show will start at 7pm and end at 12am every Sunday evening, which means that the firework display lasts for a total of five hours.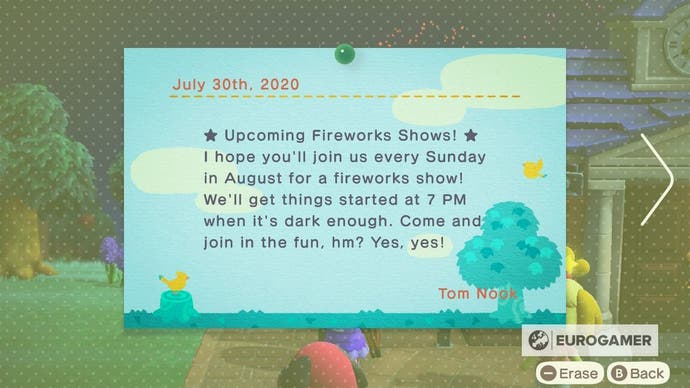 During this time, you'll be able to enjoy the fireworks and take part in Redd's completely legal raffle. (I'm sure he got a permit from Residential Services…)
Redd Raffle prizes in Animal Crossing: New Horizons explained
Aside from the Fireworks Show itself, the main attraction of this event in New Horizons is the latest business venture from legitimate business kitsune, Crazy Redd, known as the Redd Raffle.
For a mere 500 Bells, Redd will let you draw a number from his raffle and, no matter which number you pick, you're always guaranteed a prize.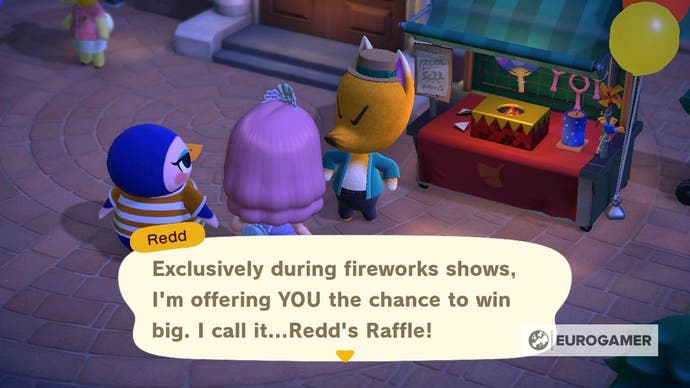 The prizes that you can win include:
Balloons that be coloured blue, green, pink, red or yellow
Blue sparkler
Bubble blowers that can hold up to a charge of 10 bubble blows
Fountain firework
Pinwheels
Red sparkler
Tweeters
Uchiwa Fan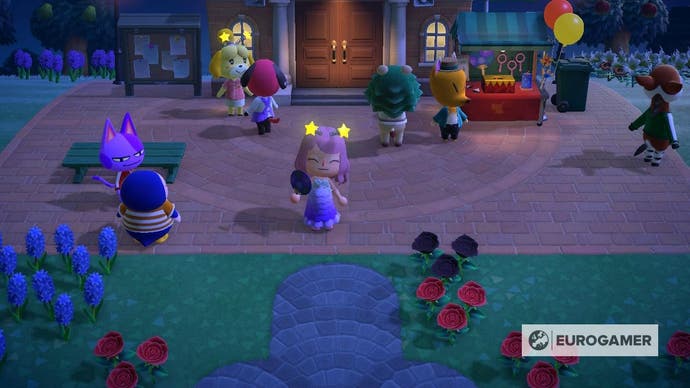 It's important to note that while there are four different boppers available from the Fireworks Show, you can only earn one per Fireworks Show by talking to Isabelle. None of the boppers are prizes in the Redd Raffle.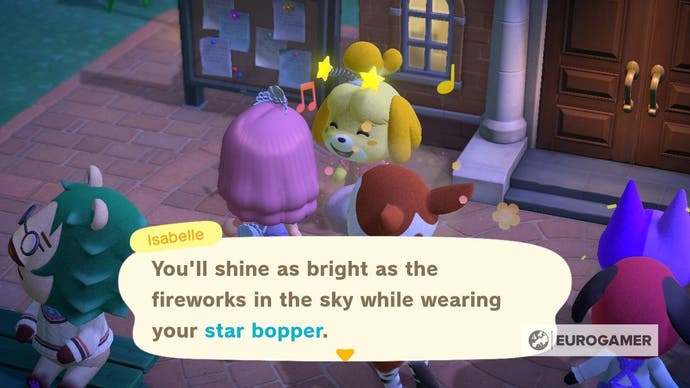 How to use fireworks and sparklers in Animal Crossing: New Horizons
You can receive both sparklers and Fountain fireworks from Redd's Raffle during the Fireworks Show in New Horizons. Both of these items can only be used once and can be stored in your house if you'd prefer to use them at a later date.
To use a Fountain Firework, open your inventory, select the firework and then choose the option to drop it on the ground. Now slowly walk towards the firework, until you see the option to press A to light the firework appear.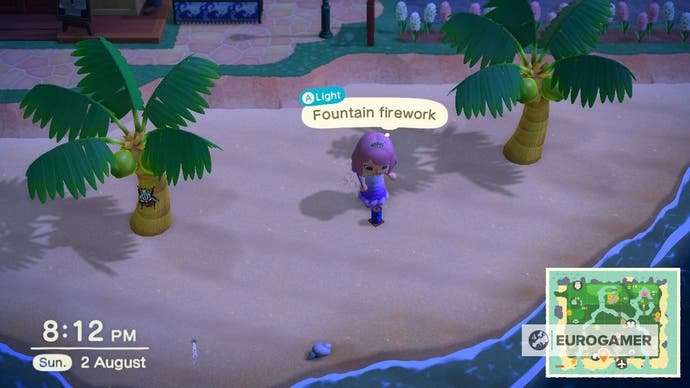 Now all you have to do is enjoy the firework and, once it's finished, pick up it's burnt remains. (Or you can litter…) You can use the bin next to Redd's raffle stand to dispose of the former firework save in the knowledge that Redd definitely doesn't take any unwanted prizes out of this bin to use again.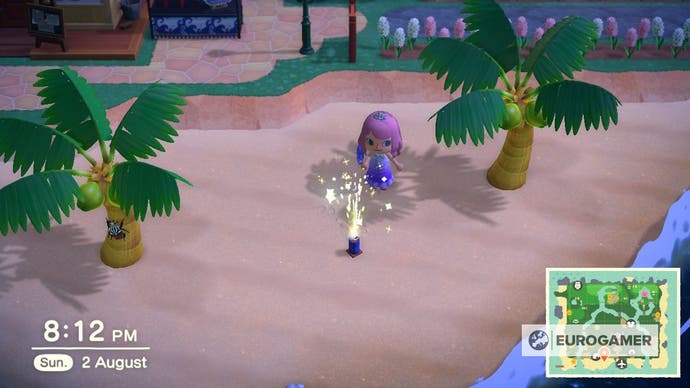 Sparkler comes in two colours - red and blue - and you might also receive one from a villager during the Fireworks Show.
To use a sparkler, select it in your inventory and choose the option to hold it. Once your avatar is holding the sparkler, press A and you'll stand still until the sparkler has burnt out.
During this time you can press A again, which will cause you to wave the sparkler about.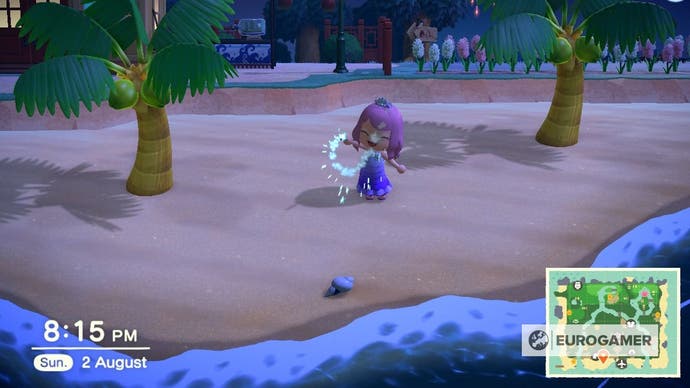 ---
The Animal Crossing 2.0 update and Happy Home Paradise is here! We can help you with the new additions - including where to find Brewster, Gyroids, new villagers, ordinances, new fences, storage shed, new hairstyles, Froggy Chair, group stretching and Kapp'n boat tours. Cooking is now unlockable, so you need to know how to make both flour and sugar, as well as how to grow carrots, potatoes and tomatoes. Meanwhile, if you're new to Animal Crossing, our New Horizons tips can help with the basics. From the off, there's fish and bugs to catch, flowers and fruit to grow with. One long term goal is building your Happy Home Academy score. Finally, you need tools such as the new ladder and vaulting pole to fully explore.
---
Custom fireworks in Animal Crossing: New Horizons explained
In New Horizons, you can bring a bit of mad creativity to every Fireworks Show through the use of custom fireworks.
To add your ideas to the fireworks display, you must first talk to Isabelle, who is standing outside Residential Services, and select the option 'I've got a firework idea!'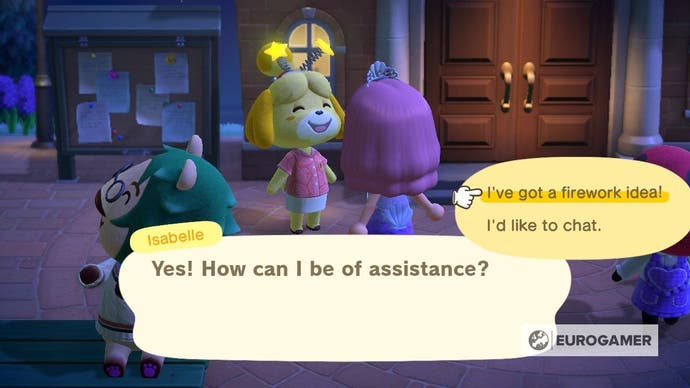 After you've selected this option, a new screen will appear, allowing you to share up to 10 firework ideas.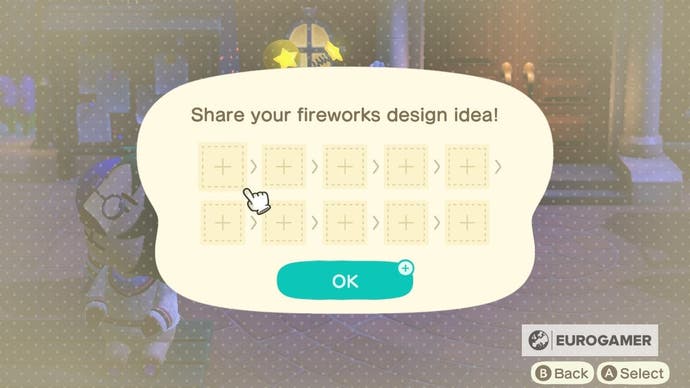 To add a Custom Design to the Fireworks Show, simply select one of the 10 available boxes. This will automatically open the Custom Designs menu and, from there, you can pick which design you wish to see in firework form.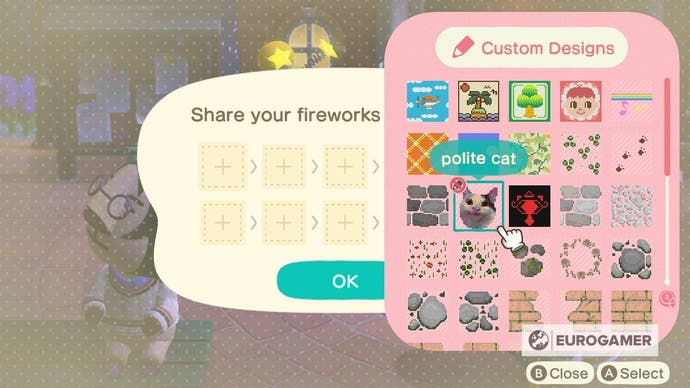 The custom fireworks will follow the order in which they are placed; starting with the box on the top left-hand side and ending with the one on the bottom right.
You don't have to fill every box and can even have the same design appear again and again if you want.
Once you've finished sharing your fireworks design ideas, select the 'OK' and then find a nice place to watch the night's sky.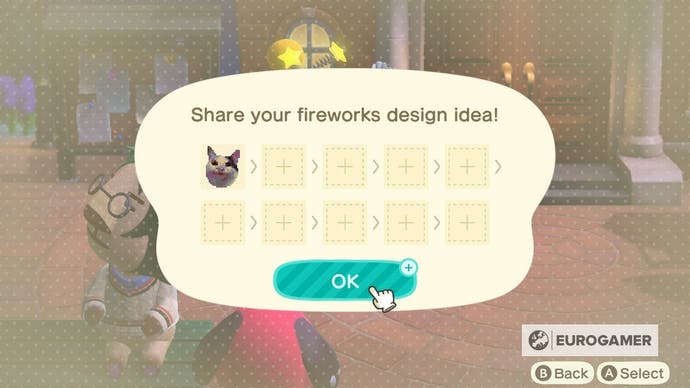 It may take a while for your custom fireworks to fly, as the Fireworks Show will continue while you share your ideas, but if you keep looking, you'll soon be able to see your special fireworks!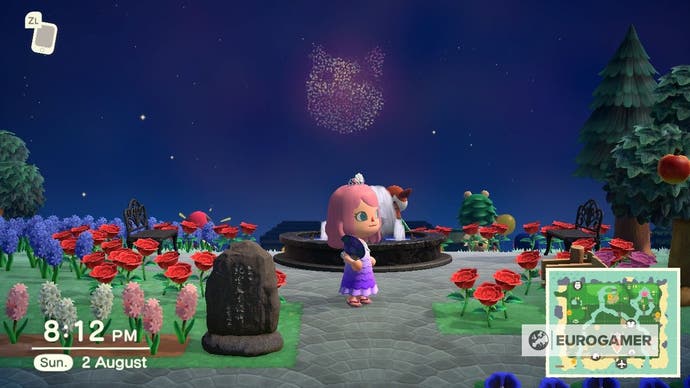 Talking to Isabelle will also earn you one bopper and allow you to simply have a nice chat with her if you want.
Hope you enjoy the fireworks throughout August!