Animal Crossing Happy Home Paradise guide: How to access, design interiors and exteriors, remodel and move holiday homes in New Horizons
Time to start your career as a holiday home designer!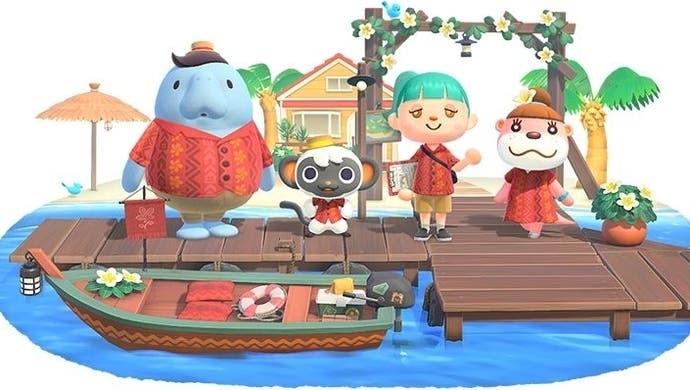 Happy Home Paradise is the paid DLC for Animal Crossing: New Horizons released the day after Ver.2.0.
This DLC sees you travelling to a topical archipelago where you'll design holiday homes - both interior and exterior - for the visiting villagers. Doing so unlocks new house design techniques, which can be used in both the holiday homes and your own house.
You can even remodel and move the holiday home if you decide you no longer like the design, but, first, you need to know how to access the Happy Home Paradise DLC.
On this page:
How to access Happy Home Paradise DLC for Animal Crossing: New Horizons
There are two ways to access the Happy Home Paradise DLC for New Horizons.
The first is to purchase the DLC for £22.49 / $24.99 from the Nintendo eShop or My Nintendo Store.
The second is to purchase either an Individual or Family member for the Nintendo Switch Online + Expansion Pack. If you do so, the DLC will be included for no additional cost, but you will lose access to it when the subscription ends.
An Individual 12-month subscription for this service costs £34.99 / $49.99, while a Family 12-month subscription costs £59.99 / $79.99.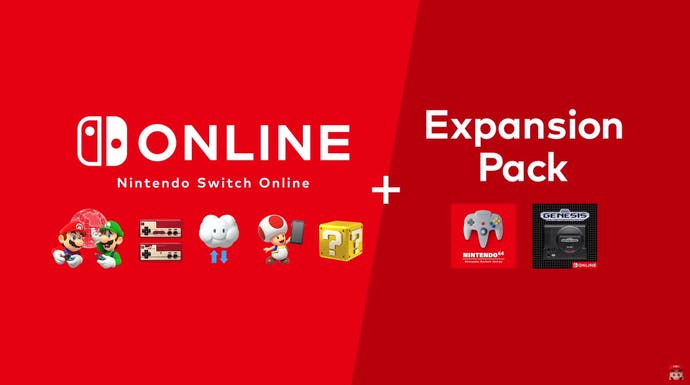 Remember, you need to own a copy of Animal Crossing: New Horizons and have downloaded Ver.2.0 to access this DLC. You will also need a Nintendo Switch Online membership to access every aspect of the DLC.
After the DLC has finished downloading, boot up New Horizons and, when you leave your house, you'll receive a phone call from Tom Nook who'll ask you to meet him at the airport. Here he'll introduce you to Lottie who will explain Nook has recommended you as a holiday home designer.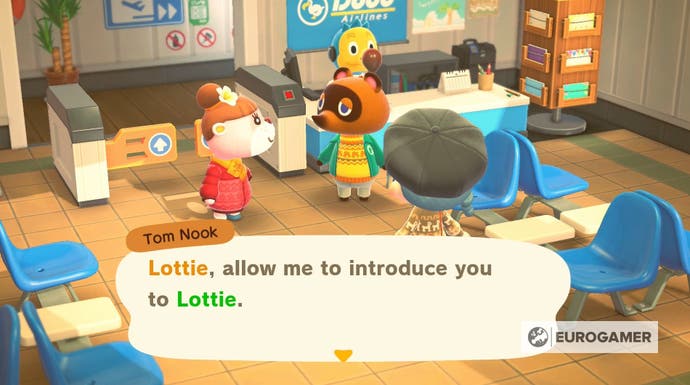 With the introductions over and done with, you'll now be able to select 'I want to go to work' when talking to Orville and Dodo Airlines will fly you to the archipelago where you can start designing!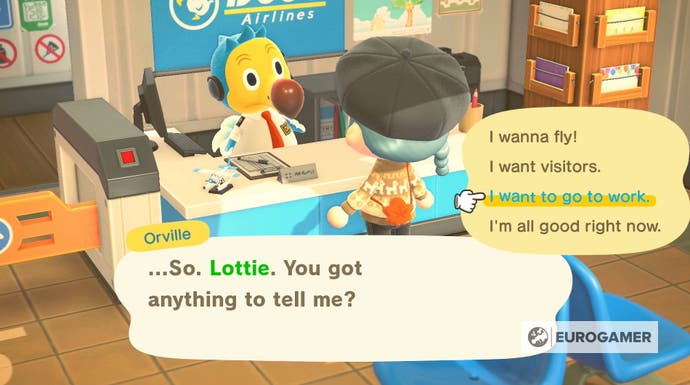 You'll also receive a Paradise Planning Photo in the mail after watching this cutscene.
Designing your first holiday home in Happy Home Paradise for Animal Crossing: New Horizons explained
When you first visit the archipelago in Happy Home Paradise, you'll be met by Niko at the docks; he'll guide you to the Paradise Planning office and Lottie will introduce you to Wardell.
Next, you'll need to head upstairs and use the locker to change into your Paradise Planning uniform. There will be a selection of clothes for you to choose from and you'll automatically change into what you've picked every time you decide to work. Don't worry if you don't like what you've picked - you can change it whenever you like using the locker.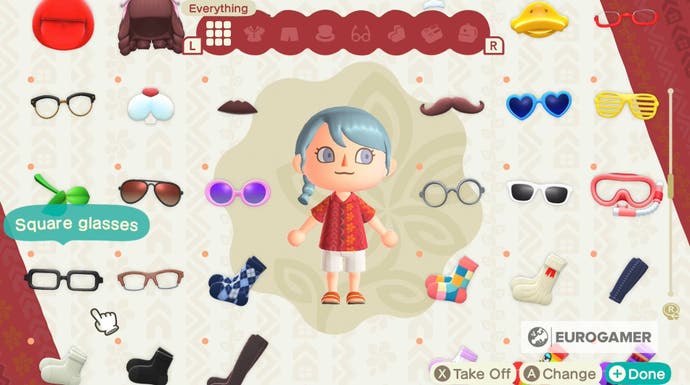 There's also a mirror for changing your physical appearance and a cabinet which connects to your home storage.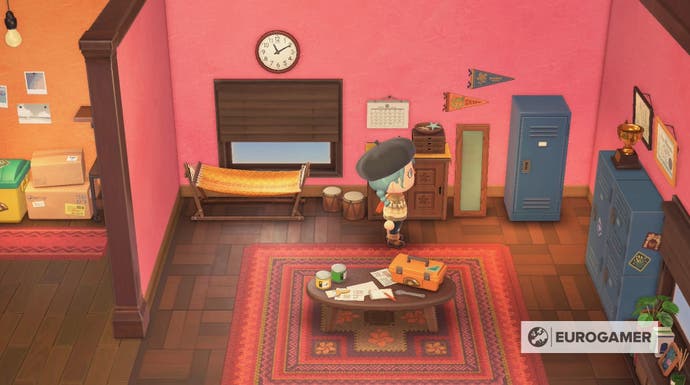 When you're happy with your uniform, head back down the stairs and Paradise Planning's first client will arrive - Eloise the elephant.
Lottie (the otter, not myself) will start your first client consultation. Here Eloise will reveal the theme she wants her holiday home designed around - My Relaxing Reading Room - and the three pieces of furniture she must have in the house. Lottie will choose the island Eloise will live on this time round, but you can change it later on.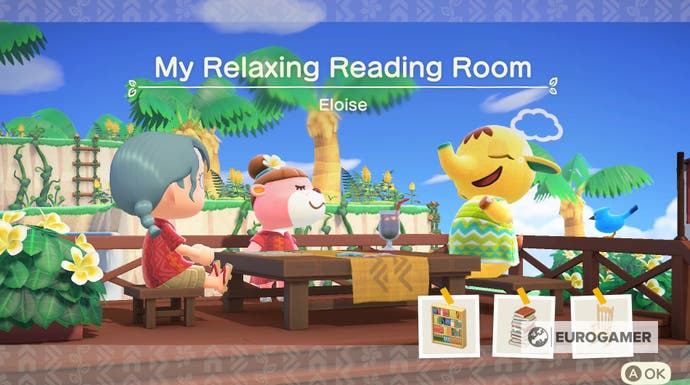 With that, you'll arrive at Eloise's new holiday home and can start designing. You can learn more about interior design in Happy Home Paradise in the section below, but, for now, just make sure you include her required furniture in your design.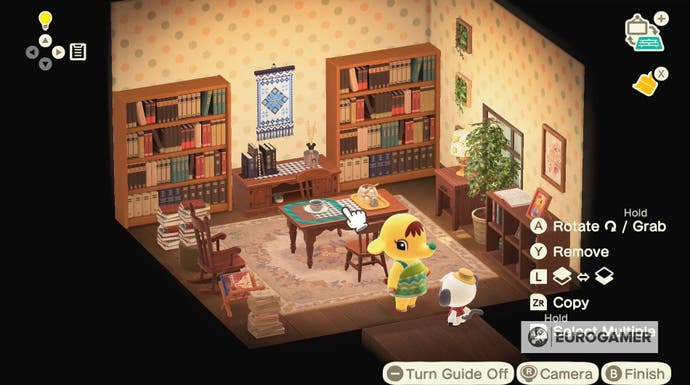 Once you're finished, talk to Eloise and tell her the design is complete. You will then head back to the Paradise Payment, where Lottie will give your first payment in Poki - the currency exclusively used in Happy Home Paradise - and you choose to find a new client!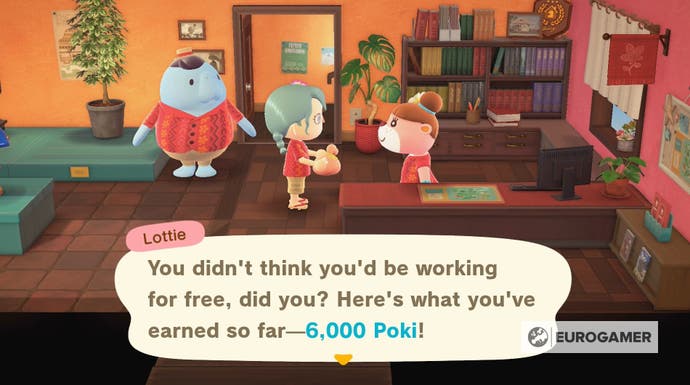 Finding a client and picking a plot in Happy Home Paradise for Animal Crossing: New Horizons explained
The first step in designing a holiday home in Happy Home Paradise is finding a client. To do so, visit the beach south of the Paradise Planning office where you'll find a selection of villagers waiting for houses.
When you walk up to a villager, a prompt will appear above their head which will give you an idea about the type of holiday home they're looking for. Take the time to visit each villager and pick which one interests you the most, before talking to the villager you wish to help.
The villagers on the beach will change daily, so don't worry if there's no-one who interests you!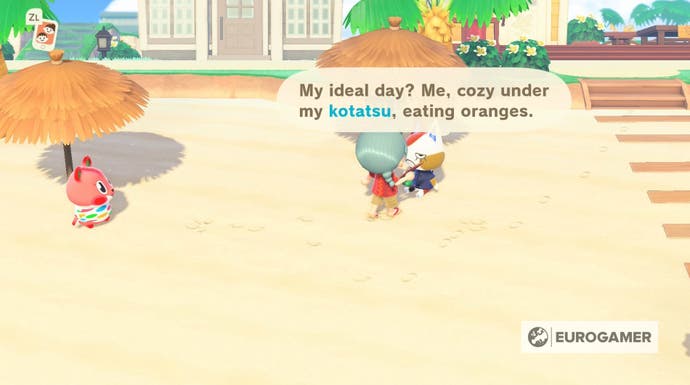 You can also unlock the green Amiibo box on the desk in the Paradise Planning headquarters to use Animal Crossing Amiibo figures and cards to invite specific villagers to the resort. This includes animals like Isabelle and Blathers who are also in the holiday home market.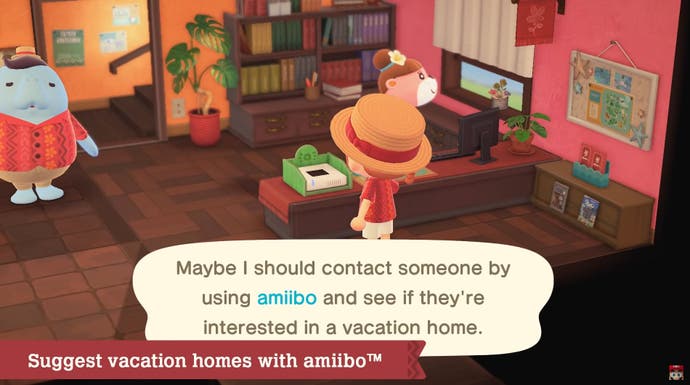 Finally, you can purchase souvenir chocolates for 800 Poki at the Paradise Planning head office and give them to the villager's living on your island. This will encourage them to visit the archipelago where they too will want a holiday home.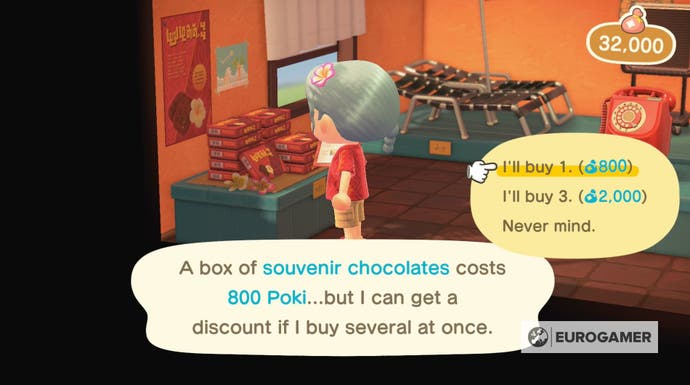 After you've chosen a villager, you'll sit down with them to learn the theme of their holiday home and the specific furniture they want you to include in the design.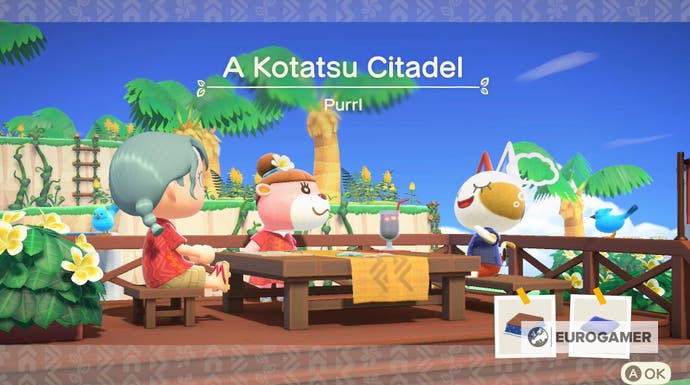 Now you have a client, it's time to decide where you want to build their holiday. Each island and plot has different features - some are in the desert or a frozen wasteland, while others are set in different seasons.
It's important to note that the terrain of a plot is not changeable, which means you can't add a waterfall or cliff, so make sure you're happy with the terrain layout before selecting the plot.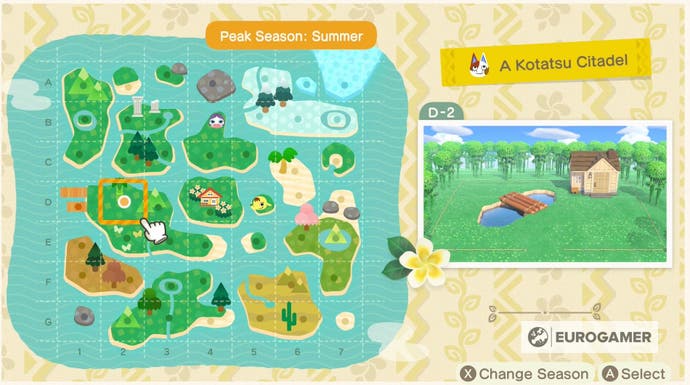 Eventually, you'll even unlock the ability to recommend that two villager's share a holiday home and then have to create a design which will suit both of their needs.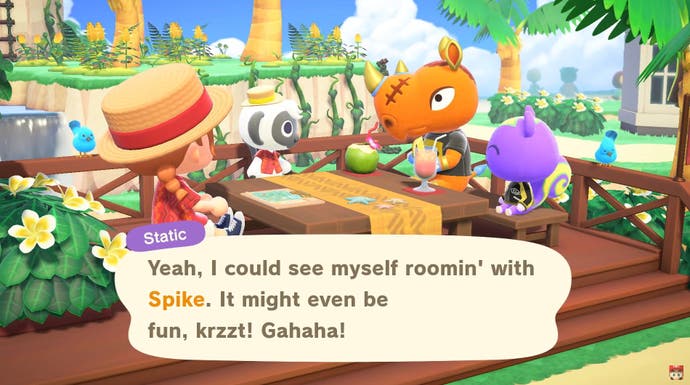 Once you've built a client's holiday home, they may appear on the northern beach. Here you can chat to them about their home, if they have any issues with it and can choose to visit it yourself. They may even give you an item in thanks for all your hard work!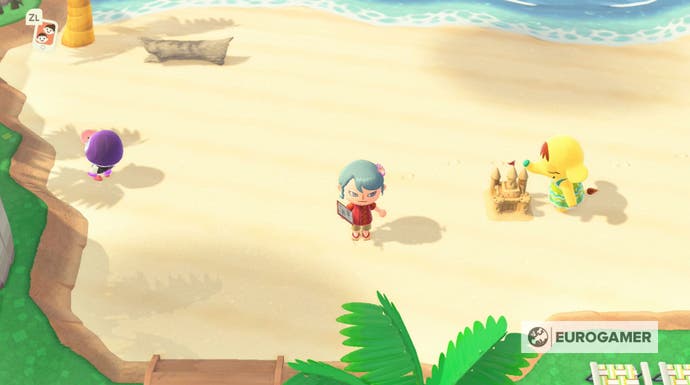 You'll also be able to visit client's homes using the Happy Home Network App which is unlocked after you help your second client.
Interior design in Happy Home Paradise for Animal Crossing: New Horizons explained
While the controls for designing the interior of a holiday home in Happy Home Paradise are the same as those used in your own home, there are a number of differences when it comes to interior design in Happy Home Paradise.
The first thing you'll notice when you enter a holiday home is that the required furniture will be ready and waiting for you. Simply unpack the furniture and place it wherever you think fits best.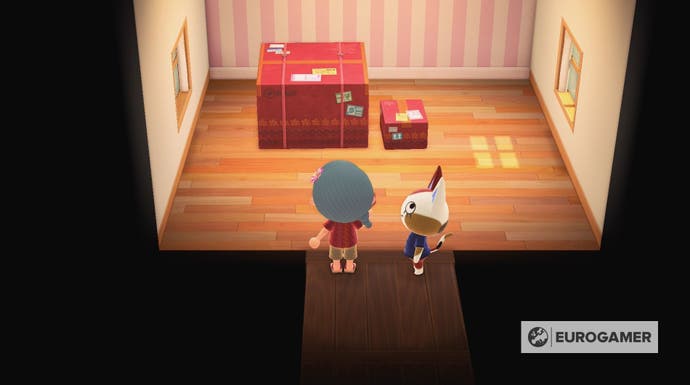 Once that's in place, it's time to start getting the rest of the house in order - from changing the wallpaper or flooring to placing more furniture.
The first difference you'll notice is the Order menu in the Decorating Mode selection screen. This includes the required furniture - helping you remember if you've placed - and other items which will help fit your client's theme. You can easily just use this furniture and nothing else to create their home, but there's a selection of non-recommended furniture to choose from too.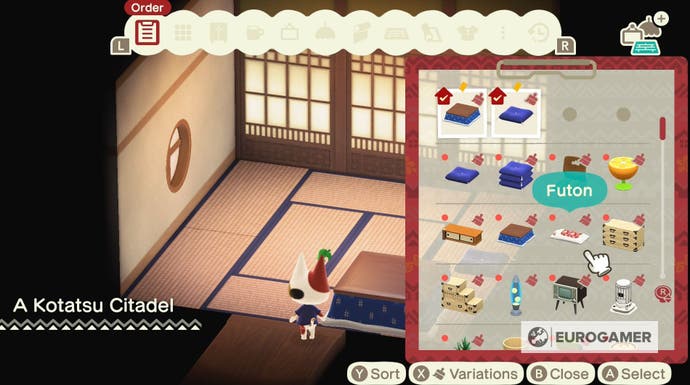 Recommended furniture will have a red dot next to it, so you can always identify which items your client will like.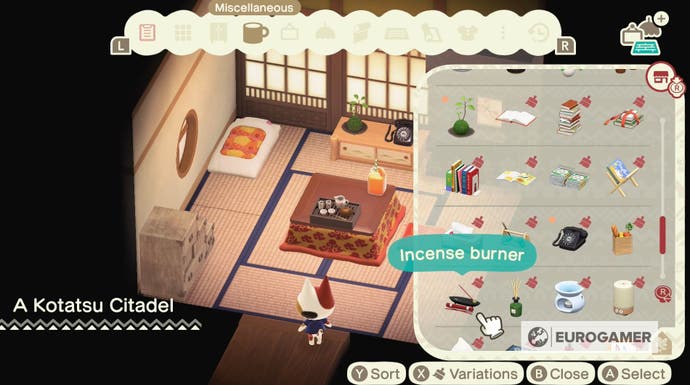 You can also customise the majority of furniture freely!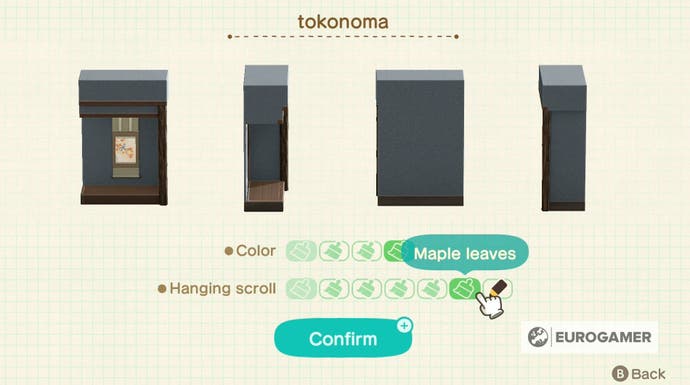 It's important to note that your furniture selection will grow as you create more holiday homes and, the furniture which is added, is based upon which clients you take on. This means that, if you're looking for a specific type of furniture, then you need to find a villager who's theme is inline with this type.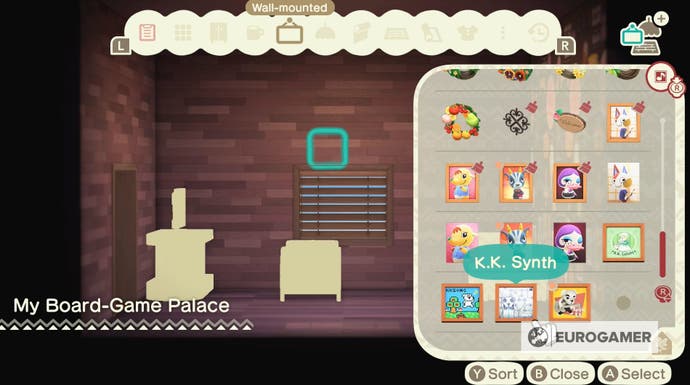 You will also be able to experiment with new design features, such as accent walls, which will be unlocked as you help more clients. Accent walls and ceiling lights, for example, will be unlocked during your third holiday home, while polishing furniture will be unlocked in your fourth.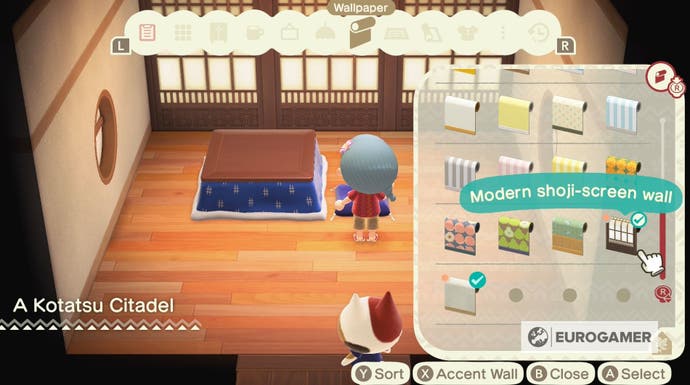 Once you think the house is complete, talk to your client and tell them so. Just remember to design the outside of the house too! You will then be able to take a photo for the Happy Home Network App and return to Lottie for your Poki payment.
Exterior design in Happy Home Paradise for Animal Crossing: New Horizons explained
After designing the house, why not create a lovely garden for your client too? Luckily, Happy Home Paradise has a number of different features which help you achieve this.
To begin with, you can both move the holiday home and alter its exterior to match your client's theme.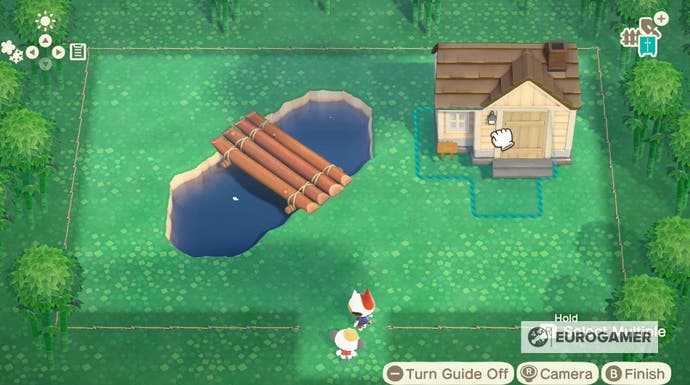 Once the house looks perfect, you can add trees, flowers, bushes, weeds and furniture to your heart's content.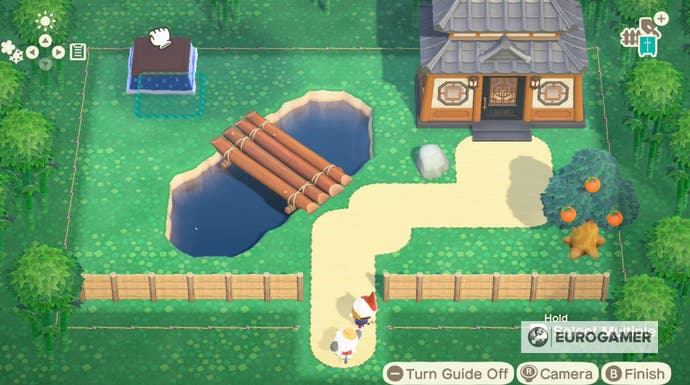 You can even place paths and fences on the plot!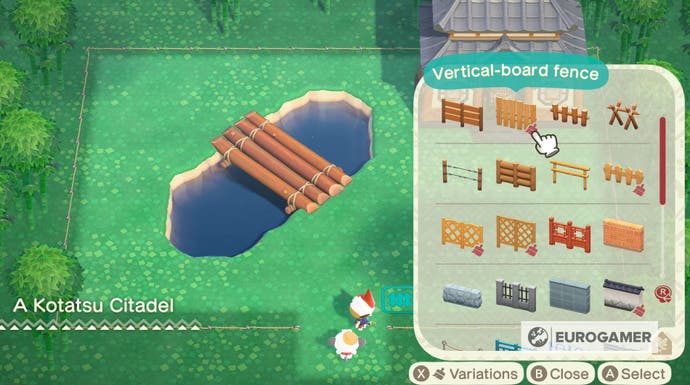 Finally, you can create the ideal habitat for your client by changing the season, weather and time day.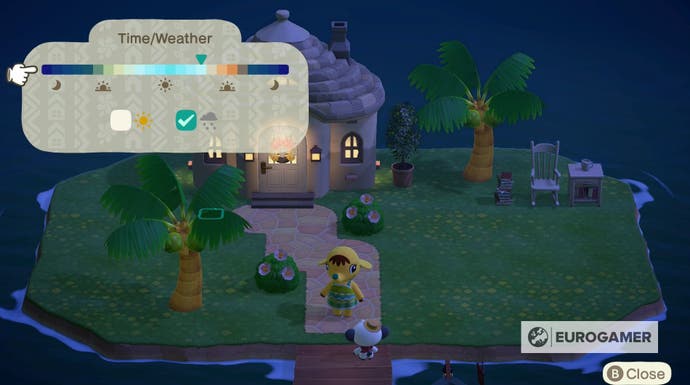 Remember - the terrain itself can not be modified using the Island Designer app, so make sure you're happy with the landscape layout before you start designing!
Just because you've finished designing the holiday home though, doesn't mean it can't be changed.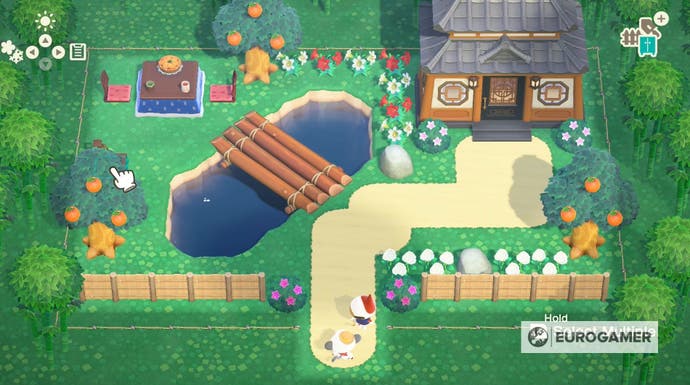 Remodelling holiday homes in Happy Home Paradise for Animal Crossing: New Horizons explained
It's possible to remodel both the interior and exterior of a holiday home whenever you like in Happy Home Paradise.
You can remodel by either talking to a client on the northern beach and selecting 'I want to remodel' or visiting them at their home, choosing 'How's your home?' and then 'Let's talk about remodelling.'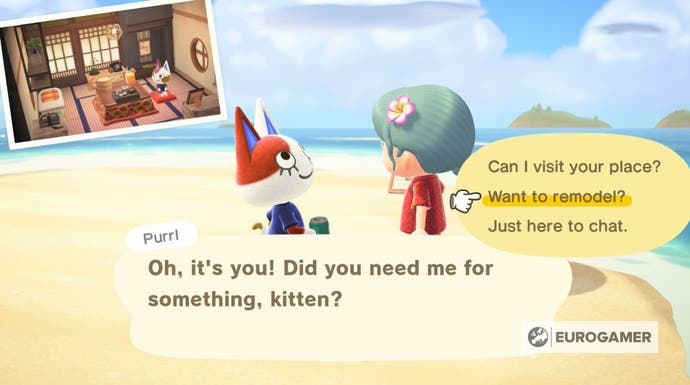 After that you'll be able to change the interior and exterior of the holiday home once again! You'll even receive more Poki for your hard work.
You will also earn more Poki for remodelling a client's house.
Moving holiday homes in Happy Home Paradise for Animal Crossing: New Horizons explained
Don't like where a client lives anymore or want to put someone else there? No worries! In Happy Home Paradise, you can move a holiday home as long as there's a free plot available.
To move a villager you need to visit them at their holiday home and, when talking to them, select 'How's your home?' and then 'Let's talk about moving.'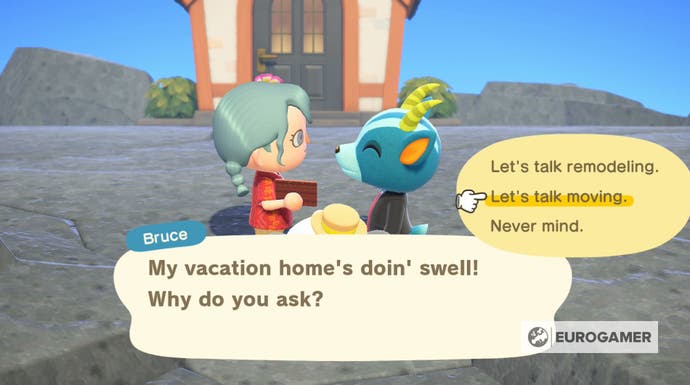 You will find yourself back outside the Paradise Planning office with Lottie and have to decide where you want to move their house to. Once the decision is made, you'll head to this new plot.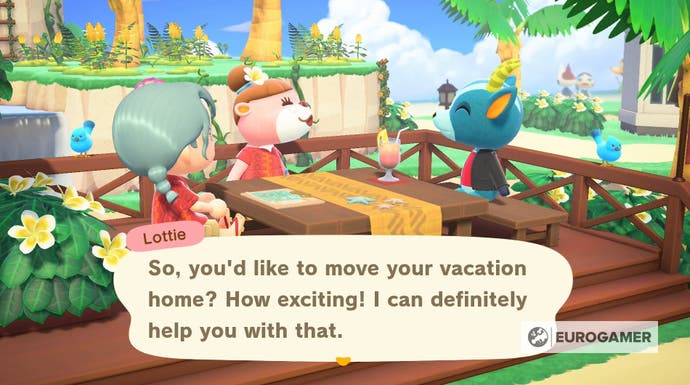 Moving a holiday home, like remodelling, will also help you earn Poki.
---
The Animal Crossing 2.0 update and Happy Home Paradise is here! We can help you with the new additions - including where to find Brewster, Gyroids, new villagers, ordinances, new fences, storage shed, new hairstyles, Froggy Chair, group stretching and Kapp'n boat tours. Cooking is now unlockable, so you need to know how to make both flour and sugar, as well as how to grow carrots, potatoes and tomatoes. Meanwhile, if you're new to Animal Crossing, our New Horizons tips can help with the basics. From the off, there's fish and bugs to catch, flowers and fruit to grow with. One long term goal is building your Happy Home Academy score. Finally, you need tools such as the new ladder and vaulting pole to fully explore.
---
House design techniques unlocked in Happy Home Paradise for Animal Crossing: New Horizons explained
As you design holiday homes in the Happy Home Paradise DLC for New Horizons, you'll gradually unlock new house design techniques to experiment.
These house design techniques are:
Ability to change the width and length of a room
Counters - two different heights to choose from
Lighting - change the brightness and colour
Partition walls
Polish furniture - gives certain pieces of furniture special effects

Unlocked during fourth client

Pillars
Soundscapes for background noise, such as forest, rain or sports stadium
Some of these techniques, such as partition walls and soundscapes, can be unlocked for use in your home. Best of all, you'll eventually unlock the ability to remodel the homes of the villagers who live on your island.
Enjoy designing holiday homes!