Animal Crossing group stretching: Where to find group stretching in New Horizons
We fit!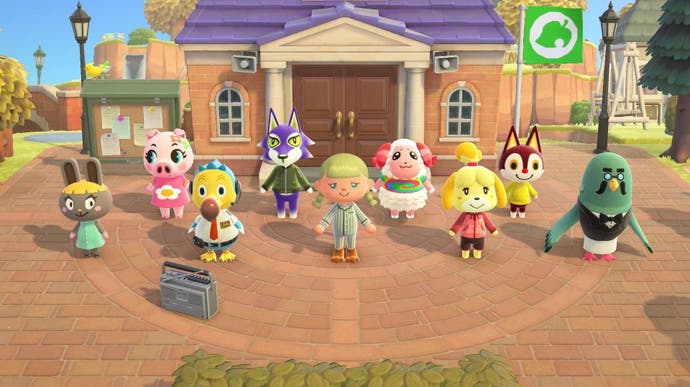 Animal Crossing's group stretching is a long-lost feature from an earlier game in the series returning as part of the 2.0 update.
The fitness-based activity sees you and your fellow villagers take up some light exercise outside of the Town Hall - with an invite for you to personally get involved in the action.
Group stretching last appeared in Animal Crossing way back in the GameCube original, as part of a week-long event during the summer which encouraged players to take in the early starts at their best.
This time, motion controls using a Joy-Con as well as button controls are an option - and all you have to do is find the tape deck in your village to get started.
How to perform group stretching and find the tape deck in Animal Crossing: New Horizons
To participate in group stretching, you must first find the tape deck in Animal Crossing: New Horizons - which will be placed outside the front of the Town Hall.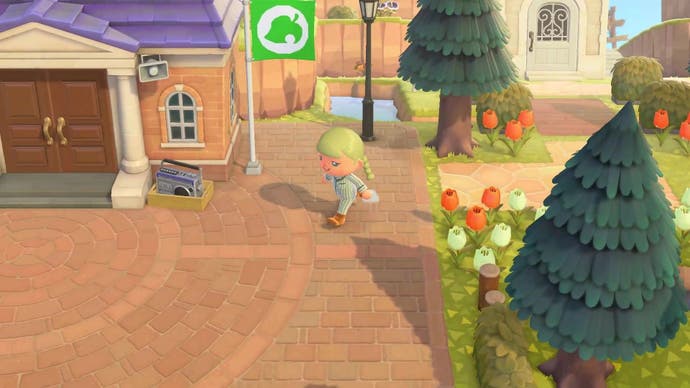 The tape deck will appear automatically outside of the Town Hall once you have downloaded the 2.0 update - no purchases or other unlock methods are required.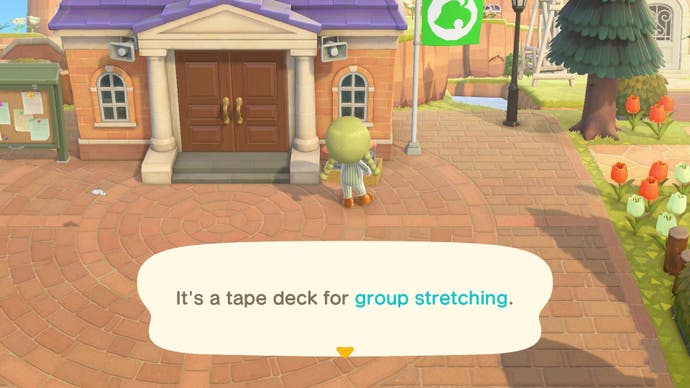 Interact with the tape deck, and your group stretching session will begin, with other villagers joining alongside you - as well as the possible cameo of non-Villagers, such as Isabelle and when unlocked, Brewster.
---
The Animal Crossing 2.0 update and Happy Home Paradise is here! We can help you with the new additions - including where to find Brewster, Gyroids, new villagers, ordinances, new fences, storage shed, new hairstyles, Froggy Chair, group stretching and Kapp'n boat tours. Cooking is now unlockable, so you need to know how to make both flour and sugar, as well as how to grow carrots, potatoes and tomatoes. Meanwhile, if you're new to Animal Crossing, our New Horizons tips can help with the basics. From the off, there's fish and bugs to catch, flowers and fruit to grow with. One long term goal is building your Happy Home Academy score. Finally, you need tools such as the new ladder and vaulting pole to fully explore.
---
How does group stretching work Animal Crossing: New Horizons?
Unlike the GameCube original where the feature last featured in the series, group stretching is no longer a morning activity - you can perform the mini-game whenever you like.
Not only is group stretching 'flexible' in the sense that you can use button or motion controls, there are no points or failure states (you can simply put the controller down if you prefer - though each session only takes a couple of minutes) and you can perform it as many times you like - rain or shine.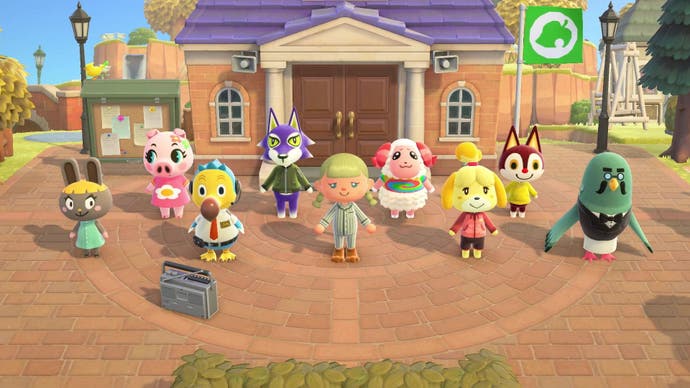 There are seemingly no rewards for group stretching beyond unlocking several Nook Mile milestones, which unlocks stamps if you perform at least one group stretch daily.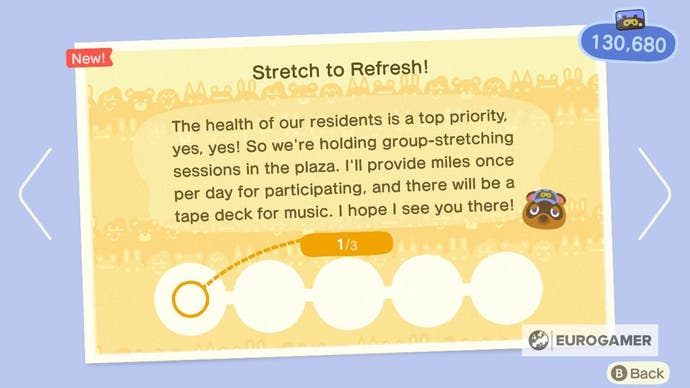 Enjoy your new fitness regime!