Animal Crossing's Town Hall, getting Isabelle, change the island flag in New Horizons explained
How to upgrade Residential Services and welcome a familiar face.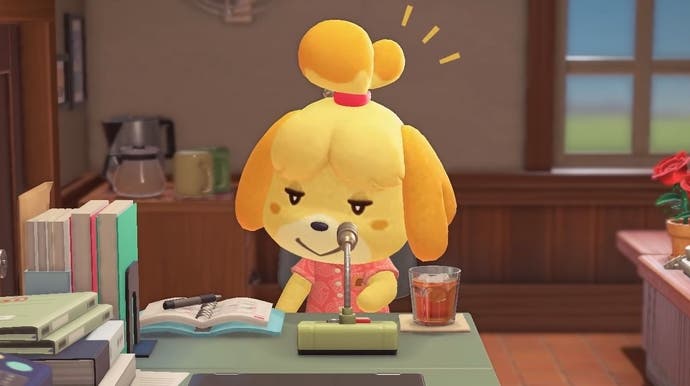 The Town Hall is where you can really get to grips with customising your island in Animal Crossing: New Horizons - but you won't have it right away.
To begin, you'll start with Residential Services. With the right steps, this can then be updated to the Town Hall - and bring about the return of Isabelle.
The Town Hall allows you to do all sorts of things - including the ability to change your island flag and Town Tune.
On this page:
What is Residential Services in Animal Crossing: New Horizons?
You'll quickly discover that Residential Services is the most important building on your island in Animal Crossing: New Horizons. This is where you'll learn the basics of crafting and decide where you build features, like bridges, on your island.
As you develop your island, the services inside, as well as the building itself, will change.
When you first arrive, for example, the Nooklings will run a shop in Residential Services. After you've developed your island, however, the Nookling will open Nook's Cranny, removing the shop from Residential Services.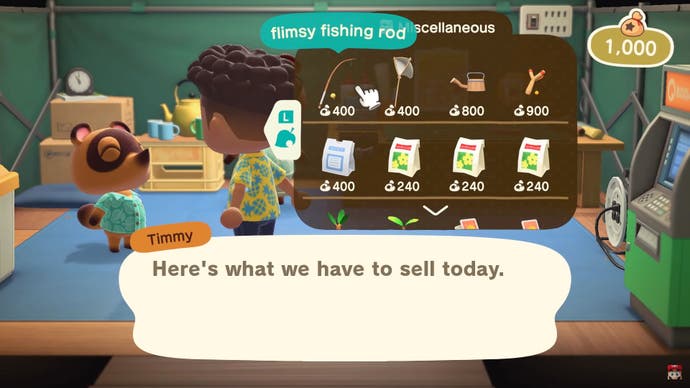 There are a number of functions, however, that will always be present in Residential Services, these include:
Nook Stop
Recycle Box
Tom Nook and the services he provides, such as paying off your loan
Residential Services is open 24 hours a day, so you'll always have access to these services, even if it's three o'clock in the morning.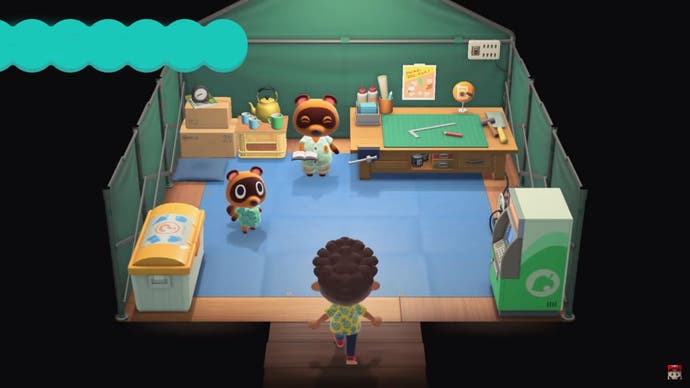 How to get the Town Hall and Isabelle in Animal Crossing: New Horizons
When you first arrive on your island in New Horizons, Residential Services will be a simple tent in the middle of a deserted island. With some hard work, however, you can help transform that simple tent into a town hall worthy of your growing community.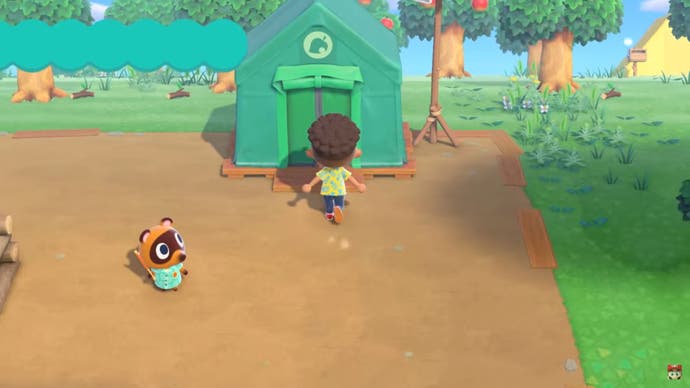 If you want to unlock this upgrade, however, then you must first build the foundations for a thriving island community.
To unlock the Town Hall and Isabelle in Animal Crossing: New Horizons, you must:
Build a bridge
Have at least three villagers move in
Open Nook's Cranny
Have Blathers move onto the island in his tent
Upgrade Blathers' tent into the Museum
Once you've completed these tasks, you'll discover that Residential Services has been closed for a day.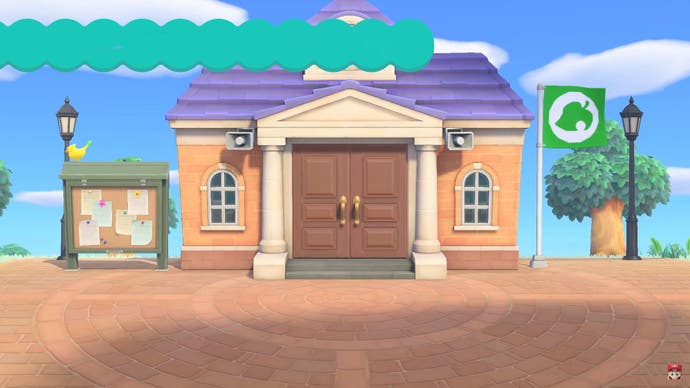 It will reopen as the town hall and will not only contain Isabelle, but a variety of new services, which include:
Island evaluations
Changing the island flag
The ability to change certain aspects, such as the catchphrase, of a villager
You will now also have to sit in a seat, either on Tom Nook's side of the office or Isabelle's, to get their attention and use the services they provide.
The final reward for upgrading Residential Services is that finally, like in previous Animal Crossing games, the music will begin to change every hour.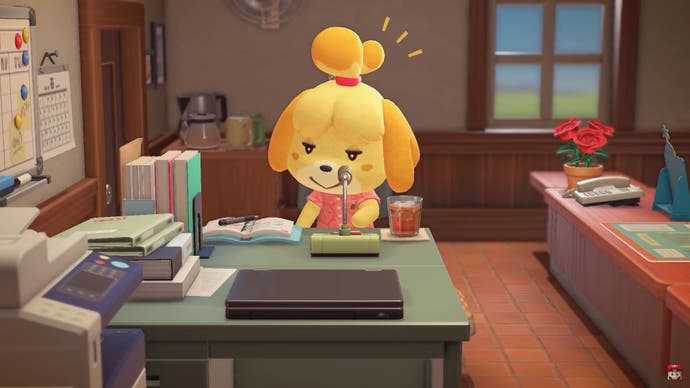 ---
The Animal Crossing 2.0 update and Happy Home Paradise is here! We can help you with the new additions - including where to find Brewster, Gyroids, new villagers, ordinances, new fences, storage shed, new hairstyles, Froggy Chair, group stretching and Kapp'n boat tours. Cooking is now unlockable, so you need to know how to make both flour and sugar, as well as how to grow carrots, potatoes and tomatoes. Meanwhile, if you're new to Animal Crossing, our New Horizons tips can help with the basics. From the off, there's fish and bugs to catch, flowers and fruit to grow with. One long term goal is building your Happy Home Academy score. Finally, you need tools such as the new ladder and vaulting pole to fully explore.
---
Changing the island flag in Animal Crossing: New Horizons explained
If you find the island flag a little boring in New Horizons, then it's time to Residential Services and talk to Isabelle.
You'll want to select the third option she offers you - 'Change the island flag.'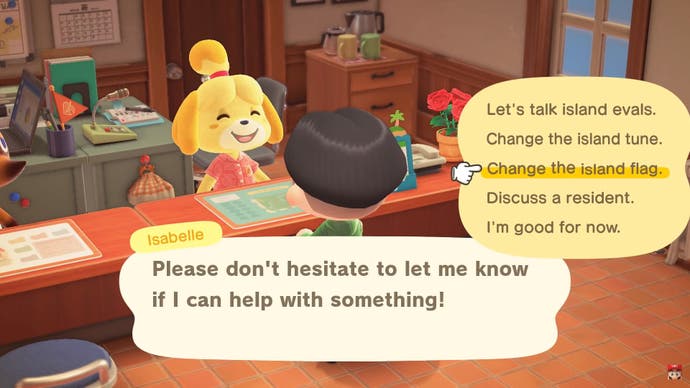 Now you can select your favourite out of all the patterns you've created or one of the default patterns.
If you haven't designed any of your own patterns yet, then you can buy the Custom Design Pro Editor from the Nook Stop using your Nook MIles. This Nook Phone app will allow you to design your own patterns, so get your creativity flowing.
Once you've decided which pattern you prefer, select it and confirm with Isabelle that this is the design you wish to use.
When you leave Residential Services, you'll be able to see it flying from the flagpole next to the building.