Fortnite - Steel Farm location: Where to open chests in Steel Farm explained
How to make a start on Big Mouth's questline.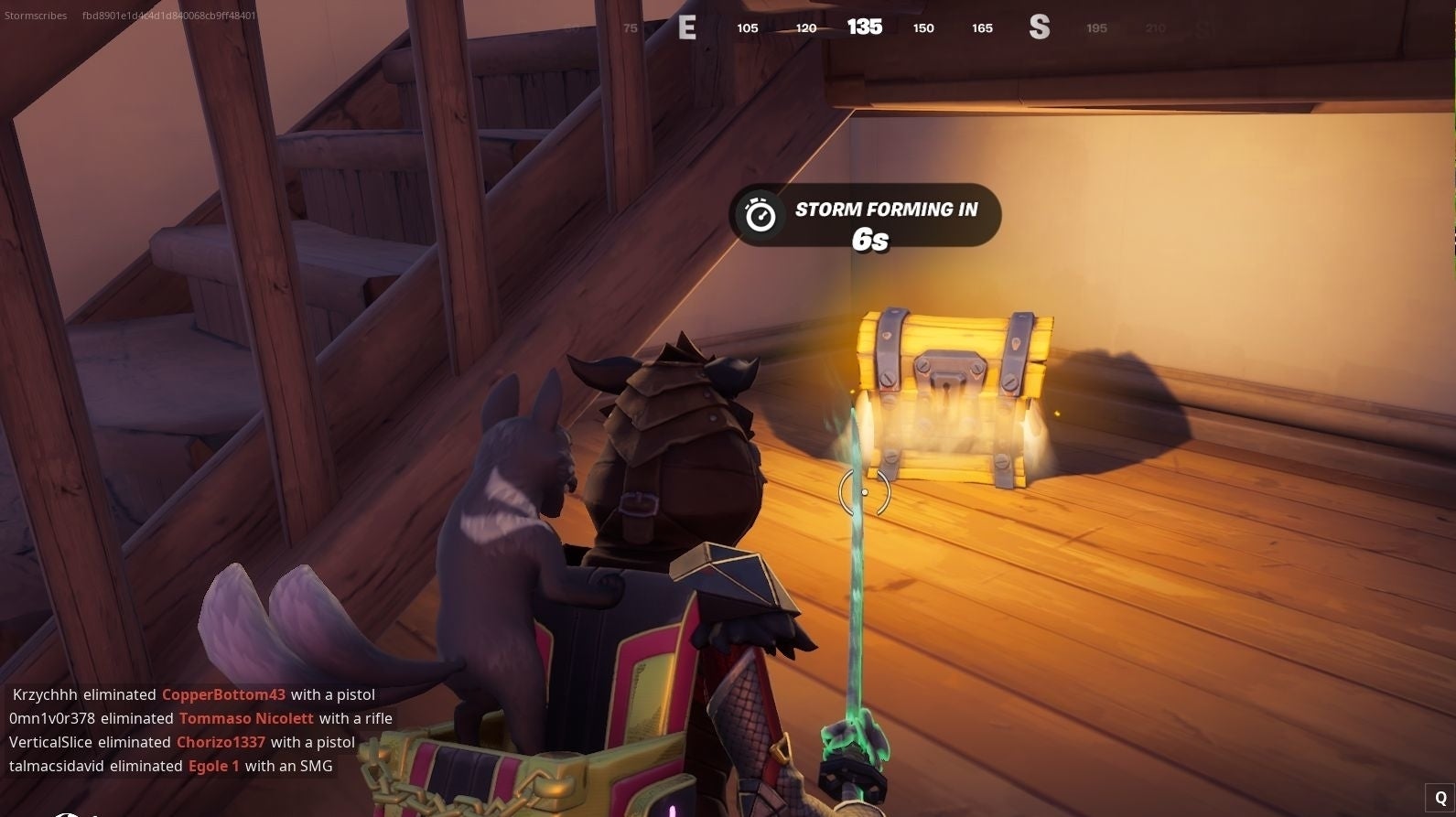 Opening chests in Steel Farm is the first challenge for the Big Mouth punchcard in Fortnite Chapter 2 Season 8.
If you want to start this quest punchcard, you must first visit Big Mouth's location and, after talking to him, travel to Steel Farm's location to start opening chests.
Completing each challenge from the Big Mouth punchcard will reward you with 30k XP, which will help you unlock more Battle Stars for the Season 8 Battle Pass.
---
Note this particular challenge is no longer able to be completed. What's new? Chapter 3 Season 3 has arrived! New additions include Reality Seeds and Saplings and riding animals, along with the new Battle Pass, characters collection and map changes. It's a good idea to know how to get XP fast in Fortnite.
---
On this page:
Big Mouth's location and questline explained
If you want to complete Big Mouth's questline, then you must first talk to him at the Pizza Pit restaurant, which is located north of Corny Crops.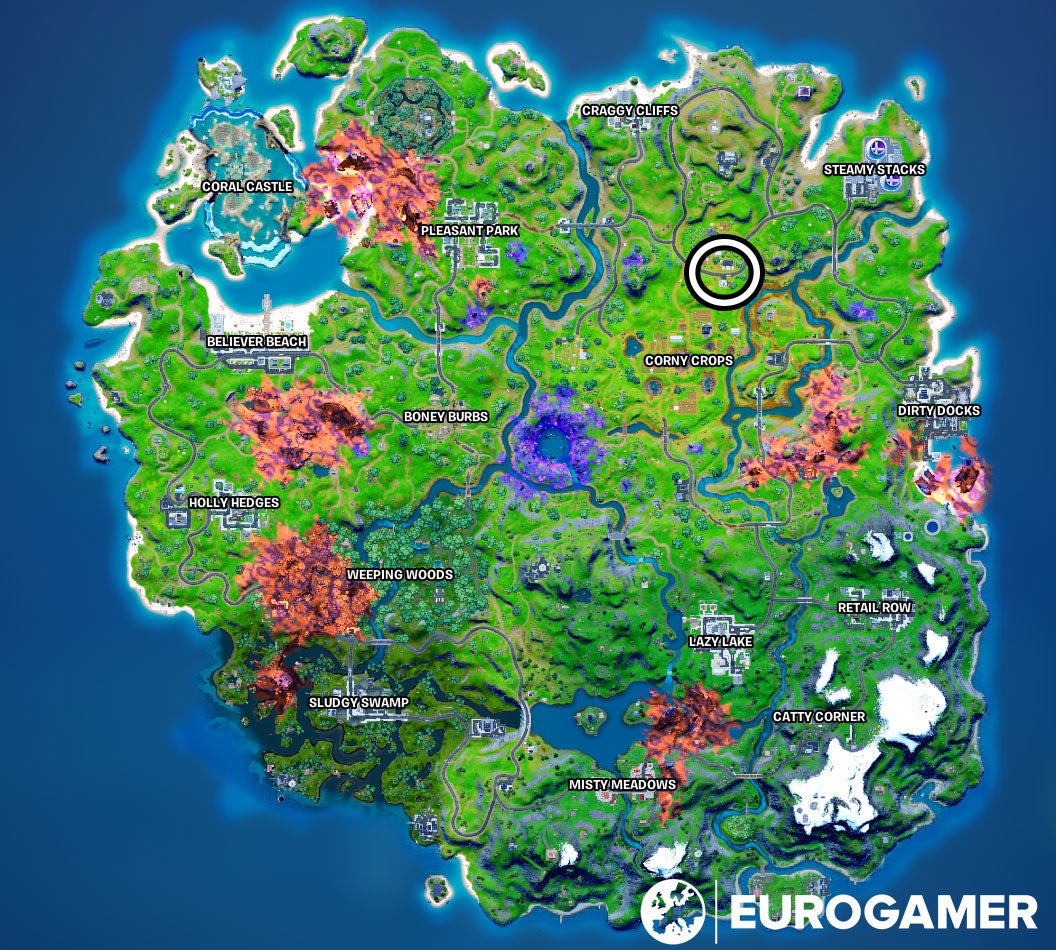 Once you're in this area, Big Mouth should be easy to find since he's often hanging out within the Pizza Pit itself. Simply talk to him and select the option to begin his questline.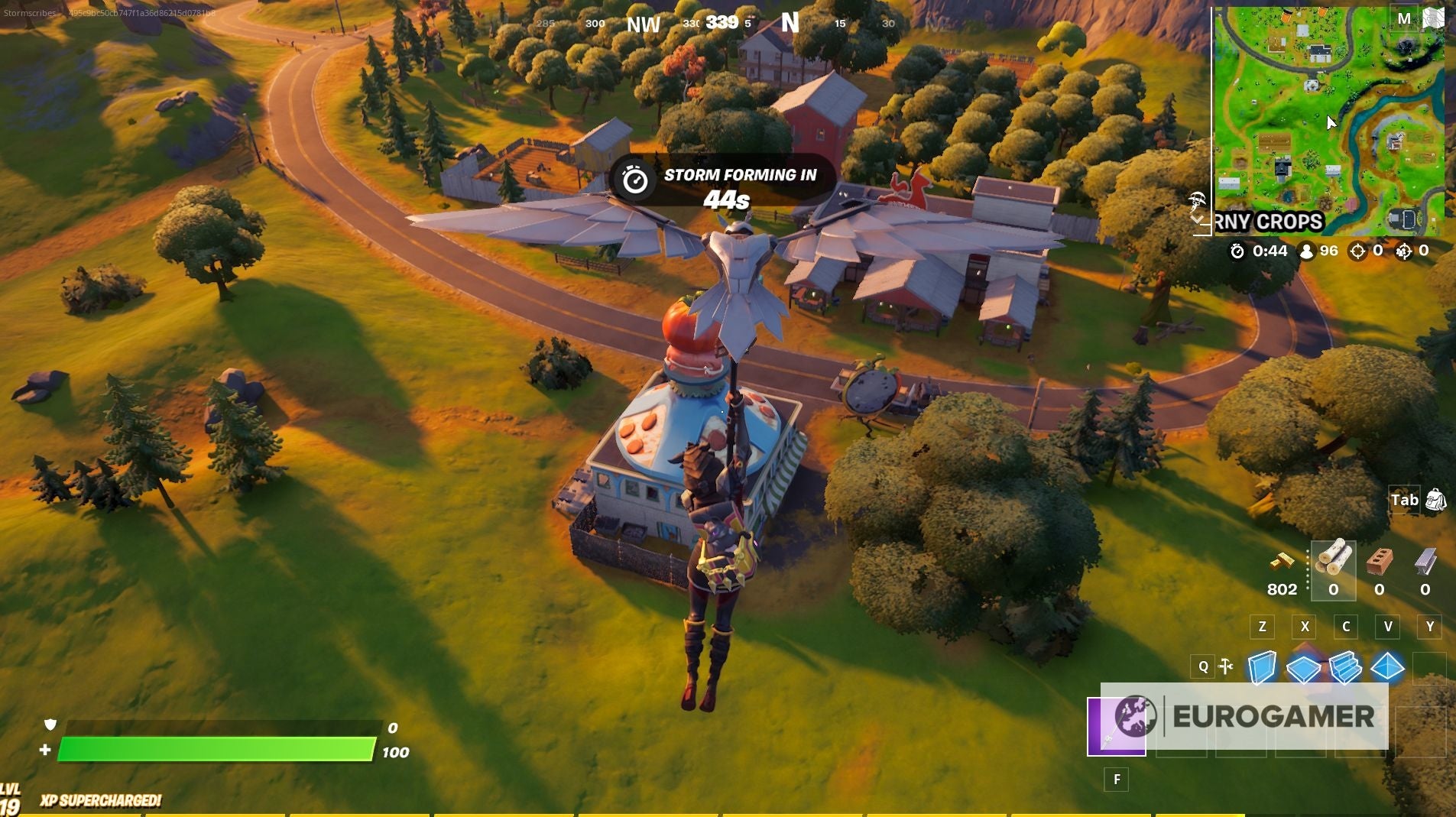 Here is every challenge, along with the XP you'll receive, for Big Mouth's quest punchcard:
Open Chests in Steel Farm (2) - 30k XP
Search an Ice Machine - 30k XP
Open Ammo Boxes at Dirty Docks (2) - 30k XP
Buy a Health Item from a Mending Machine - 30k XP
Search a Supply Drop - 30k XP
---
Fortnite Chapter 4 Chapter 1 is here, complete with a new augments system, the coming arrival of Geralt and the Ageless Champion to beat! We've also got a present list for Winterfest and Cozy Lodge and pizza slice locations. Meanwhile, learn how to get XP fast, earn the Victory Umbrella, find character locations and earn a Victory Crown.
---
Steel Farm location and chests in Fortnite explained
Finding Steel Farm's location on the Fortnite map can be rather difficult if you've never visited it before, because it's a landmark and, therefore, doesn't appear as a named location.
Steel Farm, thankfully, is quite easy to find - simply head to the island directly east of Corny Corps and there, at the northern end, you'll find Steel Farm.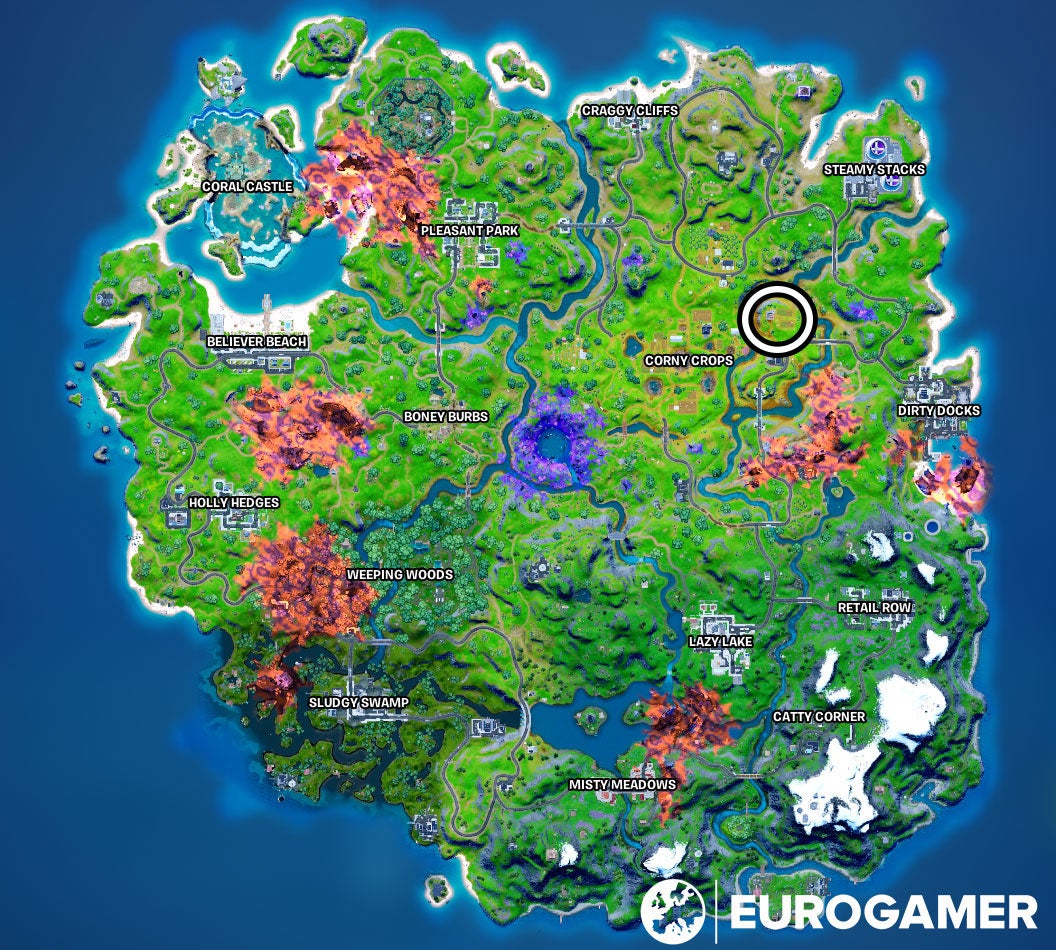 When searching for chests within Steel Farm, it's important to remember that other players can open chests first and not every chest appears in every match. This means that, while you may find a chest under the stairs of Steel Farm in one match, it might not be there in another.
Here are the locations of three chests we found in Steel Farm:
Under the stairs
In the tower - you will need to destroy a wall to reach it
In the attic on the second floor - you will need to build stairs and destroy the ceiling to reach it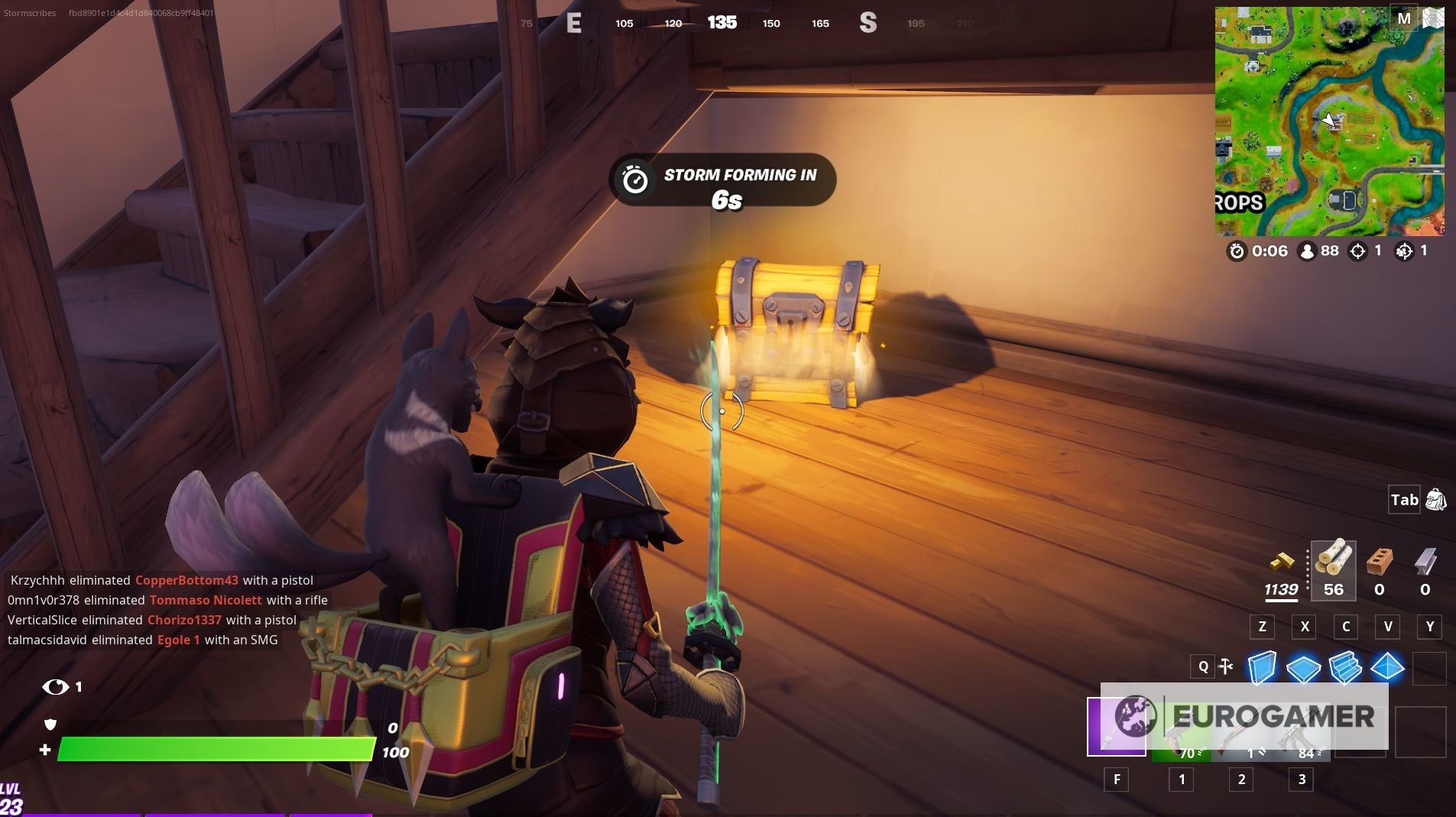 Remember to listen for the sound of the chest glowing, because this will tell you if one is nearby!
If you're having trouble completing this challenge, we recommend visiting Steel Farm at the start of a match to ensure you're the first one to visit the location.
If you'd like to learn more about Season 8 of Fortnite, check out our pages on the Season 8 Battle Pass, colour bottle locations, Sideways encounter and Sideways weapons.