Fortnite Fortbyte locations list and all Fortbytes map
Where to find newly added computer chip collectables.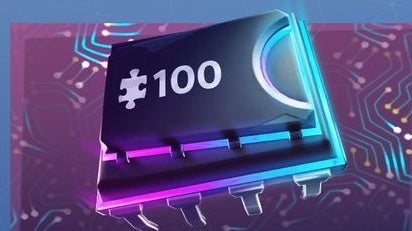 What are Fortnite Fortbytes?
Fortbytes are 100 computer chips, many of which will appear across the map for those that own the Battle Pass.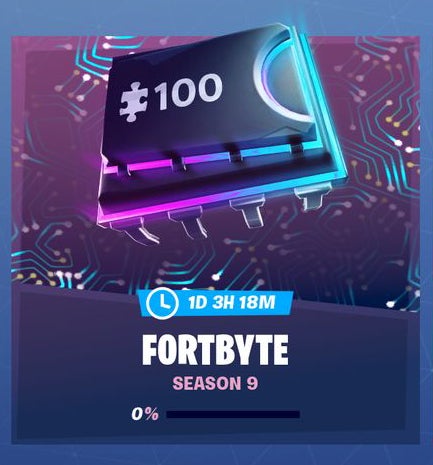 At the start of the season, there are 18 to find, each requiring a different unlock method.
Some require you earn a certain about of XP, others for finishing a certain position within a match a set amount of times, while others require you visit areas of the map with specific skins - such as the Sentinel frozen island location.
Furthermore, there is one new Fortbyte added to the map each day.
As you find Fortbytes, a mysterious image will begin to be uncovered. As you collect more, you'll earn rewards and the tease of new secrets surrounding Season 9's story.
Additionally, finding a total of 90 Fortbytes will unlock this season's Utopia Battle Star skin, named Singularity.
Many will take a while, so don't worry if you don't unlock them right away. That said, as with the loading screens and other objects in Fortnite, once Season 9 is over, the Fortbytes are gone for good, so the sooner you can work to unlock them, the better!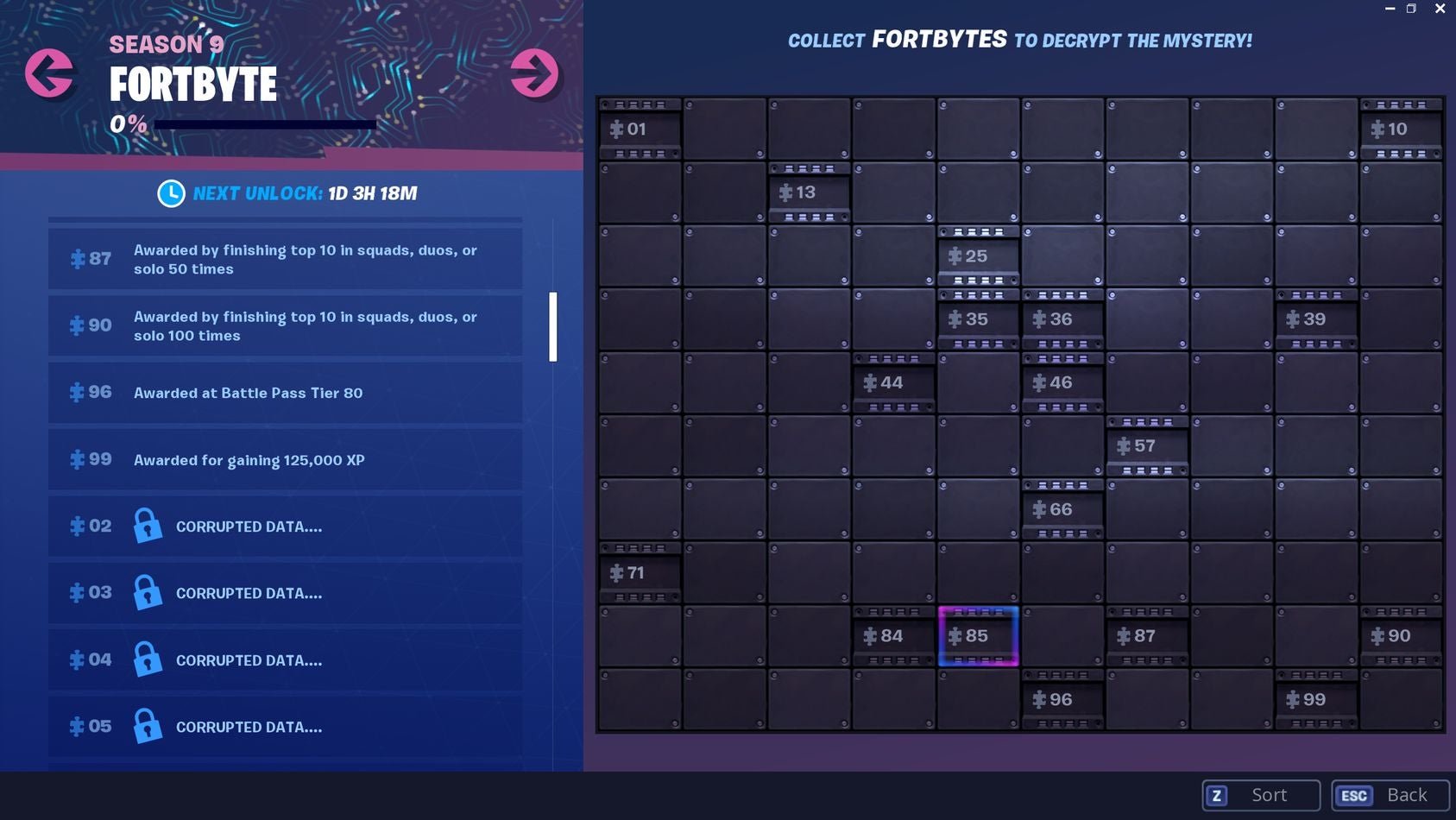 Fortnite Fortbytes list: How to unlock all Fortbytes available so far
With Fortnite Season 10 just round the corner, all Fortbytes are now available.
Here is a list of all Fortbyte locations:
| Fortnite number | How to unlock Fortbyte |
| --- | --- |
| Fortbyte 1 | Awarded for gaining 175,000 XP |
| Fortbyte 2 | Found at a location within Loading Screen 6 |
| Fortbyte 3 | Accessible by using the Skull Trooper Emoji at the western most point |
| Fortbyte 4 | Accessible by skydiving through the rings above Loot Lake with the Plasma Trail Contrails equipped |
| Fortbyte 5 | Accessible by using the Laid Back Shuffle Emote inside a dance club |
| Fortbyte 6 | Accessible with Yay! Emote at an ice cream shop in the desert |
| Fortbyte 7 | Accessible by using the Cuddle Up Emoticon inside a rocky umbrella |
| Fortbyte 8 | Found within Junk Junction |
| Fortbyte 9 | Awarded for completing 6 Challenges from Week 5 |
| Fortbyte 10 | Awarded for gaining 60,000 XP |
| Fortbyte 11 | Found beneath a circling jungle parrot |
| Fortbyte 12 | Accessible by using the Nana Nana Spray inside a molten tunnel |
| Fortbyte 13 | Found at a location hidden within Loading Screen 2 |
| Fortbyte 14 | Found within an RV park |
| Fortbyte 15 | Awarded for completing 6 Challenges from Week 9 |
| Fortbyte 16 | Found in a desert house with too many chairs |
| Fortbyte 17 | Found within wooden fish building |
| Fortbyte 18 | Found somewhere between Mega Mall and Dusty Divot |
| Fortbyte 19 | Accessible with the Vega outfit inside a spaceship building |
| Fortbyte 20 | Found at the center of any of the first three Storm Circles |
| Fortbyte 21 | Found inside a metal llama building |
| Fortbyte 22 | Accessible by using Rox Spray in an underpass |
| Fortbyte 23 | Found between an RV campsite, a gas station and a monstrous footprint |
| Fortbyte 24 | Found within Fatal Fields |
| Fortbyte 25 | Awarded at Battle Pass Tier 40 |
| Fortbyte 26 | Accessible with the Bunker Jonesy outfit near a snowy bunker |
| Fortbyte 27 | Found somewhere within map location A4 |
| Fortbyte 28 | Accessible by solving the pattern match puzzle outside a desert junkyard |
| Fortbyte 29 | Found underneath the tree in Crackshot's Cabin |
| Fortbyte 30 | Found somewhere between Haunted Hills and Pleasant Park |
| Fortbyte 31 | Found at meteor crater overlook |
| Fortbyte 32 | Accessible by wearing Kyo Pet Back Bling at the northern most pointC |
| Fortbyte 33 | Found at a location hidden within Loading Screen #10 |
| Fortbyte 34 | Found between a fork and a knife |
| Fortbyte 35 | Awarded for gaining 225,000 XP |
| Fortbyte 36 | Accessible by Sentinel on a frozen island |
| Fortbyte 37 | Found inside a disaster bunker basement in Pleasant Park |
| Fortbyte 38 | Accessible with the Vendetta outfit at the northern most Sky Platform |
| Fortbyte 39 | Awarded for completing 6 Challenges from Week 2 |
| Fortbyte 40 | Accessible with the Demi outfit on a sundial in the desert |
| Fortbyte 41 | Accessible by using Tomatohead Emoticon inside the Durrr Burger restaurant |
| Fortbyte 42 | Awarded for completing 6 Challenges from Week 3 |
| Fortbyte 43 | Accessible by wearing the Nana Cape Back Bling inside a Banana Stand |
| Fortbyte 44 | Awarded at Battle Pass Tier 20 |
| Fortbyte 45 | Awarded for completing all Season 9 Weekly Challenges |
| Fortbyte 46 | Awarded at Battle Pass Tier 100 |
| Fortbyte 47 | Found between a Reboot Van, pirate camp, and a crashed battlebus |
| Fortbyte 48 | Accessible by using the Vox Pickaxe to smash the gnome beside a mountain top throne |
| Fortbyte 49 | Found in Trog's Ice Cave |
| Fortbyte 50 | Accessible at night time inside mountain top castle ruins |
| Fortbyte 51 | Accessible by using the Cluck Strut to cross the road in front of Peely's Banana Stand |
| Fortbyte 52 | Accessible with Bot Spray inside a Robot Factory |
| Fortbyte 53 | Accessible by helping to raise the Disco Ball at abandoned villain lair |
| Fortbyte 54 | Awarded for completing 6 Challenges from Week 4 |
| Fortbyte 55 | Within Haunted Hills |
| Fortbyte 56 | Awarded for completing 6 Challenges from Week 10 |
| Fortbyte 57 | Awarded by finishing top 10 in squads, duos or solo 25 times |
| Fortbyte 58 | Accessible by using the Sad Trombone Emote at the north end of Snobby Shores |
| Fortbyte 59 | Accessible with Durrr! Emoji inside Pizza Pit restaurant |
| Fortbyte 60 | Accessible with Sign Spinner Emote in front of the happy Oink restaurant |
| Fortbyte 61 | Accessible by using Sunbird Spray on a frozen waterfall |
| Fortbyte 62 | Accessible with the Stratus outfit within an abandoned mansion |
| Fortbyte 63 | Found somewhere between Lucky Landing and Fatal Fields |
| Fortbyte 64 | Accessible by Rox on top of Stunt Mountain |
| Fortbyte 65 | Found in a basement budget movie set |
| Fortbyte 66 | Awarded by finishing top 10 in squads, duos or solo 75 times |
| Fortbyte 67 | Accessible by flying the Retailator Glider through the rings under the southern most Sky Platform |
| Fortbyte 68 | Found within a snowy town book shop |
| Fortbyte 69 | Found inside a stone pig building |
| Fortbyte 70 | Accessible by skydiving through the rings above Lazy Lagoon with the Vibrant Contrails equipped |
| Fortbyte 71 | Awarded for completing 6 Challenges from Week 1 |
| Fortbyte 72 | Found within Salty Springs |
| Fortbyte 73 | Awarded for completing 6 Challenges from Week 6 |
| Fortbyte 74 | Found in a filing cabinet inside an assassin's basement on the desert coast |
| Fortbyte 75 | Found within an airport hanger |
| Fortbyte 76 | Fortbyte 76 location: Found behind a historical diorama in an insurance building |
| Fortbyte 77 | Found within a track side tack shop |
| Fortbyte 78 | Found within a Ranger Tower overlooking a drained lake |
| Fortbyte 79 | Found within an arcade |
| Fortbyte 80 | Accessible by using the Bunker Basher Pickaxe to smash the rock at the highest point of the Volcano rim |
| Fortbyte 81 | Accessible in the daytime near a mountain top cactus wedge |
| Fortbyte 82 | Accessible by solving the Pressure Plate Puzzle NW of The Block |
| Fortbyte 83 | Found in a rock garden near the coast |
| Fortbyte 84 | Awarded at Battle Pass Tier 60 |
| Fortbyte 85 | Awarded for gaining 30,000 XP |
| Fortbyte 86 | Awarded for completing 6 Challenges from Week 8 |
| Fortbyte 87 | Awarded by finishing top 10 in squads, duos or solo 50 times |
| Fortbyte 88 | Found somewhere within map location J3 |
| Fortbyte 89 | Accessible by flying the Scarlet Strike Glider through the rings east of Snobby Snores |
| Fortbyte 90 | Awarded by finishing top 10 in squads, duos or solo 100 times |
| Fortbyte 91 | Fortbyte 91 location: Found at a location hidden within Loading Screen 4 |
| Fortbyte 92 | Accessible by using Rock Love Spray near a lavafall |
| Fortbyte 93 | Awarded for completing 6 Challenges from Week 7 |
| Fortbyte 94 | Accessible by using the Scarlet Scythe Pickaxe to smash a blue canoe under a frozen lake |
| Fortbyte 95 | Found at a Solar Panel Array in the Jungle |
| Fortbyte 96 | Awarded at Battle Pass Tier 80 |
| Fortbyte 97 | Found at a location hidden within Loading Screen 8 |
| Fortbyte 98 | Found within a Viking Longhouse |
| Fortbyte 99 | Awarded for gaining 125,000 XP |
| Fortbyte 100 | Found on the highest floor of the tallest building in Neo Tilted |