Fortnite Singularity style locations: Where to find all Singularity helmets
Where to find every colour style for Season 9's end of season skin in Fortnite.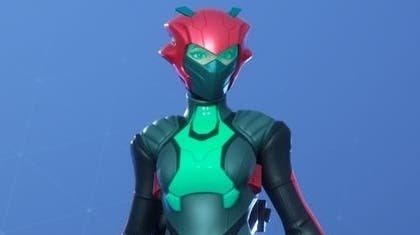 Finding the Singularity styles is an optional series of unlocks to find once you have completed enough Fortbytes.
Find 90 Fortbyte locations and you'll unlock the Singularity skin. From there, there are five additional styles to unlock by finding Singularity Helmets across the map.
---
Note this particular challenge is no longer able to be completed. What's new? Chapter 4 Season 2 has arrived! New additions include the Grind Rails and Kinetic Blades, along with the new Battle Pass, character collection and Eren Jaeger skin. It's a good idea to know how to get XP fast in Fortnite.
---
On this page:
How Singularity styles work in Fortnite
First, you need to have unlocked the Singularity skin in Fortnite. Singularity is a reward for completing 90 Fortbytes throughout Season 9. You can see your progress on the Fortbytes area of the Challenges screen.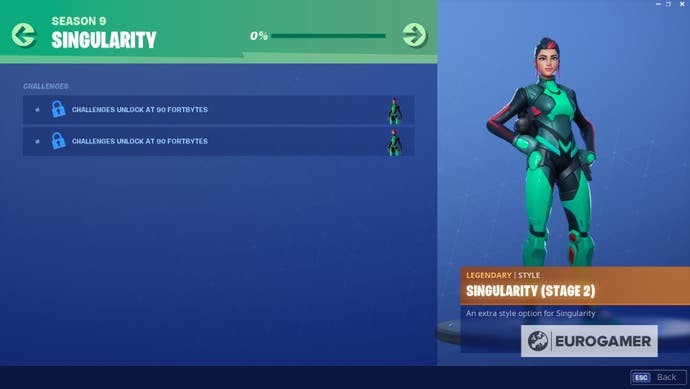 Though the game doesn't advertise these ahead of time, as well as the two it gives you, there are five additional Singularity styles to unlock. These are found by interacting with Singularity helmets on the map, each themed around existing Fortnite characters, and each one adding a new style.
All are available as soon as you have Singularity unlocked, but will only be available until the end of Season 9, so make sure you get round to them before the Season 10 release date rolls around.
Singularity style locations map
Here is, at a glance, where to find all Singularity style locations: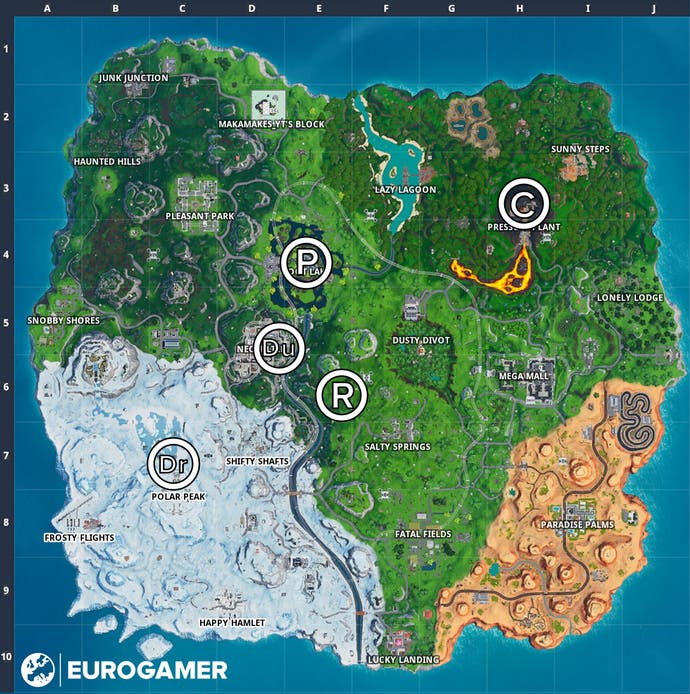 The Singularity style locations are:
Cuddle Helmet location: Pressure Plant, on the platform on the north side overlooking construction
Pizza Helmet location: Loot Lake, on the north side of the named location, on a ledge overlooking the lake
Durr Helmet location: Neo Tilted, on a platform to the east of the large fountain
Rex Helmet location: Between Neo Tilted and Salty Springs, just south of three large trees
Drift Helmet location: North of Polar Peak on the south edge of the frozen lake, up the bank
Remember, you need to equip Singularity when visiting these locations for the helmets to then appear.
If you're looking for more detail...
Singularity Cuddle Helmet location for the pink Singularity style
This Singularity style location is found in Pressure Plant. Go to the north side and on a walkway overlooking the robot construction, you'll find the Cuddle helmet.
Singularity Pizza Helmet location for the red and green Singularity style
This Singularity style location is at Loot Lake, on a ledge overlooking the named location to the north. You'll find the Pizza Helmet on the edge.
Singularity Durr Helmet location for the purple Singularity style
This Singularity style location is at Neo Tilted. To the east is a giant fountain, and the Durr helmet is on a platform next to it, just east.
Singularity Rex Helmet location for the green and orange Singularity style
This Singularity style location is found outside of a named location, between Neo Tilted and Salty Springs. Specifically, it's inside the monster skeleton that was added after the Season 10 event. You'll find it on the north side.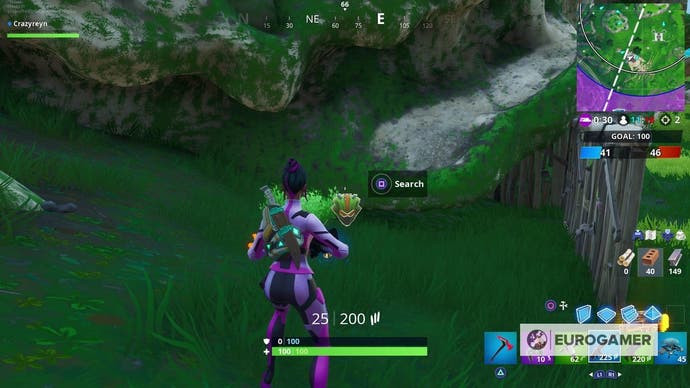 Singularity Drift Helmet location for the gold Singularity style
This Singularity style location is just north of Polar Peak. Specifically, head to the frozen lake that's next to it, and on the south side, head up the bank, where it'll be hidden behind by a crate.
That's your lot. Make sure you get any final Fortnite Challenges and Fortbyte locations ticked off before the Fortnite Season ends. It's not long now!
---
Fortnite Chapter 4 Season 4 is here! To help you get started with this heist themed season, we have guides on how to alert a Securitry Camera, secure data from Forecast Towers and destroy weakened walls or security gates. There's also a new Victory Umbrella! Meanwhile, learn what the best weapons are, the current Augments, how to get XP fast, use the best PC settings and earn a Victory Crown.
---