Animal Crossing Toy Day: Jingle photo, Festive Wrapping Paper, delivering gifts to villagers, rewards and gift exchange in New Horizons
Merry Toy Day everyone!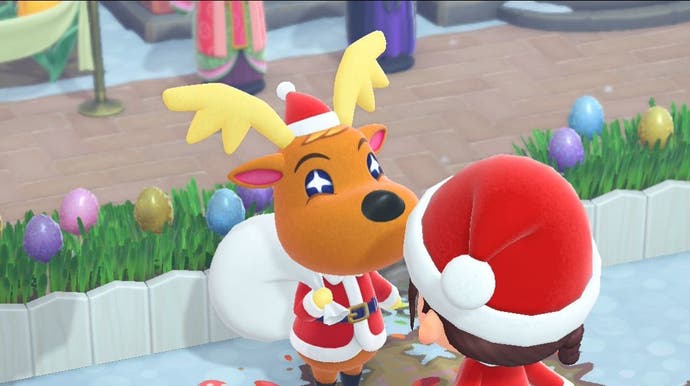 Toy Day is the Animal Crossing: New Horizons' version of Christmas.
On this very special day Jingle the reindeer will visit your island and recruit you in bringing festive cheer to the island. You'll be able to deliver gifts to your villagers and conduct gift exchanges with them for your own presents.
First, however, you need to make Festive Wrapping Paper, so you can start earning Toy Day rewards, including Jingle's photo.
On this page:
How to find Jingle in Animal Crossing: New Horizons
To partake in the Toy Day festivities of New Horizons, you need to find Jingle the reindeer.
Luckily, he's quite easy to locate - simply head down to Residential Services and he'll be wandering nearby. He may not be directly outside Residential Services, but he'll never go too far.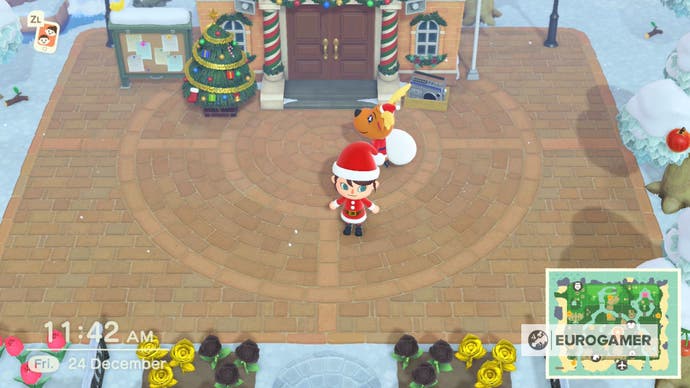 Festive Wrapping Paper DIY recipe in Animal Crossing: New Horizons explained
After talking to Jingle in New Horizons, he'll give you the first Toy Day task - crafting three pieces of Festive Wrapping Paper.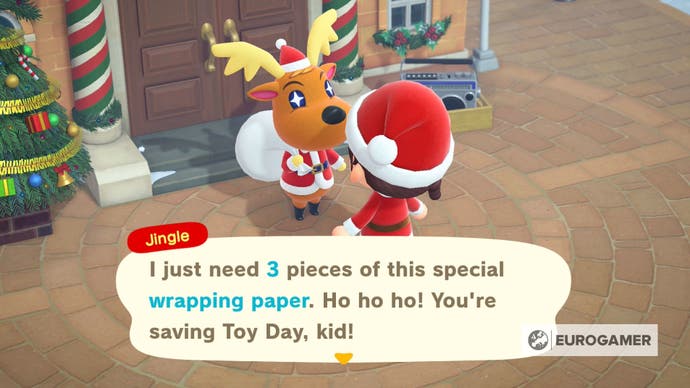 To craft the Festive Wrapping Paper, you need to collect some ornaments and, since you need three pieces of wrapping, you need three red, blue and gold ornaments.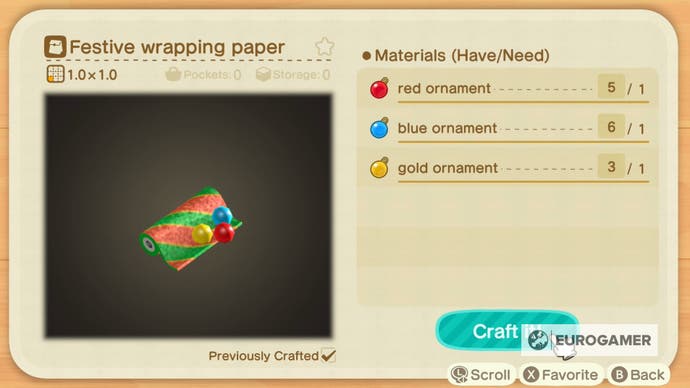 Ornaments can be found by shaking the trees covered with lights, so find the nearest one and start shaking. Trees can give multiple ornaments, so feel free to shake the same tree over and over if you so wish. Don't forget about wasps though!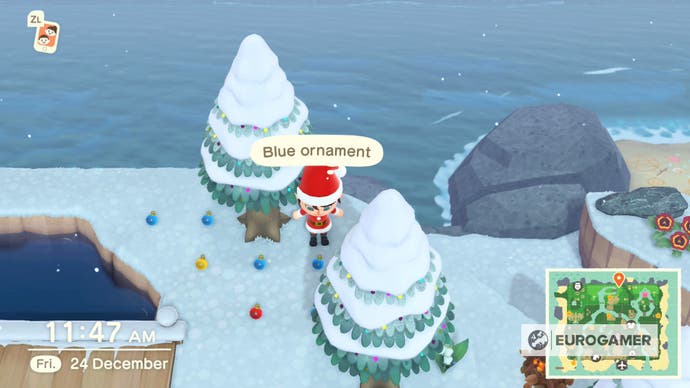 Once you have enough ornaments, craft the three pieces of Festive Wrapping Paper and return to Jingle. In thanks for your hard work, he'll give a set of Toy Day Stockings.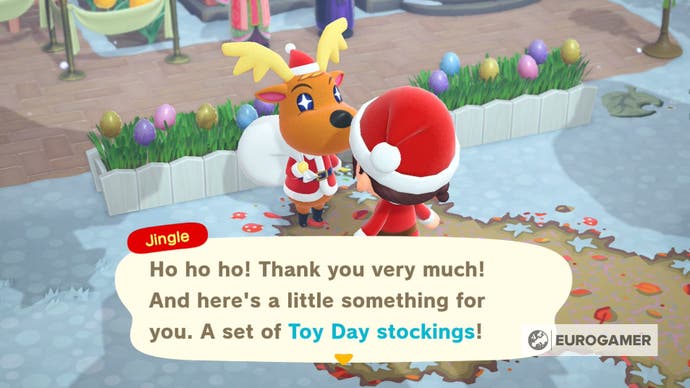 Delivering gifts to villagers in Animal Crossing: New Horizons explained
Jingle will next ask you to deliver a present to every villager on your island in New Horizons - some of these villagers will be wandering about your island, while others will be at home. You can't, however, deliver a present if the villager is asleep.
To do this Jingle will give you a magic bag, but will warn you that the magic will vanish at 5am which is when he's leaving the island. If you want to take a break from present delivery talk to Jingle and tell him so.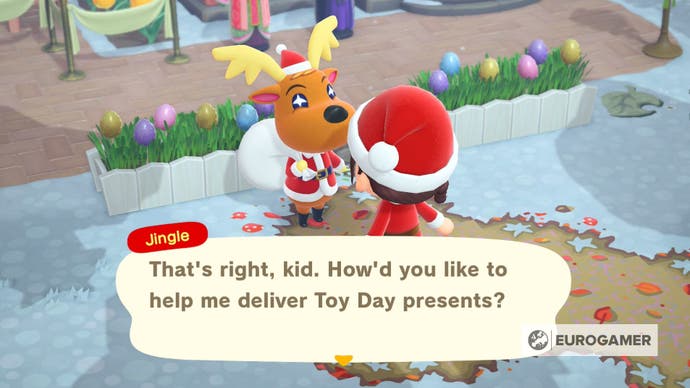 Now all you have to do is hunt down every villager and give them a present! Some villagers may even give you a present so you don't feel left out. These presents will all be toys and, if you don't like them, you may have use for them later on.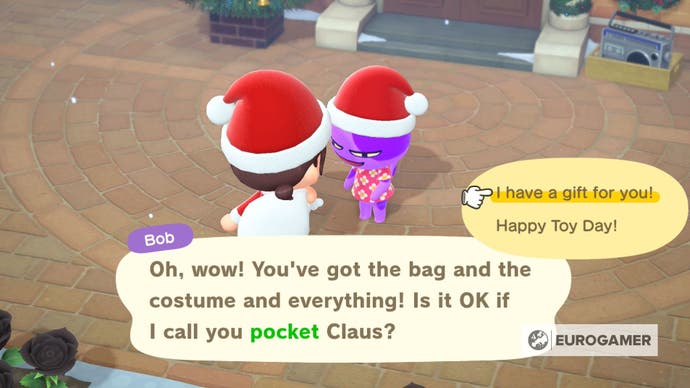 Depending on when you like to play New Horizons, you may want to set up an ordinance at Residential Services to ensure all your villagers are awake; the Early Bird ordinance will make villagers wake up earlier, while the Night Owl ordinance will cause them to stay awake longer at night. Each ordinance will cost you 20,000 Bells (to cover the paperwork apparently).
After you've delivered all of the presents, find Jingle again and he'll take the magic bag from you. He will then give you a Gift Pile DIY Recipe and a Toy Day Sleigh.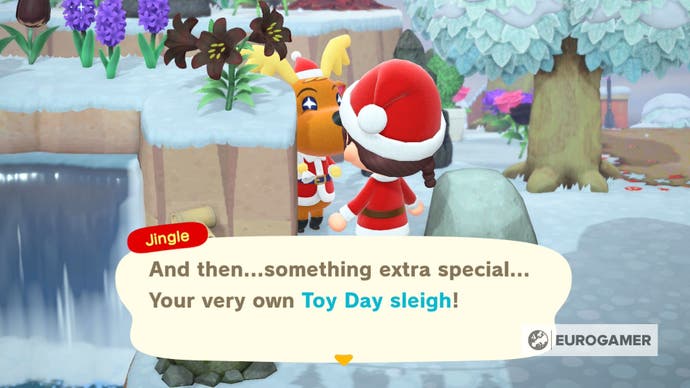 Gift exchange with villagers in Animal Crossing: New Horizons
Every villager in New Horizons will allow you to do one gift exchange with them on Toy Day.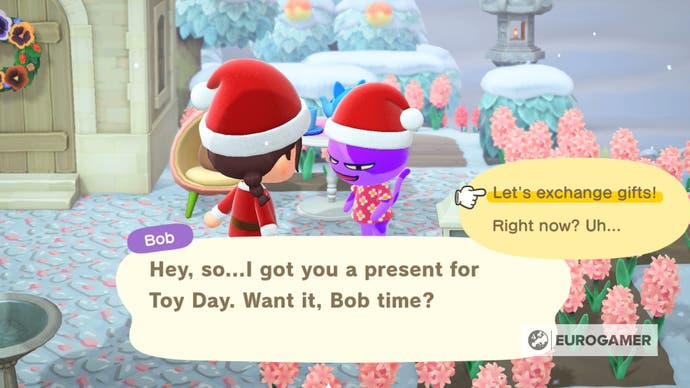 You can give a villager whatever you like for Toy Day, but you'll only receive toys in return so don't expect anything too special. These toys will be of various styles, so you might find one you haven't seen before.
First, however, you need to ensure all of the gifts you wish to give are wrapped, because it's Toy Day and villagers won't accept unwrapped gifts. Wrapping paper can be brought from the cabinet in Nook's Cranny and a villager may give you some for free if you attempt a gift exchange without having any wrapped gifts in your inventory.
Once your gifts are wrapped, hunt down every villager on your island and give them their gifts for your collection of toys in return. Remember - you can only conduct one gift exchange per village.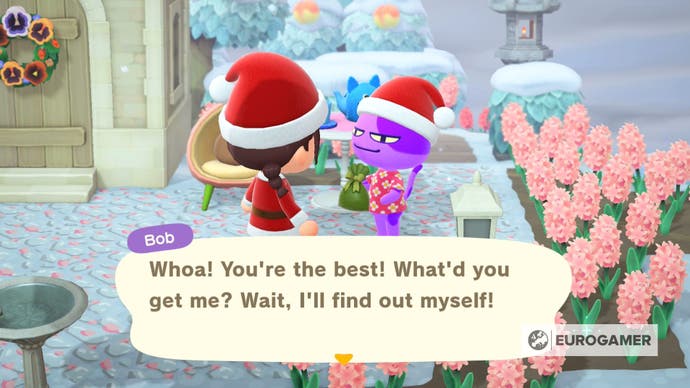 How to get Jingle's photo in Animal Crossing: New Horizons
If you want Jingle's photo in New Horizons, you need to hang the Toy Day Stockings in your house on Toy Day itself.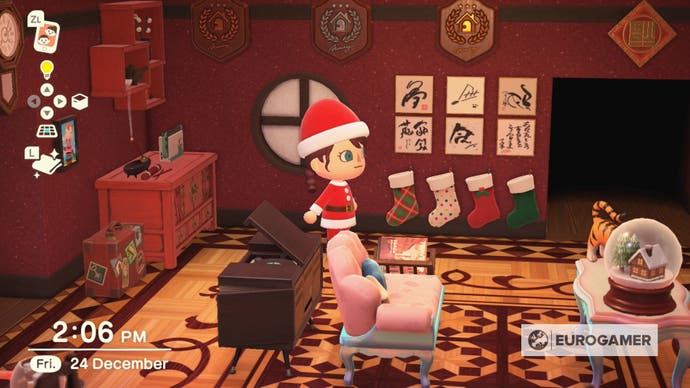 The next day - December 25th - interact with the stockings to receive Jingle's photo. If you received a Jingle's photo last year, then you can receive another this year.
It is possible to receive the portrait up until January 1st, but we highly recommend getting it on December 25th to ensure you have the portrait for your collection.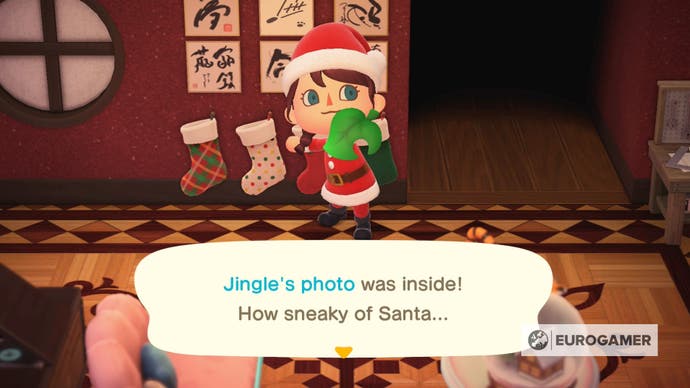 Toys and festive clothing in Animal Crossing; New Horizons explained
In the run-up to Toy Day in New Horizons, Nook's Cranny will sell one of eight different toys every day - Dinosaur Toy, Dollhouse, Kids' Tent, Mini Circuit, Pop-Up Book, Puppy Plushie, RC Helicopter and Tin Robot. The specific toy on sale will change every day, so you have more than enough time to collect them.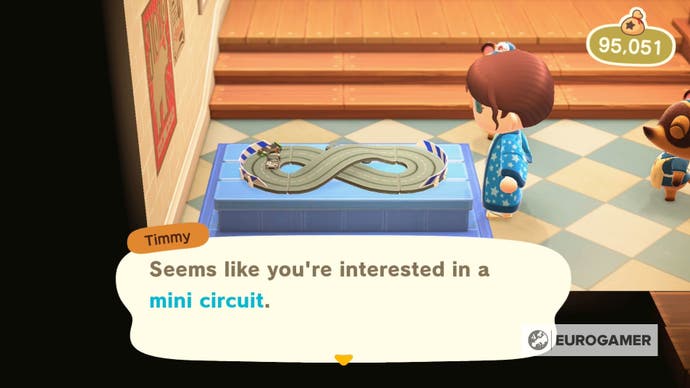 While you can't customise toys yourself, villagers will give you different toy styles through the Toy Day gift exchange and Cyrus can customise them if you've unlocked him on Harv's Island.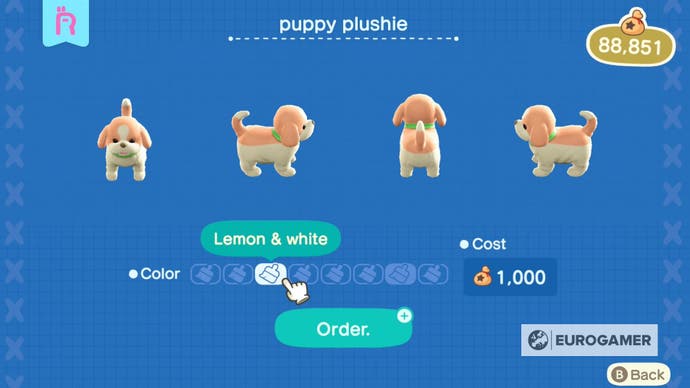 Able Sisters will also sell festive clothing during December, including everything you need for a Father Christmas outfit.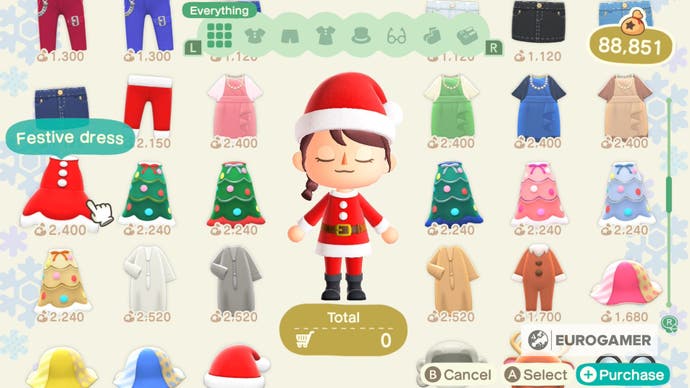 ---
The Animal Crossing 2.0 update and Happy Home Paradise is here! We can help you with the new additions - including where to find Brewster, Gyroids, new villagers, ordinances, new fences, storage shed, new hairstyles, Froggy Chair, group stretching and Kapp'n boat tours. Cooking is now unlockable, so you need to know how to make both flour and sugar, as well as how to grow carrots, potatoes and tomatoes. Meanwhile, if you're new to Animal Crossing, our New Horizons tips can help with the basics. From the off, there's fish and bugs to catch, flowers and fruit to grow with. One long term goal is building your Happy Home Academy score. Finally, you need tools such as the new ladder and vaulting pole to fully explore.
---
Toy Day date and time in Animal Crossing: New Horizons
Toy Day in New Horizons occurs on the same day as Christmas Eve, which means it will always be on 24th December.
In 2021, Toy Day occurs on Friday, 24th December and runs all day. This means that Toy Day starts and ends at the daily island reset time.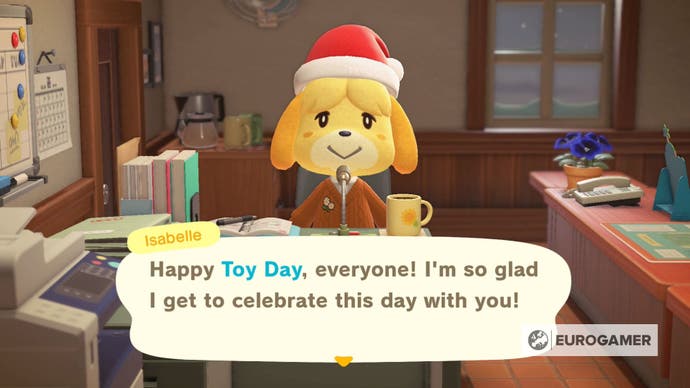 Throughout this time you'll be able to chat with Jingle and complete his activities for the Toy Day rewards.
Have a merry Christmas!