Animal Crossing Able Sisters: how to open the tailor shop and unlock Able Sisters patterns in New Horizons
Help two hedgehogs get settled on your island.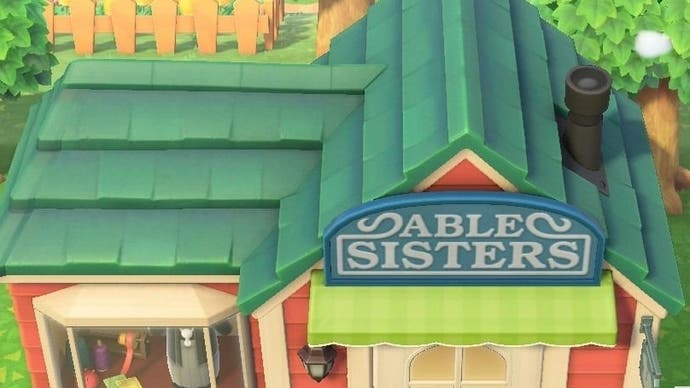 Run by hedgehog sisters Mabel and Sable, the Able Sisters is the tailor shop that has appeared in all the main entries in the Animal Crossing series.
In New Horizons, you need to help the sisters open their shop on your island. This will not only allow you to buy new clothes, but will grant you access to the Custom Design Portal and, eventually, Able Sisters patterns, which you can use to customise your furniture.
Finally, opening the Able Sisters shop will cause both Kicks and Label, the third Able Sister, to start visiting your island.
On this page:
Able Sisters in Animal Crossing: New Horizons explained
The Able Sisters is the tailor shop that can open on your island in New Horizons. It will sell a variety of clothing, including hats, shoes and socks, which regularly change.
In the middle of the shop floor, you'll find six items on display. These rotate daily and can be anything from an eyepatch to a new skirt.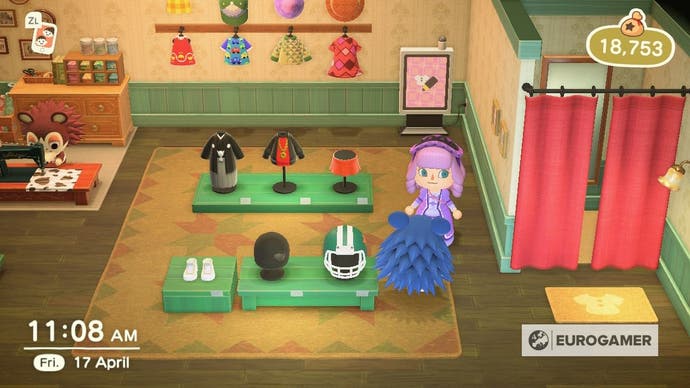 On the left-hand side of the shop, you'll find two mannequins wearing complete outfits. These outfits change weekly and you can discover what makes up each outfit by interacting with the mannequin.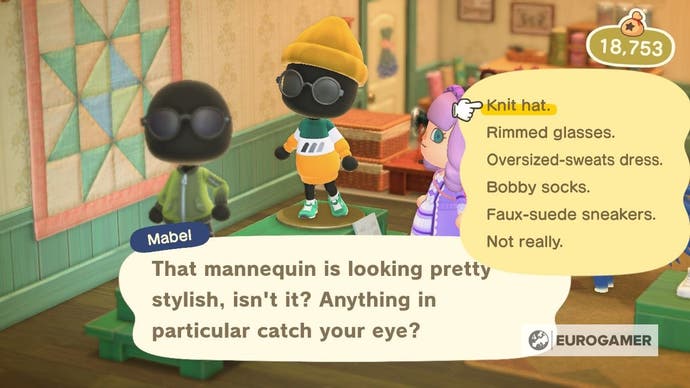 Along the back wall, you'll find a variety of clothing designs, which have been created using the Custom Design Portal. There are two different rows for these designs, allowing you to display a total of eight custom designs.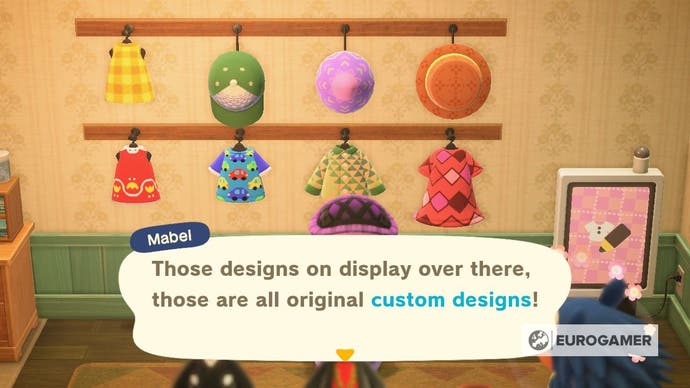 These designs can be either created by other players or you can choose to display your own designs in this section. To do this, look at one of the designs currently being displayed on the wall and select the option, 'Display my work here.'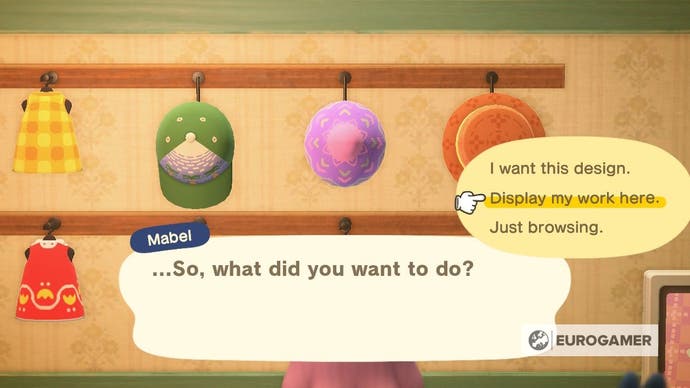 Once you've done that, you'll be able to select which design you wish to display. Doing so will mean that visiting players can make copies of your designs and maybe some of your villagers will also start wearing your creations.
In the top right-hand corner of the Able Sisters, you'll find the Custom Design Portal, which allows you to download other players' designs and create codes for your designs that can be used by other players.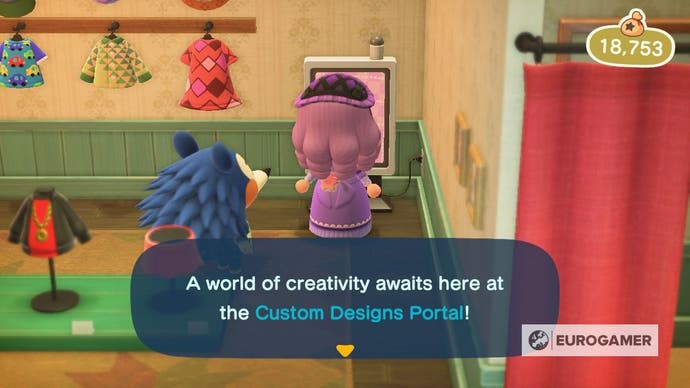 The easiest way, however, to shop at the Able Sisters is to use the Fitting Room located on the right side of the room.
In there you'll be able to try on any of the clothes that are currently in stock in the shop and experiment with any of the colour variants that each item offers. You can't, however, wear any of the custom design clothing.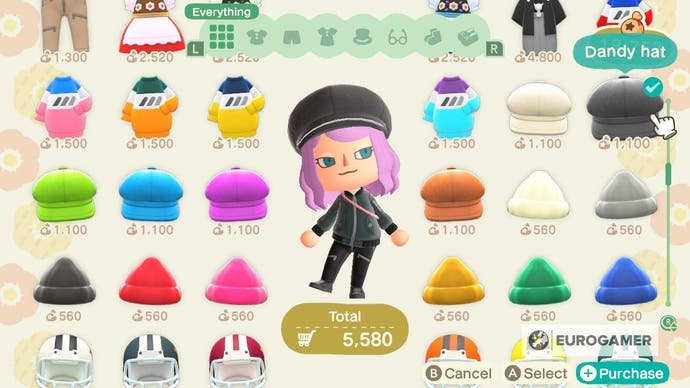 After you've made your purchases, you'll also be able to decide whether you want to leave wearing your new outfit or if you'd rather than the items sent to the clothes storage at your house.
How to unlock the Able Sisters in Animal Crossing: New Horizons
If you want the Able Sisters to open their shop on your island in New Horizons, you must first have Nook's Cranny built. Luckily this is quite an easy task, which you'll complete in your first few days of playing.
When you enter Nook's Cranny for the first time, you'll discover Mabel discussing whether she could sell her wares on the island with Tommy and Timmy.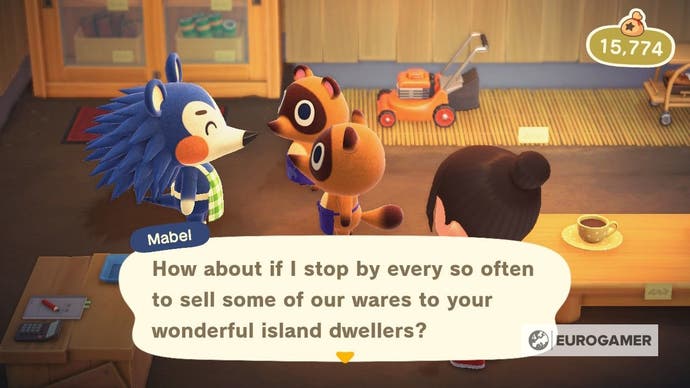 After witnessing this conversation, you now have to wait for Mabel to visit your island. Like with all special visitors to your island, there is no guarantee when Mabel will visit, so you just need to wait.
When she does visit, you'll find Mabel standing on the plaza in front of Residential Services. There she'll sell a range of different clothing, including tops, dresses and trousers.
To convince her that it's worth opening a shop on your island, you need to spend at least 5,000 Bells in her store. If you do this over her first two visits, this means that, on her third visit, Mabel will tell you that the sisters have decided to open a shop on your island.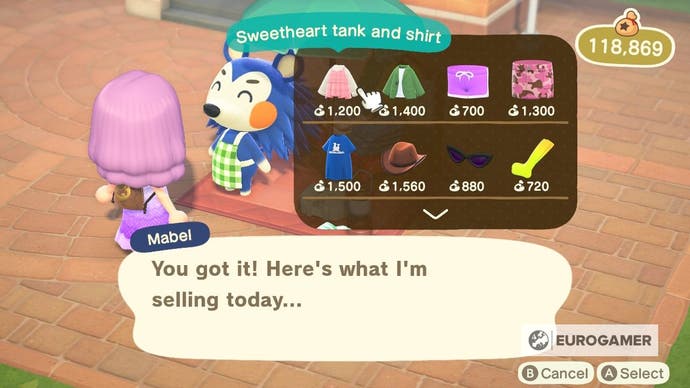 She'll then ask you to pick a space for the tailor shop on your island and, once you've picked a spot, the Able Sisters will finally open two days later.
---
The Animal Crossing 2.0 update and Happy Home Paradise is here! We can help you with the new additions - including where to find Brewster, Gyroids, new villagers, ordinances, new fences, storage shed, new hairstyles, Froggy Chair, group stretching and Kapp'n boat tours. Cooking is now unlockable, so you need to know how to make both flour and sugar, as well as how to grow carrots, potatoes and tomatoes. Meanwhile, if you're new to Animal Crossing, our New Horizons tips can help with the basics. From the off, there's fish and bugs to catch, flowers and fruit to grow with. One long term goal is building your Happy Home Academy score. Finally, you need tools such as the new ladder and vaulting pole to fully explore.
---
Able Sisters pattern sets in Animal Crossing: New Horizons explained
Once the Able Sisters shop has opened on your island in New Horizons, you should make sure to visit every day and talk to Sable - she's the hedgehog using the sewing machine.
At first she'll be shy and not want to talk to you, but, slowly, Sable will come to view you as a friend.
Eventually Sable will begin to give you a new fabric pattern set every day you visit Able Sister and talk to her. You can use these patterns to customise a range of furniture, which you can decorate both your house and island with.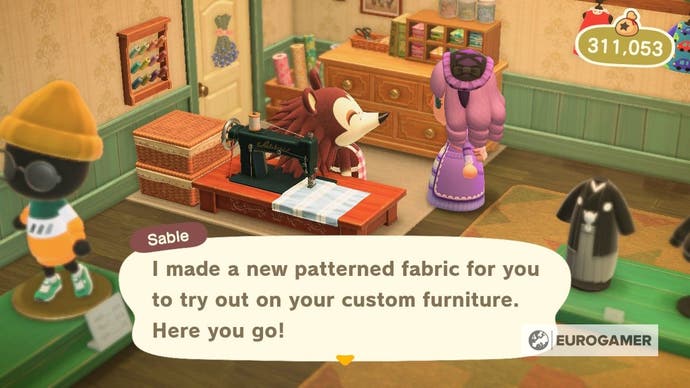 Each pattern set has a different theme, such as stripes, and contains 20 different patterns for you to choose from.
Here are some of the pattern sets we've discovered so far include:
Cool
Toys
Natural
Traditional - at least two different sets
Checked - at least two different sets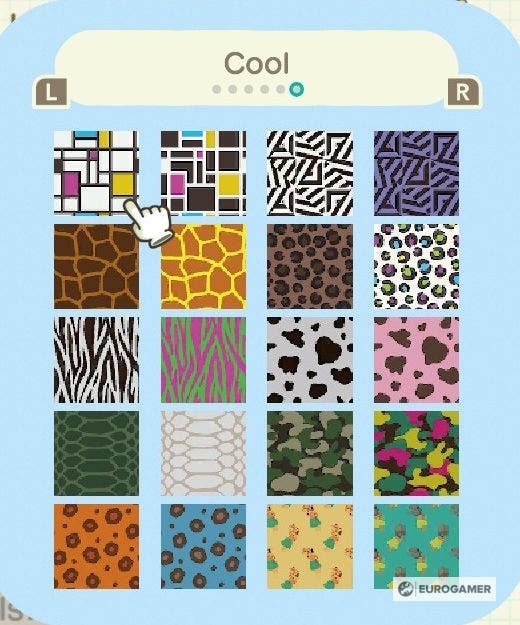 The patterns that Sable gives you are chosen randomly, which means that you could end up owning the 'Traditional 2' set before owning 'Traditional 1.'
To use one of these pattern sets, all you have to do is select the piece of furniture you wish to customise when using a DIY bench and, once the customisation menu is open, select the pattern option, which looks like four squares, to make your choice.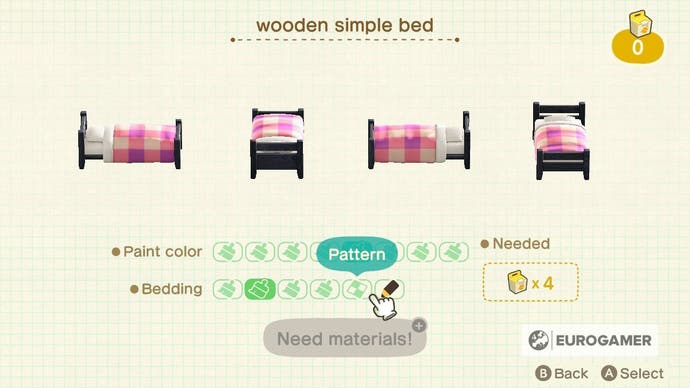 The customization kit cost will also remain the same if you're using an Able Sisters pattern.
Not every piece of furniture, however, can be customised using one of the Able Sisters patterns, but you can still have a lot of fun with these various designs.