Animal Crossing Harv's Island: how to unlock Harv's Island, Photopia, villager posters, Dodo delivery and liquidation in New Horizons explained
Time to experiment with the camera!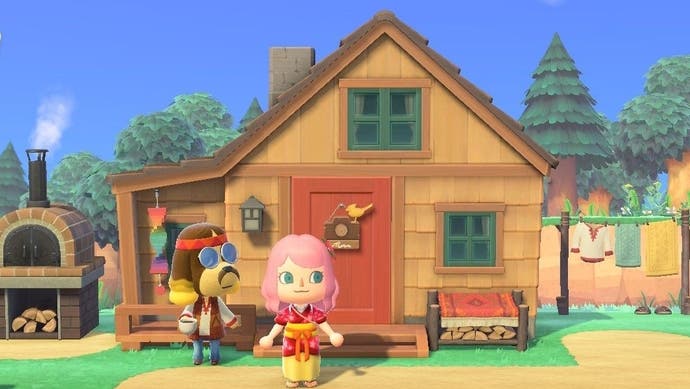 Harv's Island is home to both Harvey the spaniel and Photopia in Animal Crossing: New Horizons.
Photopia is where you can create sets to take photos of both yourself and the villagers who live on your island. You might even find yourself unlocking a villager poster or two when using Photopia...
Finally, Harv's Island is the only place you'll be able to access the Dodo delivery and liquidation services from Dodo Airlines.
On this page:
How to unlock Harv's Island in Animal Crossing: New Horizons
If you want to visit Harv's Island in New Horizons, you must sell your first three plots of land to new villagers on your island.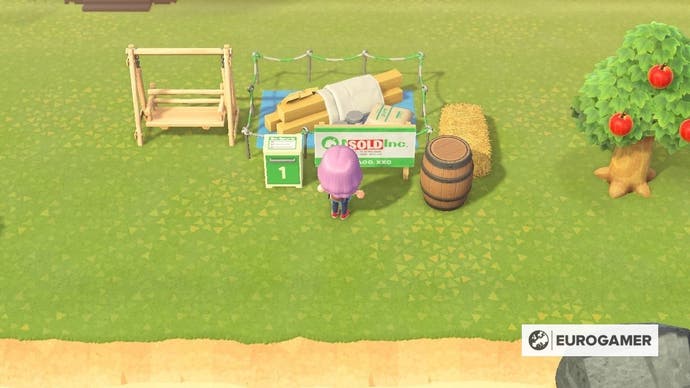 Harvey will appear randomly on your island after the third villager, bringing the total number of animal villagers on your island to five, moves in.
Talk to Harvey and he'll tell you about his own island home, inviting you over for a visit.
Once you've finished your conversation, you'll be able to visit Harv's Island, free of charge, whenever you like.
How to visit Harv's Island in Animal Crossing: New Horizons
Once you've met Harvey on your island in New Horizons, it's time to visit his home and check out Photopia. You can fly to Harv's Island for free, so don't worry about having to spend any Bells or Nook Miles.
To do this head down to the Dodo Airlines airport and chat to Orville;first, you'll want to select 'I wanna fly!', then 'Visit Harv's Island.' and, finally, 'Time for takeoff!'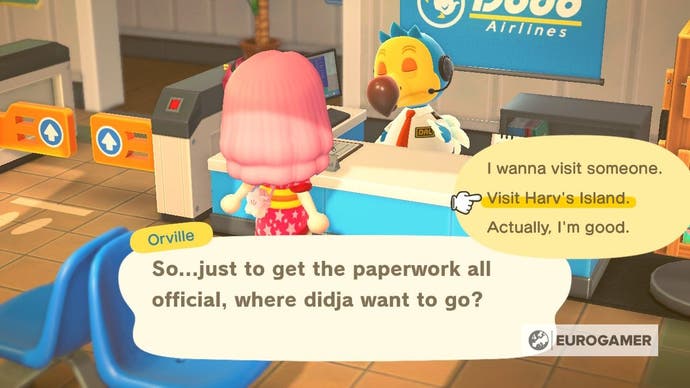 After you've made your way through this conversation tree, you'll be flown over to Harv's Island where you can take part in Photopia.
If this is your first time on Harv's Island, you can talk to Harvey to learn more about Photopia or you can drive straight in and start snapping pictures.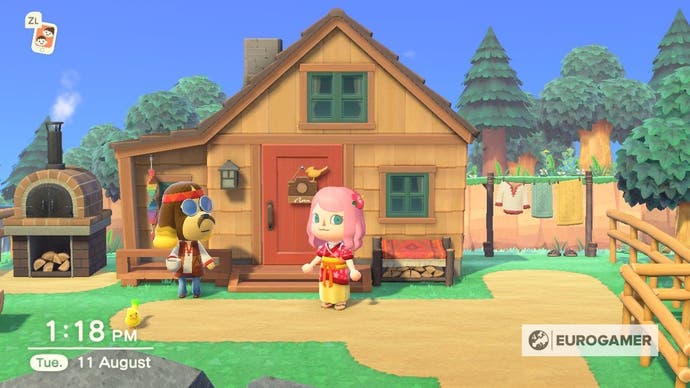 Photopia in Animal Crossing: New Horizons explained
Now that you've arrived on Harv's Island, it's time to learn how to use Photopia in New Horizons.
Picking a set
Your first task in Photopia is to choose your set - Harv's House has the same layout as a completed player house, which means you have an upstairs room, basement and four ground floor rooms to choose from.
Since you can change both the wallpaper and flooring, this choice will mostly come down to how much space you need for your idea.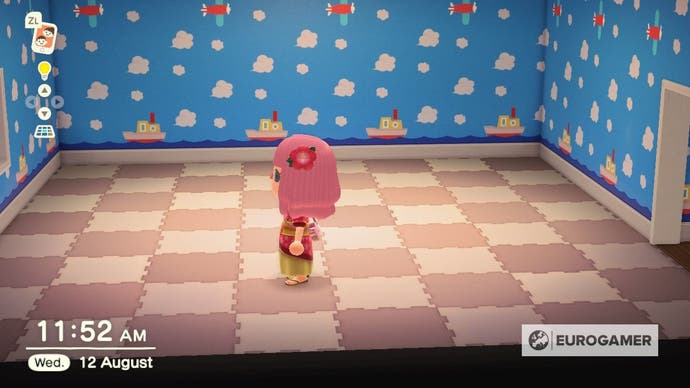 Placing furniture, changing wallpaper and flooring
Once you've picked your set, it's time to start setting the stage for your photograph. To do this press the down button on the D-Pad just like you would in your house; the only difference is that your avatar remains on screen.
The item storage is accessed in the same way as you would in your house, but, unlike your home storage, you'll discover that you can use every piece of furniture, rug, flooring, wallpaper and clothing item that can be found in your catalogue. This includes items that you no longer own.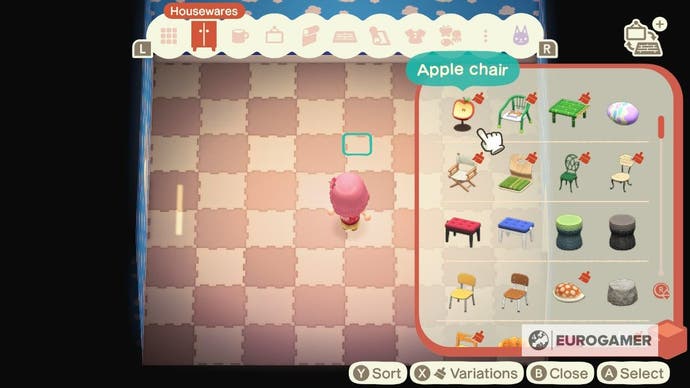 You will also be able to access all the bugs, fish, fossils and sea creatures that you've donated to the Museum.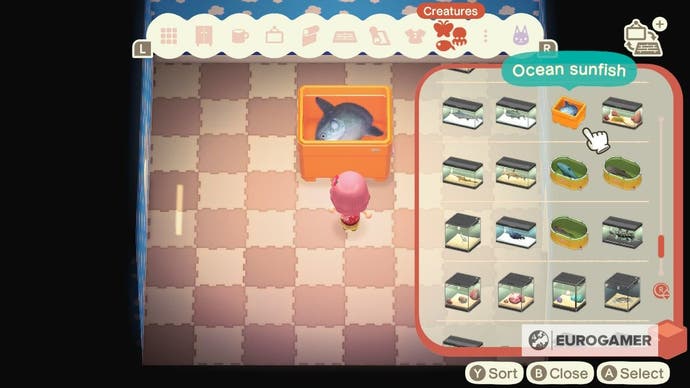 Finally, the 'Other' tab allows you to access tools, K.K.Slider records, crafting materials and other objects, such fruit and flowers.
Unlike on your island, however, you have an unlimited supply of each item, which means if you want to fill a room with Apple Chairs, then you can.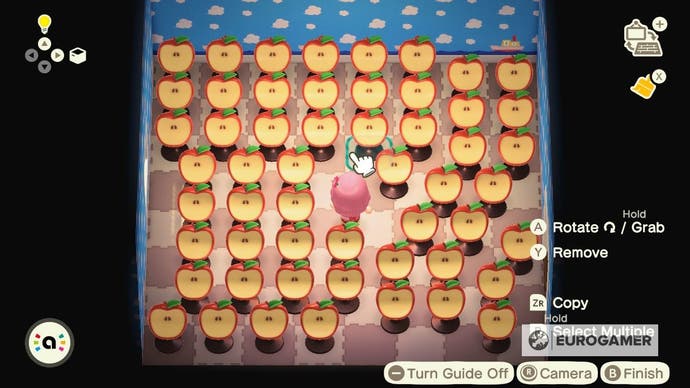 You also have the ability to customise any item that offers the option without the use of customization kits.
You can do this by either selecting the furniture piece while it's in item storage or after you've placed it in Photopia.
Either way, the customisation screen will open and you'll be able to select which variant for the furniture you wish to use.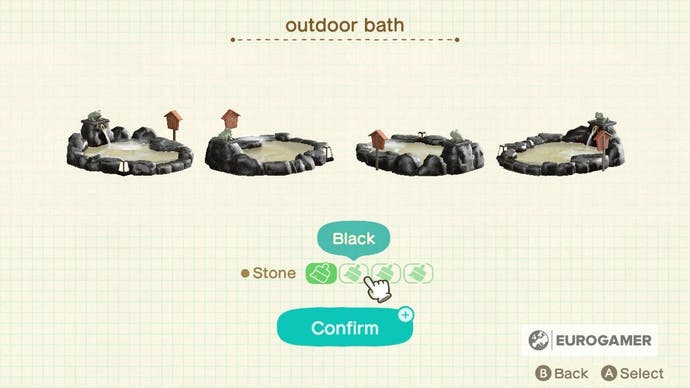 Rugs, wallpaper and flooring all work the same as they do when you're placing them inside your house.
Once you've placed an item, rug, wallpaper or flooring in a room in Photopia, it will be there forever, much like in your island home. This means that you can leave Photopia whenever you want, without having to worry about your set being dismantled.
Adding villagers to your set
With the furniture in place, it's now time to add some villagers to your photograph and there are two main ways to do so.
The first is by once again opening your furniture storage and, this time, scrolling along until you reach the small cat head.
This is the 'Residents' tab and it allows you to create models of the villagers currently living on your island in Photopia.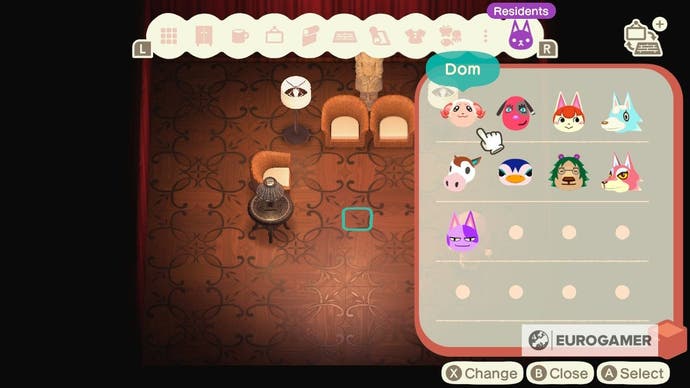 The second method is by using Animal Crossing amiibo - both the cards and the figures.
You'll notice that, during placement mode, there's a small amiibo icon in the bottom left-hand corner of the screen.
This icon means that if you place an Animal Crossing amiibo on the NFC touchpoint of your chosen controller during this mode, a model for the villager associated with the amiibo will appear on your Photopia set.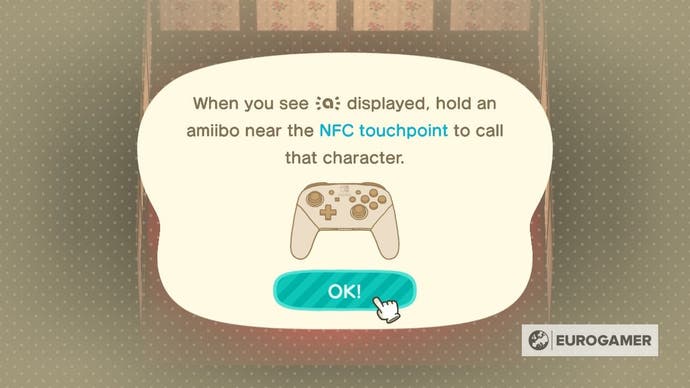 Arranging villagers and your avatar
After you've decided which villagers deserve to be in your photo, it's time to arrange them.
To move a villager about the set, drag your cursor over to them and then press and hold the A button. The villager will now be dangling in the air and you'll be able to move them to wherever you wish them to be.
If you place the villager above a piece of furniture, such as a bed or chair, they will lie or sit on it.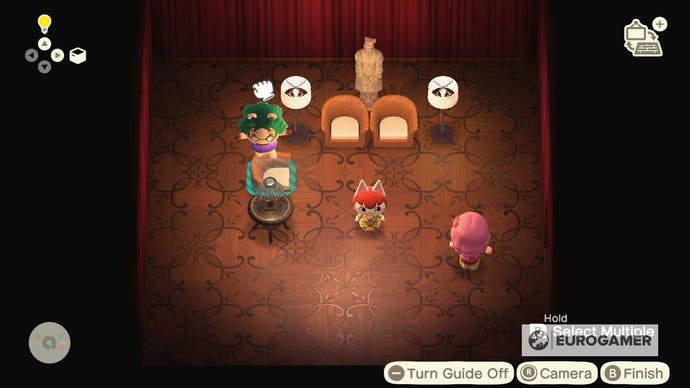 It's also possible to change both the villagers' clothes and Reaction.
For clothing, press the X button while you have the villager selected, which will open up the wardrobe.
Now, just like you would for your own avatar, you can browse all your clothing items, experimenting with outfits, until you've found something you like. When you're ready, all you have to do is press + and the villager will be wearing your chosen clothes in Photopia.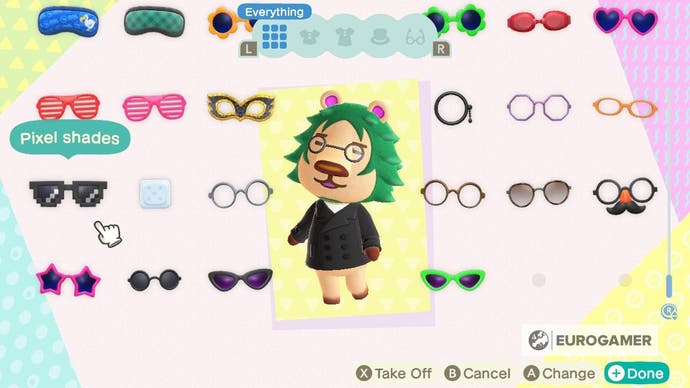 To change a villagers expression, you must once again select the villager, but this time you need to press the ZR button to open the Reaction menu.
Here you can test out different reactions and choose the one that best fits your scene.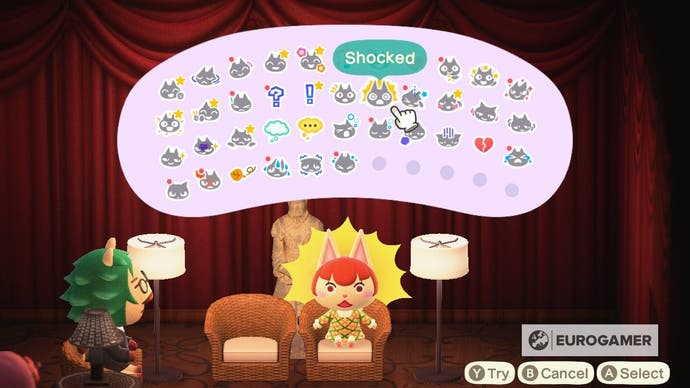 Finally, you can also rotate villagers simply by pressing the A button.
All the actions described above can also be done to your avatar, allowing you to become a focal point of the scene as well.
Taking a photo
When you're ready to take a picture, you can either simply press the capture button on your chosen controller or you can use the Camera app on your Nook Phone to take more control of your photo.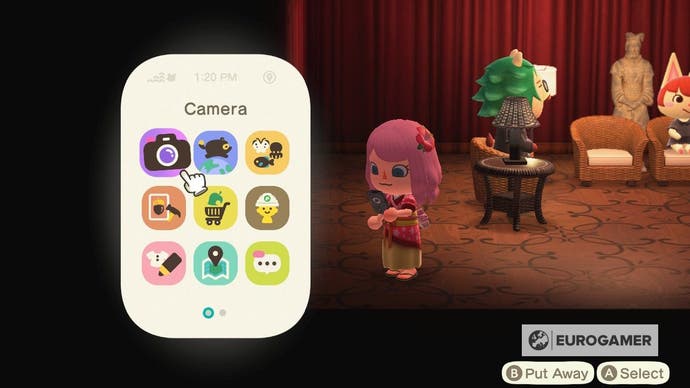 You have the ability to move the camera around, zooming in and out, so that you can ensure your shot is perfect.
If you want your villagers looking at the camera, press the R button, and they will turn their heads towards you. If you then decide you'd rather not have their attention, you can simply press the same button again to have them look away.
This also includes being able to add a frame and the time and date to the photograph, as well as apply a number of different filters, including monochrome and antique.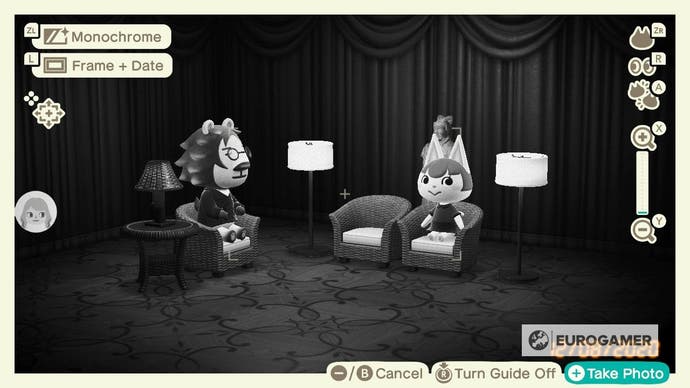 Finally, when you have everything set up exactly how you'd like, you can take the photo.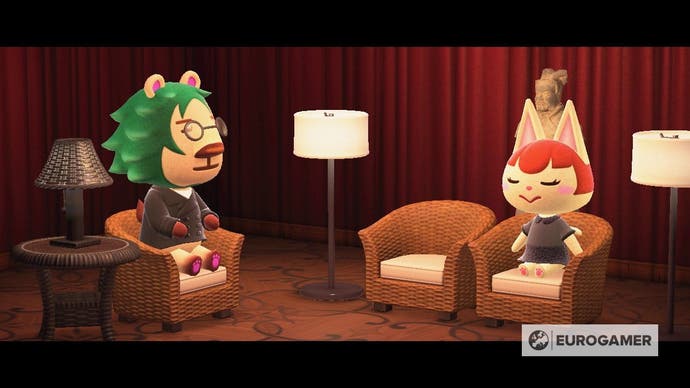 Villager posters in Animal Crossing: New Horizons explained
After you've taken a picture in Photopia on Harv's Island in New Horizons, you'll unlock the ability to purchase villager posters from the Nook Stop in Residential Services or the Nook Shopping app on your Nook Phone.
Each villager poster costs 1000 Bells and you can find them by selecting 'Special Goods,' before scrolling right to the 'Posters' option.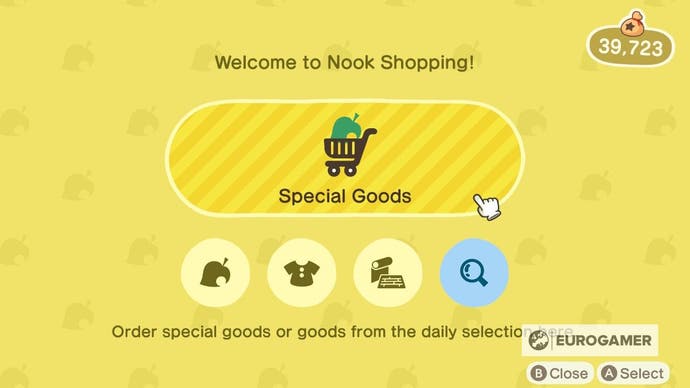 Villager posters are larger versions of the framed photos, which villagers will give you once you're their best friend. While these posters are easier to get they lack the special note hidden on the back of the picture, which will give you more insight into your favourite villagers.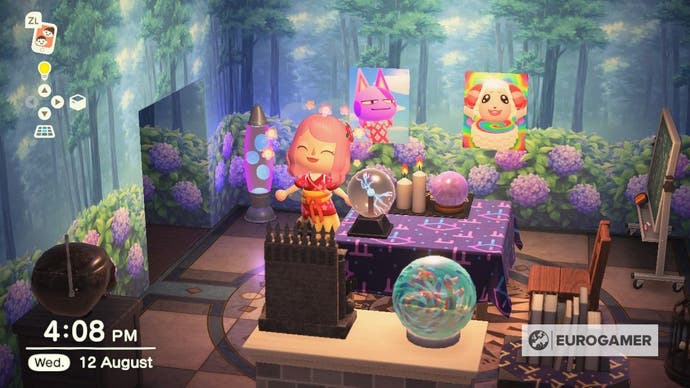 If you have a new villager move to your island after you've unlocked the villager posters, then you need to head back to Harv's Island and use their villager model in Photopia.
Doing this will automatically unlock this villager's poster straight away, allowing you to buy it without having to wait. When you do purchase a poster, however, you will have to wait the typical one day for it to arrive in the mail.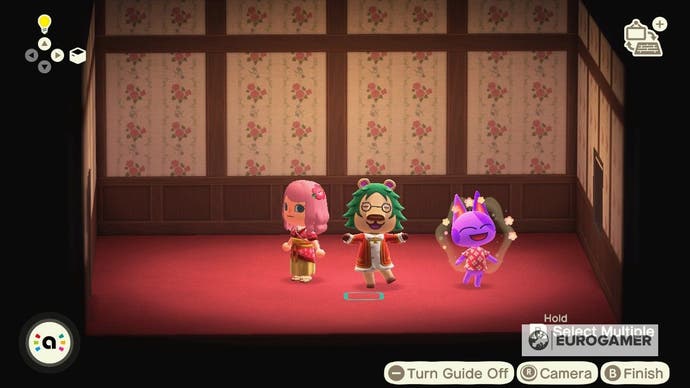 Dodo delivery and liquidation in Animal Crossing: New Horizons explained
Dodo delivery and liquidation are two exclusive services that, in New Horizons, Dodo Airlines currently only offer on Harv's Island.
Dodo delivery
Dodo delivery allows you to mail items from your inventory back to your home from Harv's Island. The items you send will appear directly in your house's storage, which means that you don't have to wait to use the item again.
To use Dodo delivery, talk to Wilbur while you're on Harv's Island and select the option for 'GO for Delivery!'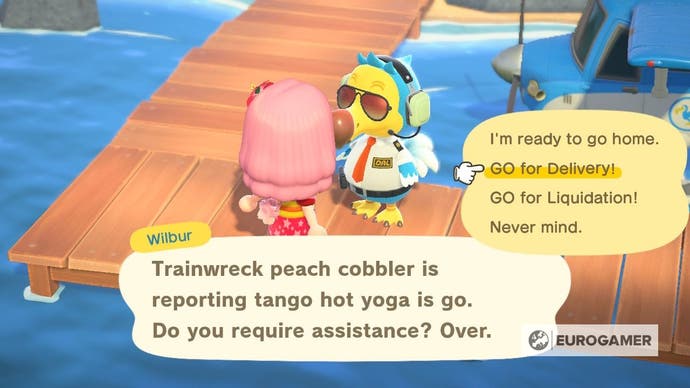 This will open your inventory, allowing you to select the items that you wish to send home, and, when you're ready, you press 'Confirm.' Wilbur will now take care of the rest and you'll be able to find the items in your house's storage when you return home.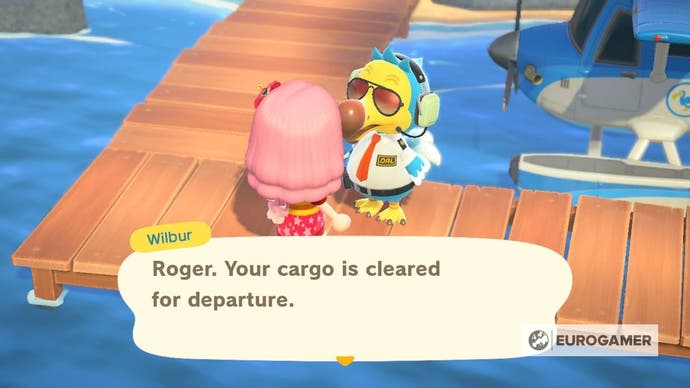 Liquidation
Liquidation works exactly like the Drop-Off Box for Nook's Cranny and any items sold using this service will be brought at the same lower prices that are applied when using this box.
The Bells you earn will, just like with the Drop-Off Box, be sent automatically to your Bank of Nook account the day after you've used the liquidation service.
To use Liquidation, talk to Wilbur on Harv's Island and select 'Go for Liquidation!'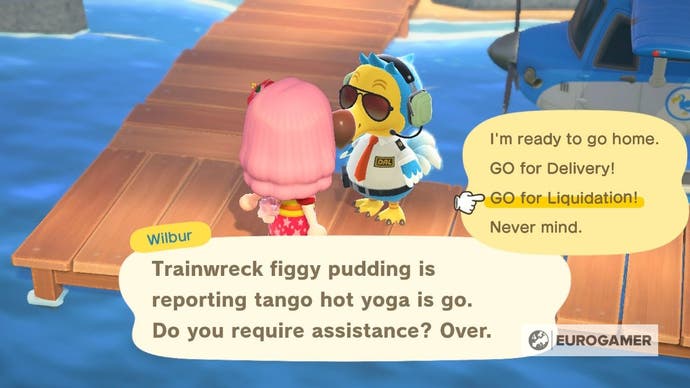 Your inventory will now open and, just like if you were using the Drop-Off Box, you can select which items you wish to sell and see the amount of Bells you'll receive in the bottom-left hand corner.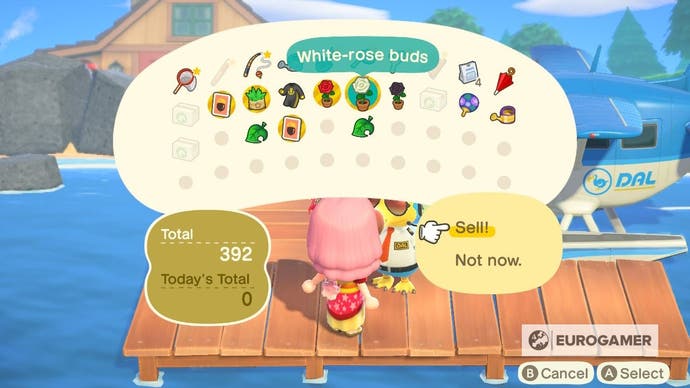 It's important to remember that both of these services are currently only available on Harv's Island, which means you can't use them on a Mystery Island or when visiting another player's island.
---
The Animal Crossing 2.0 update and Happy Home Paradise is here! We can help you with the new additions - including where to find Brewster, Gyroids, new villagers, ordinances, new fences, storage shed, new hairstyles, Froggy Chair, group stretching and Kapp'n boat tours. Cooking is now unlockable, so you need to know how to make both flour and sugar, as well as how to grow carrots, potatoes and tomatoes. Meanwhile, if you're new to Animal Crossing, our New Horizons tips can help with the basics. From the off, there's fish and bugs to catch, flowers and fruit to grow with. One long term goal is building your Happy Home Academy score. Finally, you need tools such as the new ladder and vaulting pole to fully explore.
---
Events held at Harv's Island in Animal Crossing: New Horizons
Many events are held throughout the year in New Horizons, from Fishing Tourneys to Fireworks Shows, and Harv's Island has been the home for one of them.
The Wedding Season event is held throughout June and it tasks players with travelling to Harv's Island, so that they can build a wedding set in Photopia for some very special guests.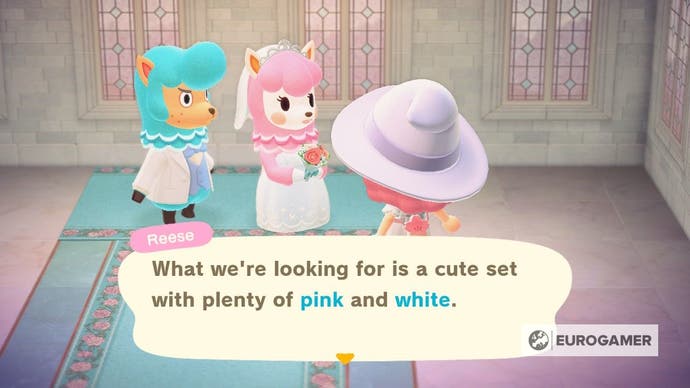 Currently, we don't know if anymore events will be held on Harv's Island, but it certainly seems like the place to hold month long events without greatly impacting life on your island.