Animal Crossing Saharah: departure time, tickets, and mysterious paper, mysterious flooring and rugs lists in New Horizons
Saharah the camel - the seller of rugs, wallpaper and carpet.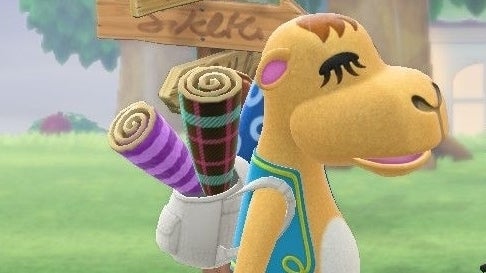 Saharah is one of the rotating visitors who will randomly spend a day on your island in Animal Crossing: New Horizons. Unlike the other special visitors, such as K.K. Slider and Gulliver, Saharah is a travelling salescamel, who is visiting your island to peddle her wares.
Buying rugs from Saharah will earn you Saharah tickets, which you can exchange for mysterious wallpaper and mysterious flooring.
Within this guide, you can find complete lists of all the mysterious wallpaper and mysterious flooring that can be found in New Horizons.
On this page:
Saharah's stock lists:
Saharah's departure time and price list in Animal Crossing: New Horizons explained
Saharah can visit your island on any day and will stay until 5am, which is the reset time for every island in New Horizons. She doesn't stay in one place during her visits, instead choosing to wander about your island.
This travelling camel sells a variety of rugs - small, medium and large - mysterious wallpaper and mysterious flooring. All of these items are exclusive to Saharah and you don't know which you're buying till you've brought it.
Mysterious wallpaper and mysterious flooring both cost 3,000 Bells each.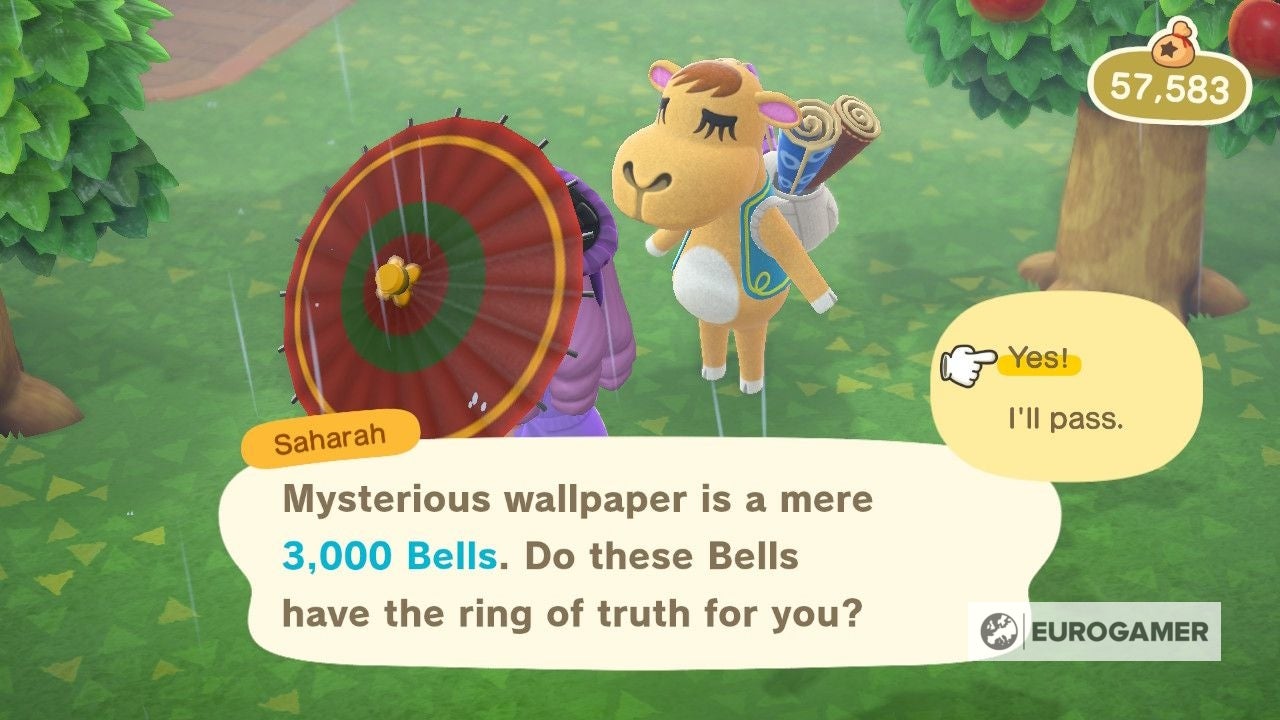 Meanwhile, the rug prices depend on the size of the rug, with the individual prices being as follows:
Small rug - 1,000 Bells
Medium rug - 1,500 Bells
Large rug - 2,000 Bells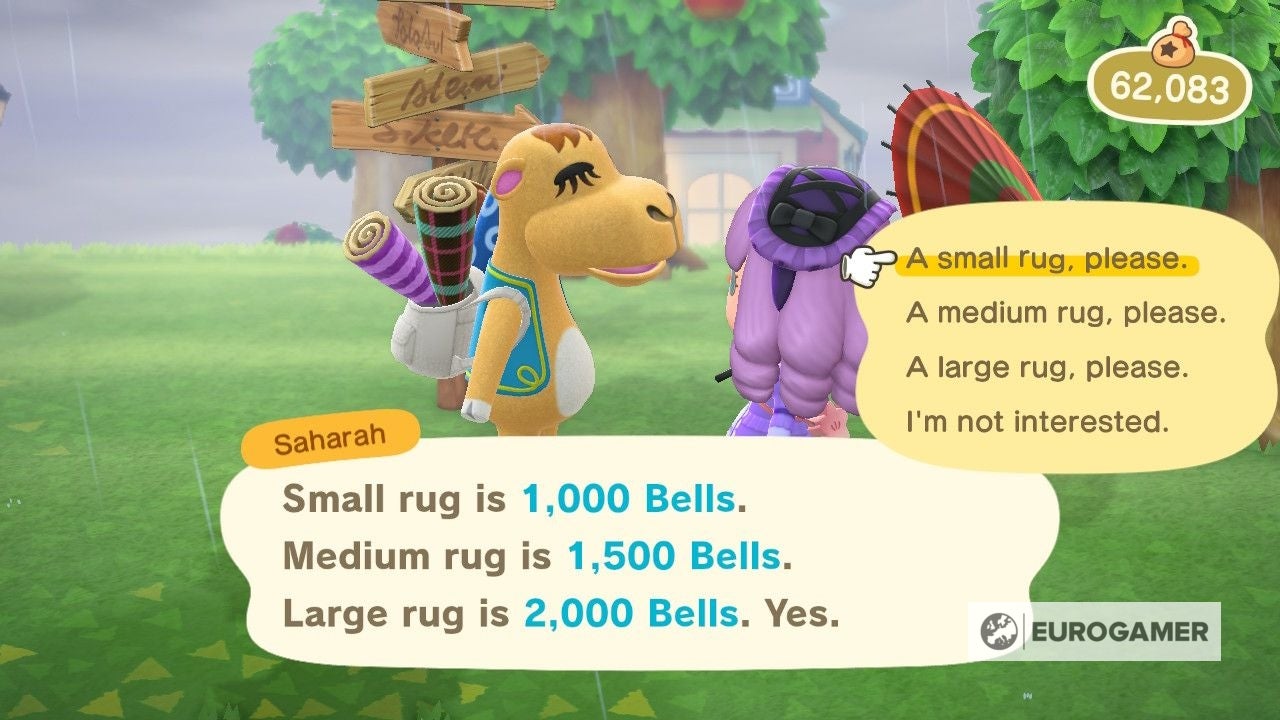 Saharah only sells one of each item per visit, so, if you've got the spare Bells, it's definitely worth buying all of her stock. In total this will cost you 10,500 Bells.
If you visit a friend's island and find that Saharah is town, you'll be able to purchase anything from her stock just life if she was on your island. You can even do this if, on the same day, she's also visiting your island and you've brought up her stock, which suggests that Dodo Airlines lets you travel to parallel universes.
Saharah Tickets in Animal Crossing: New Horizons explained
Saharah will reward you with a number of Saharah tickets everytime you purchase a rug from her in New Horizons. Once you have five Saharah tickets, you can exchange them for either a mysterious wallpaper or flooring.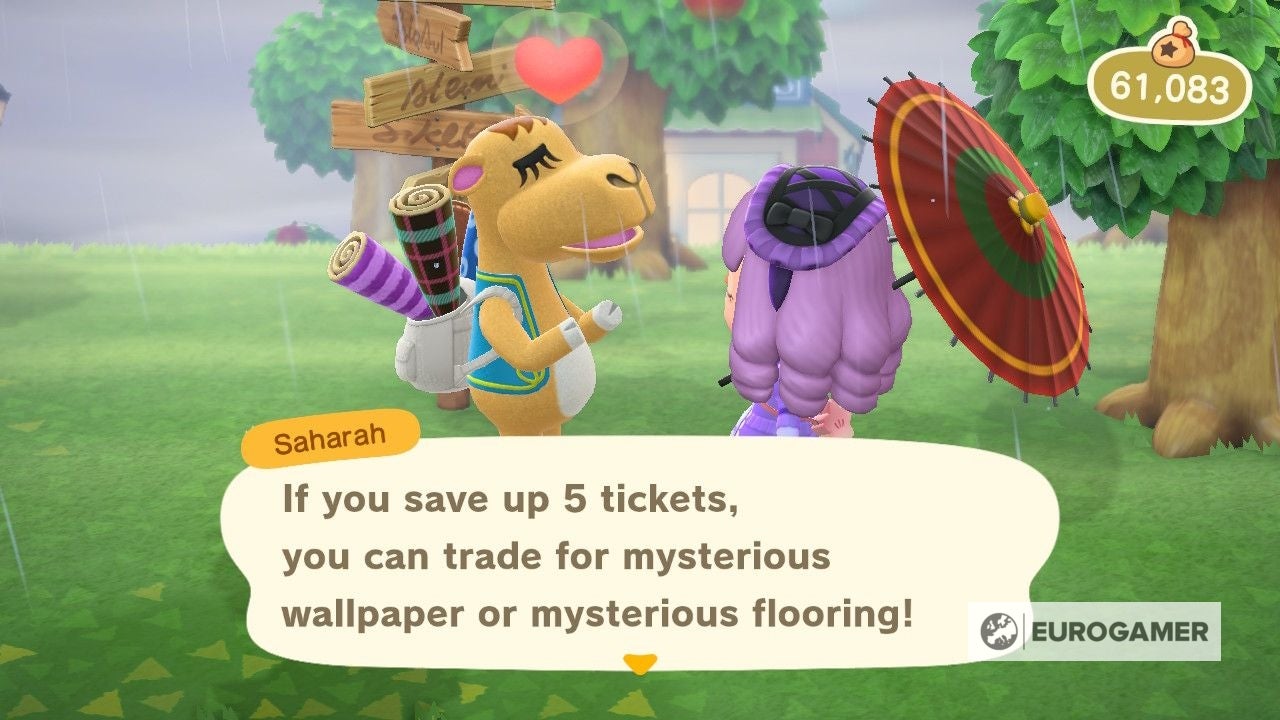 Here are the rug sizes and the corresponding amount of Saharah tickets you receive for purchasing each one:
Small rug - one Saharah ticket
Medium rug - two Saharah tickets
Large rug - three Saharah tickets
You can receive a total of six Saharah tickets every time she visits and, every time the camel is on your island, you can exchange a total of 10 Saharah tickets.
Despite this, you can only redeem one mysterious wallpaper and one mysterious flooring per Saharah visit. This means that if you exchanged five Saharah tickets for a mysterious wallpaper, then, for your second redemption, you will be given the mysterious flooring.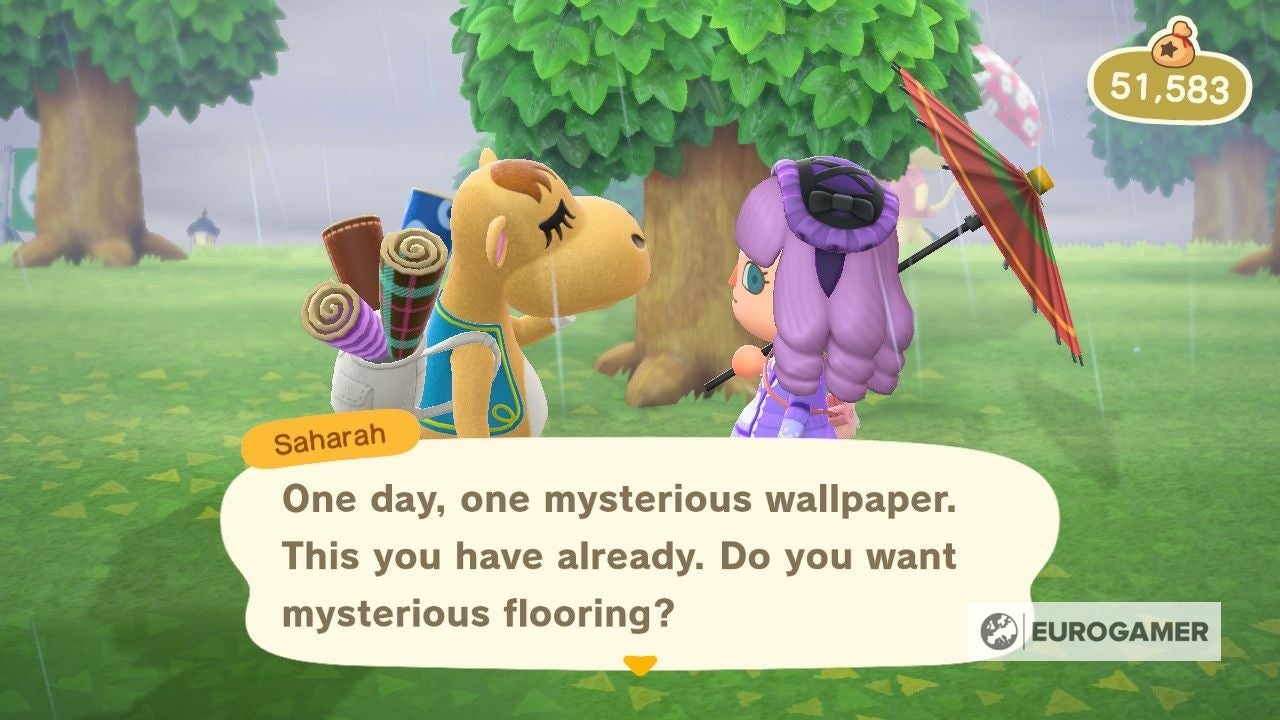 Saharah tickets can be stored in your house storage, which allows you to easily save them in-between her visits.
Animated wallpaper and flooring in Animal Crossing: New Horizons explained
If you're lucky, then Saharah might sell you an animated wallpaper or flooring. These rare decorations have an element of animation, as the name suggests, allowing to bring an extra dynamic to a room in your house.
Animated wallpaper can include moving clouds, pouring rain or the blinking of a light, as seen in the server-room wall.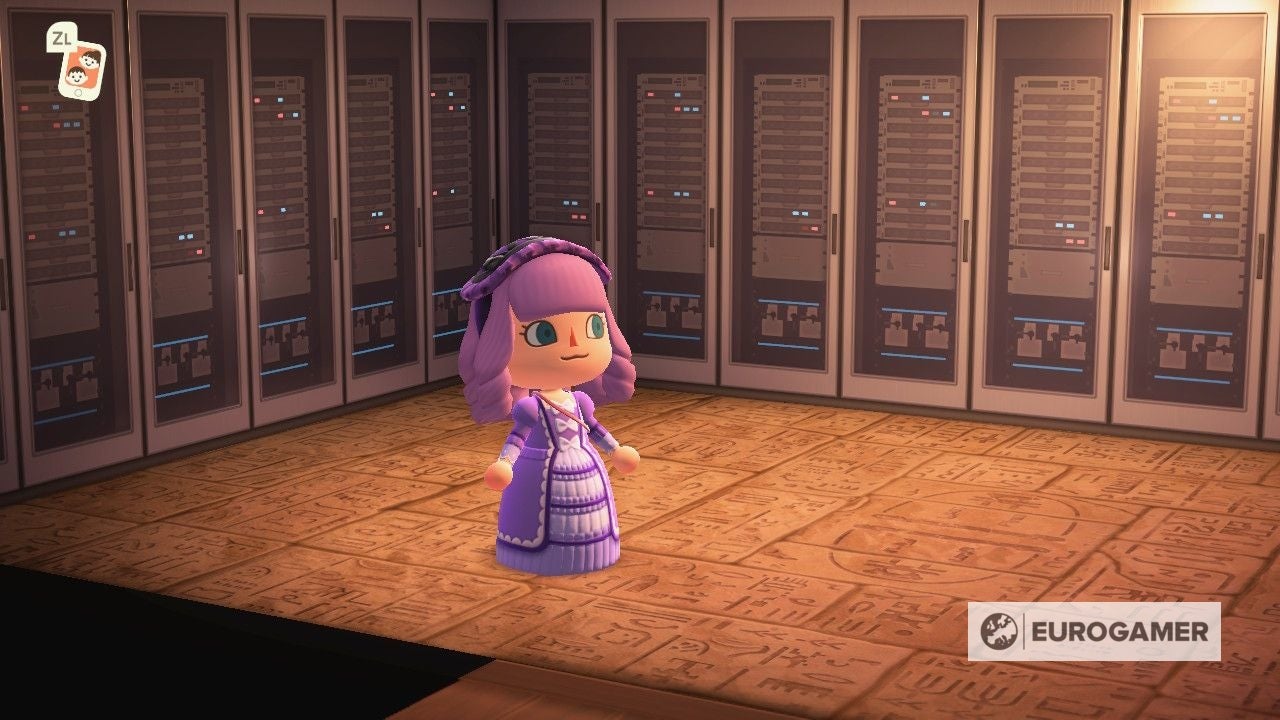 Meanwhile, animated flooring only occurs when your avatar runs across the floor. This could be anything from dust clouds to rippling water to footprints in sand. The lava flooring, for example, will splatter lava when you run through the magma flow.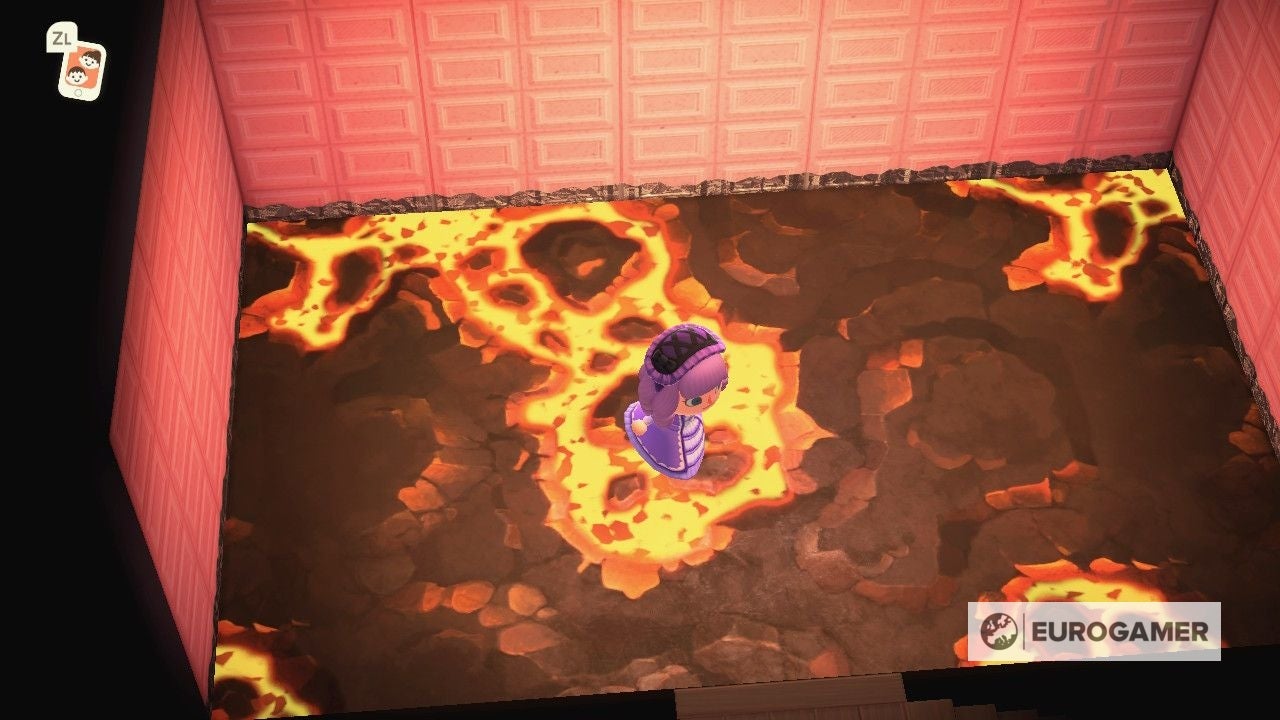 Not all animated wallpaper, however, can be brought from Saharah. The cherry blossom wall can be crafted after you learn it's DIY recipe, which is part of the cherry blossom season event.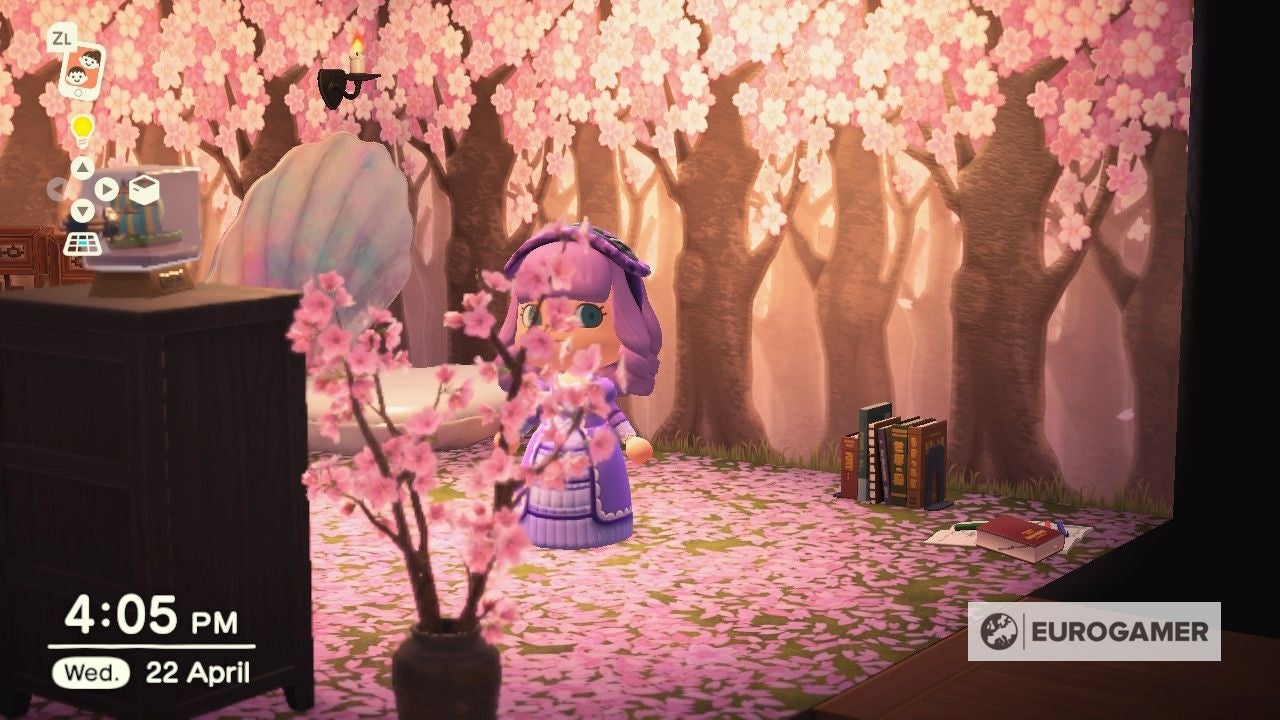 Complete Saharah's mysterious wallpaper list in Animal Crossing: New Horizons
In total there are 52 types of mysterious wallpaper that you can buy or earn using Saharah tickets from the travelling camel in New Horizons.
The above list and the ones that follow have been created with the help of this Animal Crossing: New Horizons datamine from Pastebin.
Below you can find the complete list of these various wallpapers and we've noted down which of these wallpapers are animated:
Ancient wall
Backyard-fence wall (animated)
Bank-vault wall
Blackboard wall
Café-curtain wall
Chain-link fence
Circuit-board wall
Cityscape wall
Construction-site wall
Dark-chocolate wall
Desert vista
Dig-site wall
Dojo wall
Dungeon wall
Exquisite wall
Future-tech wall (animated)
Heavy-curtain wall
Imperial wall
Industrial wall
Ivy wall
Kisses wall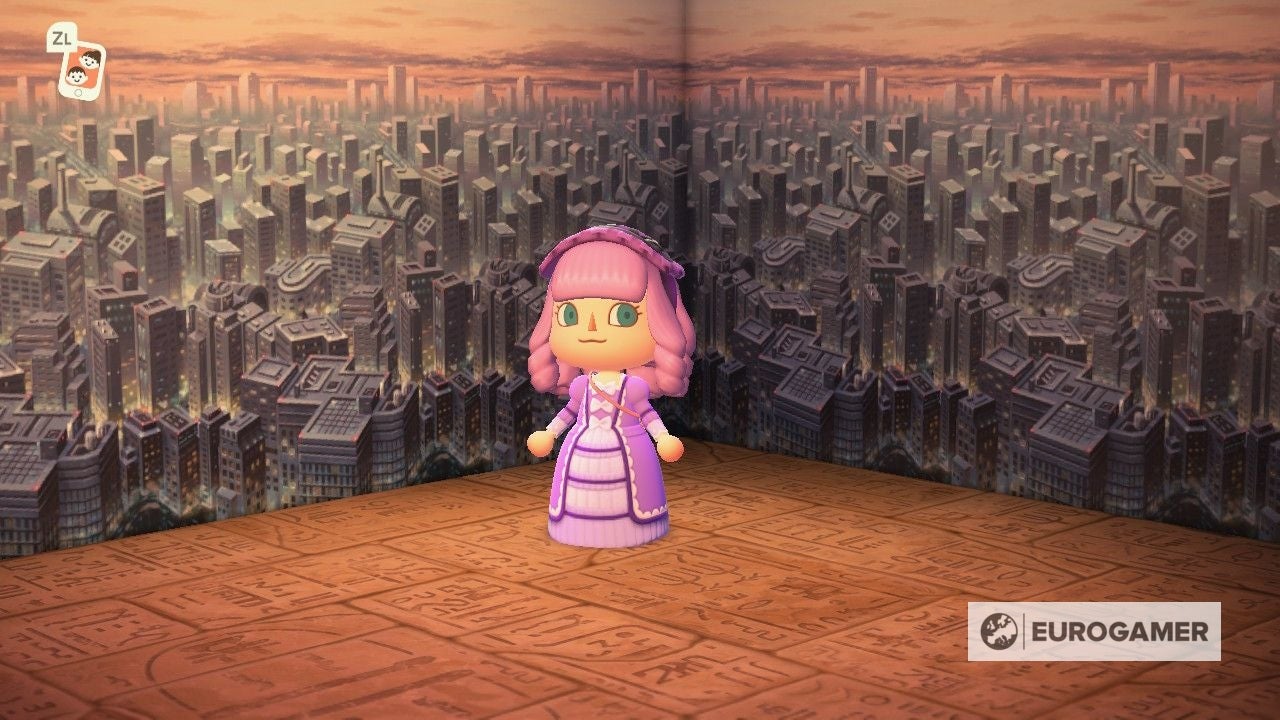 Laboratory wall (animated)
Magma-cavern wall
Mangrove wall
Meadow vista (animated)
Misty-garden wall (animated)
Mortar wall
Mossy-garden wall
Ocean-horizon wall (animated)
Office wall
Paintball wall
Palace wall
Ramshackle wall
Rice-paddy wall (animated)
Ringside seating (animated)
Rock-climbing wall
Ruins wall
Sea view (animated)
Security-monitors (animated)
Server-room wall (animated)
Shutter wall
Sky wall (animated)
Skyscraper wall
Stadium wall (animated)
Stormy-night wall (animated)
Straw wall
Strawberry-chocolate wall
Street-art wall
Summit wall (animated)
Tree-lined wall
Western vista (animated)
White-chocolate wall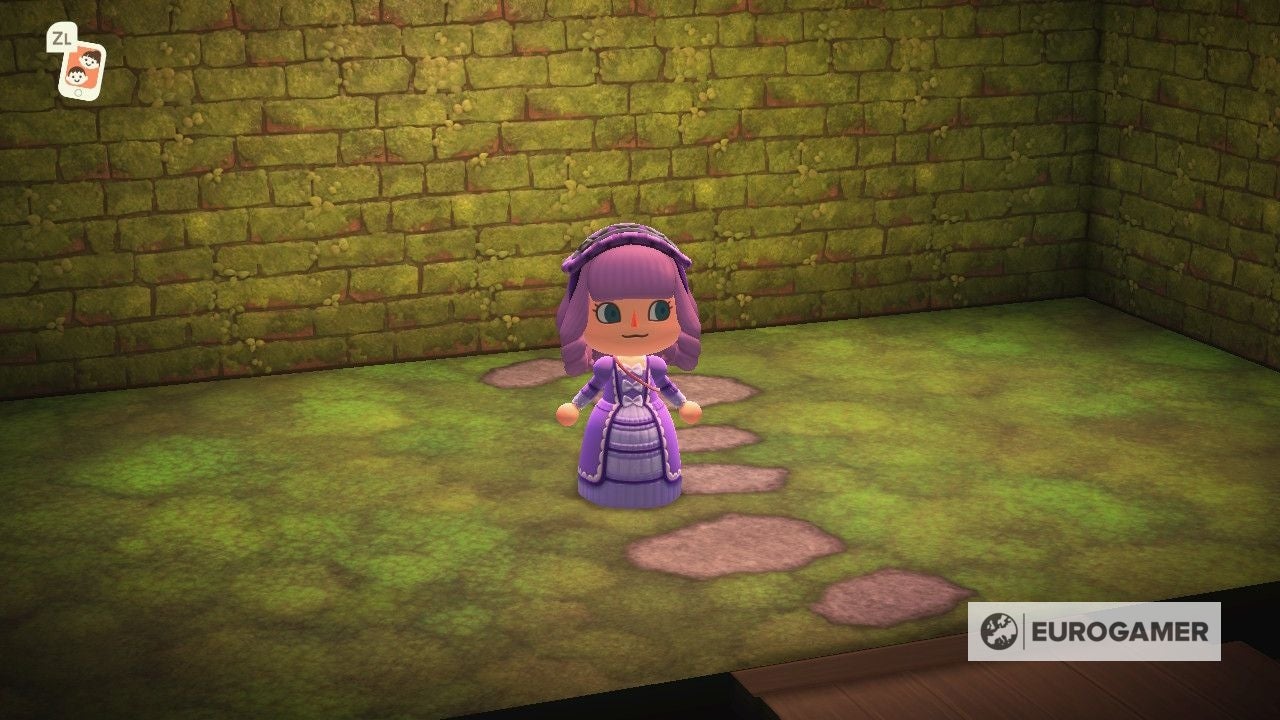 Complete Saharah's mysterious flooring list in Animal Crossing: New Horizons
There are 39 different types of mysterious flooring you to collect in New Horizons.
Here is the complete list of flooring, along with which ones are animated, you can receive from Saharah:
Berry-chocolate flooring
Boxing-ring mat
Circuit-board flooring
Cloud flooring (animated)
Construction-site flooring
Crop-circles flooring
Crosswalk flooring
Daisy meadow
Dark-chocolates flooring
Dig-site flooring (animated)
Dirt flooring (animated)
Field flooring (animated)
Floral rush-mat flooring
Flowing river flooring (animated)
Future-tech flooring (animated)
Gravel flooring
Highway flooring
Imperial tile
Lava flooring (animated)
Lobby flooring
Mossy-garden flooring
Oasis flooring (animated)
Paintball flooring
Palace tile
Parking flooring
Pyramid tile
Racetrack flooring
Ramshackle flooring
Rocky-mountain flooring
Saharah's desert (animated)
Sandlot (animated)
Scramble crosswalk
Sidewalk flooring
Sumo ring
Swamp flooring (animated)
Train-station flooring
Western desert (animated)
White-chocolate flooring
Wildflower meadow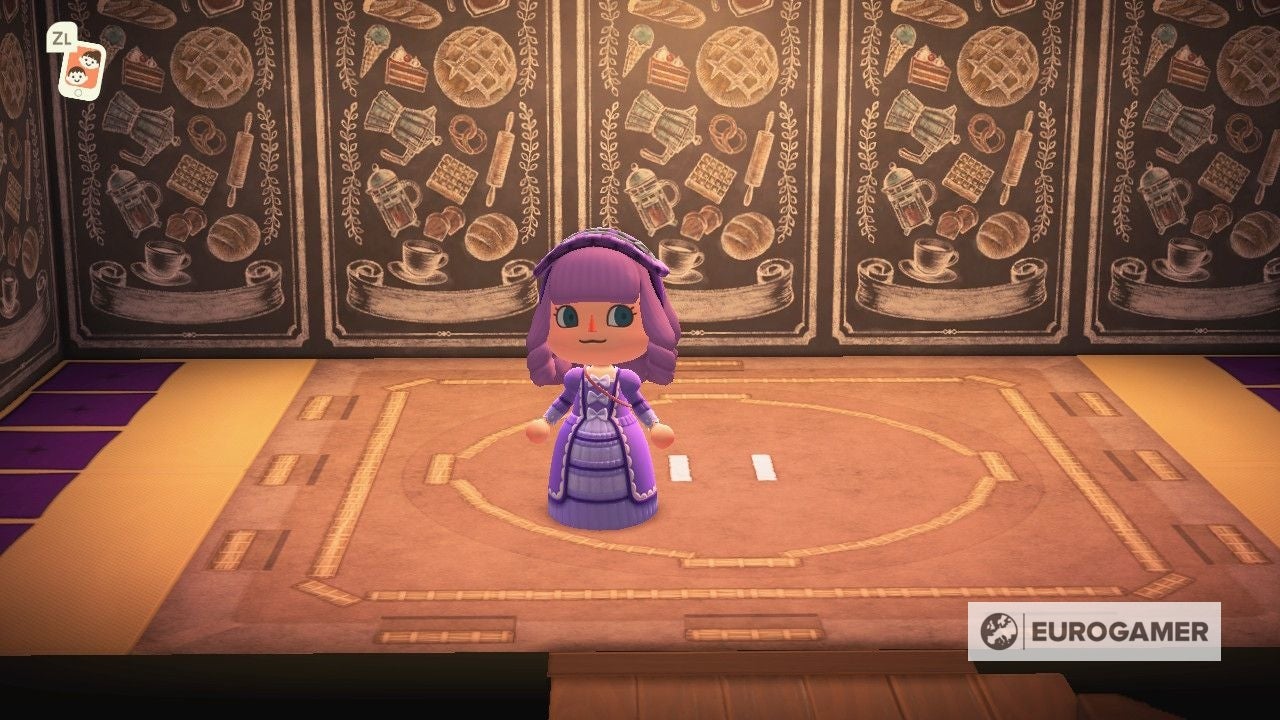 Complete Saharah small rug list in Animal Crossing: New Horizons
Below you'll find all the small rugs, 31 in total, that you can purchase from Saharah in New Horizons, which we've divided up according to rug size.
It should be noted that this is not a complete list of all the rugs that can be found in New Horizons, as some can be crafted using DIY recipes or purchased using Nook Miles.
Black-design kitchen mat
Blue kitchen mat
Blue message mat
Blue small round mat
Blue-design kitchen mat
Brown kitchen mat
Green kitchen mat
Iron entrance rug
Ivory simple bath mat
Oval entrance mat
Red message mat
Red small round mat
Red-design kitchen mat
Rough mat
Rubber mud mat
Simple green bath mat
Simple navy bath mat
Simple pink bath mat
Simple small avocado mat
Simple small black mat
Simple small blue mat
Simple small brown mat
Simple small orange mat
Simple small purple mat
Simple small red mat
White message mat
White simple small mat
Yellow kitchen mat
Yellow message mat
Yellow small round mat
Yellow-design kitchen mat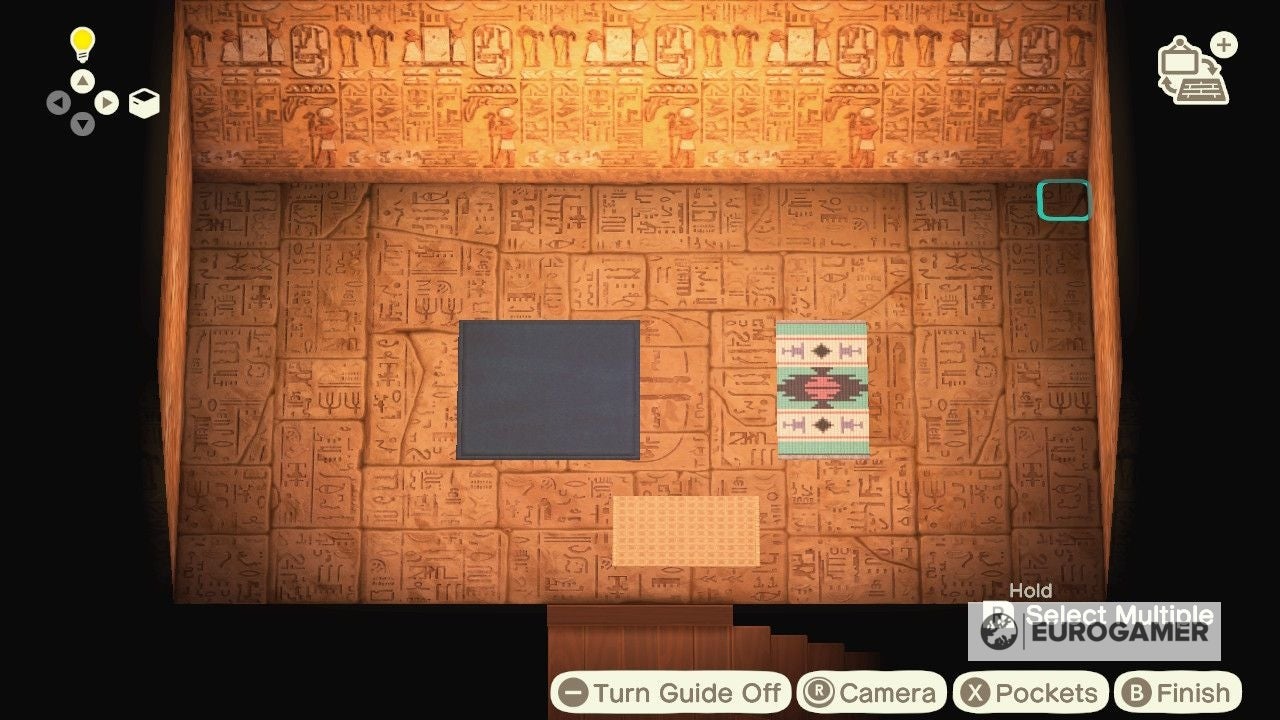 Complete Saharah medium rug list in Animal Crossing: New Horizons
Here you'll find a complete list of all the medium rugs, a total of 43, that you can purchase from Saharah in New Horizons:
Aluminum rug
Black blocks rug
Black wooden-deck rug
Blue blocks rug
Blue medium round mat
Blue vinyl sheet
Brown wood-deck rug
Colorful vinyl sheet
Earth rug
Fluffy rug
Fossil rug
Ivory medium round mat
Lacy rug
Magic circle rug
Mush rug
Natural wooden-deck rug
Pink heart rug
Pink rose rug
Purple heart rug
Red blocks rug
Red carpet
Red medium round mat
Red rose rug
Red vinyl sheet
Simple medium avocado mat
Simple medium black mat
Simple medium blue mat
Simple medium brown mat
Simple medium orange mat
Simple medium purple mat
Simple medium red mat
Snowflake rug
Tatami mat
Tropical rug
Turquoise heart rug
White heart rug
White rose rug
White simple medium mat
White wooden-deck rug
Yellow blocks rug
Yellow medium round mat
Yellow rose rug
Yellow vinyl sheet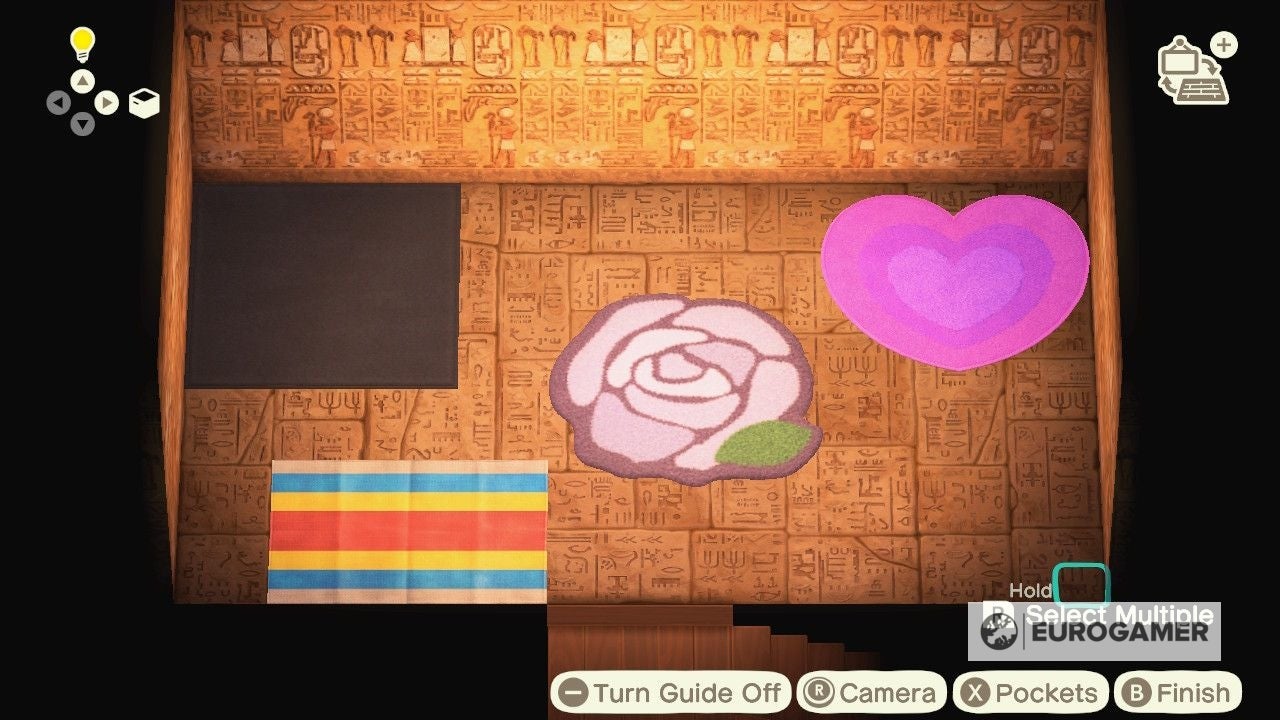 ---
The Animal Crossing 2.0 update and Happy Home Paradise is here! We can help you with the new additions - including where to find Brewster, Gyroids, new villagers, ordinances, new fences, storage shed, new hairstyles, Froggy Chair, group stretching and Kapp'n boat tours. Cooking is now unlockable, so you need to know how to make both flour and sugar, as well as how to grow carrots, potatoes and tomatoes. Meanwhile, if you're new to Animal Crossing, our New Horizons tips can help with the basics. From the off, there's fish and bugs to catch, flowers and fruit to grow with. One long term goal is building your Happy Home Academy score. Finally, you need tools such as the new ladder and vaulting pole to fully explore.
---
Complete Saharah large rug list in Animal Crossing: New Horizons
Below you can find all 35 large rugs that you can purchase from Saharah in New Horizons:
Blue argyle rug
Blue dotted rug
Blue kilim-style carpet
Blue persian rug
Blue shaggy rug
Blue stripes rug
Blue wavy rug
Botanical rug
Brown argyle rug
Brown shaggy rug
Green checked rug
Green kilim-style carpet
Green shaggy rug
Green stripes rug
Modern wavy rug
Monochromatic dotted rug
Monochromatic wavy rug
Peach checked rug
Peach stripes rug
Purple persian rug
Purple shaggy rug
Red argyle rug
Red dotted rug
Red kilim-style carpet
Red persian rug
Red wavy rug
Red-and-blue checked rug
Retro dotted rug
Shanty mat
Sloppy rug
Yellow argyle rug
Yellow checked rug
Yellow kilim-style carpet
Yellow persian rug
Yellow stripes rug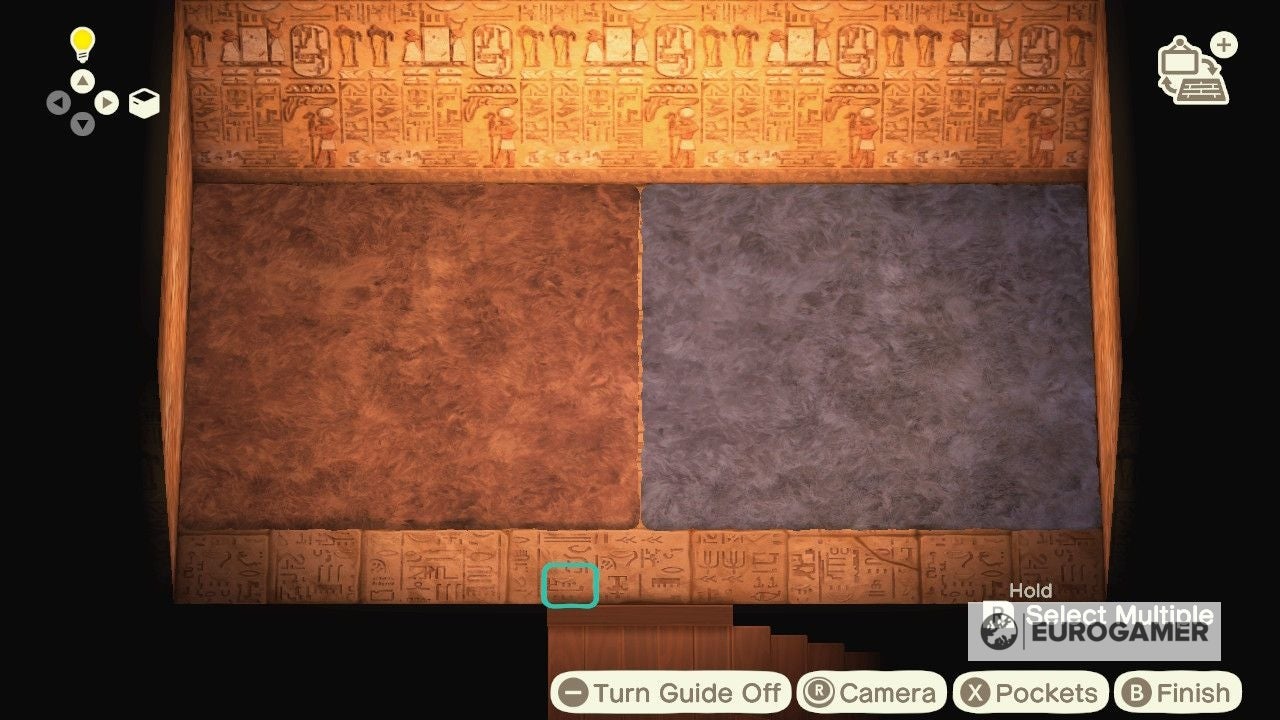 Good luck on your rug hunt!