Animal Crossing Gulliver: How to find five communicator parts and their reward in New Horizons explained
I wouldn't want to go travelling with him.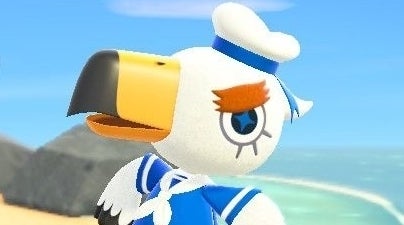 Gulliver is a seagull who doesn't seem to be very good at travelling considering the amount of times you're going to find him washed up on the shores of your island in Animal Crossing: New Horizons.
If you decide to help him, you'll find yourself beach-combing for Gulliver's five communicator parts.
When you do find all five communicator parts, however, Gulliver will ensure you're rewarded.
Gulliver and his pirate counterpart Gullivarrr are both rotating visitors who will come to your island.
On this page:
Gulliver's location in New Horizons explained
Like the other special villagers, such as Wisp, Gulliver will randomly appear on your island in New Horizons. His first visit will probably be a couple of days after you've started playing.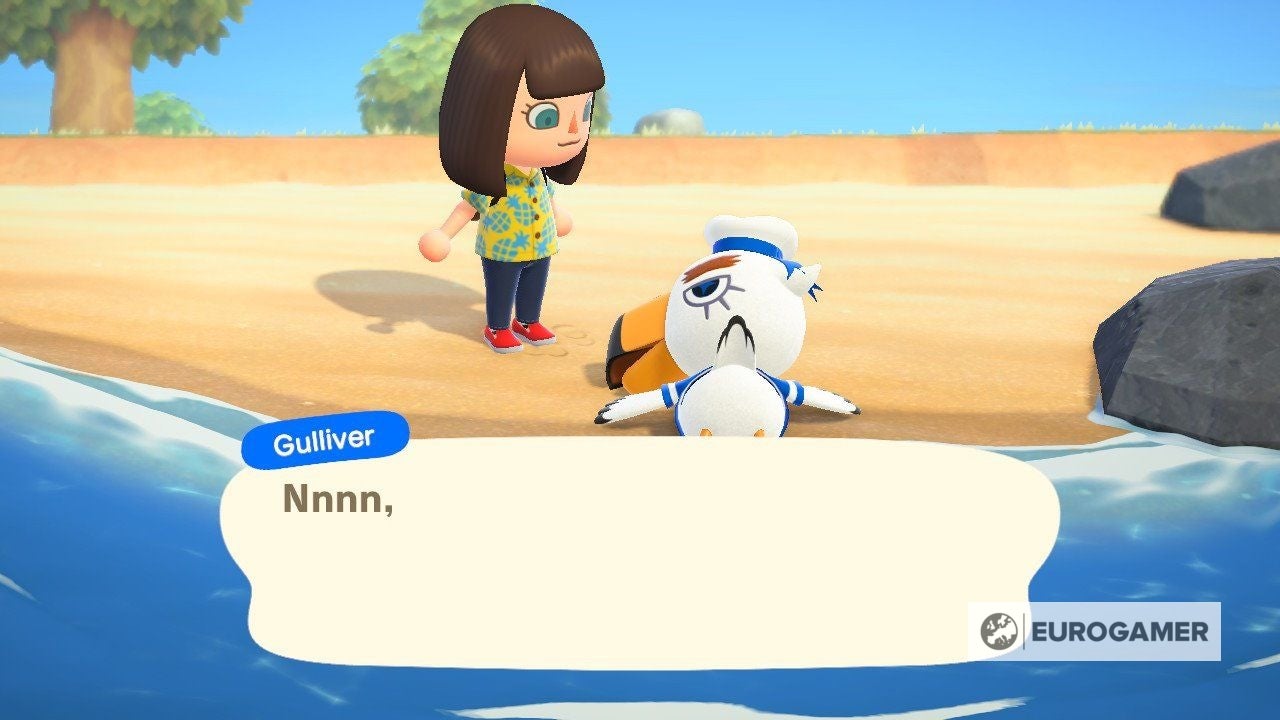 Gulliver will always appear, passed out, on one of the beaches of your island. You'll never know if he's visiting, so it's worth checking the beaches on your island every day just in case.
How to find Gulliver's five communicator parts in New Horizons explained
Your first task when you find Gulliver passed out on your beach in New Horizons is to wake him up.
To do this talk to him, but be prepared to do it a lot as Gulliver can be quite hard to wake up.
Keep talking and eventually Gulliver will awaken and explain to you who he is. He will then pull out his phone to call his crew, only to discover that his phone is broken.
Since you've already helped him out, he will ask you to find the five communicator parts he needs to fix his phone.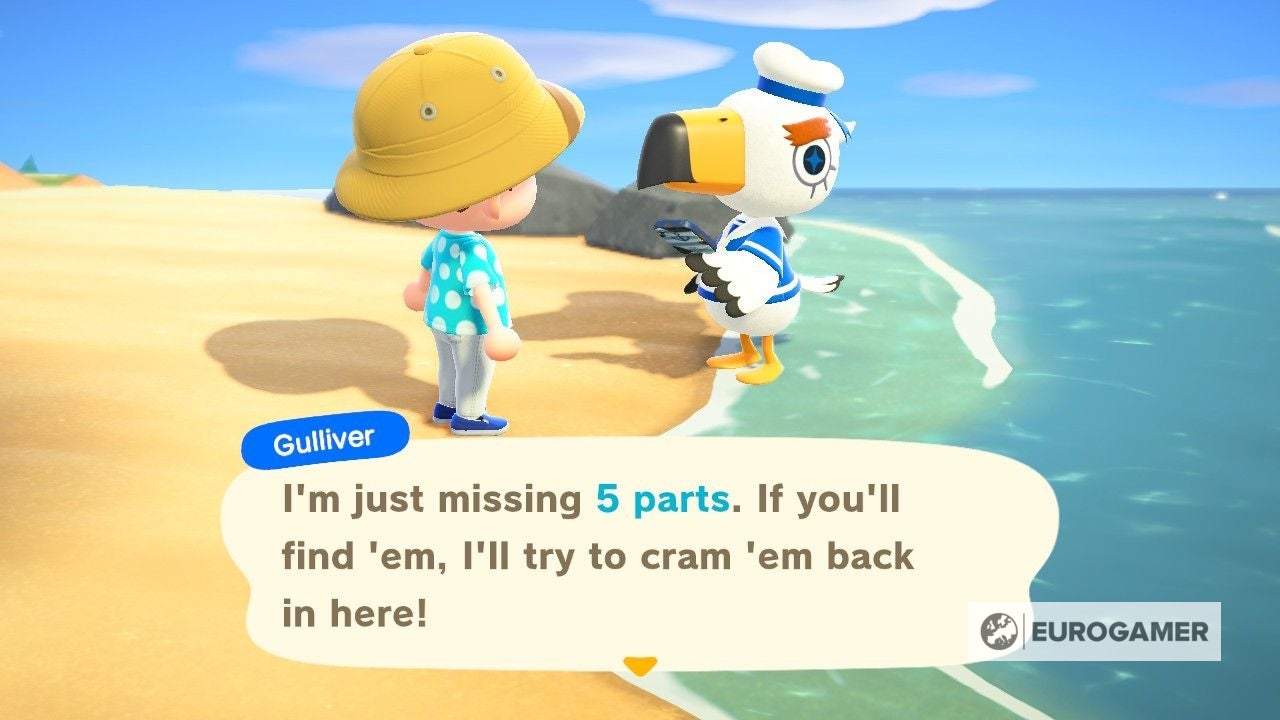 Each communicator part is located somewhere on the various beaches of your island. You'll know if you're near one, because a small jet of water will emerge from the sand.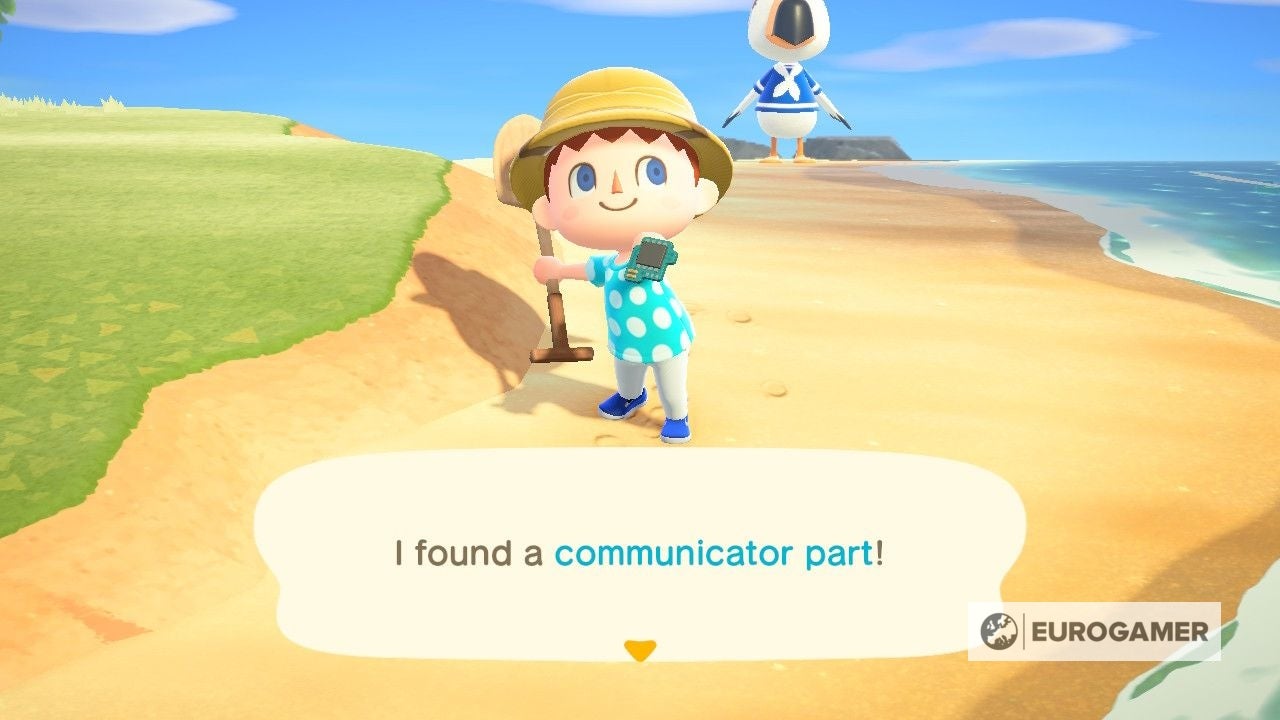 To find all five communicator parts, simply walk up and down the beaches of your isle, digging up every spot that has water emerging from it. You will also probably dig up quite a few calms doing this, but, eventually, you'll find all five missing communicator parts.
When you've collected all five communicator parts, it's time to return to Gulliver.
---
The Animal Crossing 2.0 update and Happy Home Paradise is here! We can help you with the new additions - including where to find Brewster, Gyroids, new villagers, ordinances, new fences, storage shed, new hairstyles, Froggy Chair, group stretching and Kapp'n boat tours. Cooking is now unlockable, so you need to know how to make both flour and sugar, as well as how to grow carrots, potatoes and tomatoes. Meanwhile, if you're new to Animal Crossing, our New Horizons tips can help with the basics. From the off, there's fish and bugs to catch, flowers and fruit to grow with. One long term goal is building your Happy Home Academy score. Finally, you need tools such as the new ladder and vaulting pole to fully explore.
---
Reward for helping Gulliver in New Horizons explained
To earn your reward for helping Gulliver in New Horizons, you first must give him all five communicator parts. He will then call his crew, but they don't seem too worried about picking him up.
Possibly due to this, your reward for helping him will arrive in the post the next day.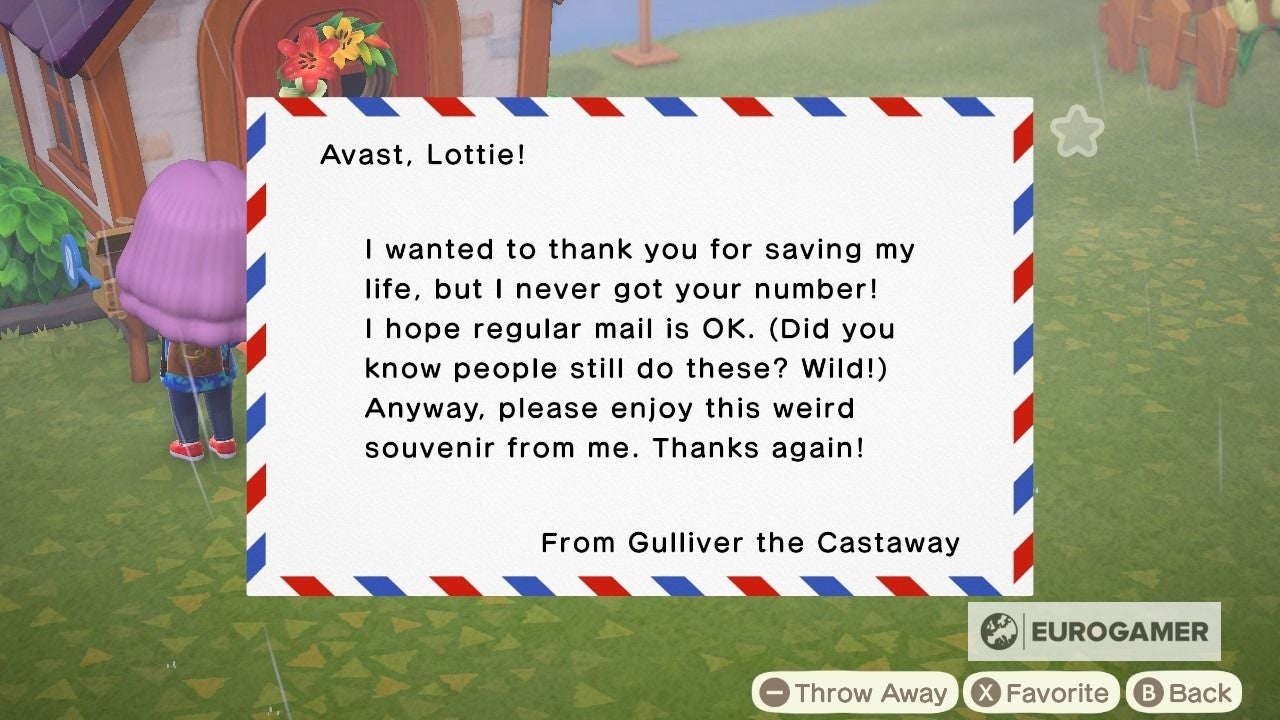 Gulliver's rewards are inspired by cultures and landmarks from around the world. You might find yourself receiving a model of Stonehenge from the United Kingdom or a Lucky Cat from Japan.
Here is the full list of rewards you can receive from Gulliver:
Alpinist Hat
Ancient Administrator Hat
Candy-skull Mask
Coin Headpiece
Dala Horse
Elder Mask
Geisha Wig
Hula Doll
Kaffiyeh
Katana
Lucky Cat
Milkmaid Hat
Moai Statue
Nutcracker
Pagoda
Pigtail
Pyramid
Samurai Wig
Silk Hat
Sombrero
Sphinx
South Pole
Statue of Liberty
Stonehenge
Tam-o'-shanter
Tower of Pisa
Tubeteika
Turban
Veil
You can also earn Nook Miles from helping Gulliver and, if you help him 30 times, you'll discover the DIY recipe for the Golden Shovel.
Good luck with the beach-combing!