Fortnite Rubber Duck locations: Where to place Rubber Ducks in Retail Row, Pleasant Park and Believer Beach
Quack the sky.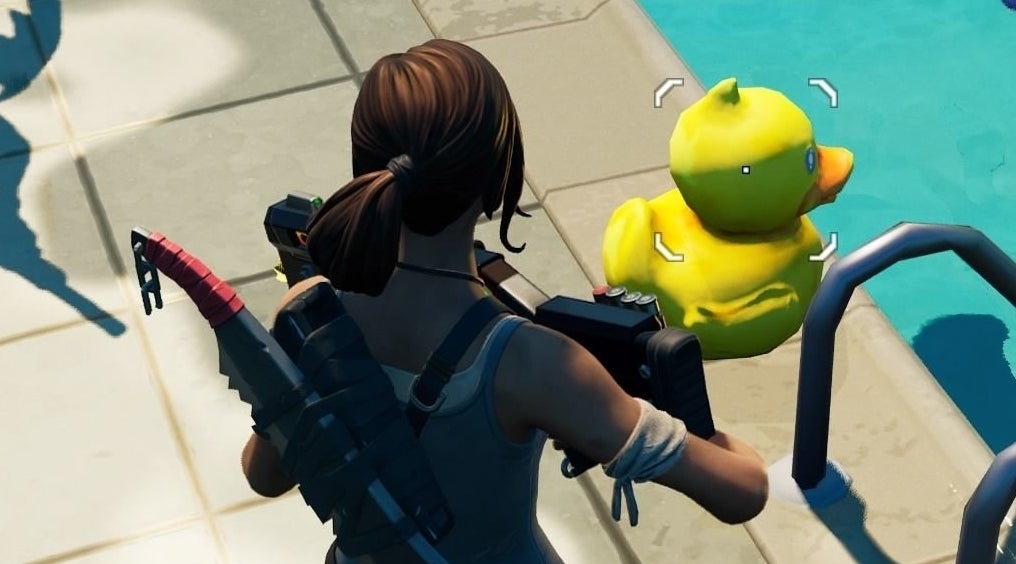 We're unsure if they'll help to repel the alien invasion, but just in case here's the locations of where to place rubber ducks in Fortnite.
Place Rubber Ducks is one of the challenges you can complete in Fortnite Season 7.
If you've been following Bunker Jonesy's legendary questline, including the interaction with his conspiracy board and IO Tech weapons, the last step will ask you to find three locations to place your rubber friends.
Completing this Fortnite challenge will reward you with 30k XP, which will help you unlock new Season 7 Battle Pass skins and other cool cosmetics.
---
Note this particular challenge is no longer able to be completed. What's new? Chapter 3 Season 3 has arrived! New additions include Reality Seeds and Saplings and riding animals, along with the new Battle Pass, characters collection and map changes. It's a good idea to know how to get XP fast in Fortnite.
---
On this page:
Retail Row, Pleasant Park and Believer Beach Rubber Duck locations at a glance
Here are the locations of Retail Row, Pleasant Park and Believer Beach on the Fortnite map: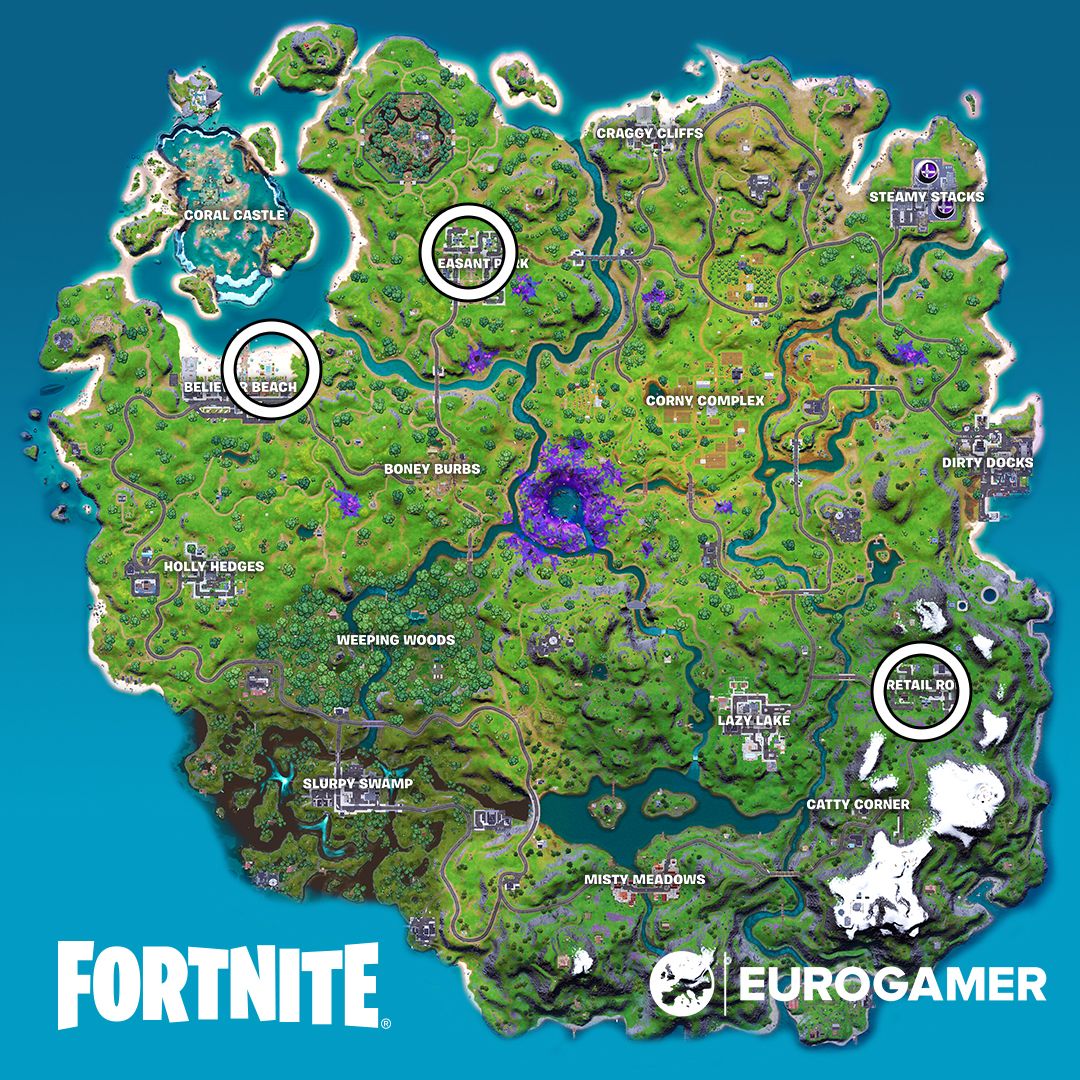 You need to visit three locations to complete this challenge - you have to place rubber ducks in Retail Row, Pleasant Park and Believer Beach.
Depending on whether or not you're able to obtain a car and make a safe trip, it might take you two matches to complete the challenge. If you do, we recommend to start land in Retail Row and then start heading north towards Believer Beach.
From there it should be fairly easy to get to the last location in Pleasant Park. If not, land in one of these two sites in one match, and then place the third rubber duck in a second match by landing on Retail Row.
Having the challenge location is helpful, but the exact spot isn't revealed. Don't fret, since it's fairly easy to get to the exact location. Upon arrival you will notice the shape of the rubber duck glowing in orange. Just interact with it for a couple seconds and the duck will appear.
---
Fortnite Chapter 3 Season 4 is here and with it comes a new Battle Pass! This season has introduced EvoChrome weapons, Chrome Splash locations and the ability to phase through walls. There are also new vault locations and map changes. Darth Vader and Star War weapons, including Lightsabers make a return for Skywalker Week, and the Paradise quests are this season's storyline challenges, including destorying Chrome objects to collect Chrome anomalies. Make sure to check out how to unlock The Herald skin too! Meanwhile, learn how to get XP fast, earn the Victory Umbrella and Victory Crowns.
---
Retail Row Rubber Duck location in Fortnite
In Retail Row, the spot to place the rubber duck is inside the basketball court, located west of the southern entrance.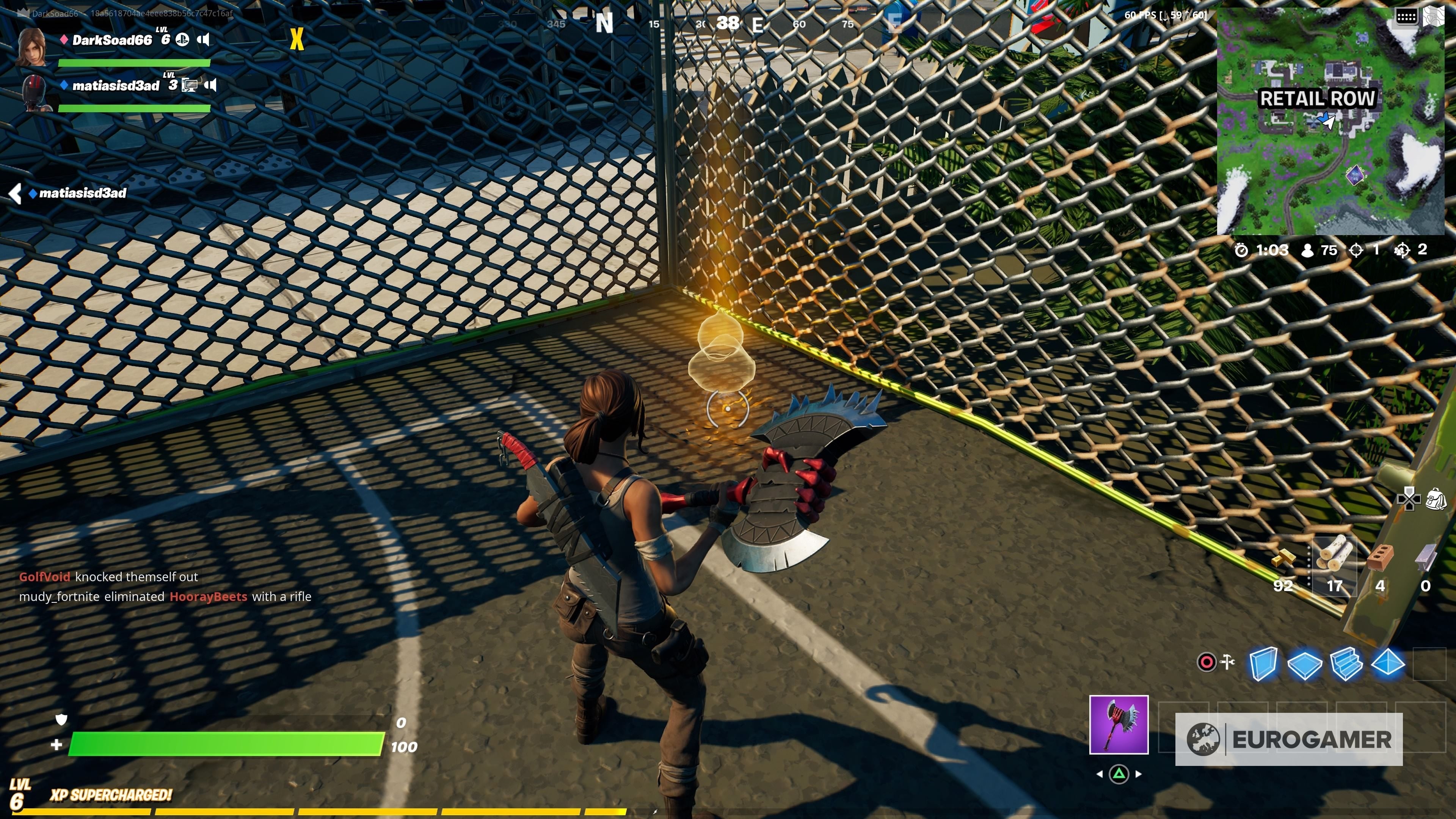 Pleasant Park Rubber Duck location in Fortnite
In Pleasant Park, head towards the court in the centre - you'll find the spot right next to the goal signs.