Fortnite - Rift Tour poster locations: Where to interact with the Rift Tour posters explained
Something grand is coming.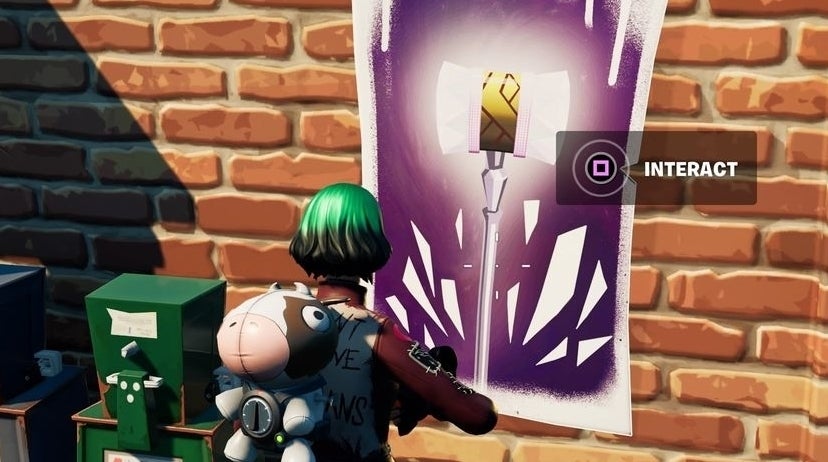 Something big is coming to Fortnite, and here's where you can interact with the Rift Tour posters in this week's challenge.
Interact with the Rift Tour posters is one of the first Rift Tour quests in Fortnite Chapter 2 Season 7.
In preparation towards a three-day concert available 6th to 8th August, new quests are starting to emerge under the Rift Tour premise.
This one in particular asks you to interact with the Rift Tour posters scattered across five key locations in the battle royale map.
Completing this challenge won't reward you with XP to help you unlock more Battle Stars for the Season 7 battle pass. Instead, you will receive a unique Rift Tour themed spray for your collection.
On this page:
---
Note this particular challenge is no longer able to be completed. What's new? Chapter 3 Season 3 has arrived! New additions include Reality Seeds and Saplings and riding animals, along with the new Battle Pass, characters collection and map changes. It's a good idea to know how to get XP fast in Fortnite.
---
Where to interact with the Rift Tour posters in Fortnite at a glance
First of all, one of the quests tasks you to Save the Date in the Rift Tour tab and play a match. For this, head towards the tab in the main menu, and choose the date that best suits your region. Once that's settled, you can now go ahead and jump into a match to complete both quests simultaneously.
There is a total of five locations to choose from: Lazy Lake, Misty Meadows, Believer Beach, Retail Row and Risky Reels. You only need to interact with one of the Rift Tour posters once, so feel free to take your pick.
You can find them on the locations at a glance below: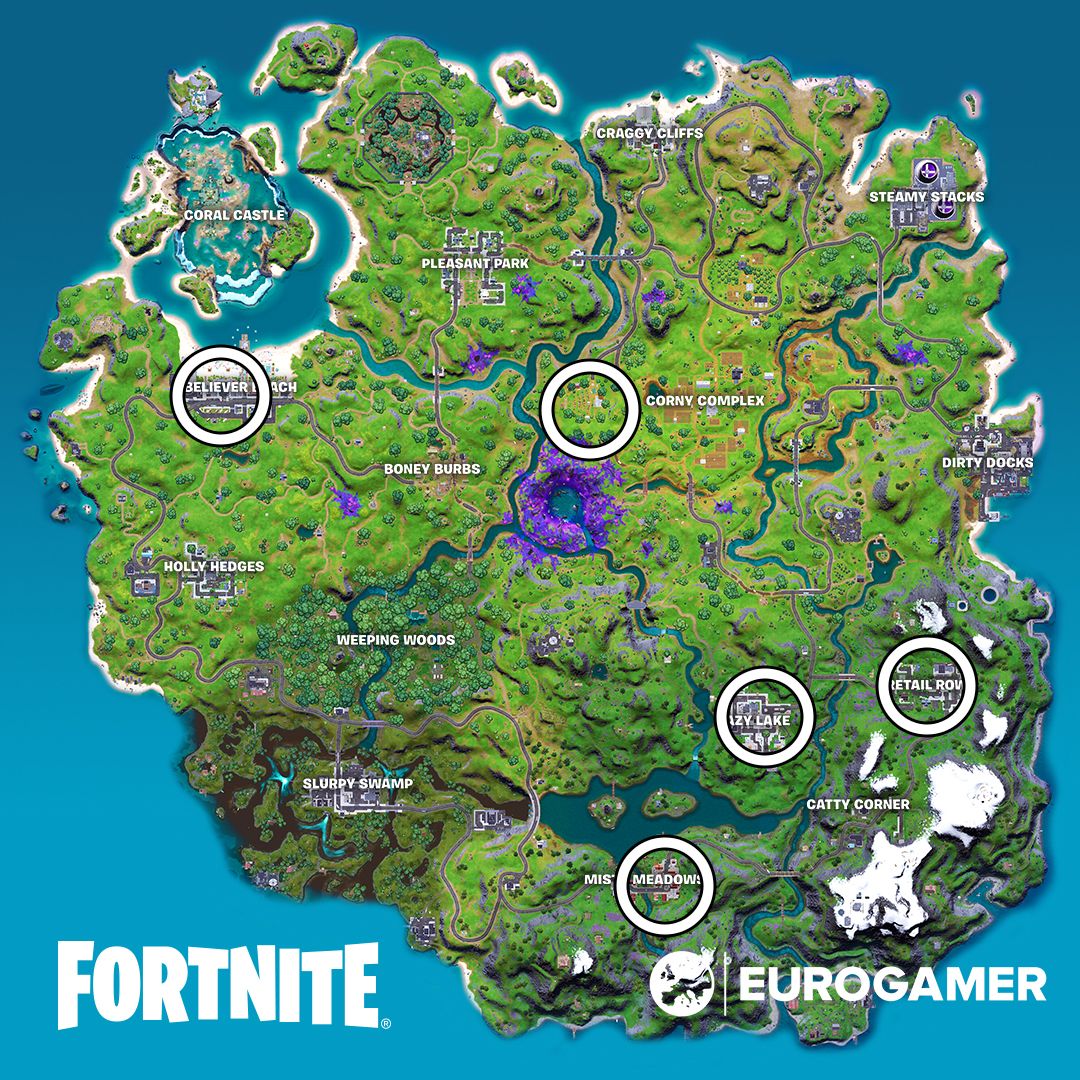 Now, let's move onto the exact spots of four of the locations that should help you to finish this as soon as possible.
Believer Beach Rift Tour poster locations in Fortnite explained
Let's start with Believer Beach. This is often a highly populated area, but luckily, the posters themselves are scattered around pretty much everywhere.
We found Rift Tour posters on the right side of the circle-shaped area, located close to where the road towards the pier starts. They're on the walls of each side of a store's door.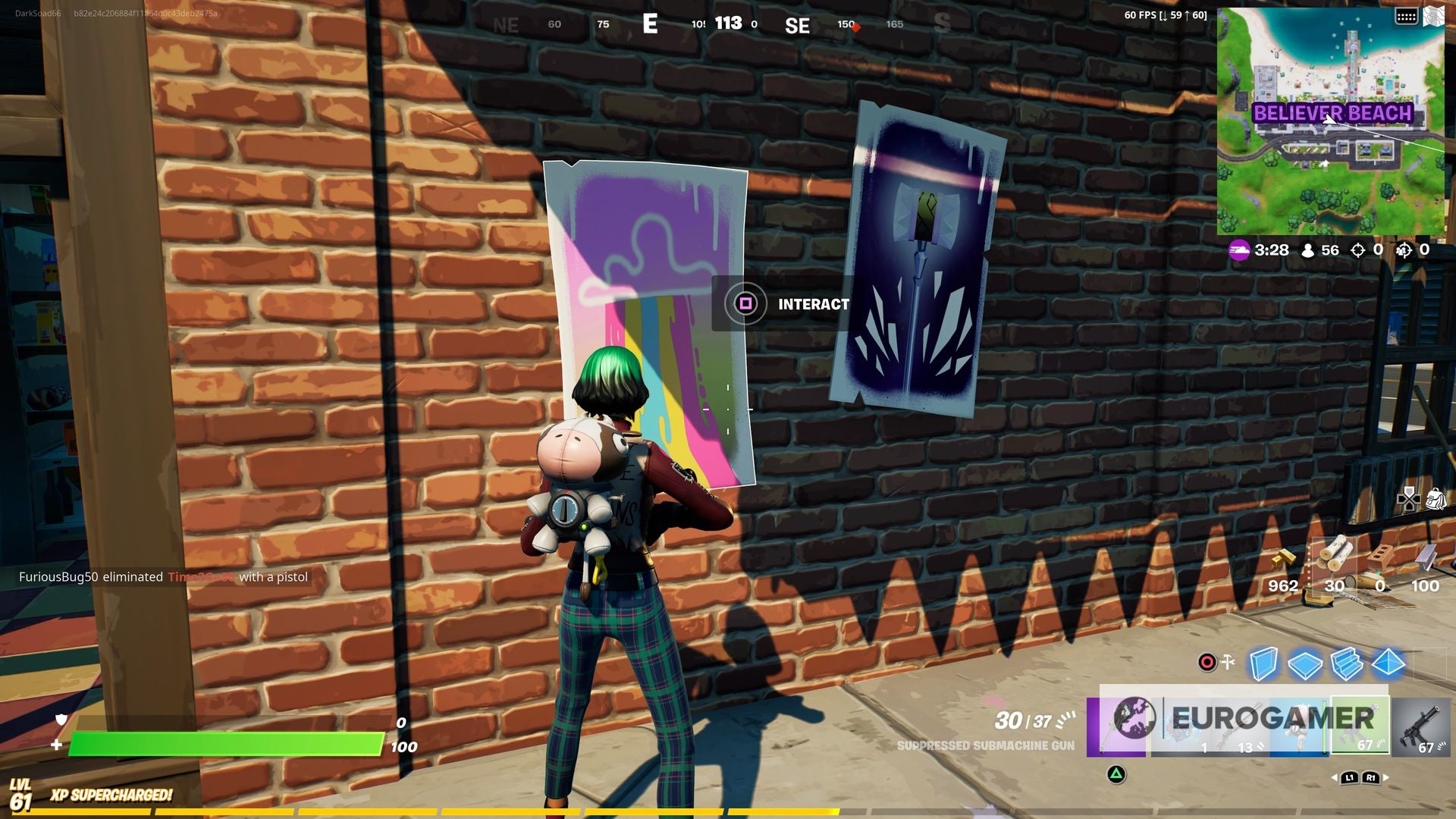 Taking the previous spot for reference, the house on the left side (following the bottom road) also had posters on the wall, right next to the wooden stairs that lead to the rooftop.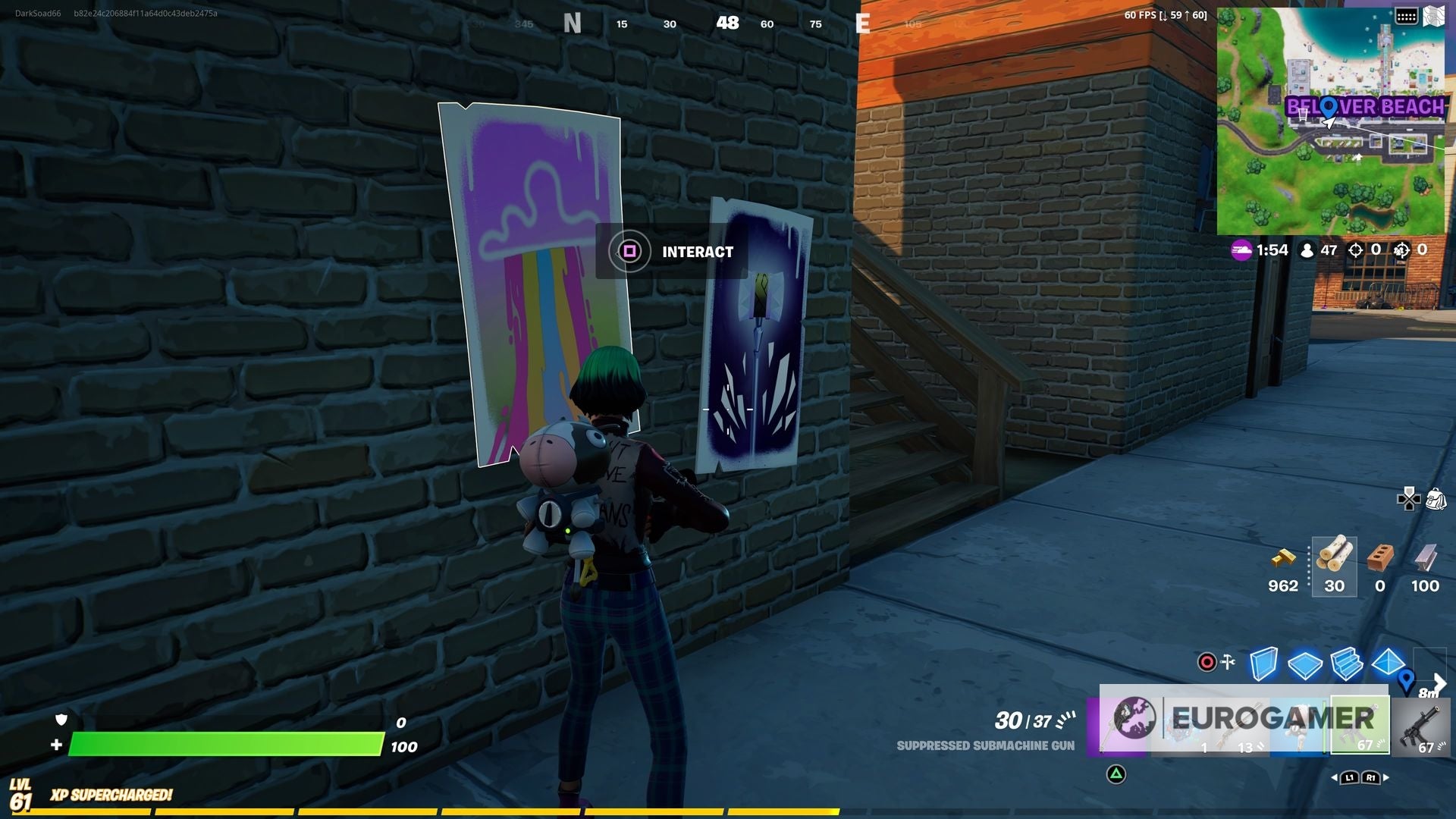 Risky Reels Rift Tour poster locations in Fortnite explained
Onto Risky Reels now. In case you are not aware, this is a small site found west of Corny Complex, which makes it hard to miss.
Once you arrive, make sure to head towards the fence north of the area. You will see several posters there, so take your pick.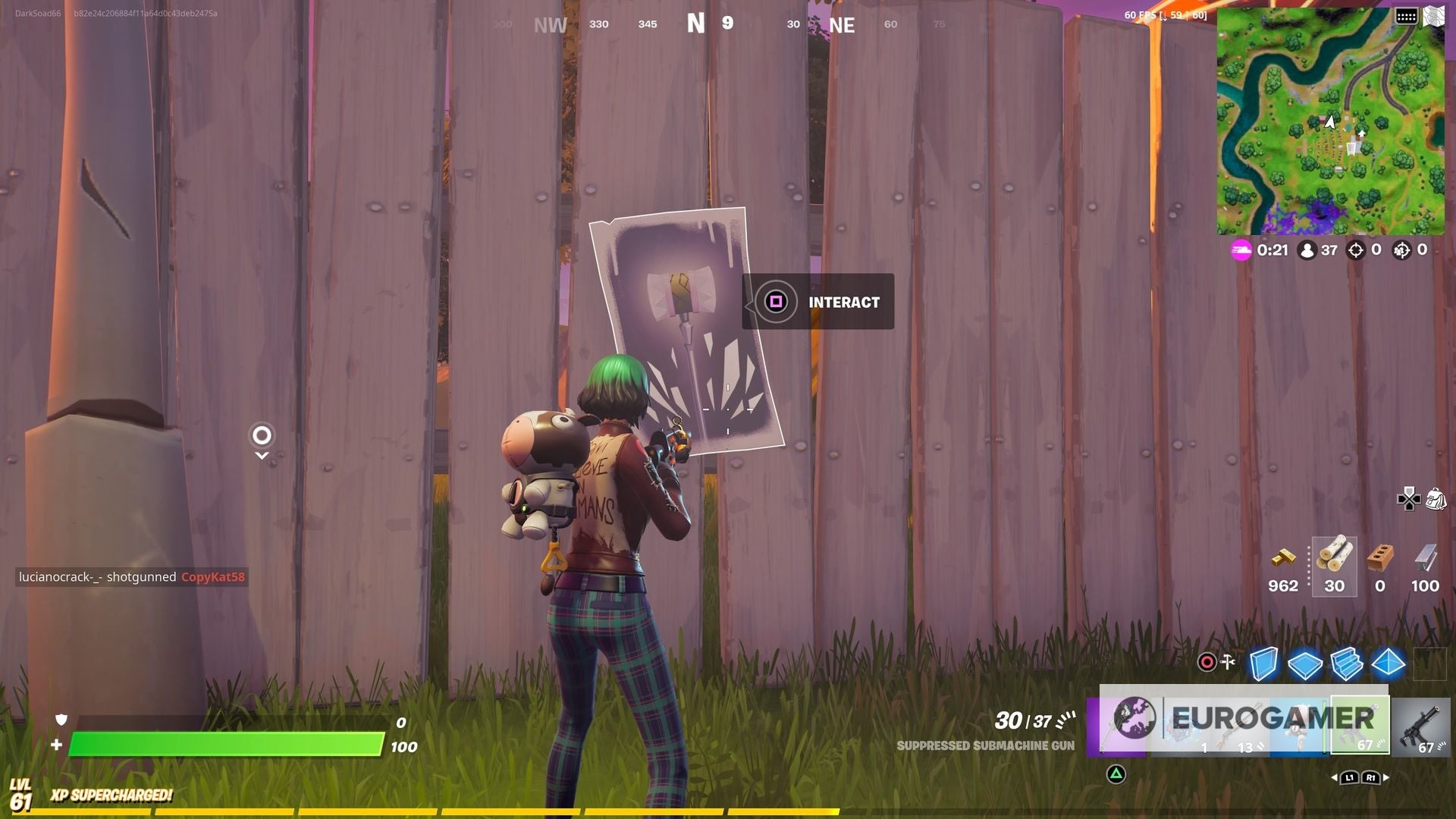 Misty Meadows Rift Tour poster locations in Fortnite explained
If you happen to be near the Misty Meadows area, we have got you covered. This is another popular location, but the poster is fairly secluded, so you might get lucky and avoid bumping into other players unprepared.
There is a poster in between the second and third house found on the eastern side of Misty Meadows, just at the left of the main road.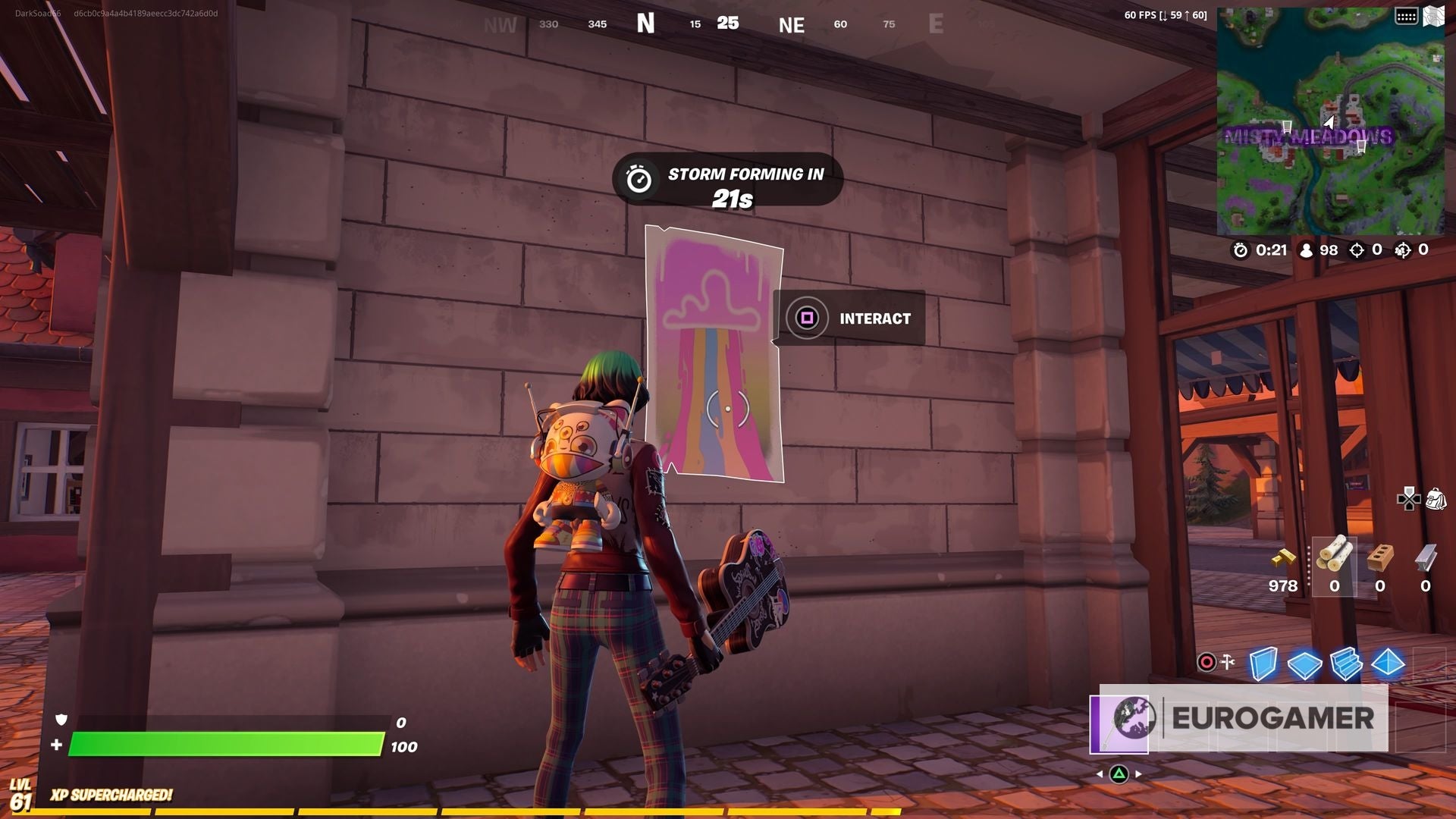 That should be all! While there are plenty of options, remember that you only need to interact with one poster.
With this quest completed, you can go ahead and use an Alien Hologram Pad on top of a Party UFO to gain another Rift Tour themed award.
If you'd like to learn more about Fortnite Season 7, check out our guides on the Battle Pass, legendary quests, alien artefacts, IO Weapons, cosmic chest and Ferrari 296 GBT location.