Animal Crossing Flick: Commissions and what time does Flick leave in New Horizons explained
Everything you need to know about Flick.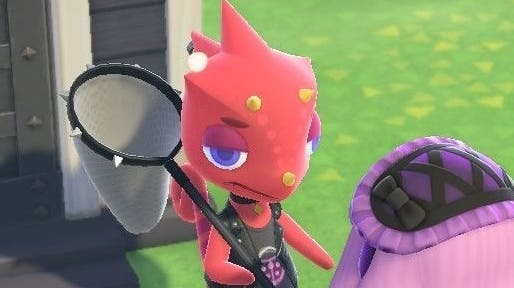 Flick is one of the rotating visitors, like K.K. Slider and Gulliver, who will visit your island in Animal Crossing: New Horizons.
This punk chameleon will happily take commissions for you, creating sculptures of your favourite Animal Crossing bugs, and will buy bugs from you at much higher prices than Nook's Cranny.
On this page:
Flick and his departure time in Animal Crossing: New Horizons explained
Flick is the bug obsessed chameleon who will randomly visit your island in New Horizons. When he does visit, Flick will stay on your island till 5am, which is the reset time for your island.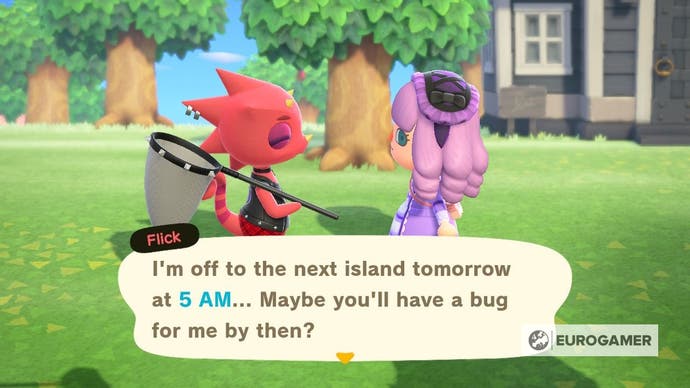 During his visit, you'll be able to sell bugs to Flick and commission him to craft sculptures of your favourite bugs.
Flick also runs the Bug-Off events that occur four times a year, which is the bug version of the Fishing Tourney.
---
The Animal Crossing 2.0 update and Happy Home Paradise is here! We can help you with the new additions - including where to find Brewster, Gyroids, new villagers, ordinances, new fences, storage shed, new hairstyles, Froggy Chair, group stretching and Kapp'n boat tours. Cooking is now unlockable, so you need to know how to make both flour and sugar, as well as how to grow carrots, potatoes and tomatoes. Meanwhile, if you're new to Animal Crossing, our New Horizons tips can help with the basics. From the off, there's fish and bugs to catch, flowers and fruit to grow with. One long term goal is building your Happy Home Academy score. Finally, you need tools such as the new ladder and vaulting pole to fully explore.
---
Flick's commissions in Animal Crossing: New Horizons explained
Flick loves bugs so much that he will offer to make you sculptures based on any you suggest.
Note, these are different to Redd's art, which can be displayed in the Museum. Instead, these are for your own personal collection to be placed around the house and island wherever you please.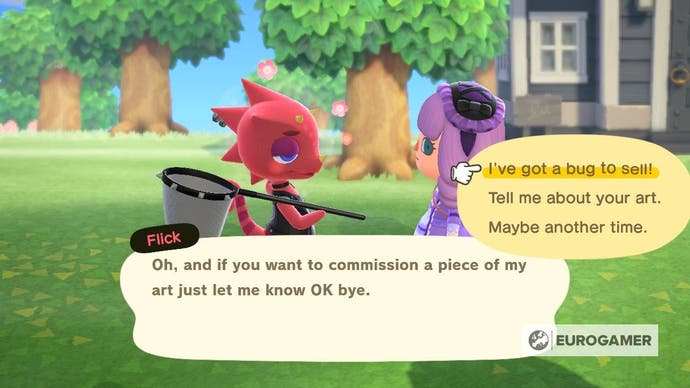 To commission a sculpture from Flick, you must first catch three of the specific bug you wish to have a statue of.
Once you've caught all three of these bugs, find Flick and, when talking to him, select the option, 'Tell me about your art.' and select the bugs that you wish to use.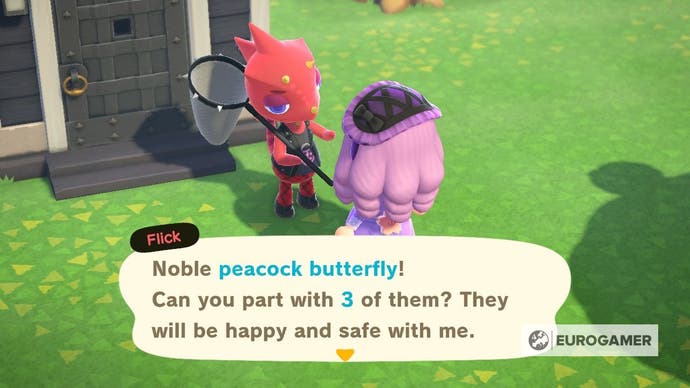 It's important to know that you will lose these bugs forever, so, if you're in need of Bells, you might be better off selling these bugs to Flick. Luckily Flick will double check that you're sure about your decision, before accepting the bugs.
Flick can only accept one sculpture commission at a time and it will take one day for him to make your art, with it arriving in the mail the next day.