Animal Crossing Fishing Tourney prizes, how points and trophy rewards work, and future dates explained
Everything you need to know about the Fishing Tourneys in New Horizons.
Fishing Tourneys are one of the special events that will occur multiple times throughout the year in Animal Crossing: New Horizons.
Similar to the Bug-off event, you need to catch creatures within a limited time frame to earn points, which can be exchanged for a range of Fishing Tourney prizes.
Below you'll find everything you need to know about the Fishing Tourneys in New Horizons, including the dates for upcoming tourneys.
On this page:
Fishing Tourneys in Animal Crossing: New Horizons explained
Fishing Tourneys are one of the special events that occur on your island in New Horizons and Fishing Tourneys specially occur every three months.
When a Fishing Tourney is occurring, C.J. will set up a net on the plaza in front of Residential Services. Talking to him will allow you to partake in a Fishing Tourney, redeem any points you might have for prizes and sell any of the fish that you've caught.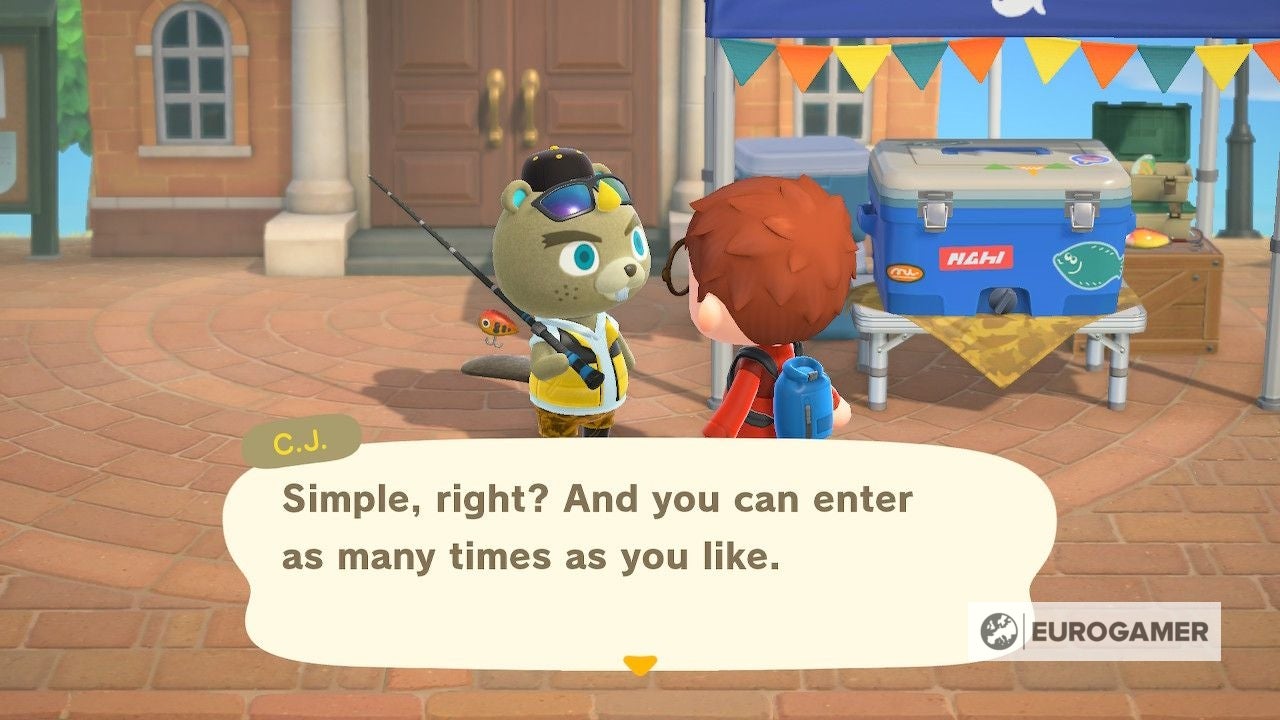 You'll be able to compete in Fishing Tourneys from 9am to 6pm.
Though C.J. won't pack up his tent until 8pm, which gives you more time to spend those points and sell him fish for higher prices than at Nook's Cranny.
Fishing Tourney minigame in Animal Crossing: New Horizons explained
The Fishing Tourney itself in New Horizons is a short minigame that you can repeatedly play throughout the entirety of the event.
To begin this minigame you need to talk to C.J. at his tent in front of Residential Services. You can compete in your first Fishing Tourney minigame free of charge, but every time afterwards it will cost you 500 Bells.
Don't worry about this cost though; C.J. will buy any fish you catch for a higher price than Nook's Cranny, easily allowing you to take part in more tourneys without losing much of your profit.
Once you've paid your entrance fee, you'll have roughly five seconds to get to the nearest water source before the timer begins.
You'll now have three minutes to catch as many fish as you can.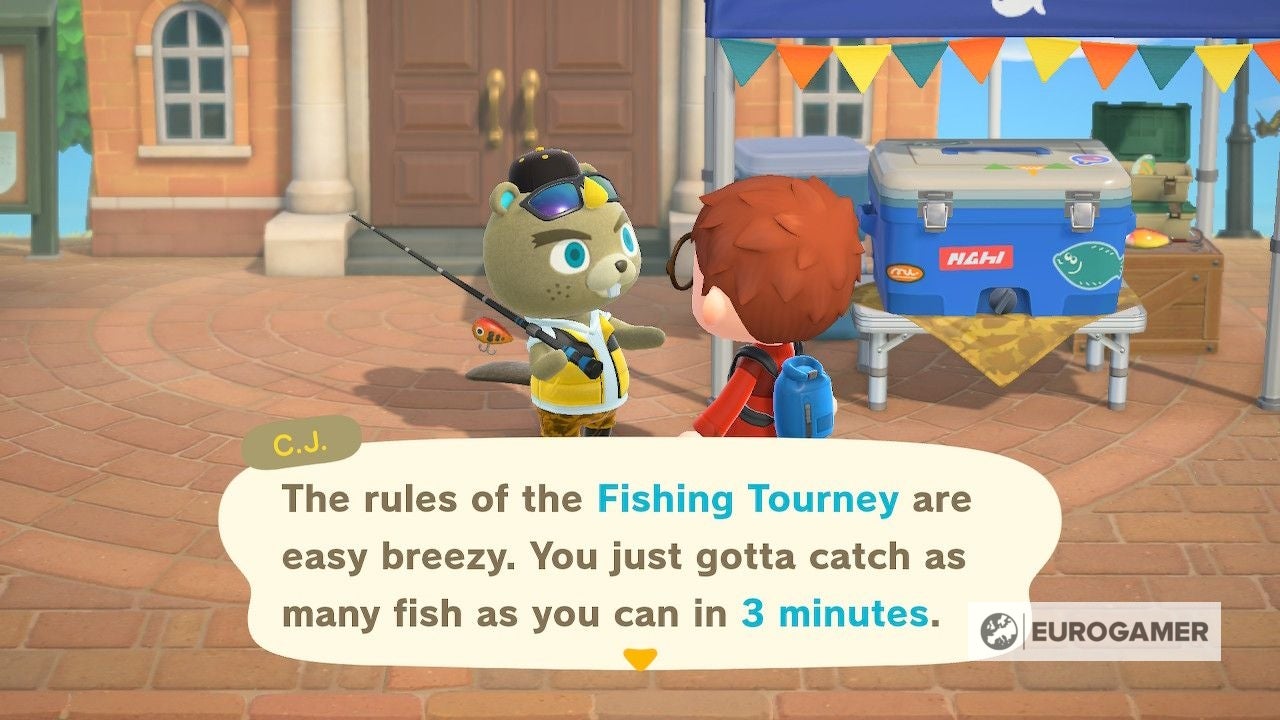 There's no limit on which fish you catch and where you do it, so feel free to head to your favourite fishing spot or jump between the river and the sea. You can even use fishing bait if you so choose.
If you currently have any visitors on your island or are using Party Play, then these players will also be able to partake in your Fishing Tourney, with the fish they catch being added to the total score.
If you're the one visiting, then you can also start a Fishing Tourney by talking to C.J. You'll even be able to sell the fish you catch and redeem your points for prizes on another player's island.
After the three minutes have ended, it's time to head back to C.J. and he'll tally up your points for this round. He'll also give the chance to empty the fish cooler or sell him the fish; remember, you have to pick one of these two options, because C.J. won't start another Fishing Tourney till the cooler is empty.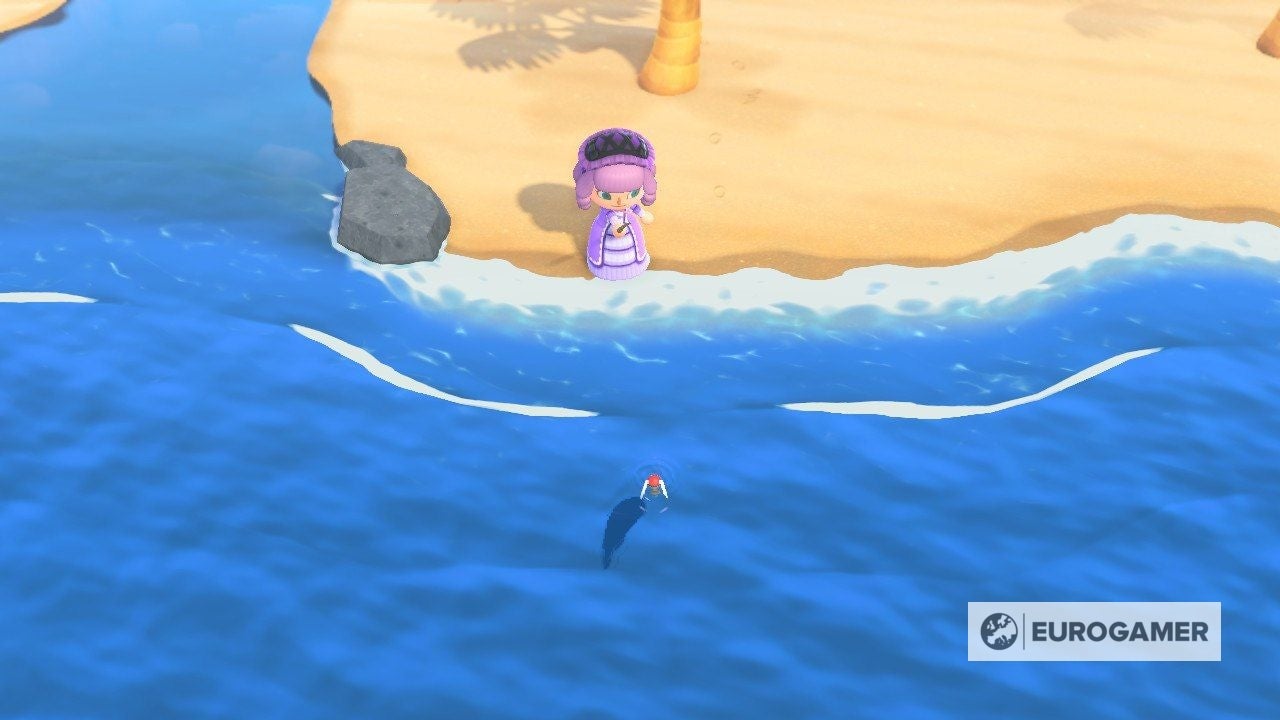 Fishing Tourney point system in Animal Crossing: New Horizons explained
How well you do in each Fishing Tourney in New Horizons is determined by the number of points you earn.
You receive one point for every fish you catch. If you manage to catch more than three fish, then you'll receive a two point bonus.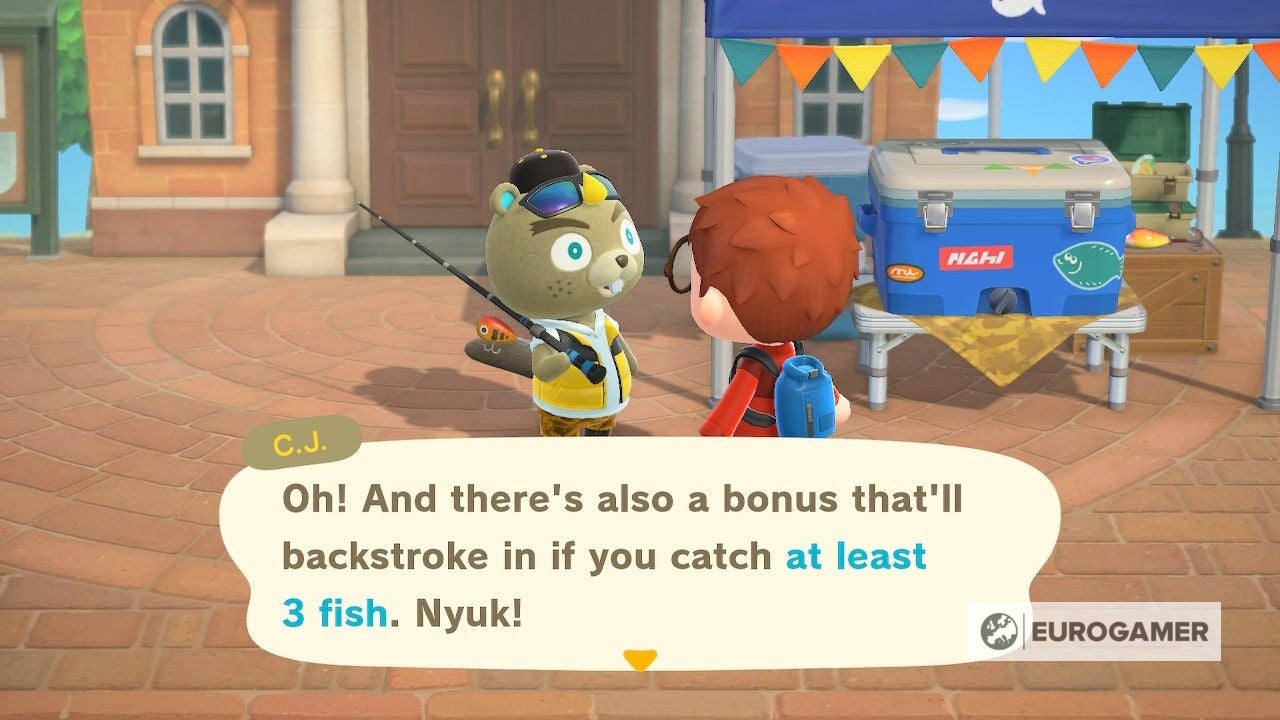 If you have other players visiting your island and decide to compete in a Fishing Tourney, then a total of five fish must be caught between all players for this bonus to be unlocked. Due to this increase in fish, the bonus has also been increased to five points, which you can receive even if you didn't catch any fish.
If you're the one visiting a friend's island, then you'll also discover that you'll receive twice as many points for competing in their Fishing Tourney rather than yours.
Fishing Tourney prizes in Animal Crossing: New Horizons explained
Competing in the Fishing Tourney will earn you a variety of rewards in New Horizons. You can swap every ten points you earn in the tourneys for reward.
These rewards include:
Anchor statue
Fish door plate
Fish-drying rack
Fish pochette
Fish print
Fish-print tee
Fishing rod stand
Fish rug
Fish umbrella
Fish wand
Fresh cooler
Marine pop wall
Tackle bag
A number of these rewards can be customised and you can receive multiple versions by redeeming your points on a friend's island.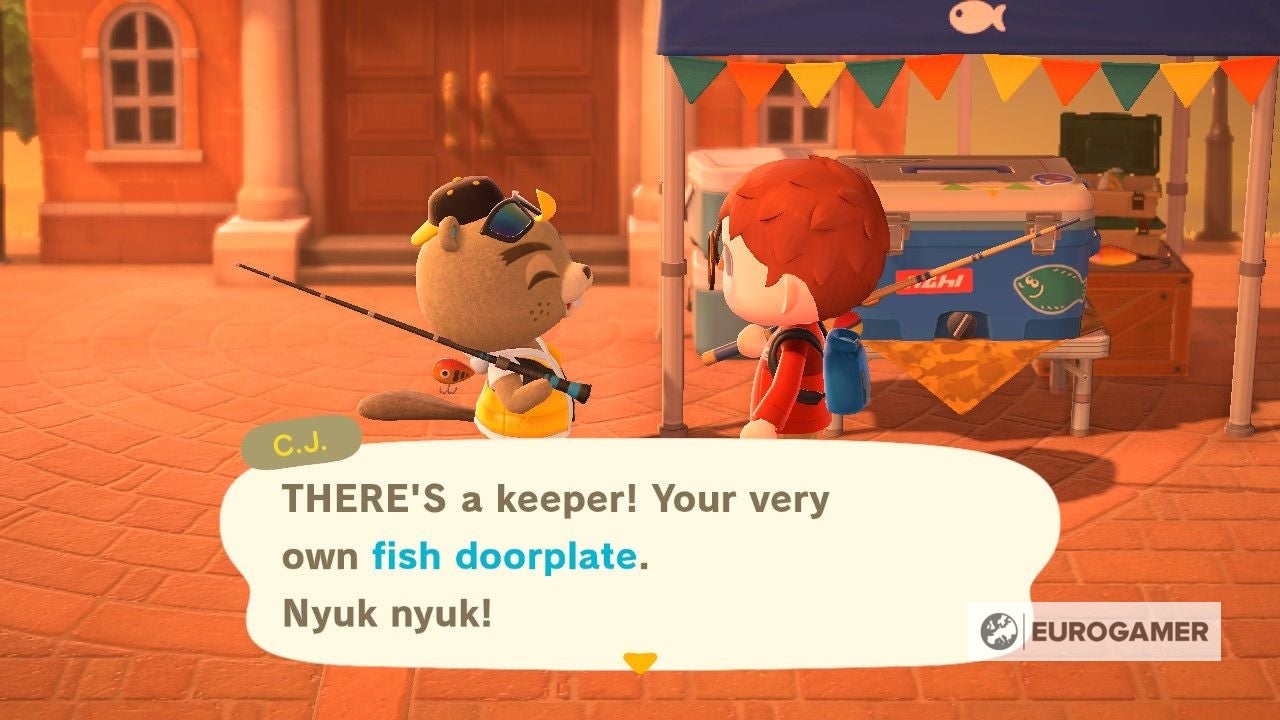 Fishing Tourney trophy rewards in Animal Crossing: New Horizons explained
Depending on your overall net score from every Fishing Tourney you compete in throughout the day, you can earn one of three trophies in New Horizons.
These trophies, including the net score you need to receive each one, are:
Bronze Trophy - net 100 points
Silver Trophy - net 200 points
Gold Trophy - net 300 points
You'll receive whichever ever trophy you've earned in the mail the day after the Fishing Tourney. Sadly, if you didn't earn enough points for a trophy, you'll receive nothing.
Thank you to Cottonceed from reddit for the help with this information.
---
The Animal Crossing 2.0 update and Happy Home Paradise is here! We can help you with the new additions - including where to find Brewster, Gyroids, new villagers, ordinances, new fences, storage shed, new hairstyles, Froggy Chair, group stretching and Kapp'n boat tours. Cooking is now unlockable, so you need to know how to make both flour and sugar, as well as how to grow carrots, potatoes and tomatoes. Meanwhile, if you're new to Animal Crossing, our New Horizons tips can help with the basics. From the off, there's fish and bugs to catch, flowers and fruit to grow with. One long term goal is building your Happy Home Academy score. Finally, you need tools such as the new ladder and vaulting pole to fully explore.
---
Tips for competing in Fishing Tourneys in Animal Crossing: New Horizons explained
Below you'll find some tips to help you out in any Fishing Tourney that occurs in New Horizons:
Bring a second or third or fourth fishing rod! If you're planning on going all out when it comes to the Fishing Tourney, then it's definitely worth bringing multiple spare fishing rods. This way you'll have a replacement when the one you're using inevitably breaks in the middle of a tourney.
Check to see where the fish have spawned before starting a tourney. This will allow you to create a route for your next tourney, preventing you from wasting time running about looking for fish. All fish can move, but they'll never go too far from their spawn point, allowing you to quickly find them.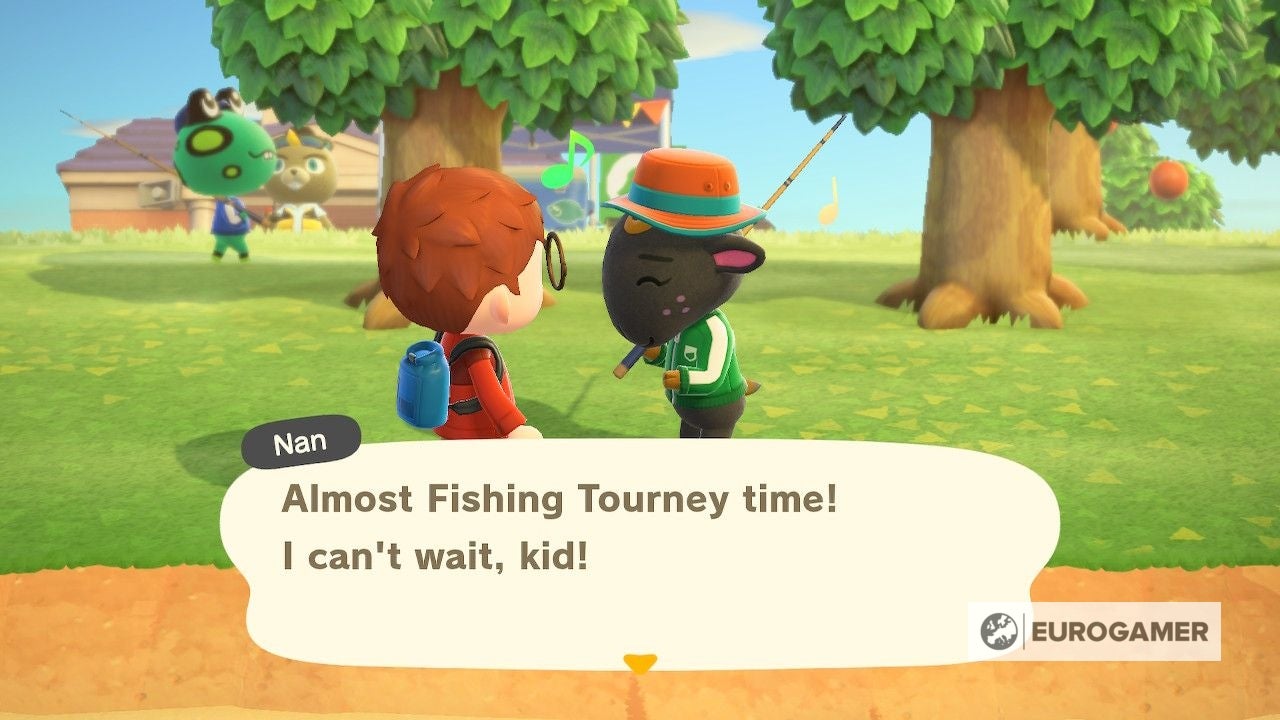 Walk, don't run! If you run near a water source, then you risk scaring the fish away. This is obviously the worse scenario when it comes to a Fishing Tourney, so, when scoping out potential targets, make sure you're walking.
Fishing bait is allowed. C.J. won't disqualify you for using fish bait during a Fishing Tourney, which means you can, if you have enough, stand in one place, using the bait and catching the fish it attracts. To make fishing bait you need one manila clam, which can be found by digging up the spots that spit water on the beach.
Bank your reward points. If you bank up your reward points, then C.J. will give you multiple rewards at a time. This means that if you have 40 points, for example, then you will receive four prizes, which will save you a lot of time.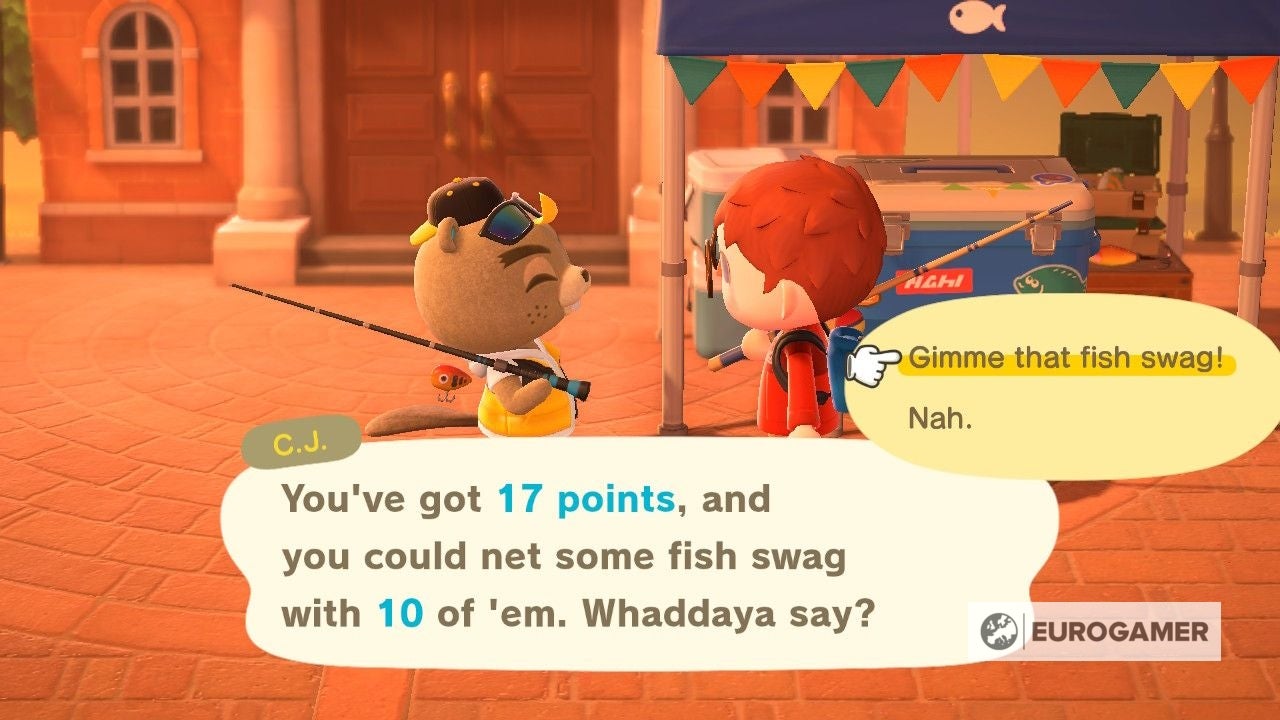 Sell your fish to C.J. You can sell any and all of the fish you catch in the Fishing Tourney to C.J. We highly recommend doing this as he will buy them at a slightly higher price than Nook's Cranny.
Compete in a Fishing Tourney on a friend's island. Doing this will not only increase the amount of bonus points you can receive (though you do need to catch five fish), but it also doubles any points you receive for that tourney.
Fishing Tourney dates in Animal Crossing: New Horizons explained
A Fishing Tourney will occur on your island in New Horizons every three months on the second Saturday of the current month.
To be precise, Fishing Tourneys will occur in the following months:
January (second Saturday)
April (second Saturday)
July (second Saturday)
October (second Saturday)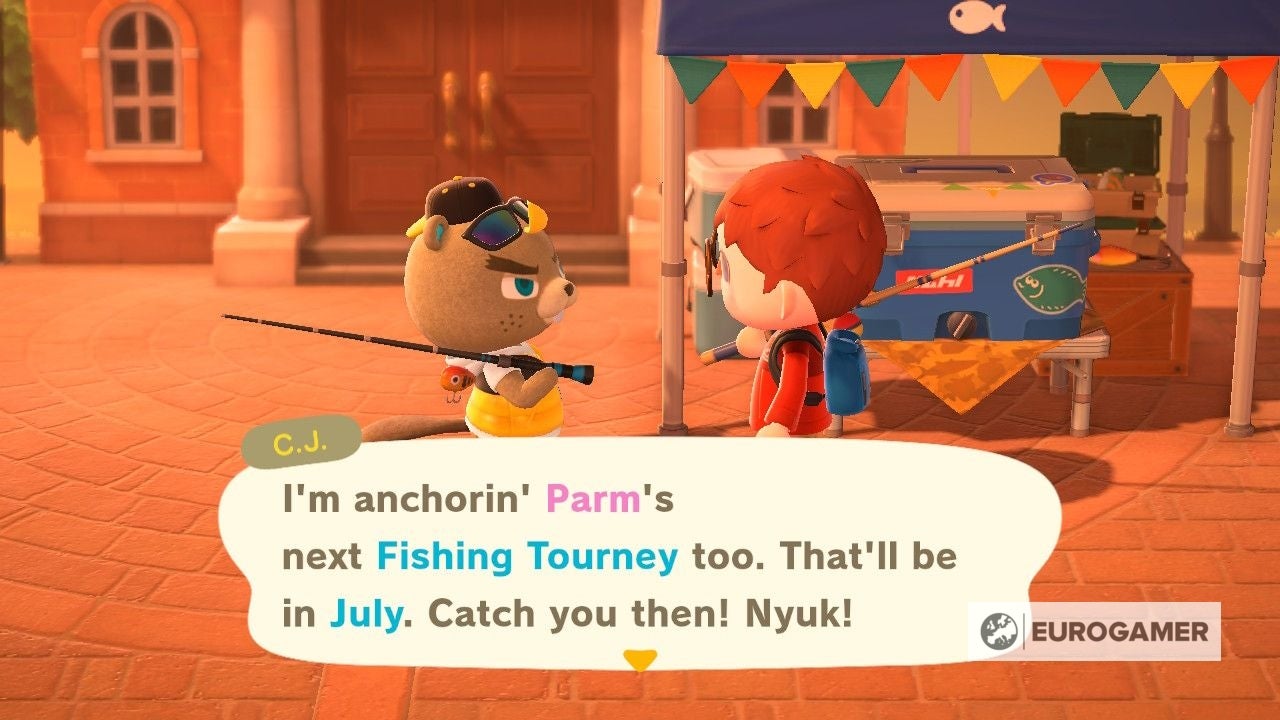 Good luck with the Fishing Tourneys!