Fortnite - Dead drop location: Where to find the dead drop in Weeping Woods
Knock on wood there are no enemies nearby.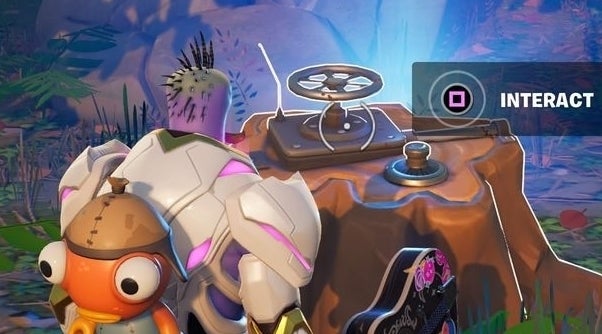 Interact with a dead drop in Weeping Woods is the first step of Week 2's legendary quests in Fortnite Chapter 2 Season 7.
Kickstarting a questline that will have you damaging IO guards and using a body scanner, amidst other fun tasks, this first step has you interact with a dead drop found in Weeping Woods.
It's a straightforward step, but the location is somewhat hidden at first sight.
Completing this Fortnite challenge will help you level up, so you can earn more Battle Stars for unlocking the Season 7 Battle Pass skins.
On this page:
---
Note this particular challenge is no longer able to be completed. What's new? Chapter 3 Season 3 has arrived! New additions include Reality Seeds and Saplings and riding animals, along with the new Battle Pass, characters collection and map changes. It's a good idea to know how to get XP fast in Fortnite.
---
Interact with a dead drop in Weeping Woods explained
The legendary questline of Week 2 in Fortnite Chapter 2 Season 7 is surprisingly straightforward.
Instead of searching for locations where to place rubber ducks such with the previous week, all you have to do is find and interact with a terminal in one specific spot.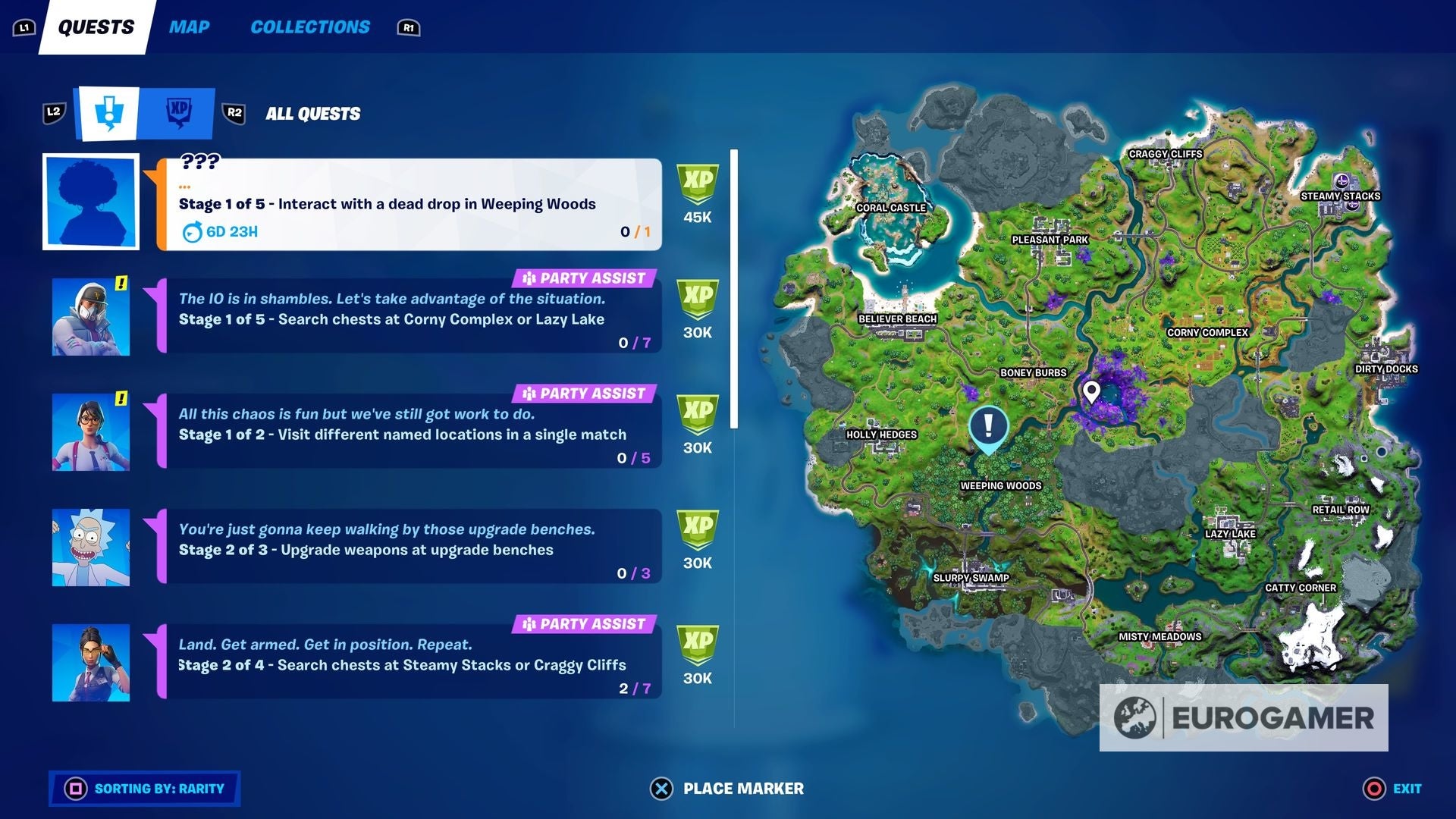 This takes place in Weeping Woods, which isn't quite the most popular spot to land in battle royale, but it's worth the exception. Completing this first step will grant you 45k EXP, which is a nice boost for your battle pass.
Now that we've learned the gist of the task, let's look into the exact location.
---
Fortnite Chapter 4 Chapter 1 is here, complete with a new augments system, the coming arrival of Geralt and the Ageless Champion to beat! We've also got a present list for Winterfest and Cozy Lodge and pizza slice locations. Meanwhile, learn how to get XP fast, earn the Victory Umbrella, find character locations and earn a Victory Crown.
---
Fortnite Dead drop location in Weeping Woods explained
As the challenge indicates, the dead drop terminal is found in Weeping Woods.
If you're looking at the map before jumping off the bus, here's the spot where you should land: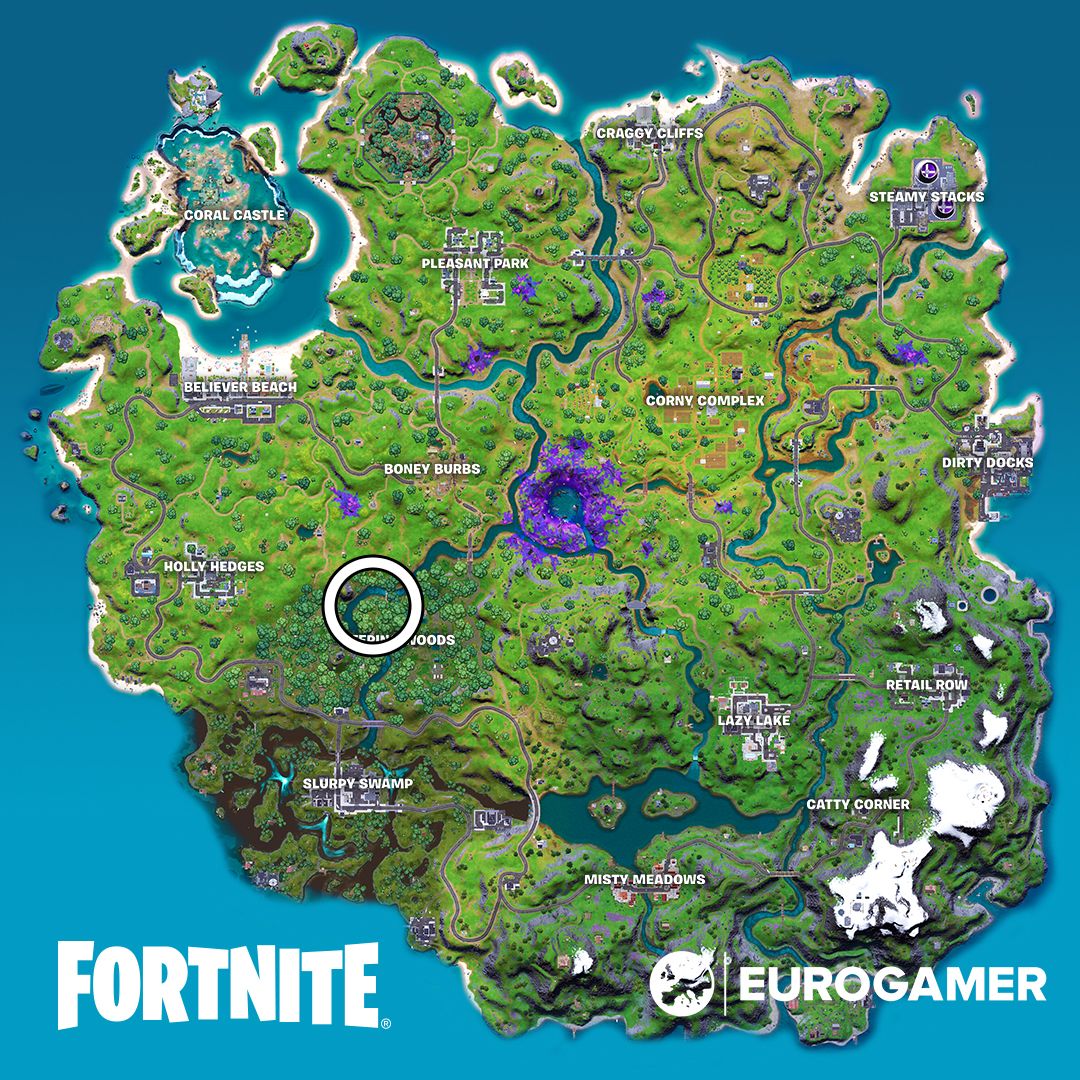 Specifically, you want get close to the northern point of the area, right before the river. In between the first few trees you will find the dead drop, which is an interactable object on top of a tree trunk and surrounded by rocks.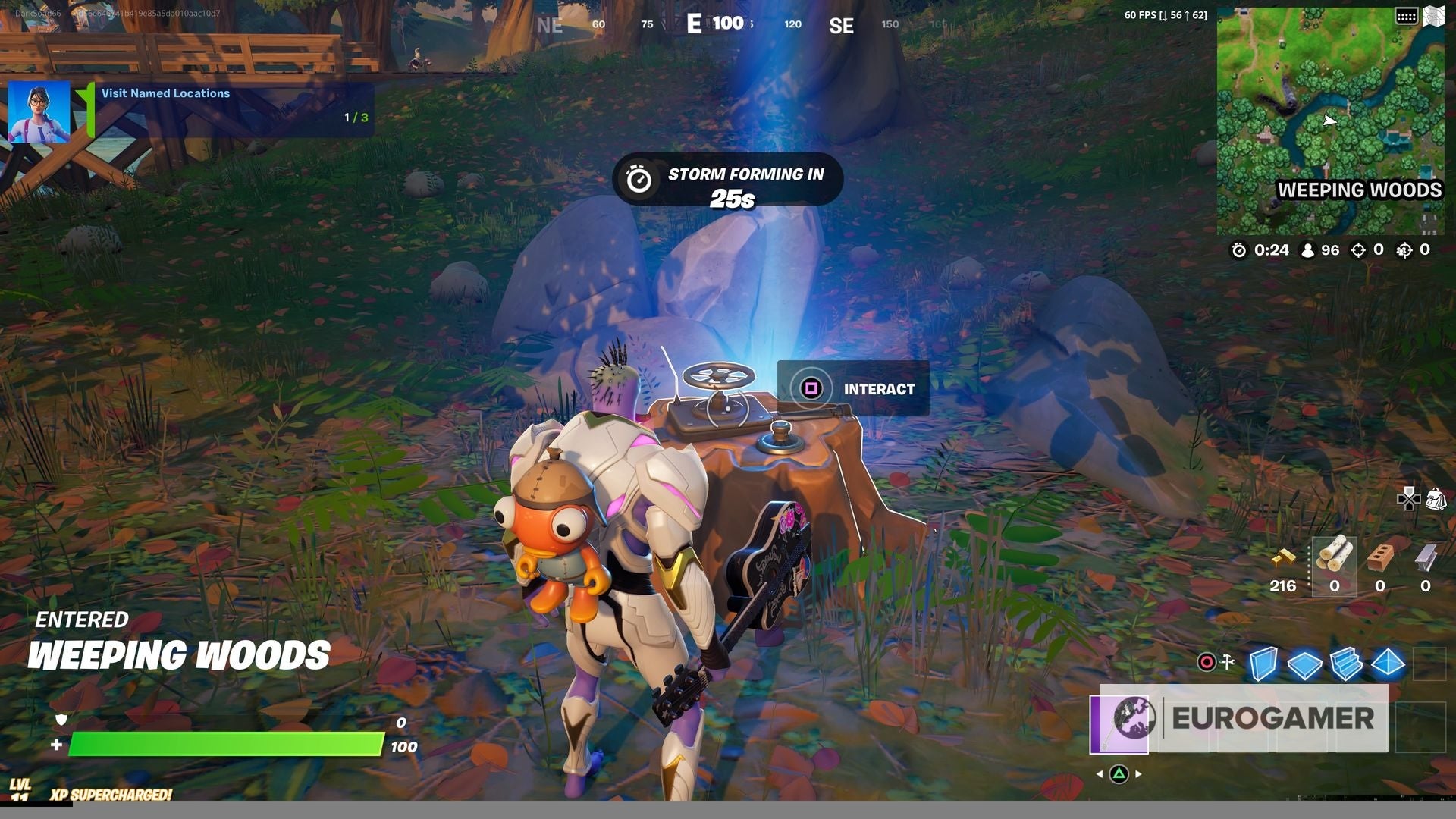 From all, all that is left to do is interact with it, and the challenge will be over. It's a straightforward task, but do beware of other players, as they will most likely land on the same spot. In our experience, most of them won't hesitate to attack on sight.
Next in the Week 2 Legendary Quest is finding a body scanner location.
If you'd like to learn more about Fortnite Season 7, then check out our pages on the Battle Pass, alien artefacts, cosmic chests and IO Tech weapons.