Fortnite - Cat food locations: Where to collect cat food locations in Retail Row and Dirty Docks
Easy pspspeasy.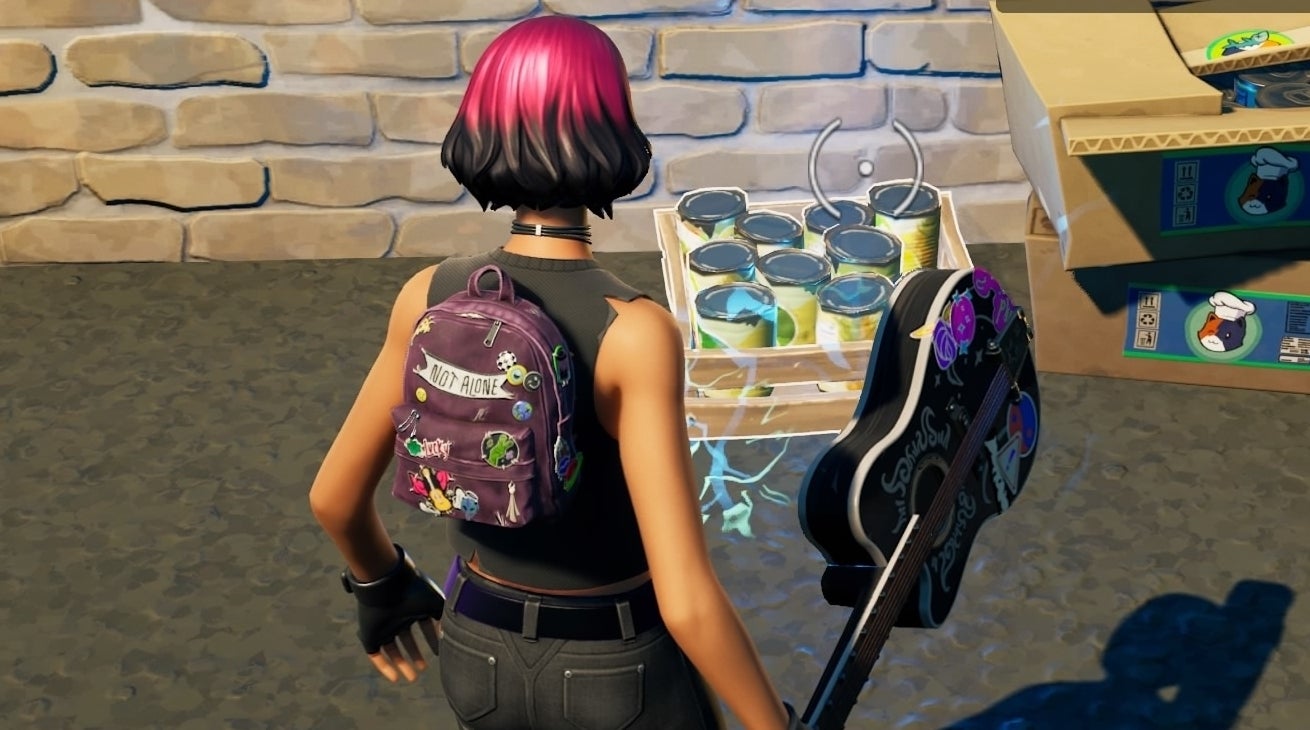 Collect Cat Food is one of the steps of the Legendary Quest in Fortnite Chapter 2 Season 7.
Appearing during Week 3, and following on from placing alien communication devices on mountain tops, this step has you collecting two cans of Cat Food across two locations - Retail Row and Dirty Docks.
Thankfully, there are 4 total to find, which gives you a double opportunity to do this in one go if you land on one of the aforementioned locations.
Completing this Fortnite challenge will help you level up, so you can earn more Battle Stars for unlocking the Season 7 Battle Pass skins.
---
Note this particular challenge is no longer able to be completed. What's new? Chapter 3 Season 3 has arrived! New additions include Reality Seeds and Saplings and riding animals, along with the new Battle Pass, characters collection and map changes. It's a good idea to know how to get XP fast in Fortnite.
---
On this page:
Retail Row Cat Food locations in Fortnite
There are two Cat Food locations in Retail Row, and they are surprisingly close to each other. This is helpful considering the location will most likely be packed with other players, so knowing the exact spot to land on from the bus is key.
Starting by landing on the northern side of Retail Row, just in the top centre of the right side if you're looking at the map. You'll notice a large truck as well as a graffiti on the wall - that's the right spot. You can find a box with Cat Food against the wall, just before the gate.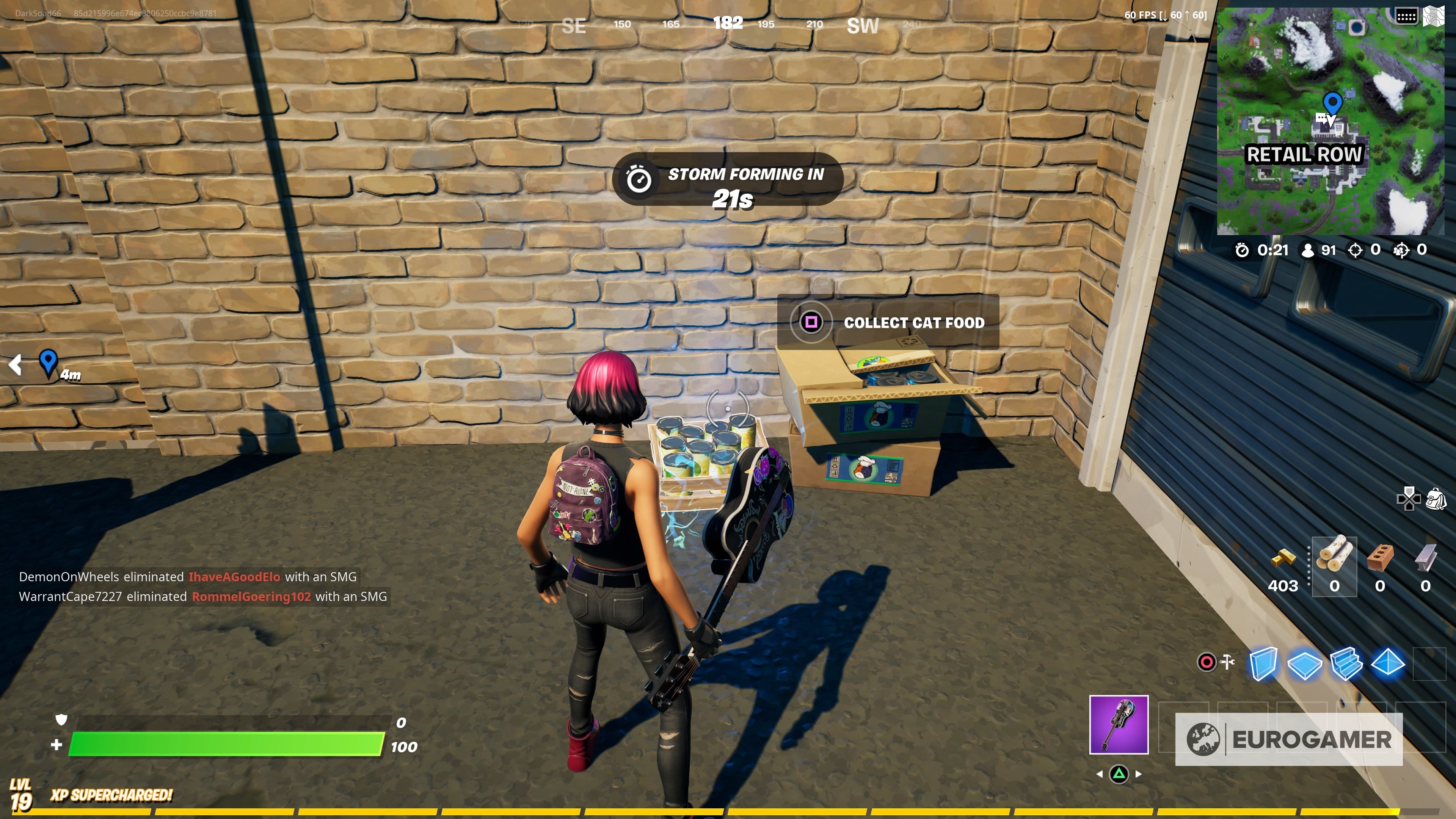 From there, smash the gate with your pickaxe and get inside the store. About halfway through the corridor you'll find another box of Cat Food against the wall next to the shelves.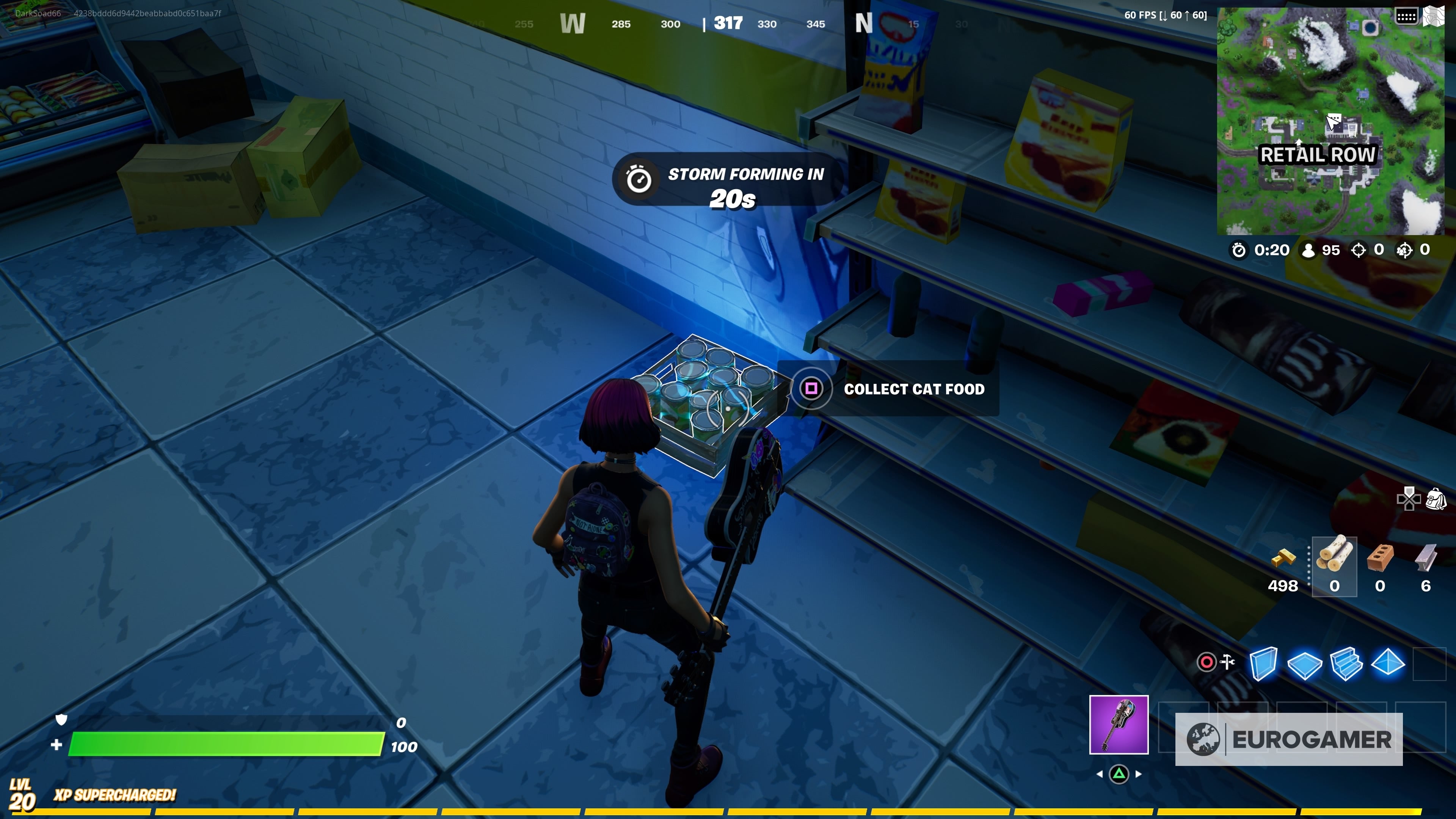 Remember - you only need two cans of Cat Food. If you manage to land on here and follow our steps, you'll be set.
---
Fortnite Chapter 3 Season 4 is here and with it comes a new Battle Pass! This season has introduced EvoChrome weapons, Chrome Splash locations and the ability to phase through walls. There are also new vault locations and map changes. Darth Vader and Star War weapons, including Lightsabers make a return for Skywalker Week, and the Paradise quests are this season's storyline challenges, including destorying Chrome objects to collect Chrome anomalies. Make sure to check out how to unlock The Herald skin too! Meanwhile, learn how to get XP fast, earn the Victory Umbrella and Victory Crowns.
---
Dirty Docks Cat Food locations in Fortnite
If you land on Dirty Docks instead, which is another popular location, you're gonna want to head to the container area. If you're looking at the map, it's the spot with the icons that look like tetrominoes.
In the southern half, from the main road of Dirty Docks, turn right heading towards the container area and you'll see Cat Food stored in a box in between a container and some cargo.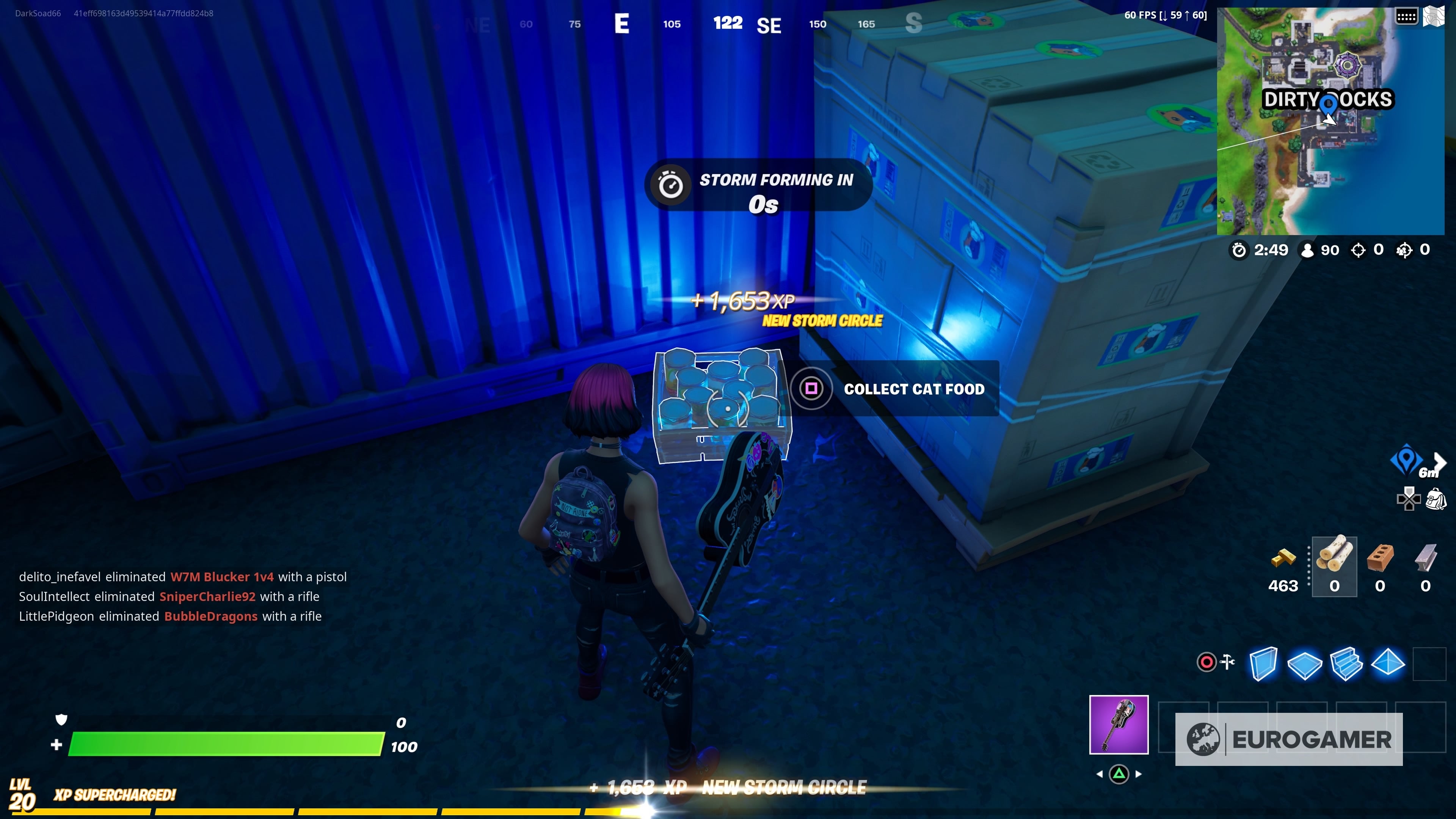 From where you're standing head east in the container area towards the park UFO and you will see a similar scenario with Cat Food between cargo and another container waiting to be picked up.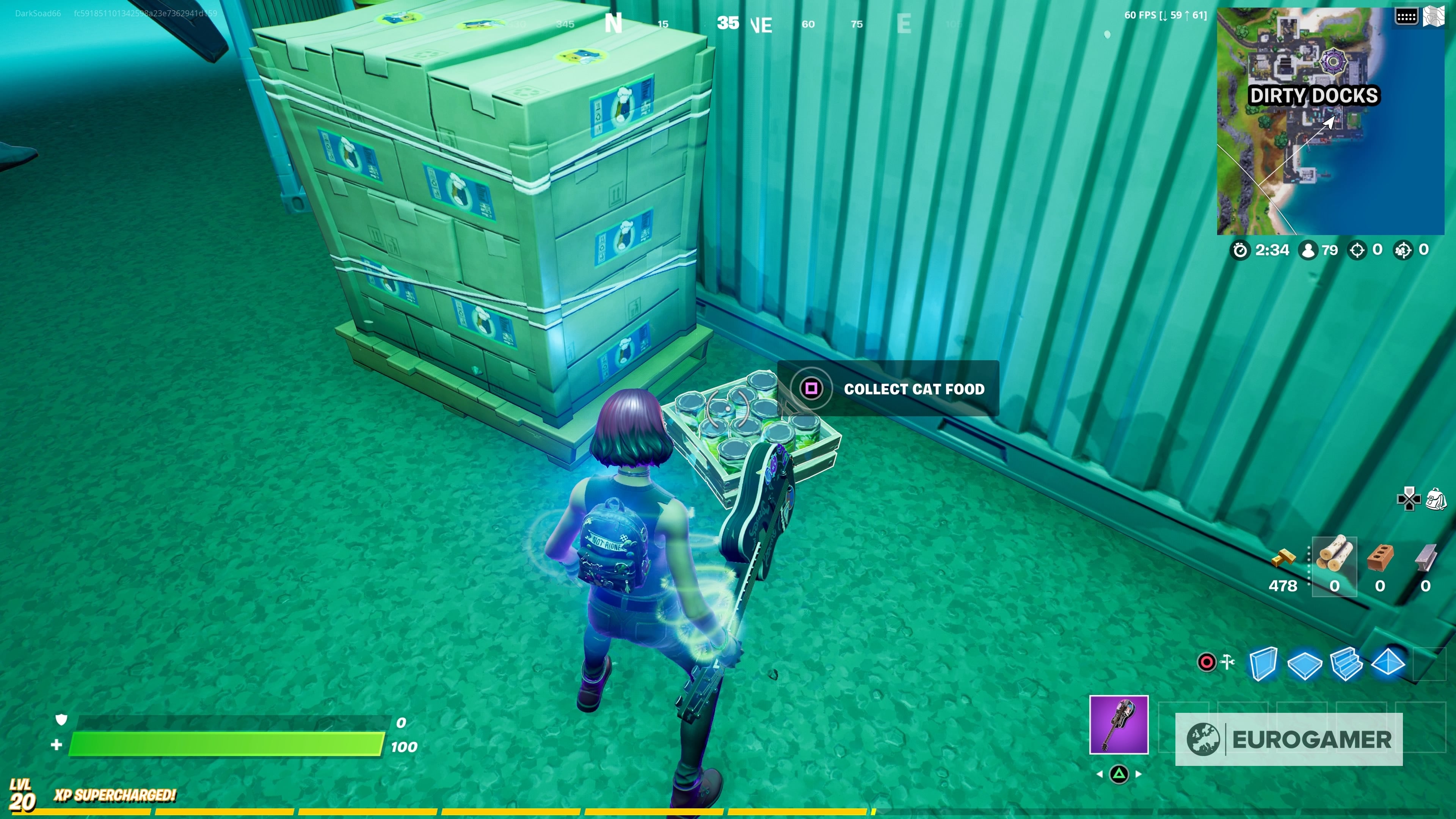 Again, you only need to collect two cans of Cat Food, so you should be set with the Week 3 Legendary quest!
From here, you can get abducted by the mothership to gain some useful loot, as it will usually be roaming around the area.
If you'd like to learn more about Fortnite Season 7, then check out our pages on the Battle Pass, alien artefacts, cosmic chests and IO Tech weapons.