Animal Crossing May Day maze 2022: How to complete the May Day tour and restart the maze explained
Rover's Return!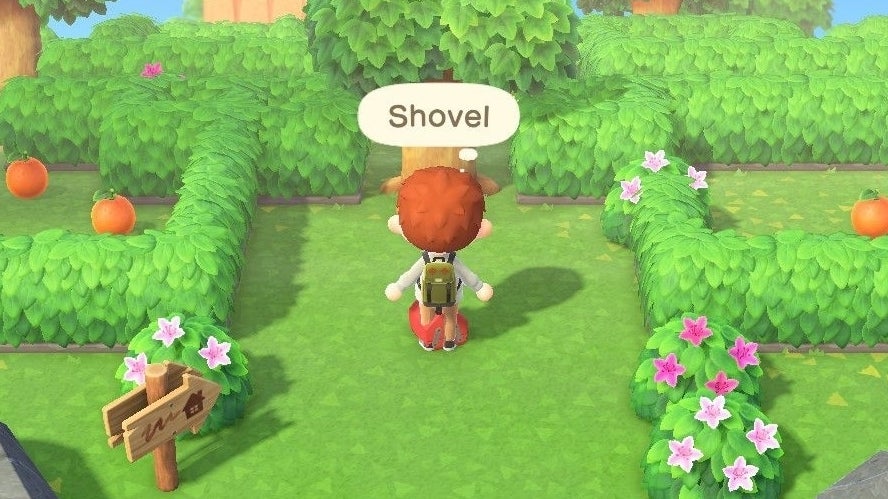 May Day, like Nature Day, is a limited-time event that takes place during spring in Animal Crossing: New Horizons.
To celebrate May Day, Tom Nook has built a special May Day maze out on one of the deserted islands. The Maze in 2022 might be familar if you were playing New Horizons back in 2020.
If you complete the May Day maze, there is an additional set of puzzles to unlock some Bell Vouchers, which this page can guide you to. If you get stuck, know you'll need to restart the maze and try again - which we'll also go through if you need it.
On this page:
May Day 2022 maze solution in Animal Crossing: New Horizons
If you're returning to do the May Day event in 2022, then the maze may look familar to you. This is because it's the maze design from 2020!
Arriving on the special May Day island in New Horizons, you'll discover that it's less of a relaxing celebration and more of a maze.
To solve this maze, you not only have to discover the correct route through its twisting hedges, but also correct materials hidden around the island to create the tools you need to progress. We recommend picking up every time you see on your journey through the maze, so that you don't have to backtrack.
Be warned - below you'll find directions on how to solve the May Day maze, which does contain spoilers, so, if you want to solve it unassisted, then don't read on.
Your quest to solve the May Day maze begins by picking up the shovel and using it to dig up the bush to your left, which will allow you to pick up the fruit kept behind it. This fruit will also be the native fruit of your island.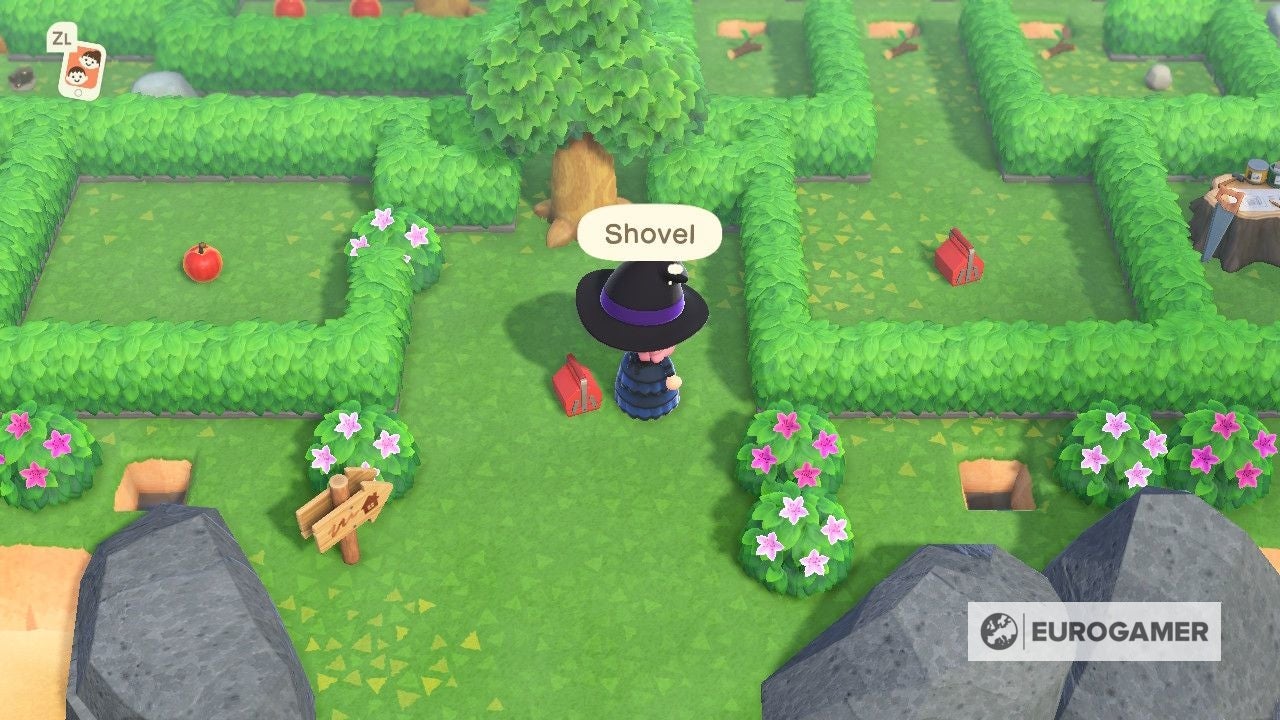 Eat the fruit and use the shovel to scoop up the nearby tree into your inventory.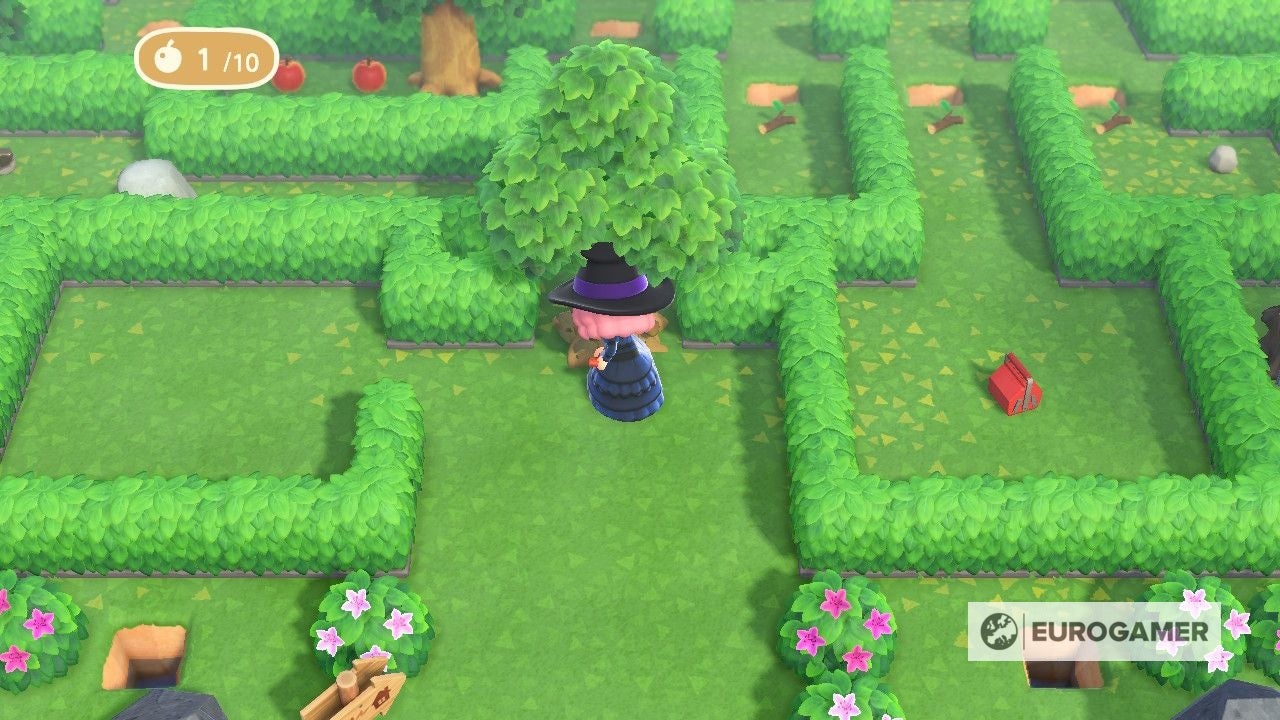 The May Day maze is full of holes that you need to jump over. To do this you simply need to walk up to them and then continue walking - your avatar will simply automatically jump over the hole for you.
The first hole you need to jump over is directly north of you and, following this one, you need to jump across the three holes in a row to your right. This will bring you to three pieces of wood that you need to pick up.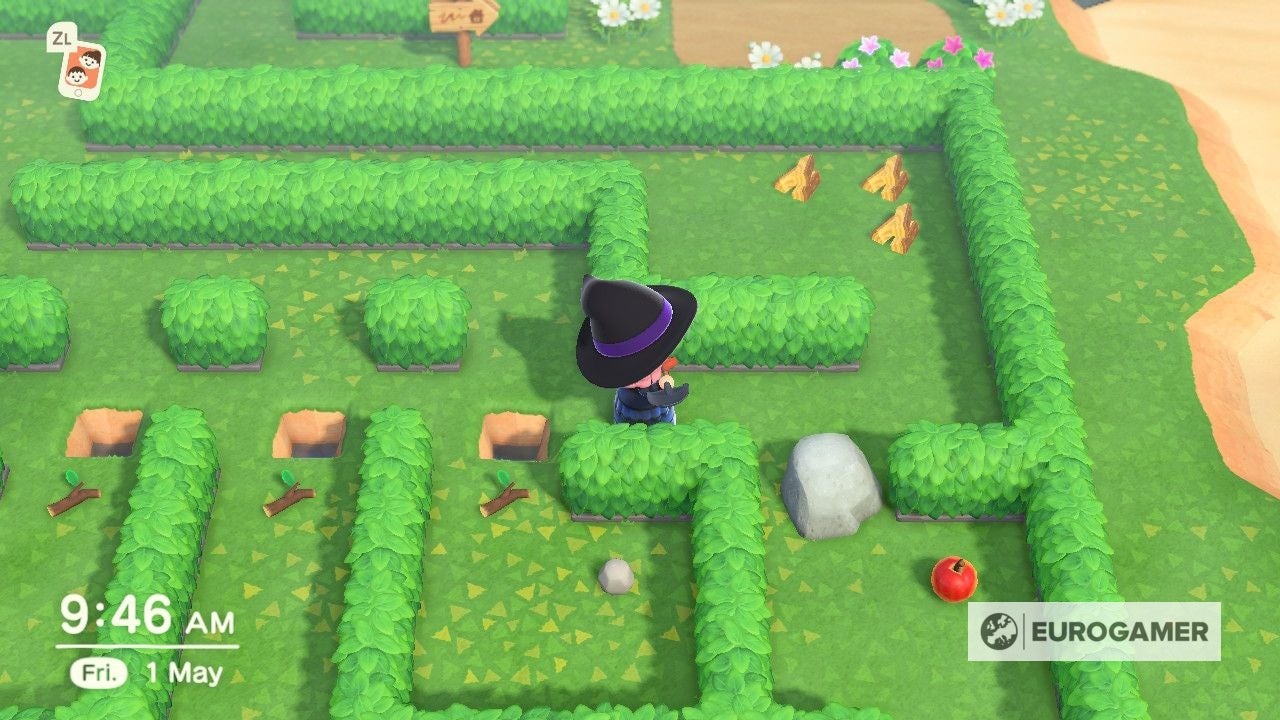 Continue following the path along, jumping over the holes as you come across. Eventually you'll find yourself back in the centre of the maze, but this time you'll be above the three hole in a row.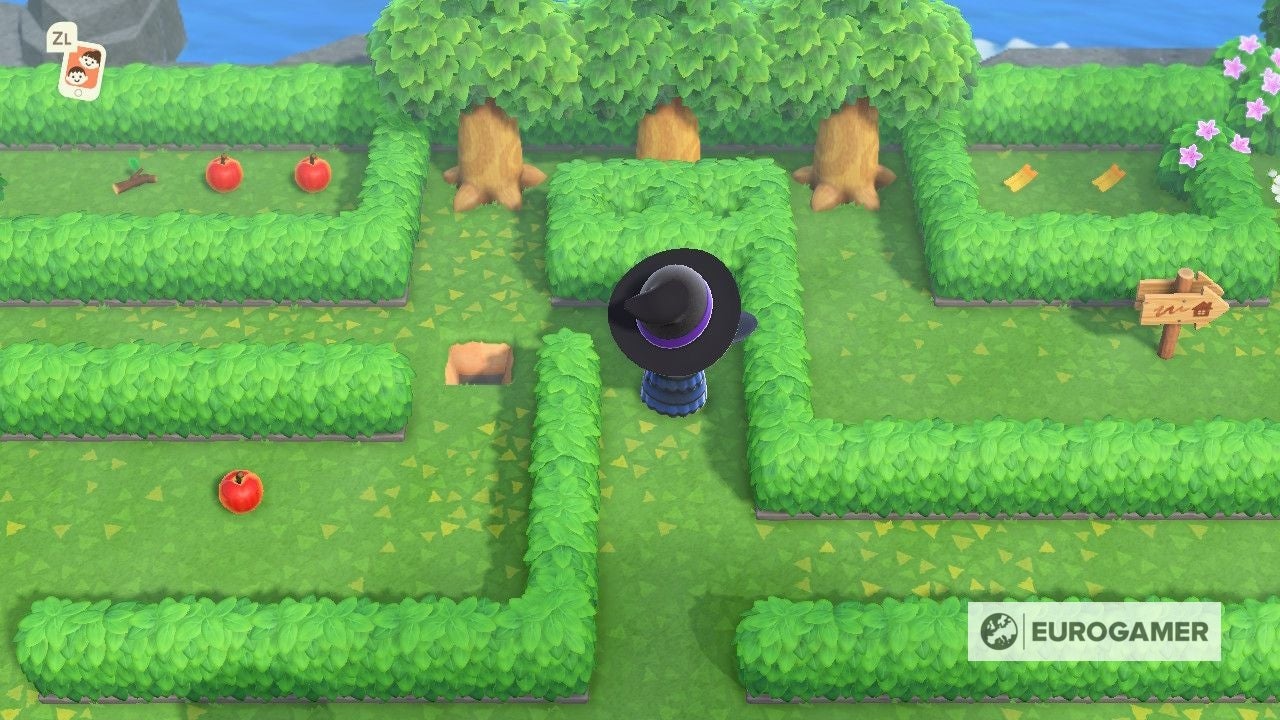 Jump across the third and furthest hole first to collect some materials, before jumping back across.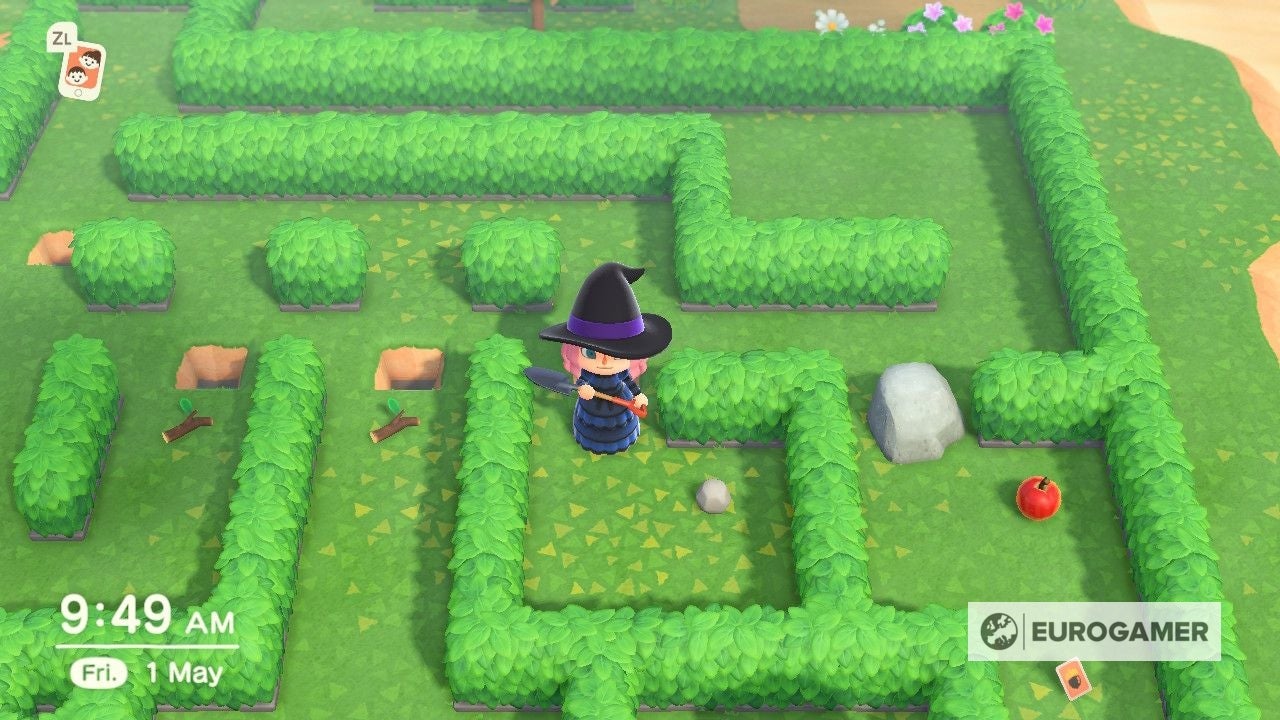 Next, jump across the middle hole to find a second tree branch and a Worn Axe.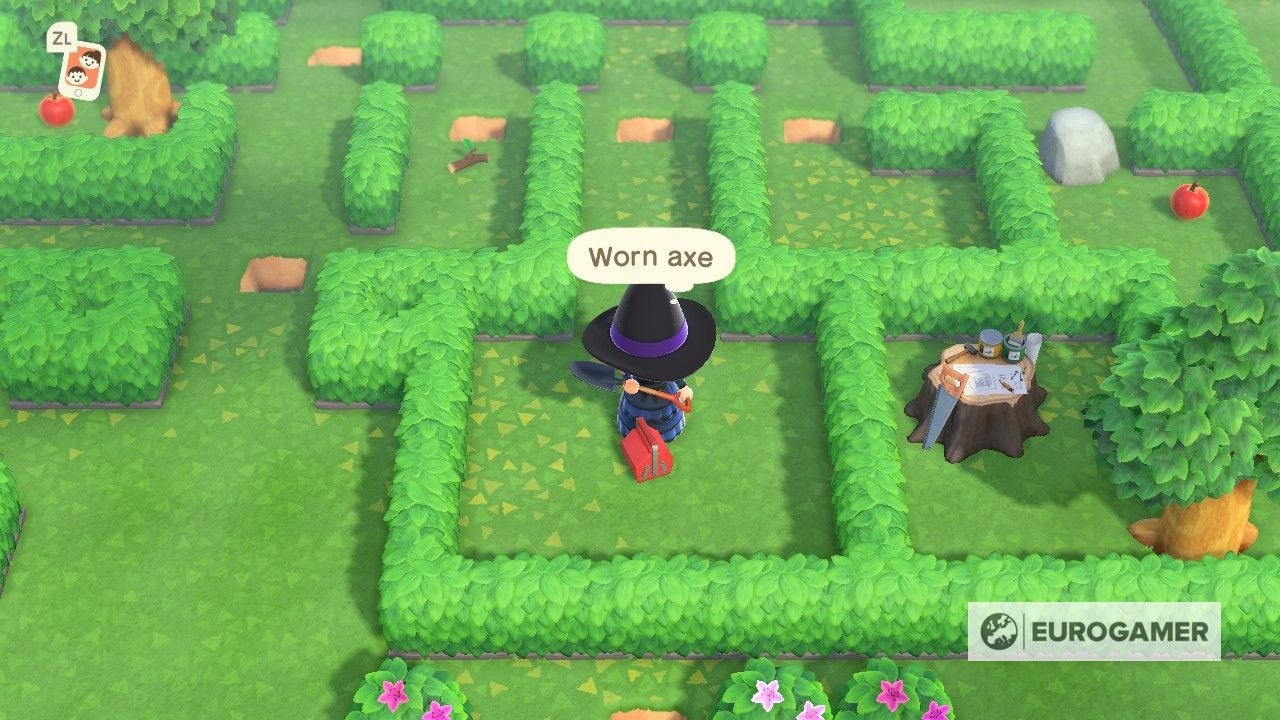 After gaining these items, you need to jump back across the hole and retrace your steps to the west, until you reach a tree in the top north-western corner.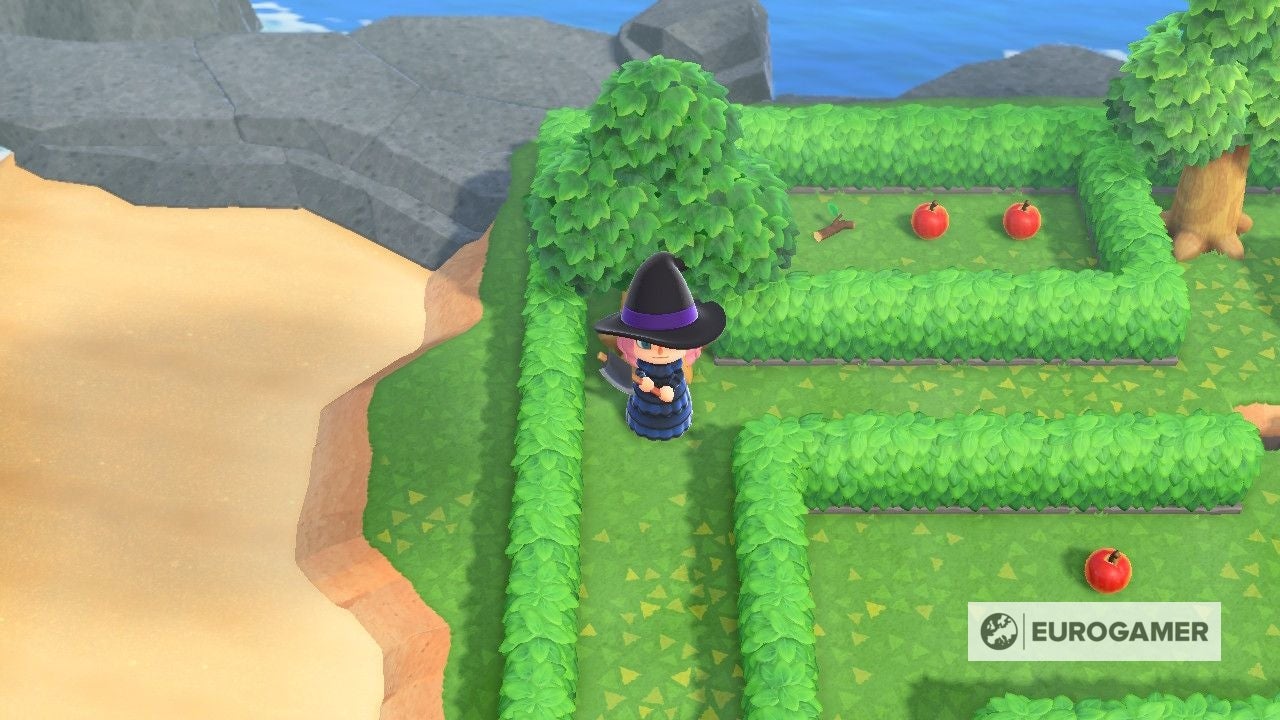 Here you need to chop down this tree using your Worn Axe, which will break it, and use the shovel to remove the tree stump. Grab the tree branch and the two pieces of fruit that you gain access to, before heading back to the centre of the maze.
Finally, you can jump across the first hole out of the three-in-a-row and take the westerly path it puts you on.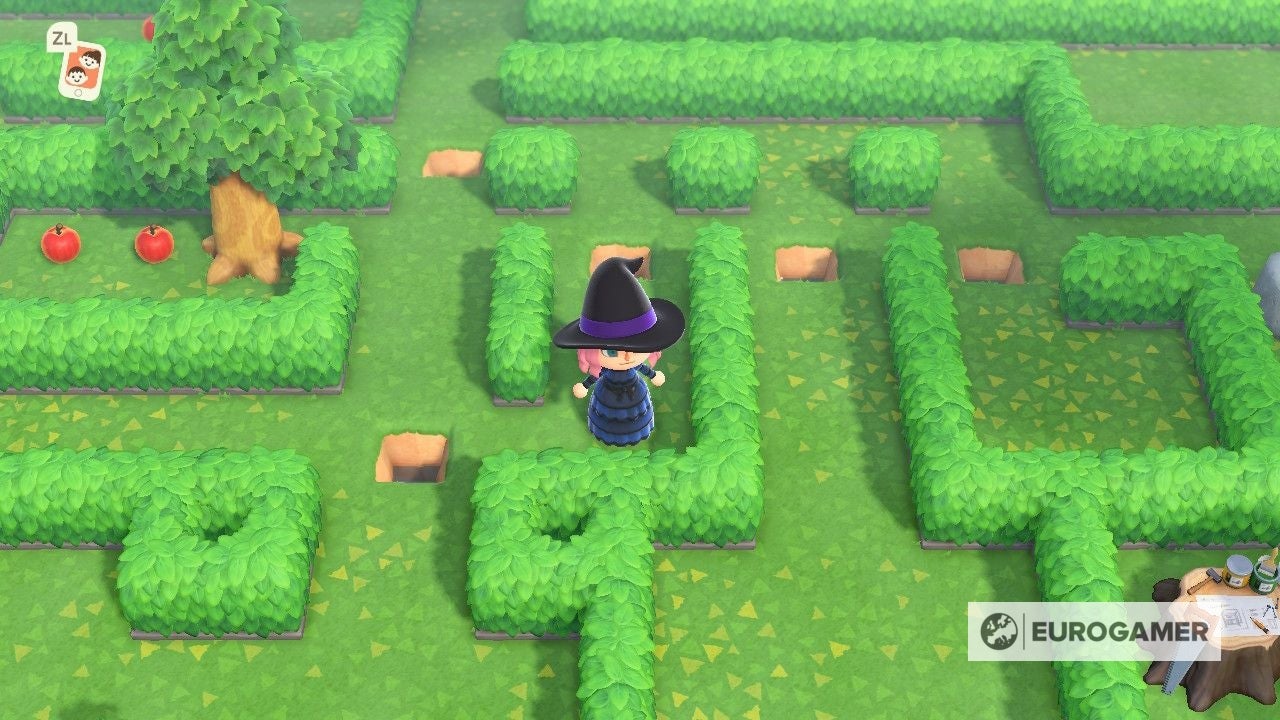 You'll reach a rock that you need to break. To do this eat one of your pieces of fruit by selecting it in your inventory and then choosing the option eat. Now all you have to do is hit the rock with your shovel and it will shatter into pieces, allowing you to collect the iron nugget on the other side.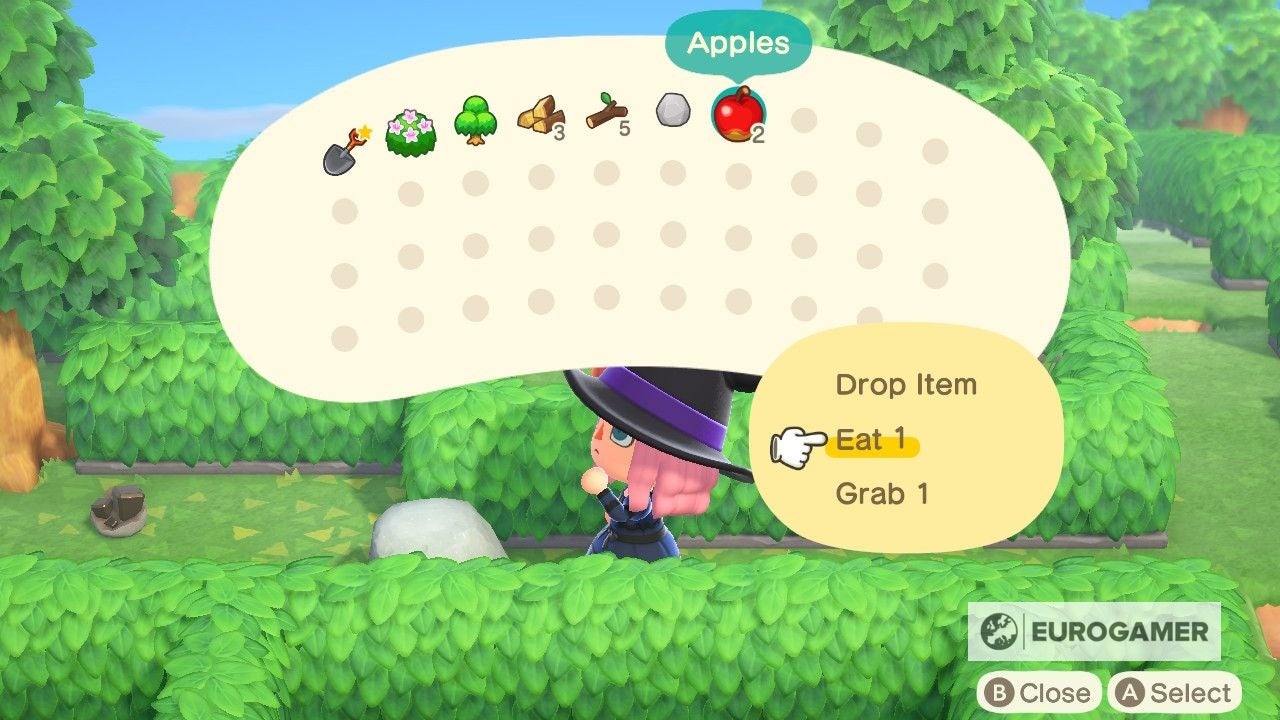 It's time to retrace your steps again! Head back to where you collect the three pieces of wood and you'll find another rock for you to smash.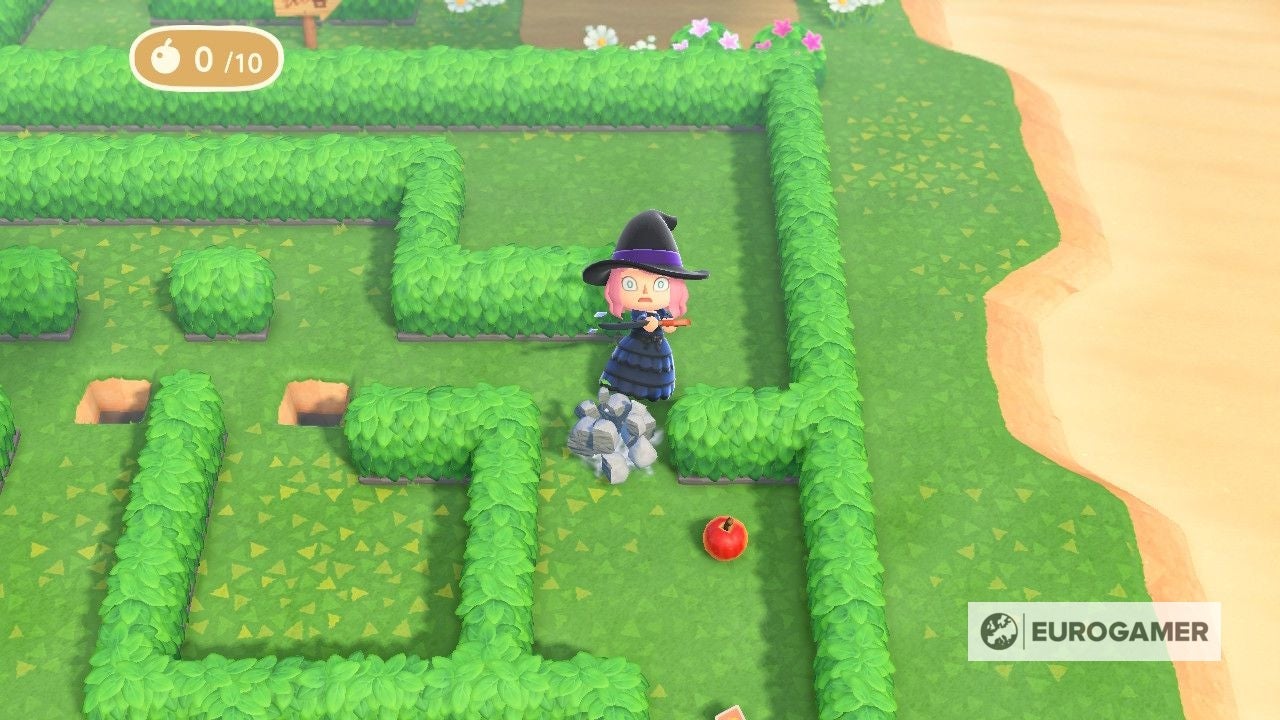 Once the rock is destroyed, pick up the fruit and, if you don't already know them, the DIY recipes for the Flimsy Axe and Axe.
Continue down the pathway, until your way is blocked by another tree, which you can shovel up after eating your new piece of fruit.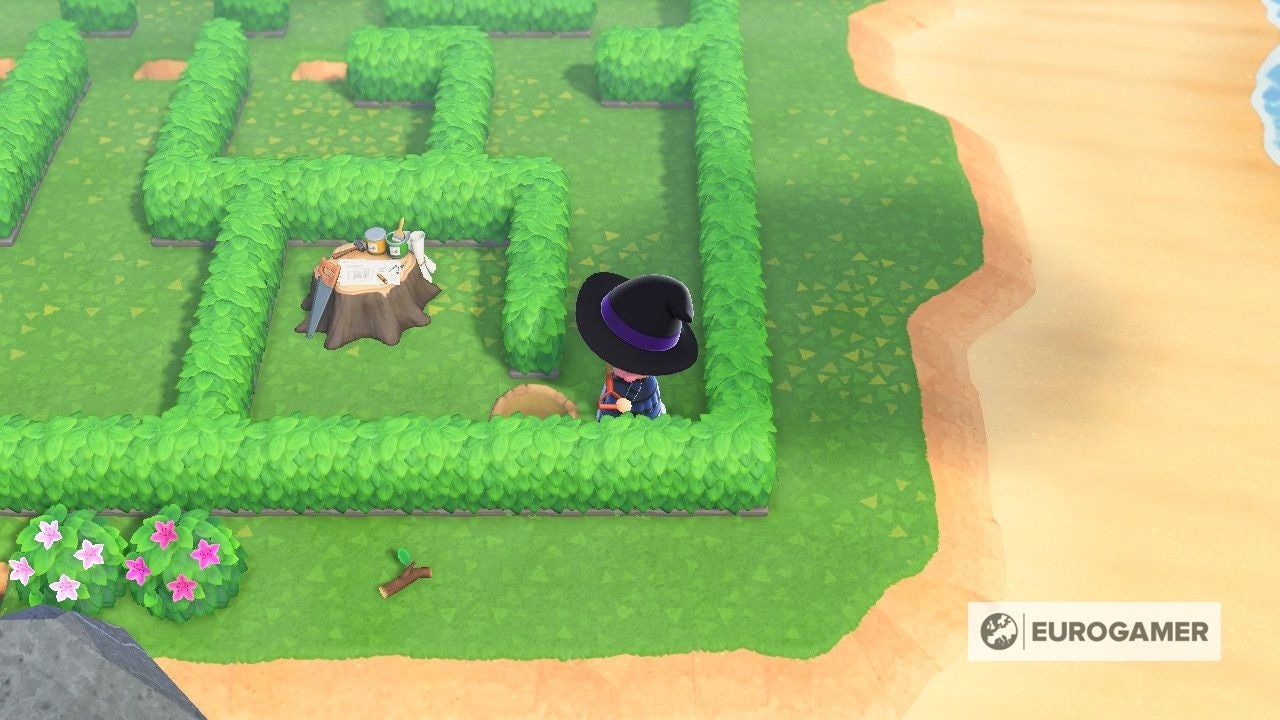 This will grant you access to the DIY workbench, where you can use the materials you've gathered to make a Flimsy Axe, which can then be upgraded to an Axe.
We recommend that you now head back to the three-holes-in-a-row and jump across them, until you reach a tree. Chop this tree with your new axe and collect the fruit on the other side - you'll be wanting this fruit later.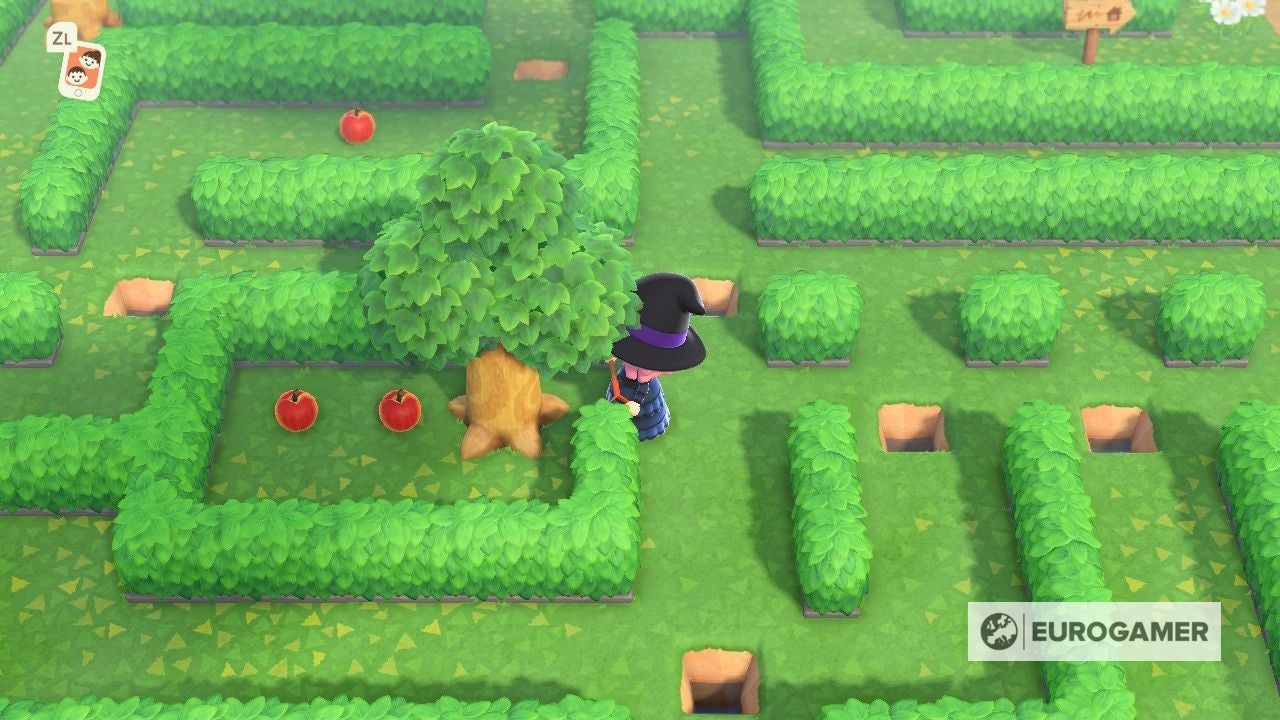 After doing this, jump over the hole directly to the north of you and follow the path around until you are standing in front of the three-holes-in-a-row for the last time.
Jump across the first hole and follow the path till you reach another tree that you can chop down with your axe.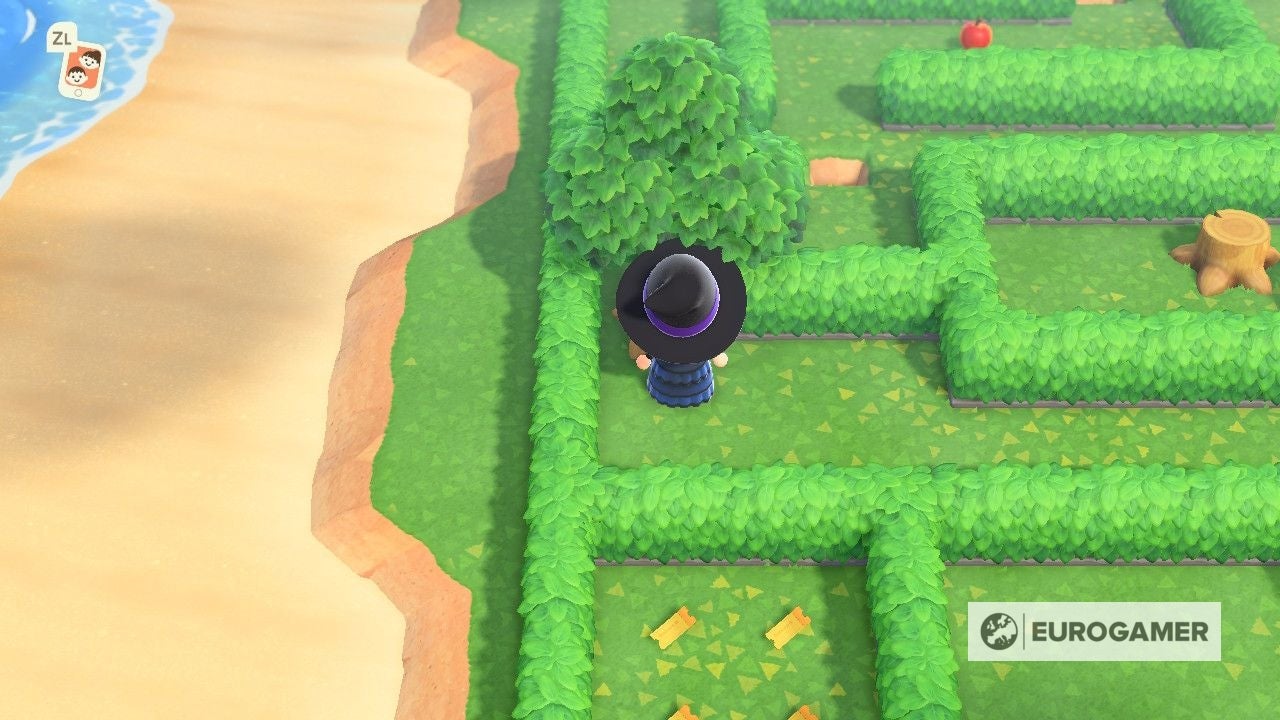 Doing this will grant you access to a new hole for you to jump across, which leads to the final piece of fruit that you need to collect and another hole to jump across.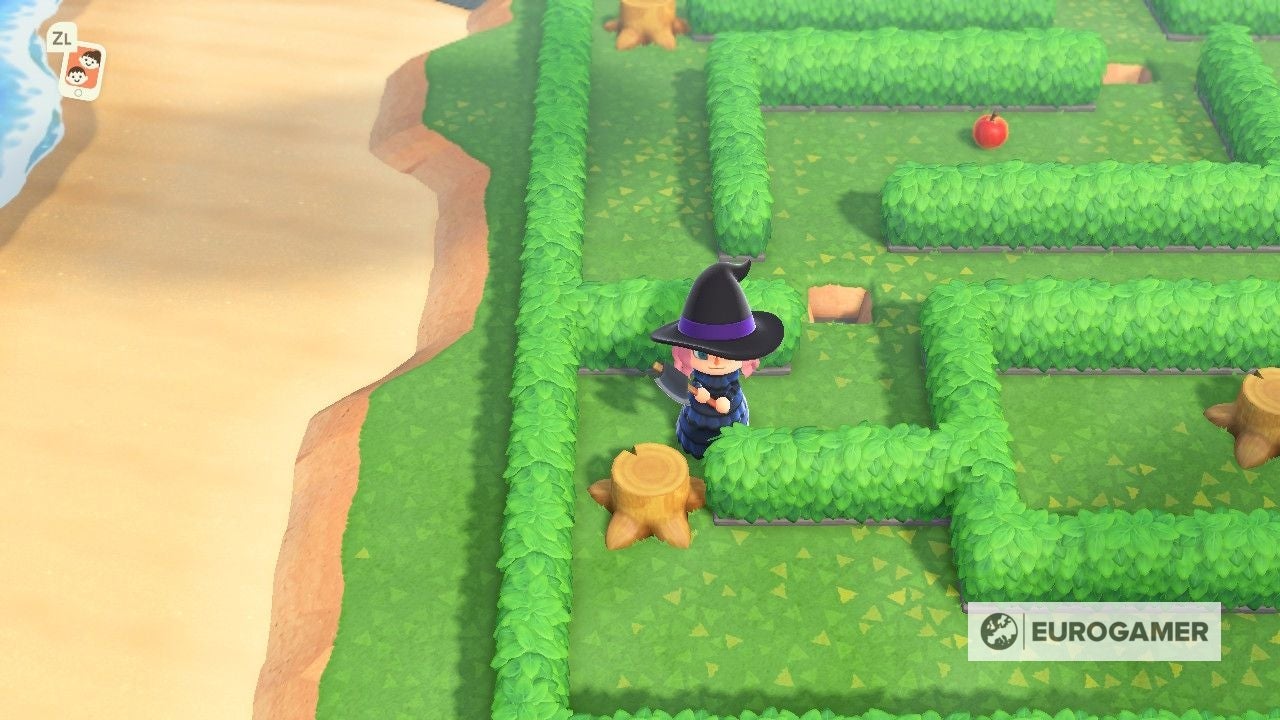 This brings you to your final task within the maze - chopping down three trees in a row. Neither your axe or shovel will break, so feel free to destroy away. Don't consume any of your fruit - you're going to want it for later.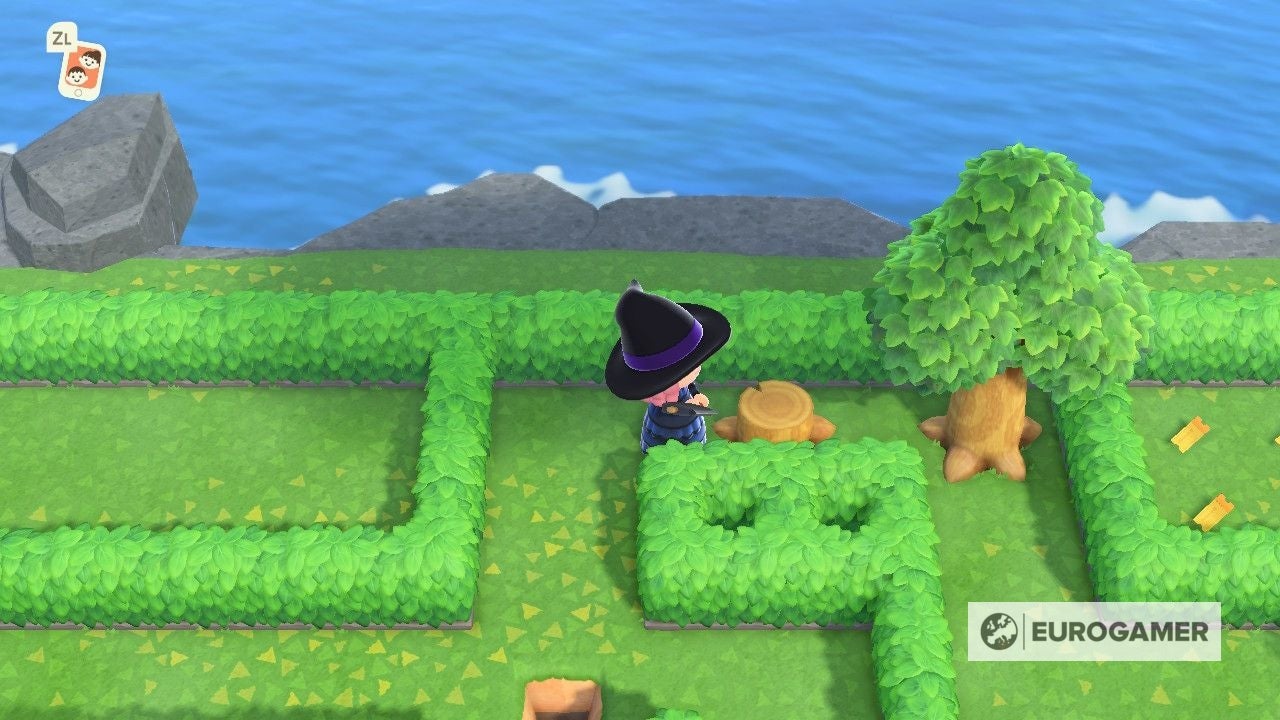 Congratulations! You've reached the end of the maze!
Reaching the end of the May Day maze in New Horizons will bring you to Rover the cat. You may recognise Rover from past Animal Crossing games, especially if you played the GameCube version where he's the first character you talk to.
Take the time to have a chat with Rover and he'll give you Rover's briefcase as a reward for solving the maze. If you recieved the briefcase last year, you'll earn Rover's picture instead.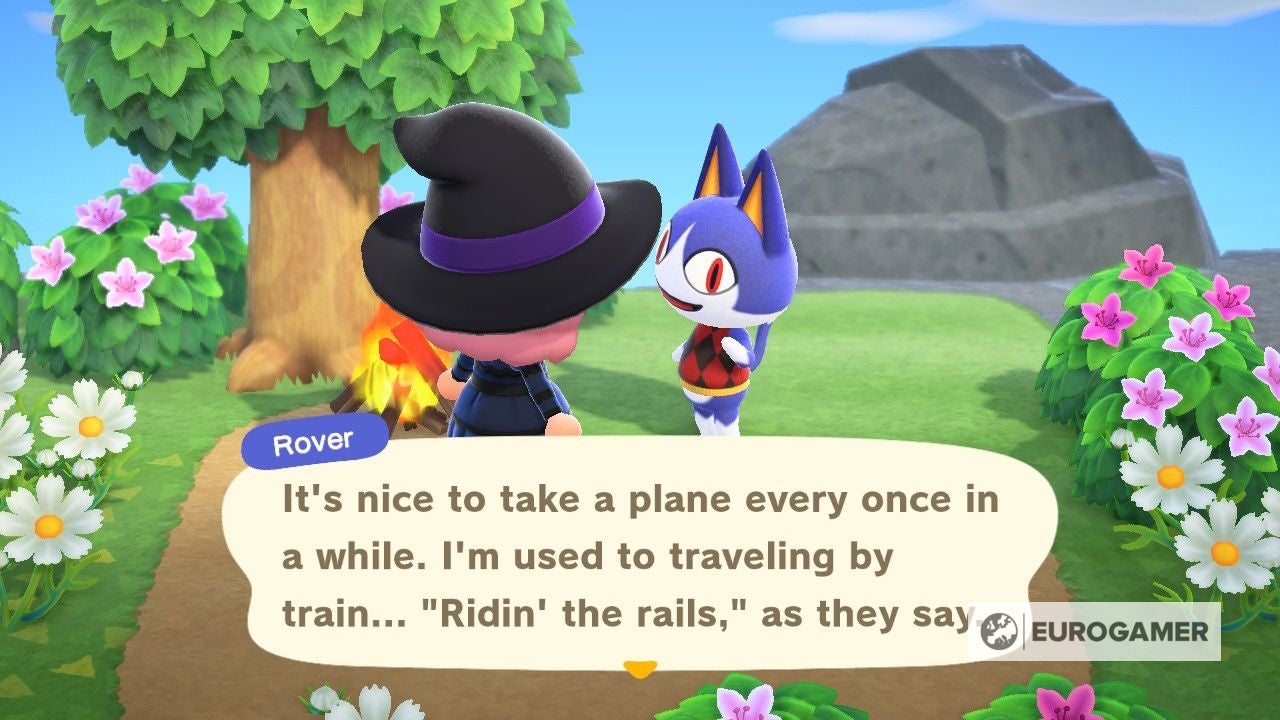 You can earn further rewards by digging up the bush near Rover's campfire to access four Bell Vouchers. After doing this, dig up the bushes behind the tree that is also near the campfire, so that you can run around the left-hand side of the maze.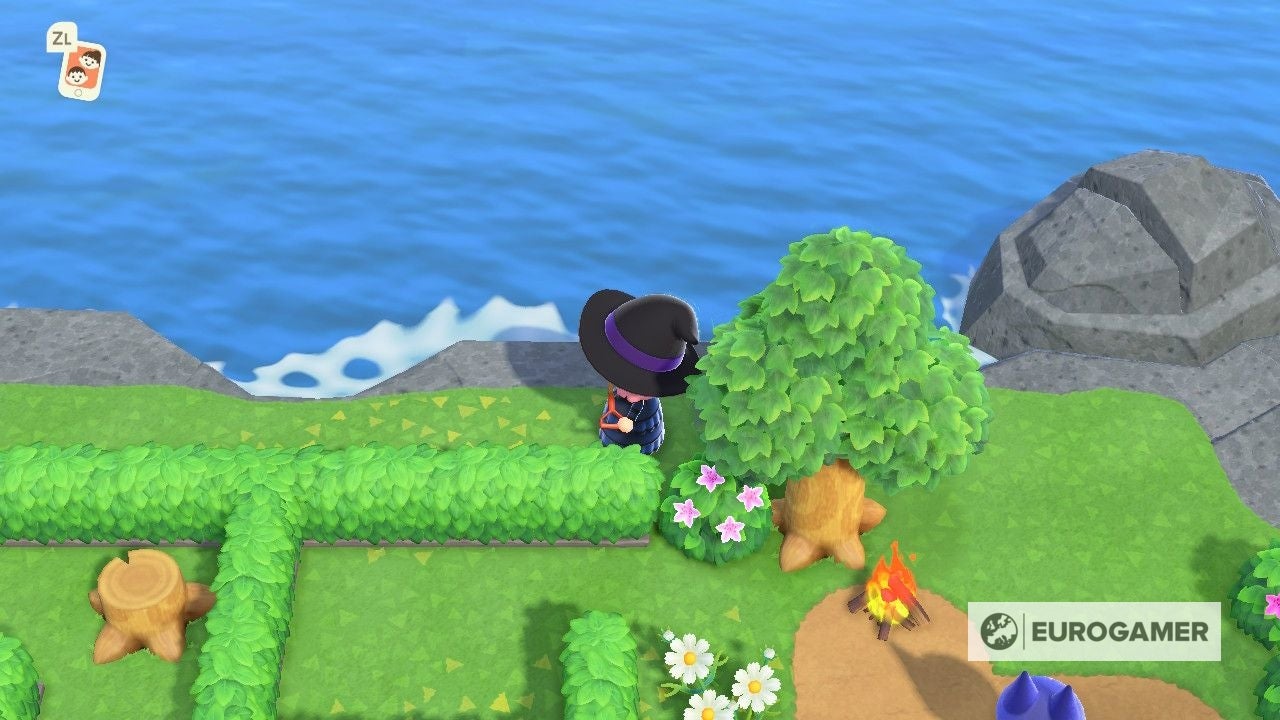 Once you reach the beginning of the maze, you'll find three rocks. Finally you can eat the three fruits you've been saving and destroy each of these rocks in turn to reach the additional five Bell Vouchers.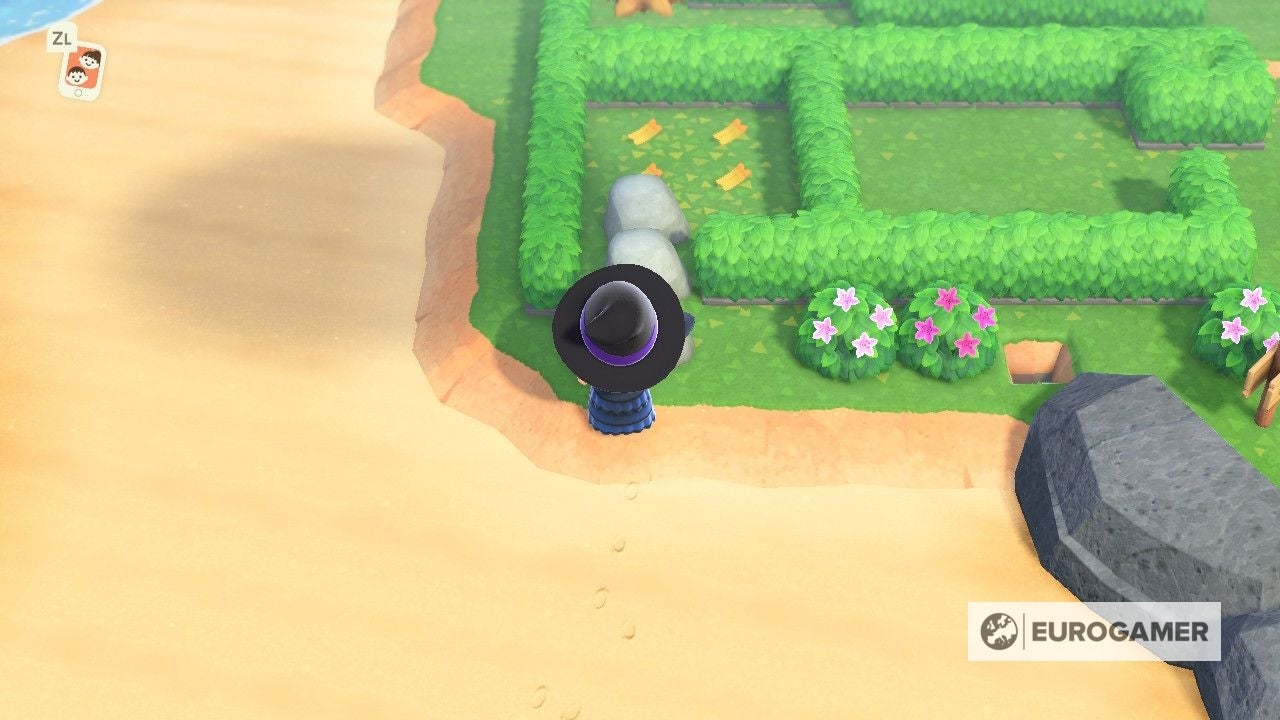 This brings you to a total of nine Bell Vouchers, which can be exchanged for 27,000 Bells.
With these last Bell Vouchers collected, you've also earned all the May Day events, meaning that it's time to leave this little island.
Dig up the two bushes located to your right, jump across the hole and shovel up the final bush, so that you can make your way back to Wilbur. He'll explain that you won't be able to return to this island, so definitely make sure that you've collected everything before you leave.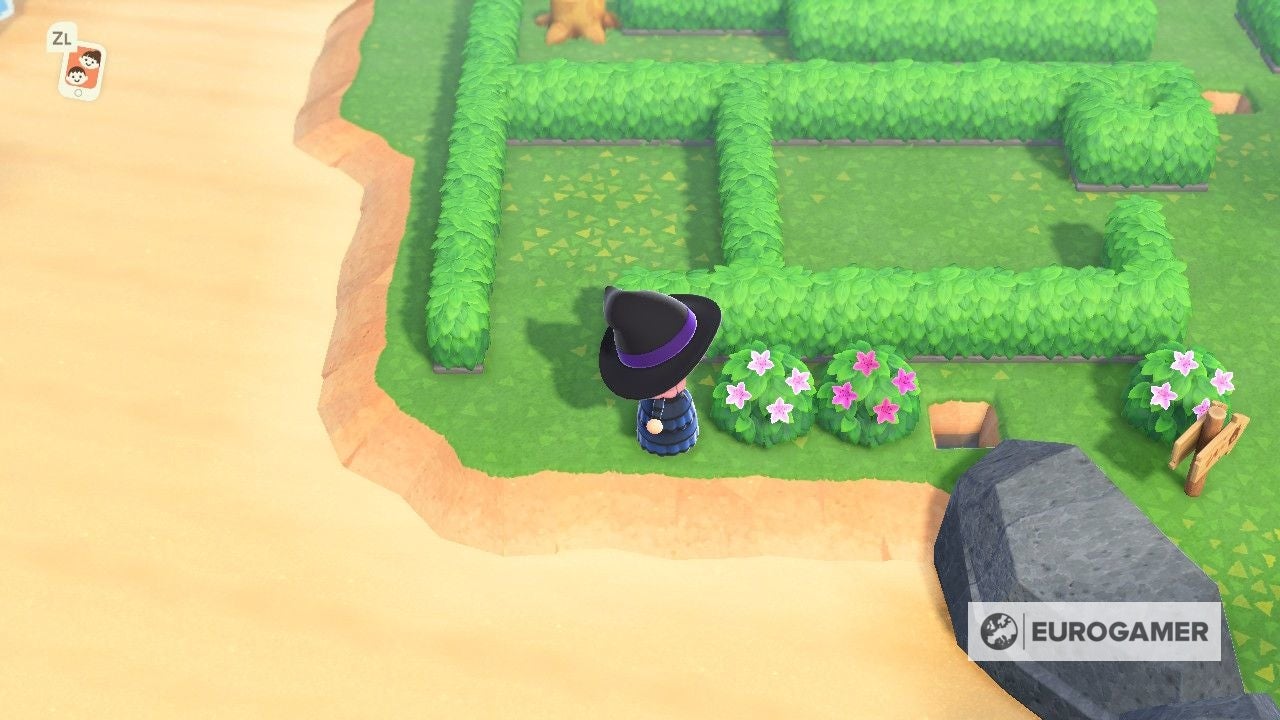 Your first stop upon returning to your island should be your post box. Inside you'll find that Dodo Airlines has mailed you both Rover's briefcase or Rover's picture and the Bell Vouchers you've earned.