Animal Crossing Earth Day event: Nature Day dates, Nature Day tasks and how to get hedges in New Horizons explained
It's time to celebrate nature in New Horizons!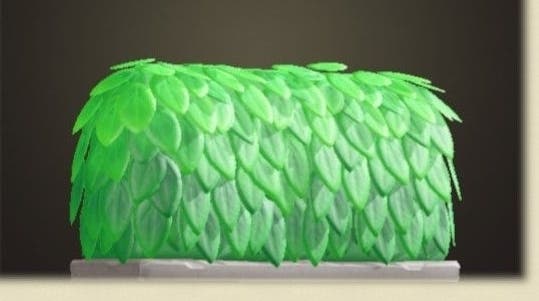 Nature Day is the equivalent of Earth Day in Animal Crossing: New Horizons.
Throughout this event, you'll be able to complete a variety of special Nook Miles + tasks, which are all about improving the nature aspect of your island.
Below you'll find everything you need to know about Nature Day in New Horizons, including the dates and how to unlock hedges.
On this page:
Nature Day dates in Animal Crossing: New Horizons
Nature Day in New Horizons runs from Thursday, April 23rd to Monday, May 4th. Time-wise it starts and ends at 5am on these days, which is the reset time for all islands in the game.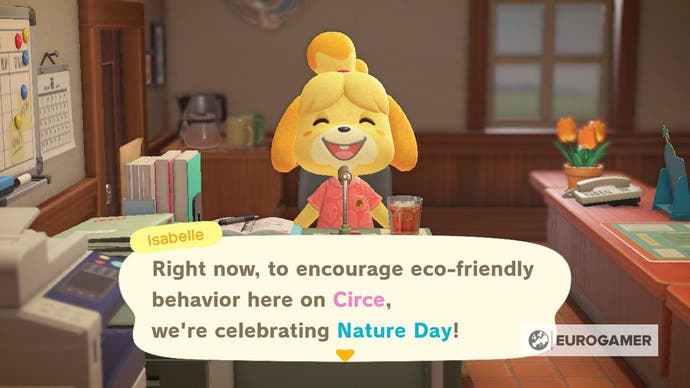 Presumably these dates will remain the same when Nature Day returns in future years.
To access Nature Day you must first ensure that you've downloaded the latest update for Animal Crossing: New Horizon, which you should be prompted to do when you start the game.
This update contains a variety of other features, including Lief and bushes and Redd. If you want to know the full list, then check out our New Horizons patch notes page.
Though there is no official start to Nature Day, it's simply occurring in the background as you play, it's a good idea to visit Tom Nook in Residential Services. He'll tell you a bit more about the event and hint at an exclusive reward you can earn from taking part in Nature Day.
Nature Day tasks in Animal Crossing: New Horizons explained
Throughout the Nature Day event in New Horizons, you'll be able to complete special Nature Day Nook Miles + tasks. All of these tasks are, unsurprisingly, nature based and you'll receive five times the amount of Nook Miles for completing them.
This means that if a Nature Day Nook Miles + task is worth 200 Nook Miles, you'll actually receive 1,000 Nook Miles.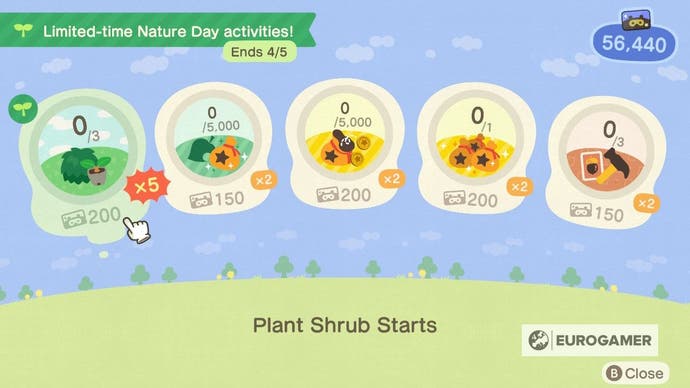 You'll know whether a task is for Nature Day, because it will have a green outline with a little picture of a sprouting plant next to it.
Here are the same of the Nature Day Nook Miles + tasks we've discovered so far:
---
The Animal Crossing 2.0 update and Happy Home Paradise is here! We can help you with the new additions - including where to find Brewster, Gyroids, new villagers, ordinances, new fences, storage shed, new hairstyles, Froggy Chair, group stretching and Kapp'n boat tours. Cooking is now unlockable, so you need to know how to make both flour and sugar, as well as how to grow carrots, potatoes and tomatoes. Meanwhile, if you're new to Animal Crossing, our New Horizons tips can help with the basics. From the off, there's fish and bugs to catch, flowers and fruit to grow with. One long term goal is building your Happy Home Academy score. Finally, you need tools such as the new ladder and vaulting pole to fully explore.
---
Hedges in Animal Crossing: New Horizons explained
Once you've completed one Nature Day Nook Miles + tasks in New Horizons, you should head back to Residential Services and talk to Tom Nook.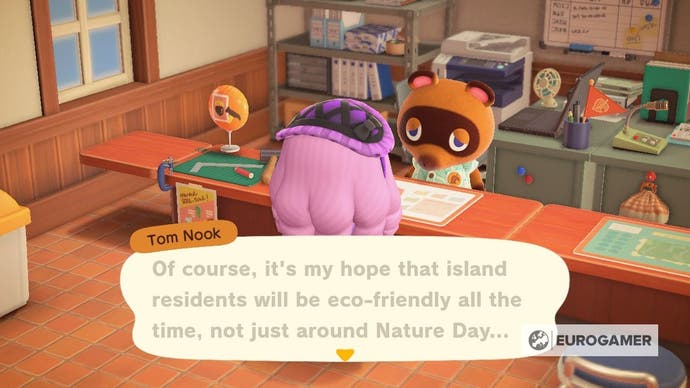 He'll be very impressed by your eco-minded activities and, as a reward, will give you the DIY recipe that will allow you to craft your own hedges. This is an exclusive Nature Day reward, so make sure you talk to him before the event finishes.
To make a hedge, you'll need: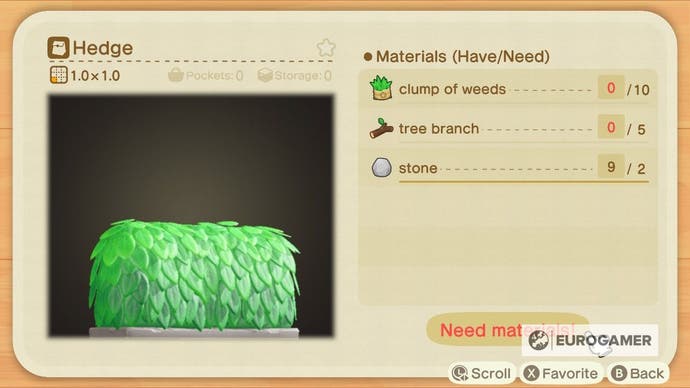 With hedges you can do anything from blocking off that annoying villager's house, building your own maze or adding those finishing touches to a garden.
So get your creativity to work and soon you're sure to come up with some interesting designs!