Modern Warfare 2 beta release times, code access explained
How to get early access to September's beta across all platforms.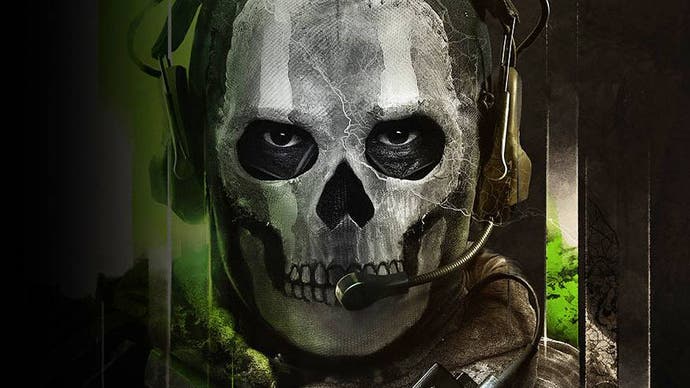 The Modern Warfare 2 open beta is imminent, giving players a taste of the gunplay and maps from this year's Call of Duty.
As with previous Call of Duty betas, PlayStation players get early access on the first weekend - with other platforms rolling out on a second weekend, including a period of open access for all.
If you want to get in early, you need Modern Warfare 2 beta access - which is available in a variety of ways.
To help you prepare for the launch of the open beta, you'll find beta release times for whatever platform you're playing.
On this page:
If you're looking for help with specific weapons during the beta, we have explainers for the M16 and M4.
When does the Modern Warfare 2 beta release? Modern Warfare 2 beta release times and dates
There are two weekends in September where players can join the beta, the first for PlayStation players, and other platforms the following week.
The Modern Warfare 2 beta start times and end times for both weekends, and the early access and open beta periods throughout, are as follows:
UK: 6pm (BST)
Europe: 7pm (CEST)
East Coast US: 1pm (EDT)
West Coast US: 10am (PDT)
To clarify - this means that this is when all periods, from when the early access and open beta starts, as well as when each weekend finishes, will be.
Here are the specific timelines for each weekend:
Weekend 1 (PlayStation exclusive)
Early access - Friday 16th to Saturday 17th September
Open beta - Sunday 18th to Tuesday 20th September
Weekend 2 (all platforms, crossplay supported)
Early access (Xbox + PC), open beta (PlayStation) - Thursday 22nd to Friday 23rd September
Open beta (all platforms) - Saturday 24th to Monday 26th September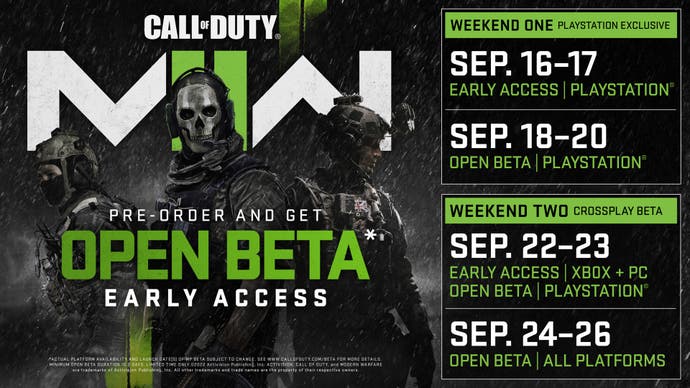 Early access means players can jump in if they have pre-ordered the game or have access to a code through other means - the following section explains more.
Then, a couple of days later on each weekend, the open beta will then be available - first to PlayStation players, then on the second weekend, all platforms.
If you're joining on the second weekend, know there have been a number of minor tweaks and bug fixes based on feedback and data from the initial weekend - including to target tracking, the user interface and perks.
How to get Modern Warfare 2 beta early access
There are two main ways to get access to the Modern Warfare 2 open beta early on each respective weekend:
If you are pre-ordering, once the beta goes live, you will be emailed instructions on how to play - which will involve using a code to redeem on the official Call of Duty website to select your platform of choice.
If you pre-ordered through the PlayStation Store, Microsoft Store, or Battle.net, you are automatically validated to participate in Early Access for the Modern Warfare 2 Open Beta.
Additionally, if you have pre-ordered the Vault edition, you get a few extra features to use in the beta - which are detailed in the next section.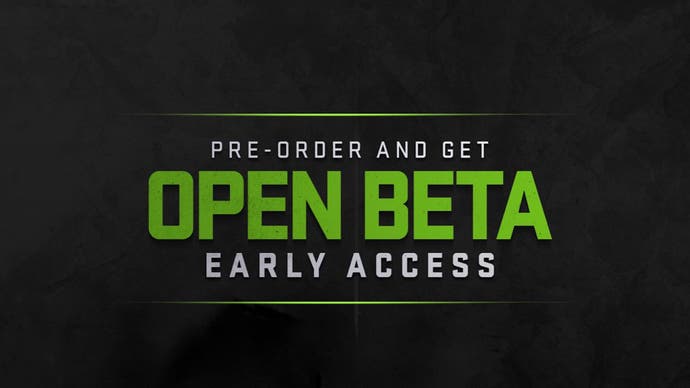 Additionally, there was the Call of Duty League Championship Weekend stream on Sunday, 7th August, where by watching and linking your Activision account to YouTube, you were in with a chance at winning a code for the Modern Warfare 2 open beta.
It is possible Activision will introduce additional ways to access the beta - such as via social media- as the beta begins.
If you can't get a code, don't worry - there is the open period for all players to look forward to at the second half of each weekend.
What will be included in the Modern Warfare 2 beta?
The Modern Warfare 2 beta will include a range of multiplayer maps, modes and weapons.
There will be several 6v6 maps available during the beta period - Valderas Museum, Farm 19 and Mercando Las Almas.
There will also be one 32v32 'Ground War' map, Sarrif Bay, which is also one of the Warzone 2.0 map's point of interests.
Also previously confirmed was the Grand Prix map:
When it comes to modes, beyond Team Deathmatch and Domination, there will be three new additions; Knockout (a round-based 6v6 mode which has you elimate the enemy team or hold the package to win), Prisoner Rescue (each 6v6 team has a prisoner to protect) and Invasion (32v32 elimination deathmatch with the addition of AI-controlled enemies). All will be playable during the beta.
Meanwhile, if you have pre-ordered the Vault edition of Modern Warfare 2, as well as beta access, you'll also gain access to all four Operators - Ghost, Farah, Price and Soap, each wearing a special masked outfit - and the "FJX Cinder weapon vault".
As well as this, there are additionally some rewards for participating...
---
Getting stuck into multiplayer? We explain the best guns in Modern Warfare 2 and how to unlock all weapons and attachments - as well as individual pages on putting together an MP5 loadout, FTAC loadout, M4 loadout, Kastov 762 loadout, SP-R 208 loadout, TAQ 56 loadout, 556 Icarus loadout, Vel 46 loadout, M16 loadout and FSS Hurricane loadout. At launch, you might be wondering where the Battle Pass and Hardcore Tier 1 modes are, as well as how to claim Modern Warfare 2 Twitch drops. Elsewhere, learn how to turn off crossplay on PlayStation and Xbox, get and use Double XP, level up fast, get gold camo, check KD and unlock all MW2 Operators. Playing the story? We have explainers on how long the Modern Warfare 2 campaign is and all safe code combinations.
---
Modern Warfare 2 beta rewards
There are a total of 10 exclusive rewards to unlock for both the beta and full game based on your level - including two weapon blueprints and an operator skin.
These are as follows:
Level 2: 'Smashed It' emblem
Level 4: 'Buckle Up' charm
Level 6: 'Passed the Test' player card
Level 10: 'Operation First Blood' stick
Level 15: 'Side Impact' weapon blueprint
Level 18: 'Collision' operator skin
Level 19: 'No Competition' vinyl
Level 21: 'Safety First' sticker
Level 26: 'Floor It' vehicle skin
Level 30: 'Frontal Impact' weapon blueprint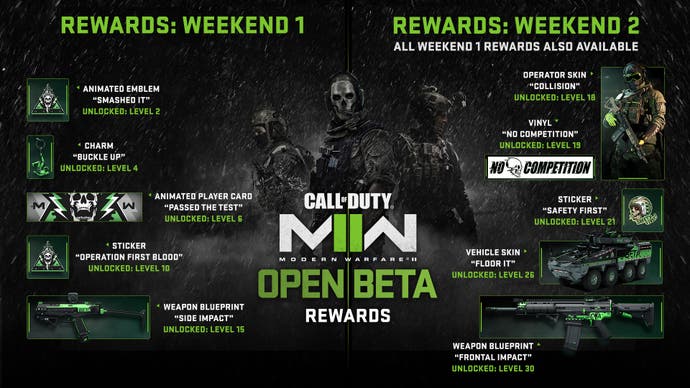 As the above image states, though PlayStation players can start unlocking the first five rewards on the first weekend, all rewards can be unlocked on the second weekend - meaning all players can access everything.
Best of luck with the beta - and have fun with the M16 and M4 along the way!