Modern Warfare 3 556 Icarus loadout, best class build and how to unlock the 556 Icarus
How to get the most out of one of the returning LMGs in MW3.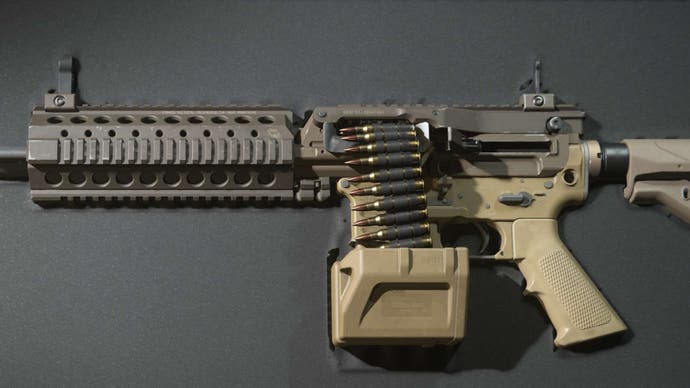 The 556 Icarus is one of Modern Warfare 3's returning weapons from the previous entry.
It's a Lightmachine Gun that was a popular pick in the last game and still in Modern Warfare 3, whilst it may not have the highest damage, it does have generally solid stats when compared to other LMG options.
It also comes with a decent mag size of 75 too, meaning you'll be able to take down quite a few targets before needing to reload, though keep in mind the longer reload times.
In this guide, we'll be running through how to unlock the 556 Icarus in Modern Warfare 3, what the best attachments and loadout is, as well as the best class build, vest, perks, and equipment to use.
On this page:
How to unlock the 556 Icarus in Modern Warfare 3
The 556 Icarus is one of the weapons originating from Modern Warfare 2 and usable in Modern Warfare 3.
For players who unlocked the 556 Icarus in MW2, it'll be immediately usable in MW3, along with all compatible attachments you own across between both games.
For anyone who didn't play MW2, or didn't unlock the gun whilst playing, there's a bit of an extensive grind to get this gun.
Since you need to reach weapon level 18 with the M4, you'll first need to unlock that by either attaining player level 4 in MW2, or reaching player level 55 and completing the unlock challenge associated with the gun in MW3.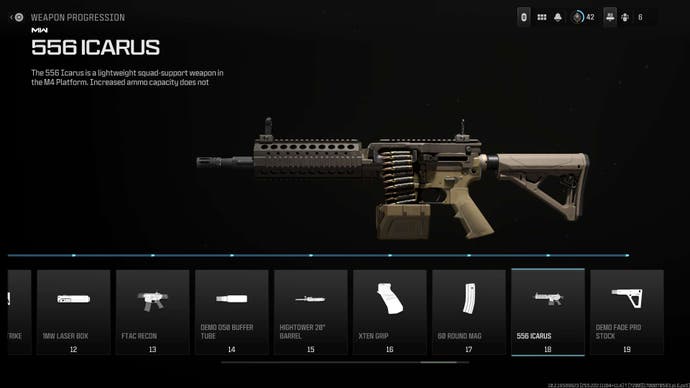 Once you've done that, you'll need to then use the M4 through Multiplayer matches to increase its level to 18, at which point you'll have access to the 556 Icarus in custom loadouts.
From that point on, you'll be able to use, level, and customise the weapon with all compatible attachments you own.
Modern Warfare 3 556 Icarus best loadout and attachments
The 556 Icarus is a rather powerful gun and works best for a play style focused on medium-range gunfights. For the build we'll be recommending, we're aiming to keep stability a priority whilst also giving some extra weapon handling and mobility buffs to keep you up to speed with the general fast pace of matches.
First, we'll run through a high-level view of the best Modern Warfare 3 556 Icarus attachments to use, then dive a bit deeper into each of them:
Optic: Hybrid Firepoint
Barrel: FTac Coldforge 16" Barrel
Underbarrel: VX Pineapple
Stock: Corio Precision Factory
Rear Grip: XTEN Grip
For the first attachment, we're going for an optic, specifically the Hybrid Firepoint optic that'll provide the ability to swap between a 4.3x magnification and standard red dot, giving options when needing to adjust for encounters fought over longer distances.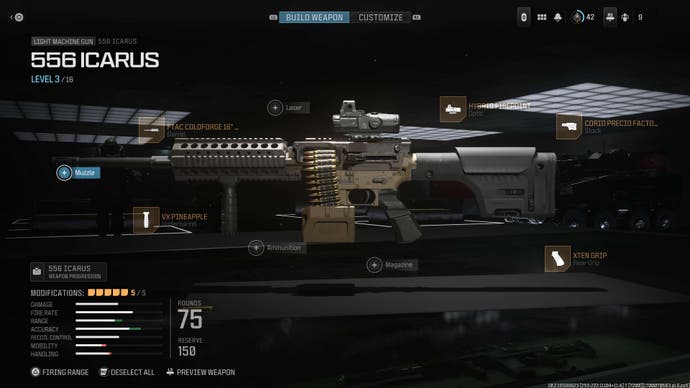 With only a couple of barrel options to choose from for the 556 Icarus, there's not much room to go either way for this, however the FTac Coldforge 16" Barrel is a great pick for the playstyle we're building, primarily due to its increased bullet velocity and range, but it also comes with some additional hip fire accuracy - even if that's with the tradeoff of additional hipfire recoil and reduced Aim Down Sights (ADS) speed.
For the third attachment, we're picking the underbarrel VX Pineapple that provides additional aim walking steadiness, greater recoil and gun kick control, with those last two being especially important with an LMG that'll have stronger kick than most other weapons. There's some decrease to movement and ADS speeds, but we can offset some of this with our perk choices, as well as other attachments if you choose to swap out one of our recommended options for a preferred choice.
With the fourth attachment pick, we're going with the Corio Precision Factory stock that primarily is going to give a fairly strong boots to aim idle sway which is useful with the 4.3x magnification lens we'll have access to with the Hybrid Firepoint sight. Not only that, but this stock also provides a little bit of extra recoil reduction too, making it easier to stay accurate in gunfights.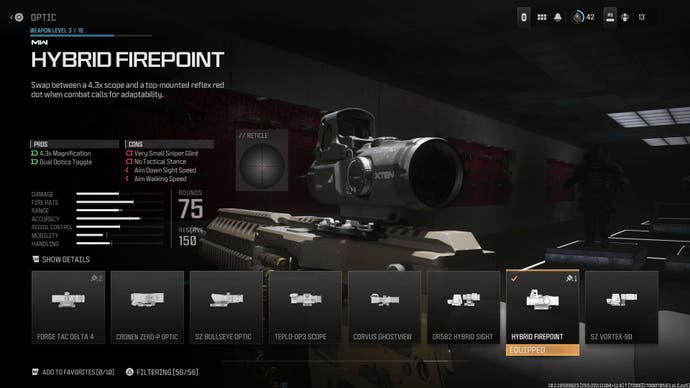 Finally, we'll be picking the XTEN Grip as the last attachment, primarily thanks to its slight offset to some of the ADS speed decreases other attachments have given, but also we get a 15% boost to sprint-to-fire speed as well, making it a fair amount better in moments where you need to return fire quickly. There's a drop off to recoil and gun kick control, but this should generally be more or less offset by the recoil buffs the other attachments provide.
As with all attachment builds, if you feel there's another choice you'd rather, feel free to experiment and see what else might be worth using, particularly now in MW3 since there's an even wider array of attachments for various guns.
Modern Warfare 3 556 Icarus best class build, vest, perks, gear, and equipment
For this build, since mobility will somewhat be impaced by carrying an LMG, we'll be looking at perks to offset that as well as the longer reload times, giving us good reason to find a weapon that can be used as a effective backup.
Here are our picks for the best Modern Warfare 3 556 Icarus secondary, vest, perks, and equipment:
Vest: Demolition Vest
Perk 1 - Gloves: Quick-Grip Gloves or Commando Gloves
Perk 2 - Boots: Lightweight Boots
Perk 3 - Gear: EOD Padding or Mag Holster
Secondary: Renetti w/ Jak Ferocity Carbine
Tactical: Shock Stick
Lethal: Semtex
Field Upgrade: Munitions Box or Deployable Cover
For the Vest, whilst the decision is very much up to you and what kind of perks and equipment you'd like access to, we're taking a bit more of a niche and demolitions approach with the appropriately-named Demolition Vest.
By picking this, you'll be granted a rather generous uptime on your Lethal and Tactical equipment, not only receiving a second use of your chosen piece of Lethal equipment, but also getting a resupply of both Lethal and Tacticals every 25 seconds.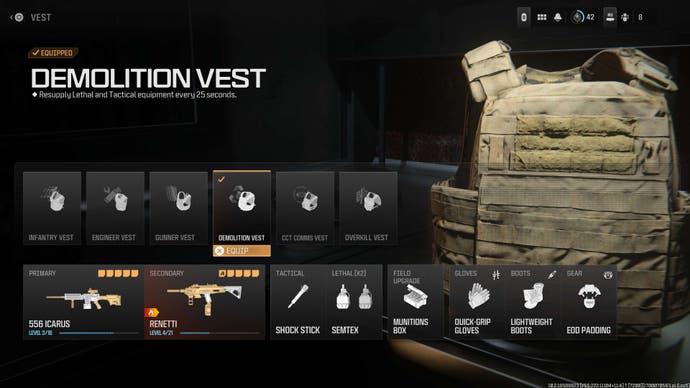 In a similar way to the Infantry Vest, this is all given with no tradeoffs to any of the equipment you can equip, so you're still given full reign over what you'd like to pick.
Since this is for an LMG class though, there'll need to be some additions to help offset the lowered movement speed and handling, and so that's where our recommended perks come in.
First up, we're recommending either the Quick-Grip Gloves or Commando Gloves. Whilst the former will allow you to swap weapons quicker - handy for swapping to your secondary when you don't have the time to reload - the latter is going to let you reload whilst sprinting. The choice is yours and both are very handy in their own way.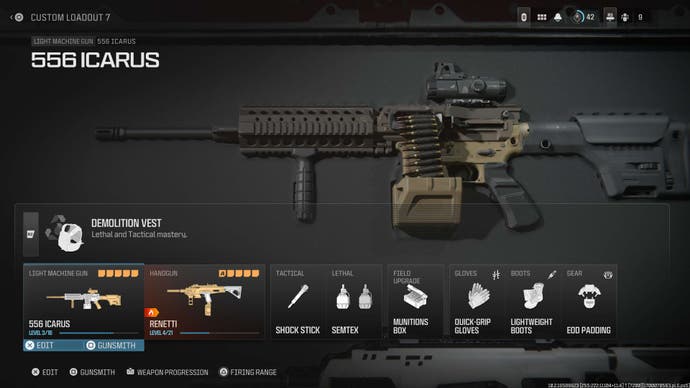 As for the second perk, we're picking one that's going to help offset the lowered movement, and so what better a pick than the Lightweight Boots? These will simply increase your base movement and swim speed, which should help you stay mobile.
In terms of the final perk, there are a couple of options again depending on the kind of playstyle you're employing.
If you're moving through a lot of dangerous and hostile territory, EOD Padding might be your best pick, protecting you from equipment and killstreak explosive damage.
However, if you're finding the 556 Icarus' reload times are too extensive, Mag Holster is a great choice as it'll boost your reload speed, and this might be especially handy to have on to syergise with Commando Gloves if you picked them.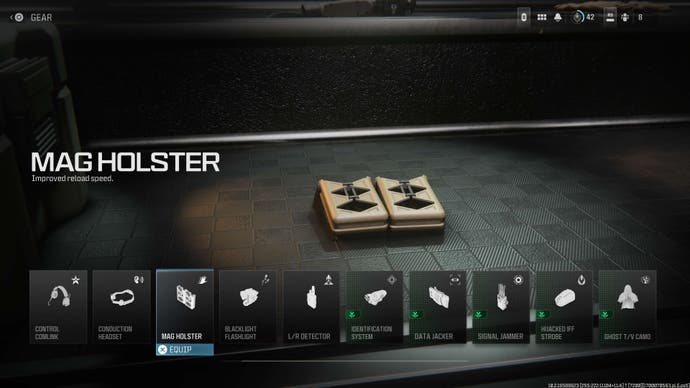 When it comes to a secondary, ideally you want something that's going to be a strong backup option, particularly for close-quarters engagements and the Renetti with its Jak Ferocity Carbine Conversion Kit is the best answer for that. Equip it with a statistically-solid suppressor and 30 or 50-round mag and you've got arguably one of the best close quarter options in the game.
When it comes to Lethal and Tactical equipment, we're recommending sort of a niche option for the latter, and a more common item for the former.
The Shock Stick is a great tool to stun enemies and if they walk into it, the shock is strong enough it'll make them open fire, revealing their position on the radar - just make sure you don't get caught in the sudden hail of gunfire. These can also disable vehicles, so it's a decent pick if you're playing on the game's larger Ground War maps.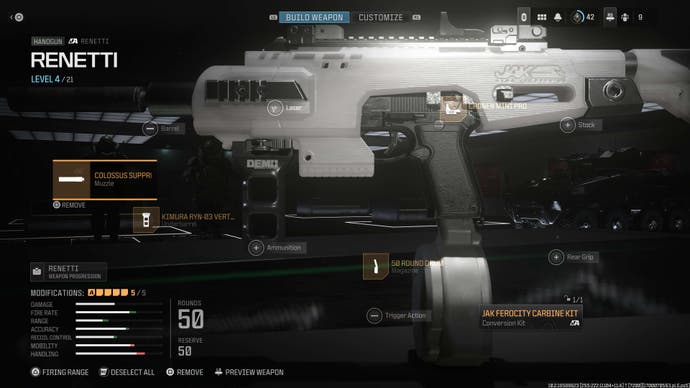 As for Lethal, you could pick a Frag Grenade, but we're going for the Semtex, giving you the chance to hold down objectives more accuractely thanks to the grenade's ability to stick to surfaces and targets. And thanks to the Demolition Vest, you'll be able to carry 2 of them, with a resupply for both Lethal and Tacticals every 25 seconds.
To round the class off, in terms of Field Upgrade, it's entirely down to you. We're recommending Munitions Box for even more ammo and equipment refills - a nice pairing with the equipped Vest - but Deployable Cover is another good option, particularly for holding down objectives, something you might find the 556 Icarus is a great pairing for.
As always with these classes, you are free to mix and match across both attachments and the class build to find the best pairings and items to equip to suit your preferred playstyle.
---
If you're on the hunt for more loadout guides, be sure to keep checking the guides section on our main Modern Warfare 3 page to see as they're posted, and for other tips and tricks, be sure to check out our other guides covering the best weapons across Assault Rifles, Sniper Rifles, Shotguns and more.