Fortnite Shooting Gallery locations - Where to shoot targets east of Wailing Woods, north of Retail Row and east of Paradise Palms
Where to find Shooting Gallery locations in three specific locations in Fortnite.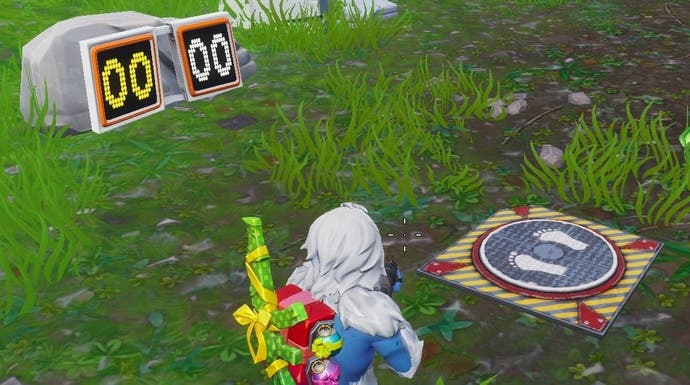 Finding the Shooting Gallery locations in various locations across the map is one of Fortnite's many Weekly Challenges.
Specifically east of Wailing Woods, north of Retail Row and east of Paradise Palms are the Shooting Gallery locations you are looking for:
Completing it will give you additional XP to help go towards your many Season 7 rewards.
If you're just getting started, our Fortnite Battle Royale tips and tricks can provide some helpful hints.
---
Note this particular challenge is no longer able to be completed. What's new? Chapter 4 Season 2 has arrived! New additions include the Grind Rails and Kinetic Blades, along with the new Battle Pass, character collection and Eren Jaeger skin. It's a good idea to know how to get XP fast in Fortnite.
---
Fortnite Shooting Gallery locations
You need to shoot five targets at three specific Shooting Galleries in order to complete this week's challenge. At a glance, their locations are as follows: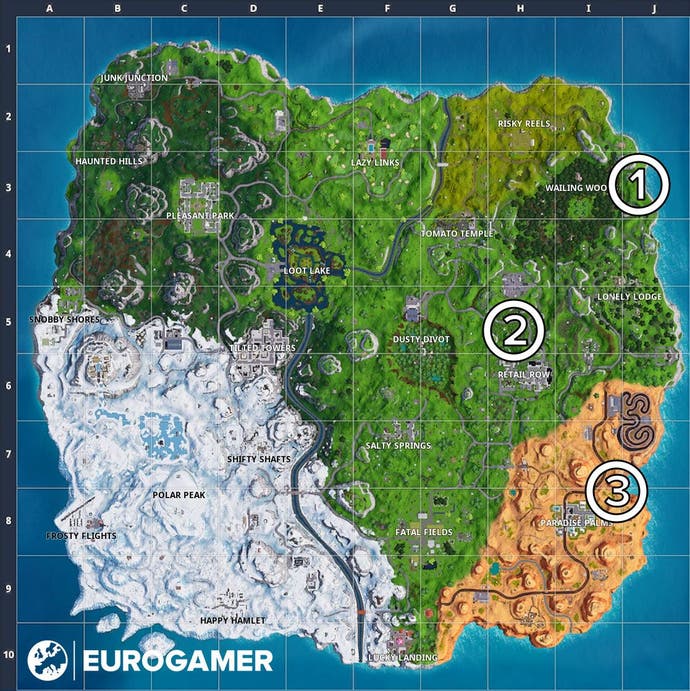 These are similar to last season's Shooting Galleries and Clay Pigeon locations, with a scoreboard like so indicating one is there.
Don't worry if you don't have a weapon when you land - there will be one somewhere nearby to help.
When you find one, step on the switch on the ground to start the Shooting Gallery challenge. Once you do, targets will start popping up around you at random. If you don't shoot one for a while, they will all disappear, and the mini-game will end - step off then back onto the switch to replay.
If you score five successfully, then you have completed that step. The next will begin when you load up the next match.
Remember, you only need to complete those three specific Shooting Galleries on the map, but unlike some other challenges, you can go back and play at every location once it's done.
And as with every challenge, though the game will tell you it's completed, to be safe make sure you finish the map for it to count as completed for sure.
The specific places for each Shooting Gallery locations are...
Shooting Gallery location east of Wailing Woods
The Shooting Gallery location east of Wailing Woods is outside of the forest itself, close towards the cliff's edge.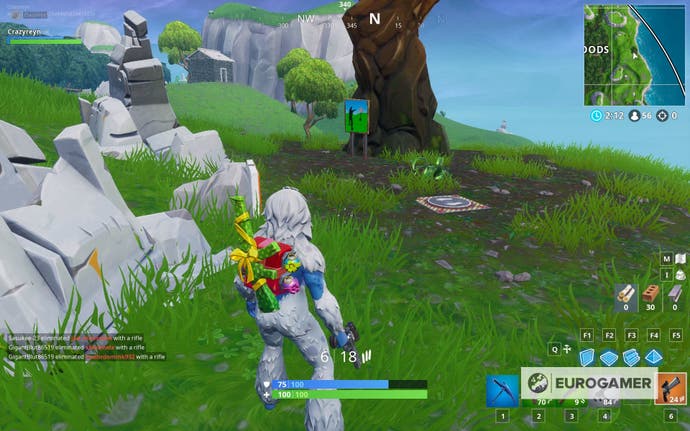 There are some rocks here that may obscure the starting pad and counter since they are facing west.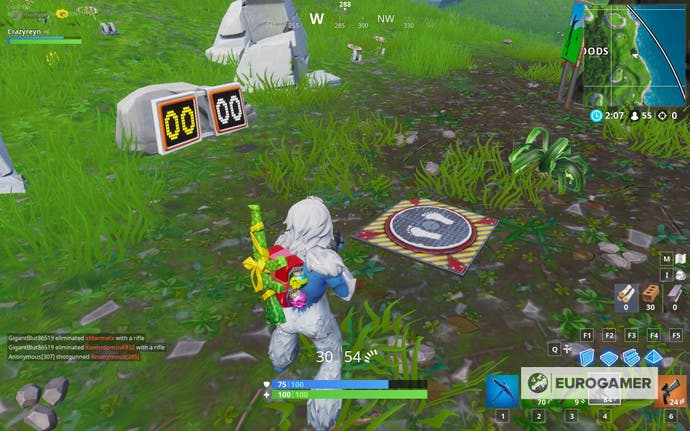 Once you have shot five targets, it's time to find the north of Retail Row location.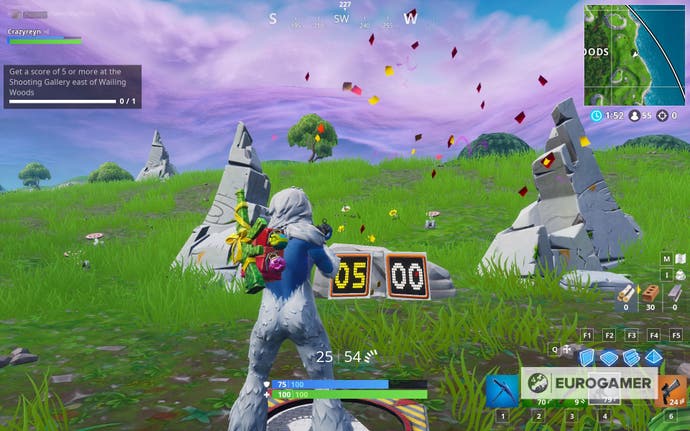 Shooting Gallery location north of Retail Row
The Shooting Gallery location north of Retail Row is in the small forest just beyond the hills outside of the named location.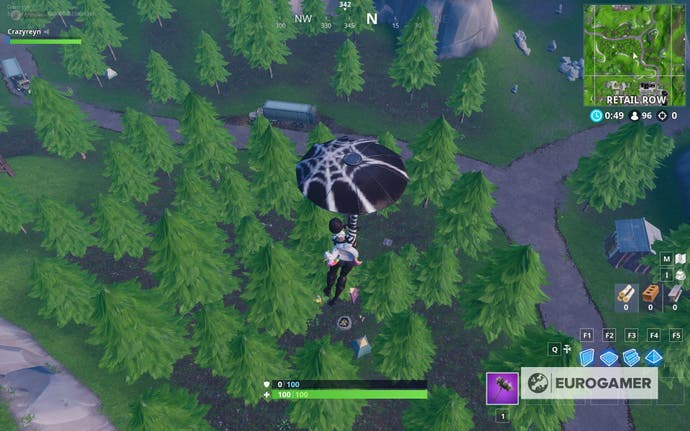 In the middle of this forest is a campsite, and it's here where you'll find the Shooting Gallery location.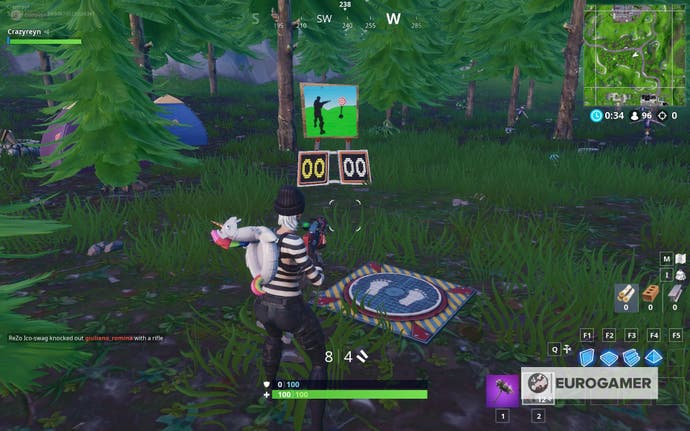 Hit five targets, and it's time for the final Shooting Gallery location east of Paradise Palms.
Shooting Gallery location east of Paradise Palms
The final Shooting Gallery location is technically north-east of Paradise Palms, once again at the edge of the map.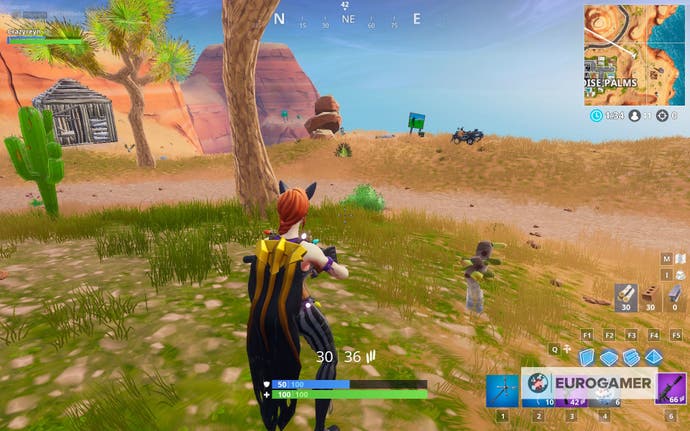 Once you have found it, there is another twist - the targets are really far away, on the other side of the cliff. A first for one of these challenges!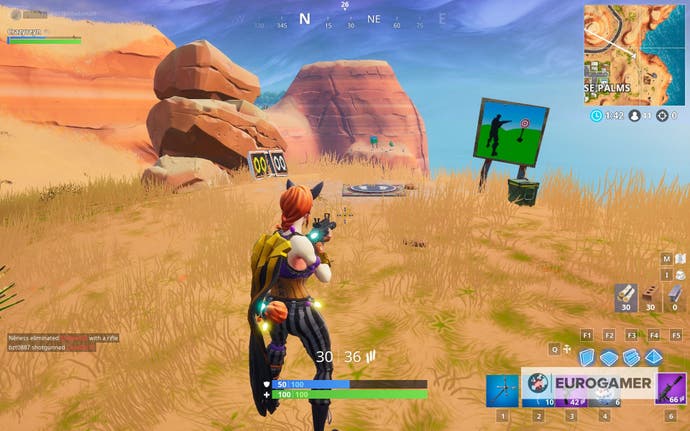 With you having to stay rooted on the spot, it means having to used a scoped weapon to aim far away. If you need one, heading south along the cliff edge will see you come across a shack and some caravans - these often have weapons and chests that often spawn.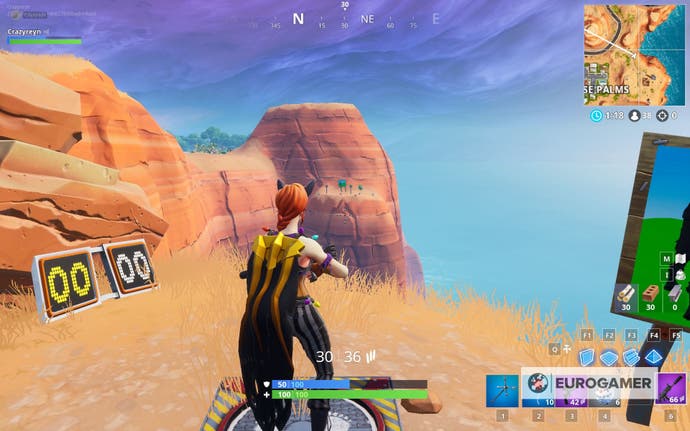 Otherwise, venture into Paradise Palms itself and try your luck. If that fails, it might be worth getting a scoped weapon first, then making the trip over here by plane or other means.
The other thing to note is you have to not only be accurate, but bullet drop also comes into play. Not by much, but you at least need to hit the centre of the target for it to land.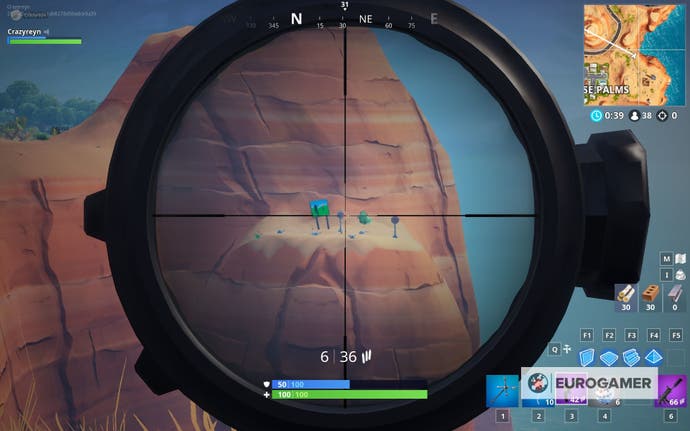 Once you are finished, that's all three Shooting Gallery locations complete.
Already done? There are plenty of other Challenges to take on this week - so keep playing!
---
Fortnite Chapter 4 Season 2 is here and with it comes Force Abilites and Lightsabers in the Star Wars 2023 event and a new selection of Battle Pass skins! Take a look at the Eren Jaeger skin too! If this is something you want, take a look at our challenge guides that show you the Jaeger's Family Basement location, plus how to find and use ODM Gear. Don't forget to complete the new challenges, including winning arcade games, knocking back players with the Kinetic Blade, shooting targets while on a Grind Rail and restoring health or shields on a Grind Rail. Meanwhile, learn what the best weapons are, new map changes, how to get XP fast, use the best PC settings, earn the Victory Umbrella and earn a Victory Crown.
---
What were Fortnite Shooting Gallery locations like in previous seasons?
If you are at all curious to see where Shooting Gallery locations were in previous seasons, here are their locations in Season 6: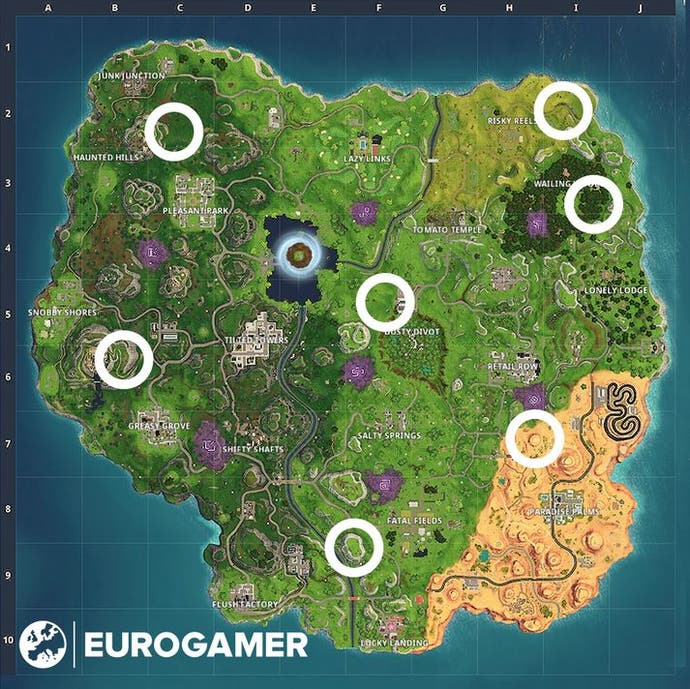 Some are actually still there, but as you can see, even those in similar positions - such as Wailing Woods - have shifted slightly.
There's a decent chance that Shooting Galleries will return in later seasons too, so who knows which ones will be useful on the next map change?