Fortnite - Dance with others to raise the Disco Ball near Loot Lake explained
How to complete the unusual task of raising the Disco Ball near Loot Lake in Fortnite.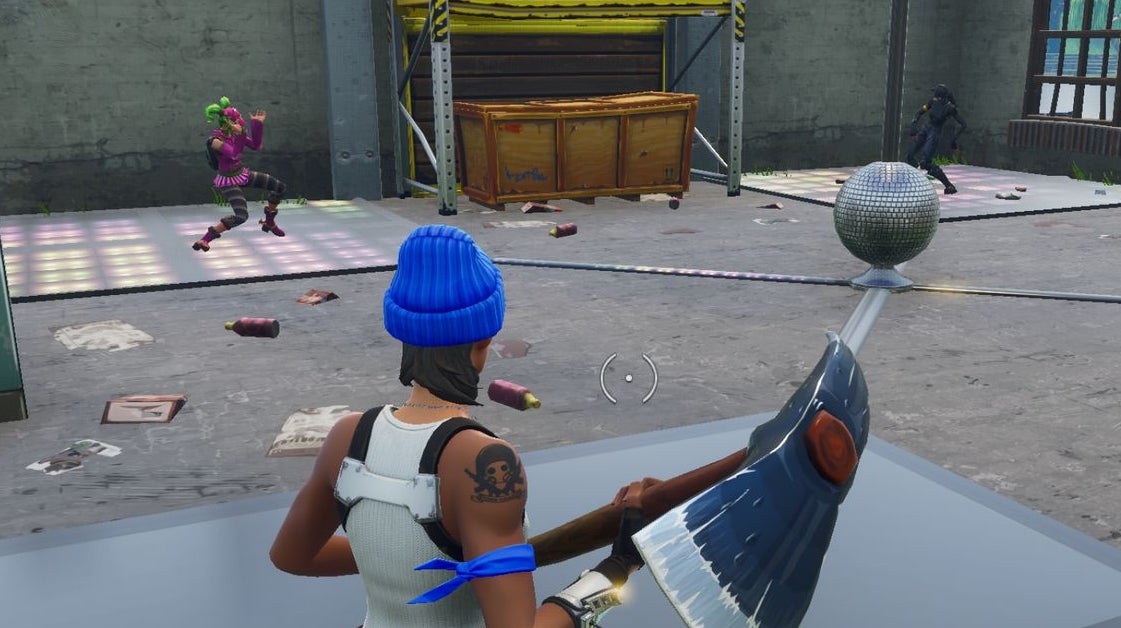 What does Dance with others to raise the Disco Ball near Loot Lake mean?
For the Week 5 Challenges, you are tasked with the following:
Dance with others to raise the Disco Ball near Loot Lake (1 total, 5 Battle Stars)
Another from this week is the treasure map in Greasy Grove location.
The challenge is one of the more unique we've encountered so far in Fortnite. While most challenges have solo affairs, this has you rely on other players to help you all collectively finish it.
First, let's specify where this Disco Ball near Loot Lake is. On the west coast of the lake is a small group of buildings.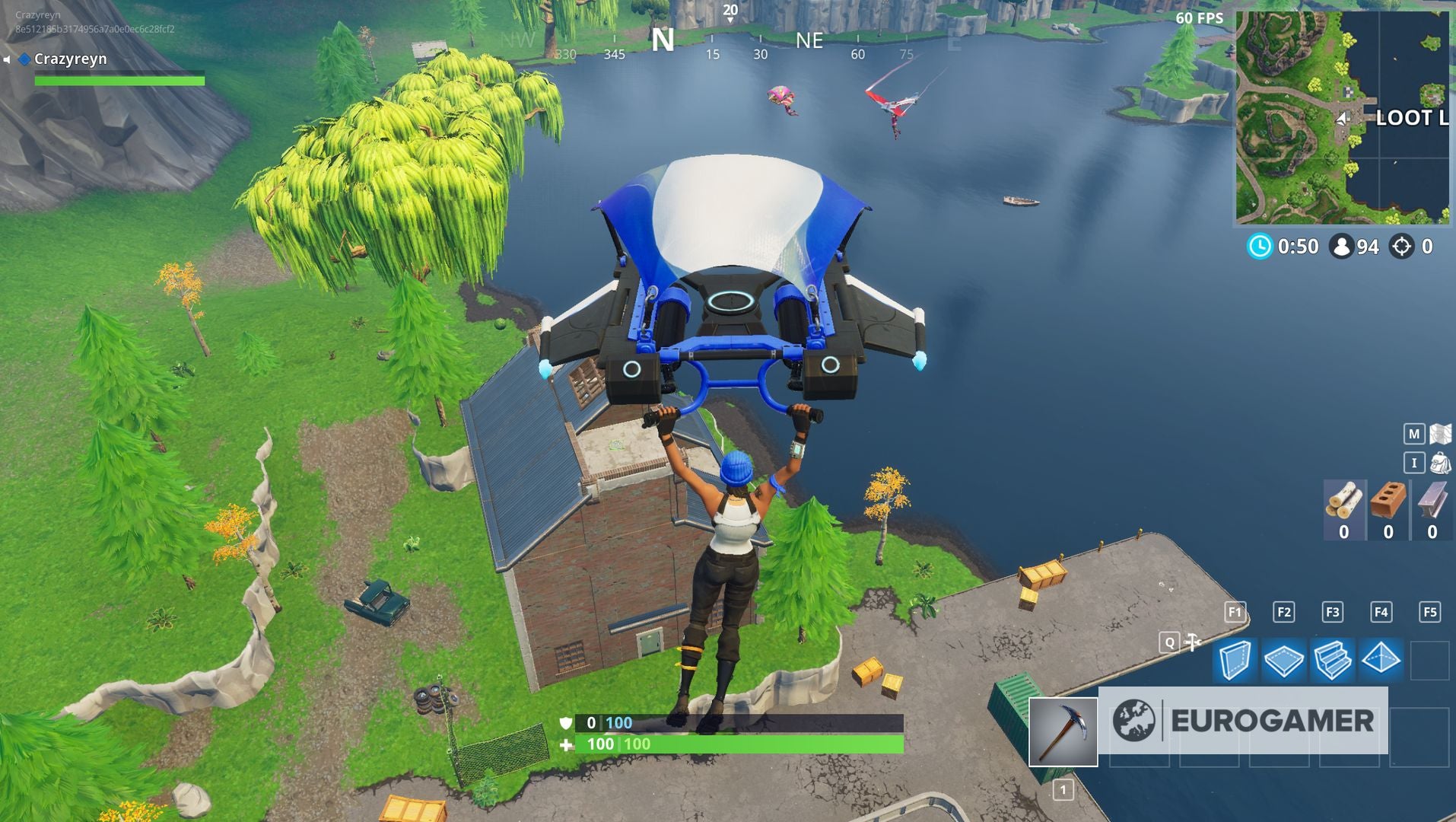 Of these buildings, you'll want to enter the north-most one.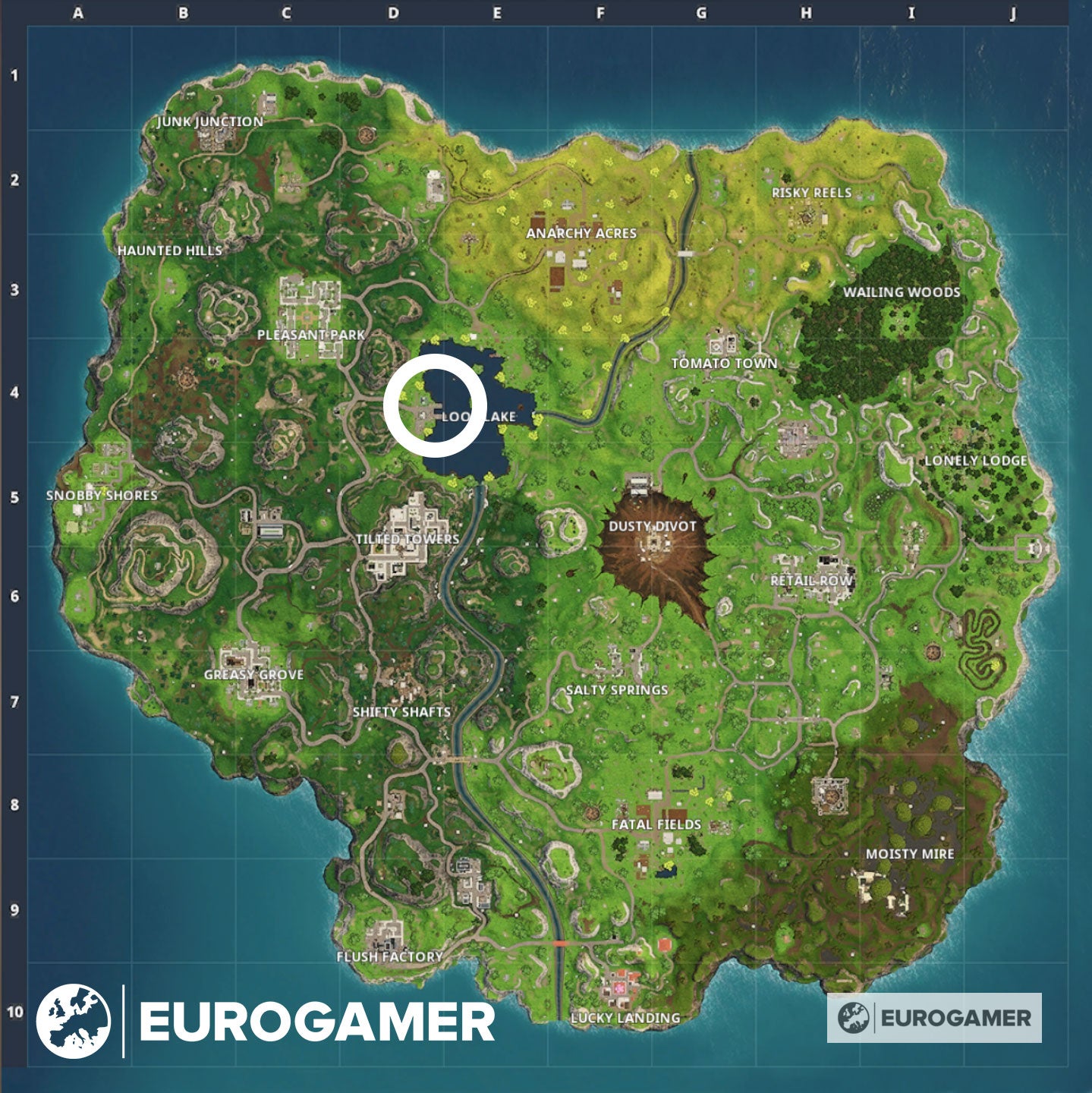 On the ground floor of this building, is a room with dance floors in each corner, and a disco ball in the middle. Players have to stand on these dance floors, and use a dance emote.
After a certain amount of time, the disco ball will rise to the top, and the challenge will be marked as completed.
It's not easy, but there a few strategies you can employ to help you succeed.
---
Fortnite Chapter 4 Season 2 is here and with it comes a new selection of Battle Pass skins! Take a look at the upcoming Eren Jaeger skin too! Don't forget to complete the new challenges, including winning arcade games, knocking back players with the Kinetic Blade, shooting targets while on a Grind Rail and restoring health or shields on a Grind Rail. Meanwhile, learn what the best weapons are, new map changes, how to get XP fast, use the best PC settings, earn the Victory Umbrella and earn a Victory Crown.
---
How to dance with others to raise the Disco Ball near Loot Lake
There's a few difficulties to this challenge. First of all, you need a total of four players for it to work, each occupying of the four corners.
When you start dancing, the dance floor will light up, and send 'energy' to the disco ball in the middle. With all four active, you'll see the disco ball rise.
It needs to be sustained for a length of time - around 10 seconds - for it to rise to the top. Though any emote works, a dance emote will be easier as it will continue animating over time, allowing you to leave it running to raise the ball. Make sure to bring one with you!
When it is complete, it will be obvious - an animation and sound will play, signifying it's complete. It took us a little while for it to work, so stick at it and you'll get there.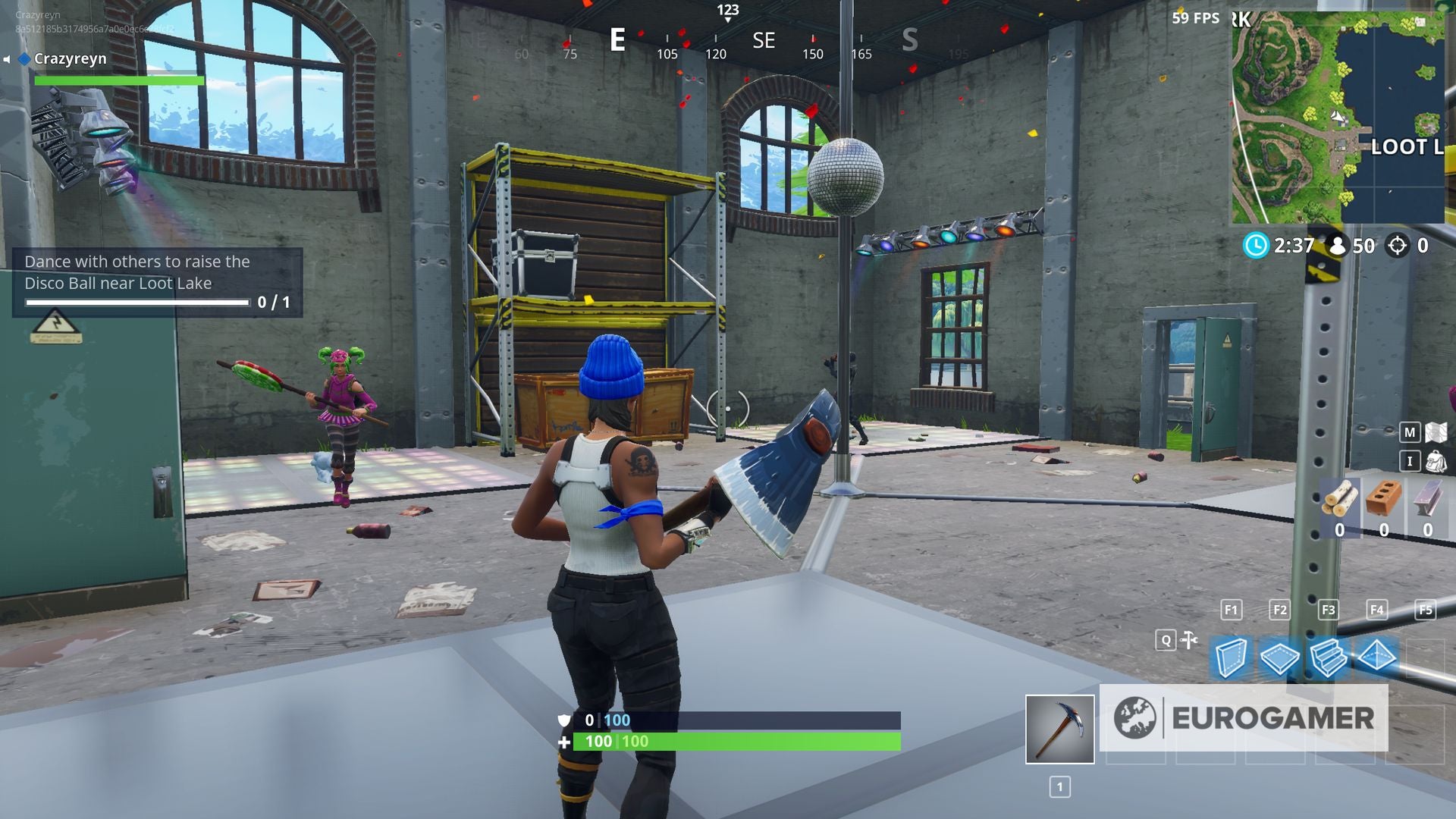 The other - and arguably the biggest - difficulty, is co-operation. Though we managed to find a group of strangers in a Solo match willing to do it, you might struggle to find players willing to join in, who will instead try and take you down. It is, after all, a good opportunity for players to get some cheap and easy kills.
If you are playing Solo, there will be some luck involved in finding a group happy to do it. In theory, you're all after the same goal, so you can hope people will be willing to co-operate. Simply stand one on of the dance floors and start dancing, and it should be obvious to others what you're there for.
Even if you are successful, be prepared for the group to suddenly turn on one another once it's complete, though!
Though we haven't tested this, in theory you could load in as a Squad and complete this without any worry of players turning on you. It still means you'll have to get to the dance floor without a fight, but assuming you're all alone, it'll be far easier.
This method may also be the best way to complete it after the first week the challenge has debuted. As you only need to complete it once, people will quickly move on to other challenges, meaning the numbers of strangers willing to help will diminish rapidly. But if you have friends willing to help, you can do it at any time.
Whether you finish this or not, there are other Challenges from this week to complete, including the treasure map in Greasy Grove location. Best of luck!