How to light 10 Lanterns around the Fortnite Lantern Fest Tour map
Complete this Lantern Fest challenge for exclusive rewards.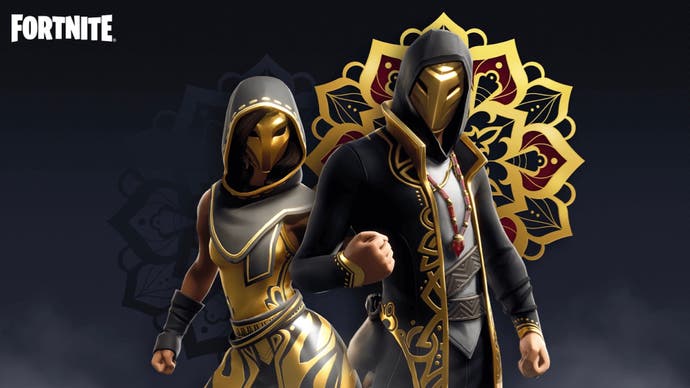 You'll need to find and light 10 Lanterns around Fortnite's Lantern Fest Tour island as part of Lantern Fest 2023.
This new Fortnite island houses a bunch of interesting puzzles to try out, with several named locations to explore as well. It's pretty big as a map, however, so you may need help tracking down all 10 Lanterns.
Here's how to light 10 Lanterns around the map in the Fortnite Lantern Fest Tour island experience, and what you'll get for doing so.
Fortnite Lantern Fest Tour Lantern locations
To complete the Lantern challnege in Fortnite's Lantern Fest Tour island experience, you will need to track down and light 10 Lanterns.
The first one can be found where you start, at Bounty Boulevard. Look for the Lantern next to the welcome board.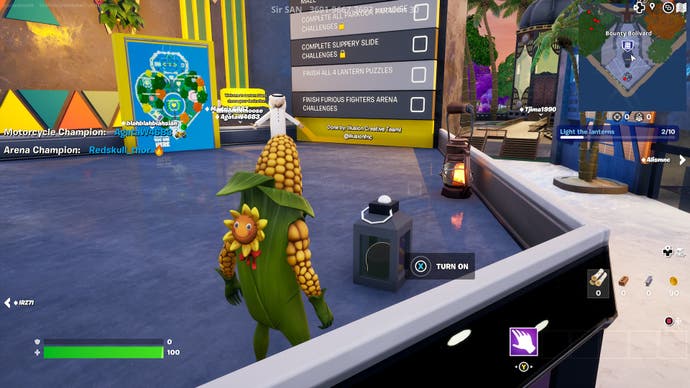 Now, make your way to Cozy Court. There's a Lantern inside the Slap Juice store, sitting on the counter.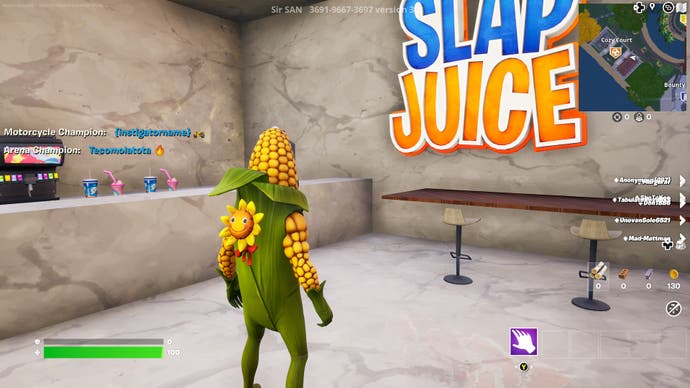 There's a staircase that runs from Cozy Court up to a football pitch. You'll find a Lantern up there.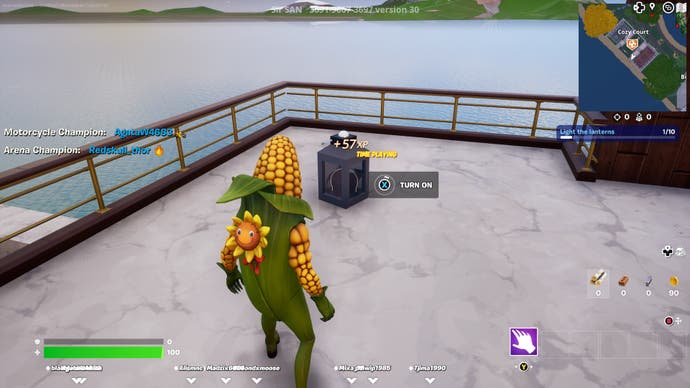 Another Lantern can be found outside Parkour Paradise.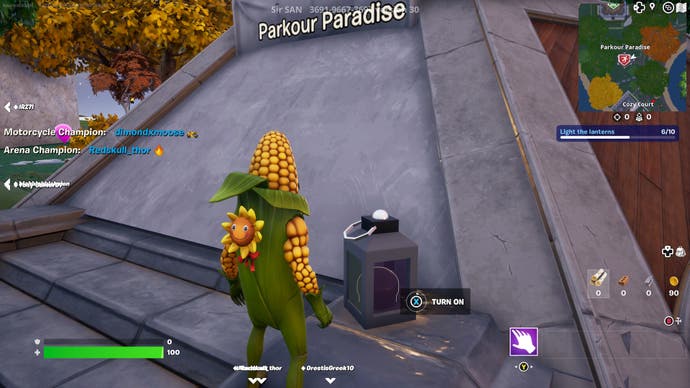 Next door to this is Marvellous Maze. There's a Lantern just outside the entrance.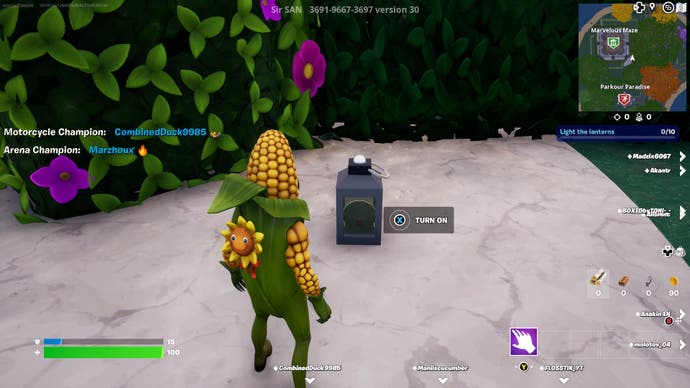 Now, head over to Flawless Fashion, to find a Lantern outside the main tent, next to a water fountain.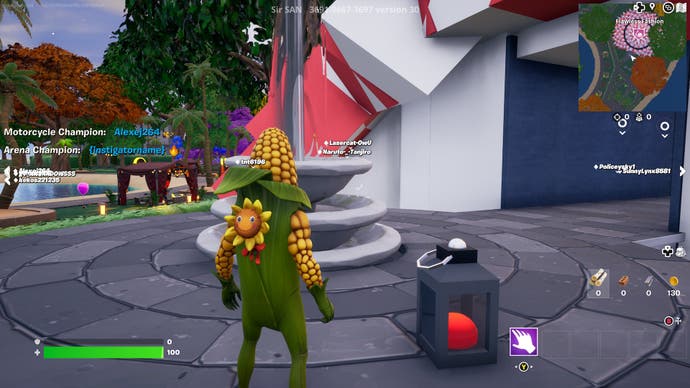 ---
Fortnite Chapter 4 Season 2 is here and with it comes Force Abilites and Lightsabers in the Star Wars 2023 event and a new selection of Battle Pass skins! Take a look at the Eren Jaeger skin too! If this is something you want, take a look at our challenge guides that show you the Jaeger's Family Basement location, plus how to find and use ODM Gear. Don't forget to complete the new challenges, including winning arcade games, knocking back players with the Kinetic Blade, shooting targets while on a Grind Rail and restoring health or shields on a Grind Rail. Meanwhile, learn what the best weapons are, new map changes, how to get XP fast, use the best PC settings, earn the Victory Umbrella and earn a Victory Crown.
---
There's another Lantern nearby, in the park between Flawless Fashion and Bounty Boulevard.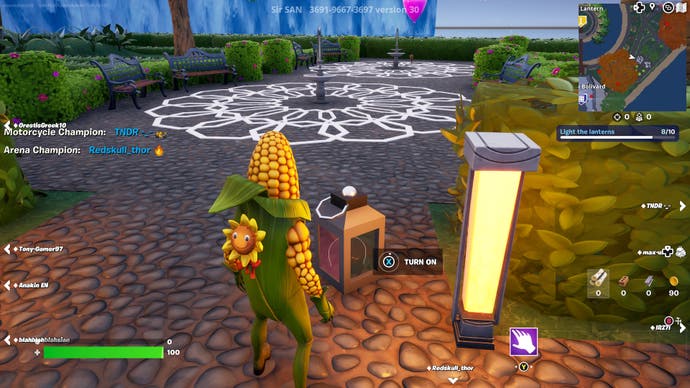 Now, make your way over to Furious Fighters. There's a small castle here, with a Lantern inside it.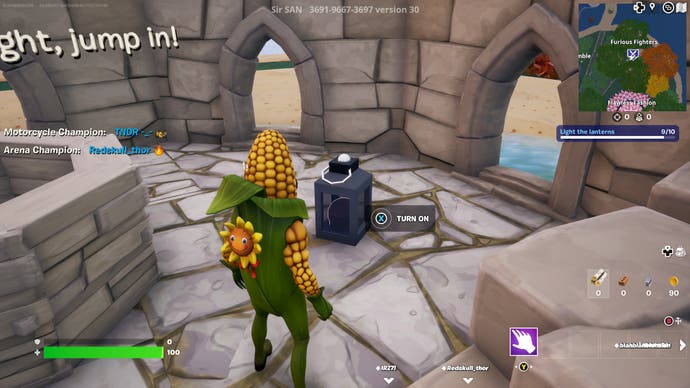 Race Rumble is your next destination, where you'll find a Lantern near the entrance.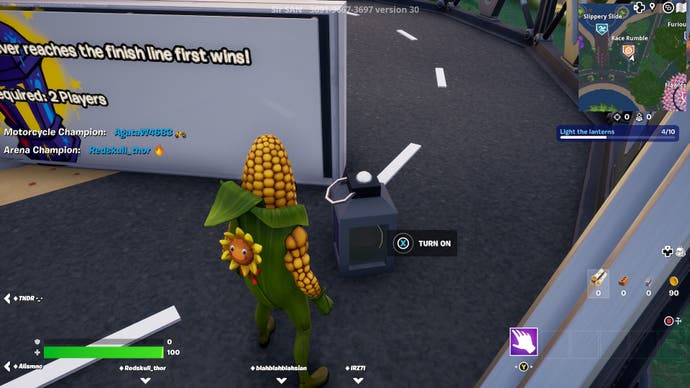 The final Lantern is located at the entrance to Slippery Slide.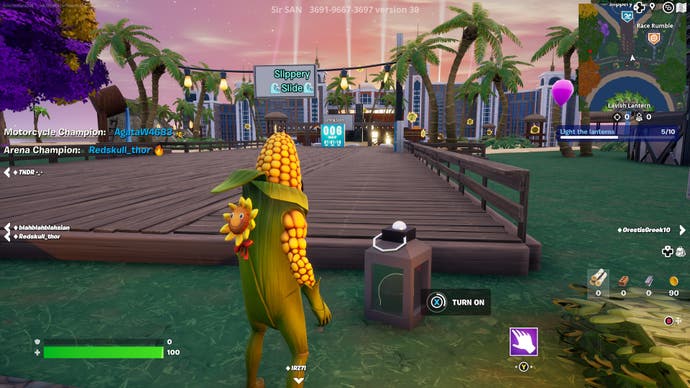 Once you have found all 10 Lanterns you will be awarded with 13,051XP, as well as some progress towards the Lantern Fest challenges and exclusive rewards.
If you would like to learn more about Fortnite Chapter 4 Season 2, visit our guides on Loot Island, hot springs, Battle Pass skins, the Eren Jaeger skin, and Augments.
Have fun during Lantern Fest!