All hot spring locations in Fortnite
Here's where to find hot springs in Fortnite and how to use them to restore your health.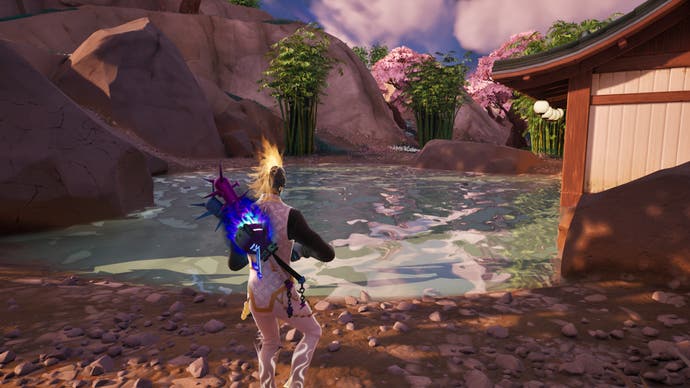 Restoring your health in a hot spring in Fortnite is one of the seasonal challenges for Chapter 4, Season 2. It's one of the riskier challenges because the hot springs are quite exposed and entering them with damaged health can put you in danger.
That being said, as it's one of the Fortnite seasonal challenges, it's always worth trying to do. Even when the challenge has been completed, if you find yourself in trouble and without medical supplies, the hot springs may be your lifeline.
Without further ado, we're going to show you all hot spring locations in Fortnite and how to use a hot spring to restore your health.
On this page:
All hot spring locations in Fortnite
Fortunately, all of the hot springs in Fortnite are located in Steamy Springs. Each hot spring is close to one another in this area, and we've marked all of them on the map below.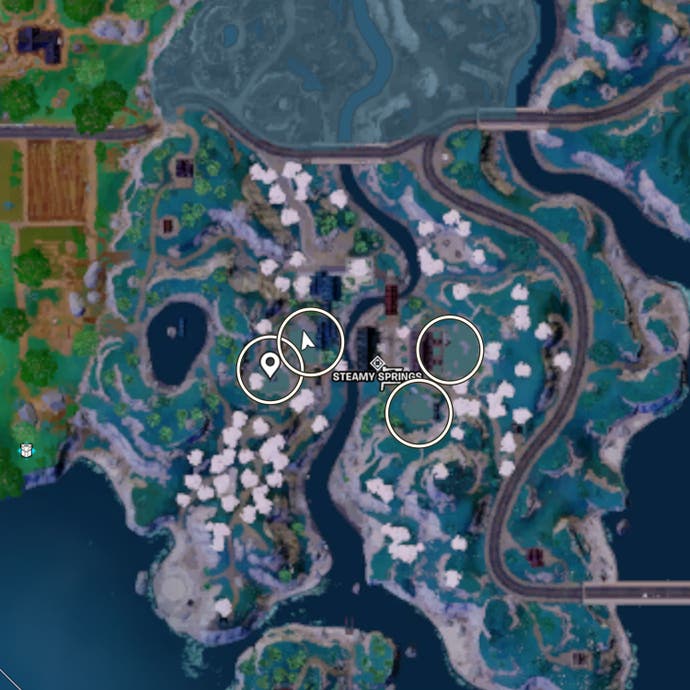 You can tell which bodies of water are hot springs when you walk up to them as some will be bubbling and all of them will have cloudy water. It's easy to distinguish them from regular bodies of water because those are clear.
---
Fortnite Chapter 4 Season 2 is here and with it comes Force Abilites and Lightsabers in the Star Wars 2023 event and a new selection of Battle Pass skins! Take a look at the Eren Jaeger skin too! If this is something you want, take a look at our challenge guides that show you the Jaeger's Family Basement location, plus how to find and use ODM Gear. Don't forget to complete the new challenges, including winning arcade games, knocking back players with the Kinetic Blade, shooting targets while on a Grind Rail and restoring health or shields on a Grind Rail. Meanwhile, learn what the best weapons are, new map changes, how to get XP fast, use the best PC settings, earn the Victory Umbrella and earn a Victory Crown.
---
How to use a hot spring to restore health in Fortnite
To complete this seasonal challenge, you need to find a hot spring and restore your health in it. To do this, you need to have a damaged health bar and you need to swim in one of the hot springs to recover your health.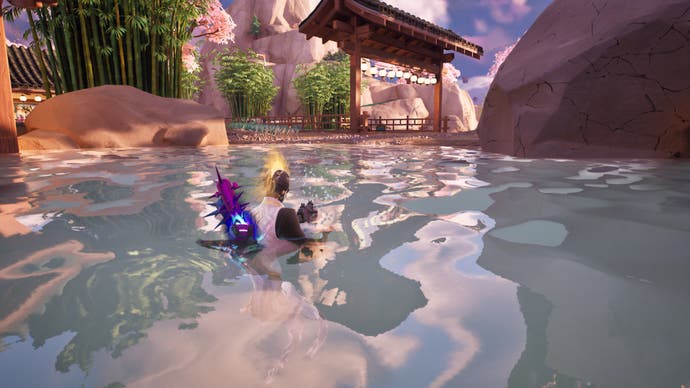 Your health will gradually recover while you are in the hot spring, but be careful as they are quite open and you will be vulnerable while you are in them.
Now that you know how to complete this seasonal challenge, you can continue battling other players for supremacy in Fortnite.