How to gather laid eggs in Fortnite
How to complete this Spring Breakout challenge.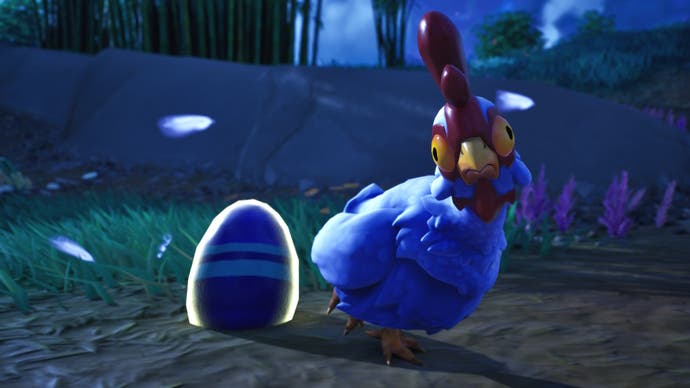 Gather laid eggs is one of the Spring Breakout challenges in Fortnite Chapter 4, Season 2.
It's not immediately clear where to get them, so we'll detail how to gather laid eggs in Fortnite below.
There are three stages to this challenge, and you'll earn 20k XP for completing each stage, which can help you earn Battle Stars for this season's Battle Pass.
For completing 12 and 22 Spring Breakout challenges, you'll also be rewarded with the Nannerbloom Hammer Pickaxe and Fresh Flyer Glider, respectively. You can also get the Bloomback Sack Back Bling for visiting three cherry blossom displays.
How to gather laid eggs in Fortnite
Laid eggs are found near chickens in Fortnite for the Spring Breakout event. We've got more detail in our chicken locations page, but in general, we found chickens laying eggs around Frenzy Fields - more commonly in the western fields.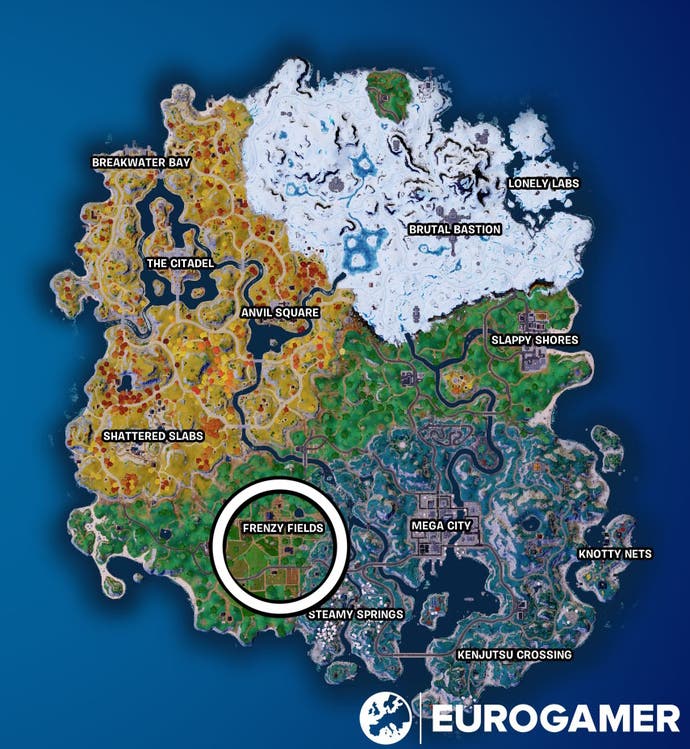 All you have to do to gather the laid eggs is to follow a chicken until it lays an egg, then press the prompt that appears to 'Gather'. This was the 'Y' button for us on Xbox.
The easiest way to keep on gathering laid eggs is to follow the chicken. It will lay an egg around every ten seconds, so you'll soon have a whole basket's worth!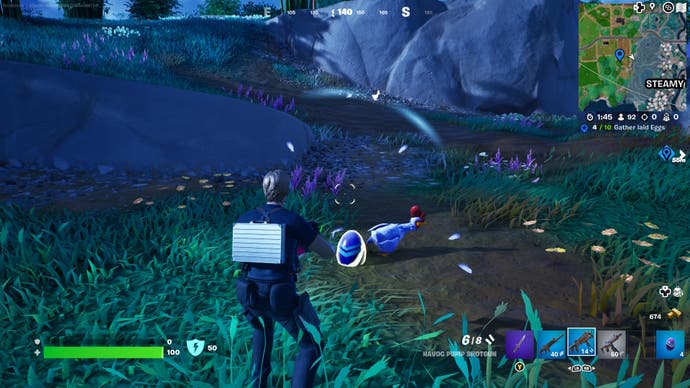 We recommend turning on the 'Visualize Sound Effects' in the sound settings so you can see the general direction of where a chicken is located, if you're near one.
---
Fortnite Chapter 4 Season 2 is here and with it comes Force Abilites and Lightsabers in the Star Wars 2023 event and a new selection of Battle Pass skins! Take a look at the Eren Jaeger skin too! If this is something you want, take a look at our challenge guides that show you the Jaeger's Family Basement location, plus how to find and use ODM Gear. Don't forget to complete the new challenges, including winning arcade games, knocking back players with the Kinetic Blade, shooting targets while on a Grind Rail and restoring health or shields on a Grind Rail. Meanwhile, learn what the best weapons are, new map changes, how to get XP fast, use the best PC settings, earn the Victory Umbrella and earn a Victory Crown.
---
After you've gathered them, you might want to consume the eggs for different effects.
Here's what effect each egg has in Fortnite:
Heal eggs - Restores health and shields
Hop eggs - Low gravity effect and restores health
Gold eggs - Rewards gold bars
The gold eggs are the rarest to find, as there's only a small chance that a chicken will lay one.
Additionally, you can instantly get an Egg Launcher and some hop eggs by picking the 'Springtime Blowout' Augment new to this event. This most likely won't count towards gathering laid eggs, but you can get some easy hop eggs this way if you want to jump in low gravity.
If you would like to learn more about Fortnite Chapter 4 Season 2, visit our guides on Battle Pass skins, the Eren Jaeger skin, Augments, and the new Victory Umbrella.