How to solve the Fortnite green Lantern Puzzle at Lantern Fest Tour island
You'll need to check a particular social account to get the answer.
Fortnite's Lantern Fest has added a brand new island experience, filled with puzzles to complete and XP to earn.
Fortnite's Lantern Fest Tour island is home to four puzzle rooms, which will open a central area on the map when completed. The green puzzle is now live, and tasks players with lighting fires in the correct order.
Here's how to solve the green lantern puzzle in Fortnite, so that you can work towards unlocking all of the new rewards associated with Lantern Fest 2023.
How to solve the Fortnite Green Lantern puzzle at Lantern Fest Tour island
The green Lantern Puzzle can be found next to Cozy Court in Fortnite's Lntern Fest Tour island. Once you enter the puzzle room, you will see five columns that need to be lit in the correct order. The only hit you get is to vivit @fortniteME on Instagram and Twitter and look for a specific reply.
At this point, this particular comment is very difficult to find, but fret not, the solution is listed below:
Camel (red)
Sun (blue)
Island (purple)
Cactus (yellow)
Tree (green)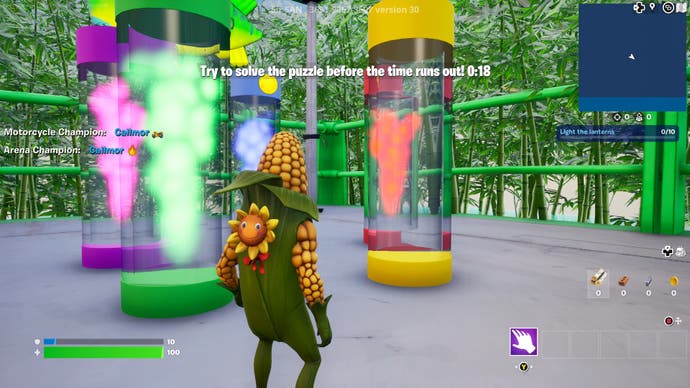 Once you've solved this puzzle you will earn some XP, as well as some progress to the overall Fortnite Lantern Fest questline. There are three other Lantern Puzzles to complete, but they haven't been added into the game yet. You can check the arrival times inside the Lantern Tour Fest island once they have been announced. For now, the green one is the only one available.
---
Fortnite Chapter 4 Season 2 is here and with it comes Force Abilites and Lightsabers in the Star Wars 2023 event and a new selection of Battle Pass skins! Take a look at the Eren Jaeger skin too! If this is something you want, take a look at our challenge guides that show you the Jaeger's Family Basement location, plus how to find and use ODM Gear. Don't forget to complete the new challenges, including winning arcade games, knocking back players with the Kinetic Blade, shooting targets while on a Grind Rail and restoring health or shields on a Grind Rail. Meanwhile, learn what the best weapons are, new map changes, how to get XP fast, use the best PC settings, earn the Victory Umbrella and earn a Victory Crown.
---
If you would like to learn more about Fortnite Chapter 4 Season 2, visit our guides on Loot Island, hot springs, Battle Pass skins, the Eren Jaeger skin, and Augments.
Have fun solving all of the puzzles on Lantern Fest Island.