Fortnite 15 bouncy ball bounces: How to get 15 bounces in single throw easily
Struggling to get the bouncy ball to, well, bounce? Here's a quick way to do it.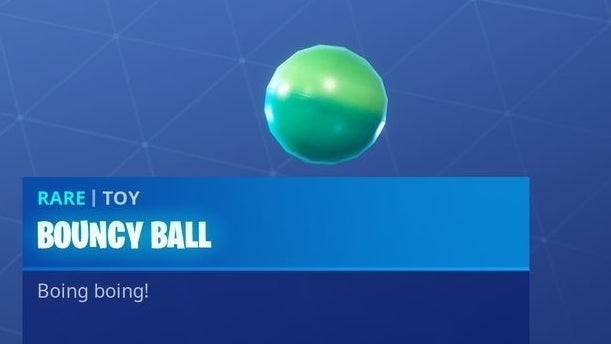 Using the Fortnite bouncy ball and making it bounce 15 times is Fortnite's many Weekly Challenges.
Completing it will give you additional XP to help go towards your many Season 8 rewards.
---
Note this particular challenge is no longer able to be completed. What's new? Chapter 4 Season 2 has arrived! New additions include the Grind Rails and Kinetic Blades, along with the new Battle Pass, character collection and Eren Jaeger skin. It's a good idea to know how to get XP fast in Fortnite.
---
On this page:
How to get 15 Bounces in a single throw using the Bouncy Ball in Fortnite
As one of the Fortnite Season 8's Week 5 Challenges, you need to do the following:
Get 15 bounces in a single throw with the Bouncy Ball toy (1 total, 5 Battle Stars)
First, you need to unlock the Bouncy Ball. We discuss how to get the Bouncy Ball in Fortnite later on this page, but assuming you have it, let's clarify how to get 15 Bounces in a single throw easily.
The most fool-proof way we found was to make a small room using building materials. First, gather some building materials - wood, metal or brick, doesn't matter what - and enter the building mode.
Now create a small room, consisting of four walls made of one panel each, a roof - either pointed or flat - and if required, a flat floor.
Here's what we mean, with one side missing to show the interior easier: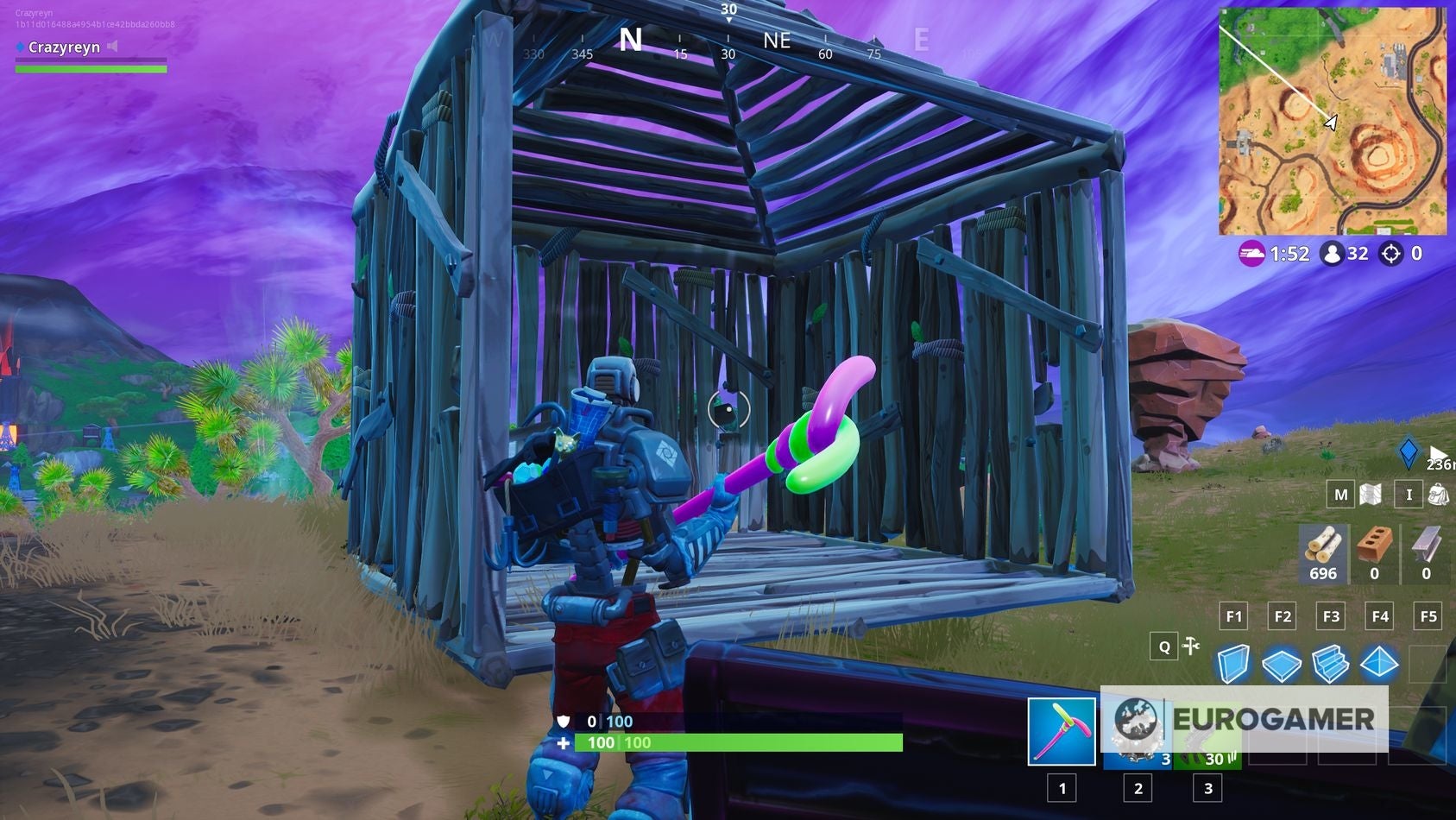 And here's what it looks like on the inside, with all four walls in place: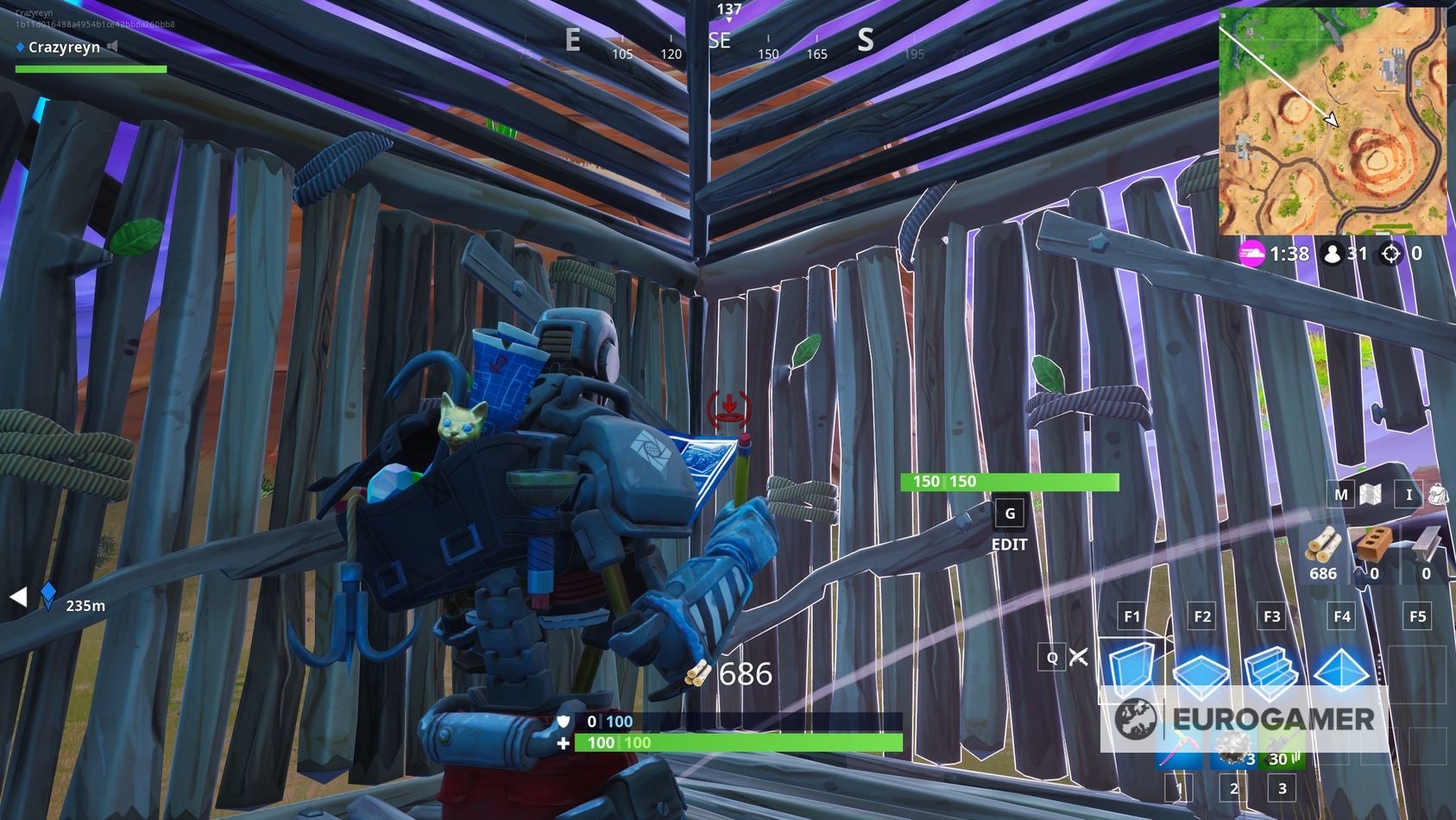 Now select the Bouncy Ball from your emote inventory, and throw it. No matter where you throw it, due to the small size of the room, it should get well over 15 bounces.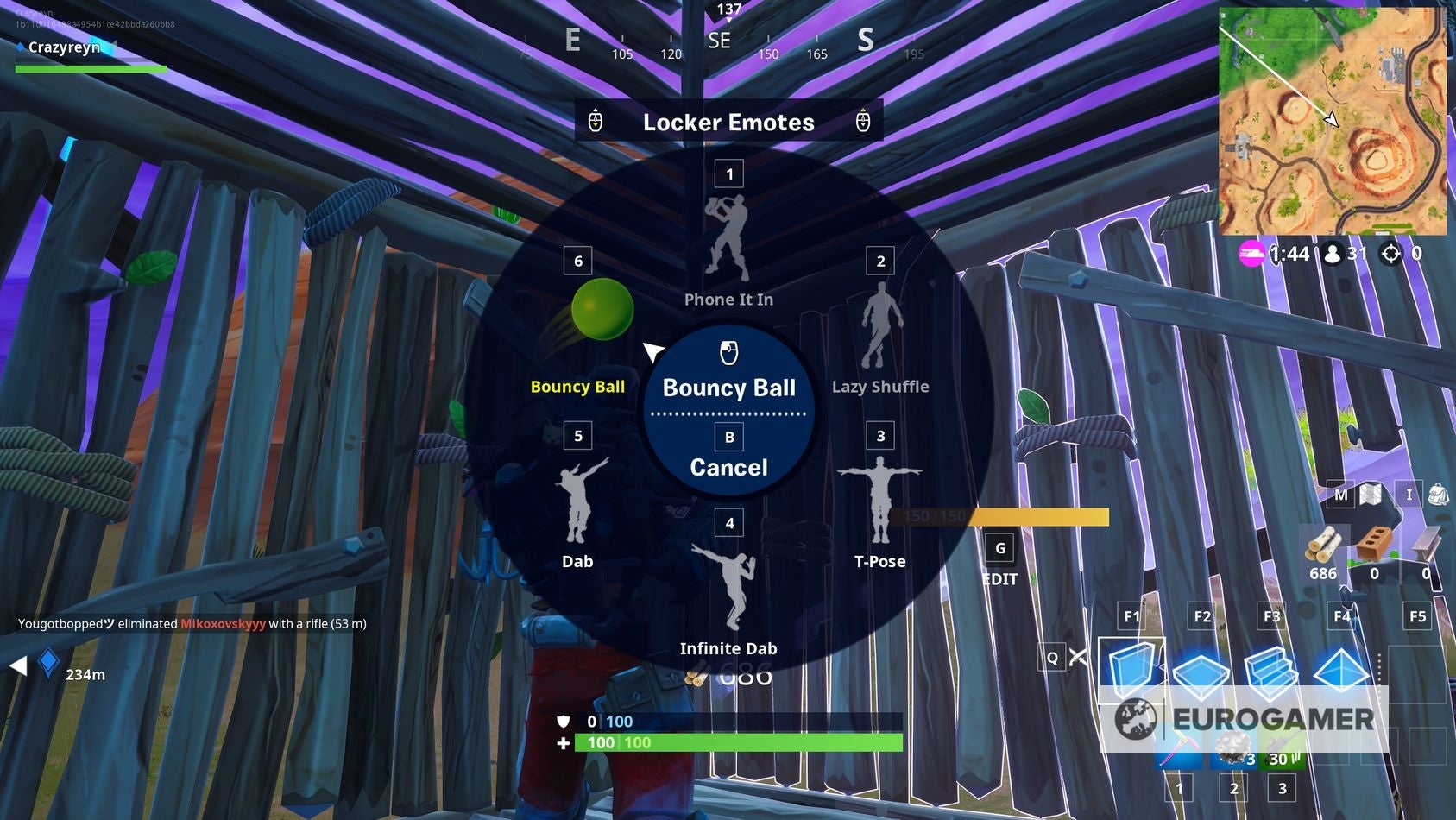 For us, it managed double that - 30 bounces. Once it has sat still, you can see how many it's done in the bottom left corner - where the player activity feed is - to learn how you did.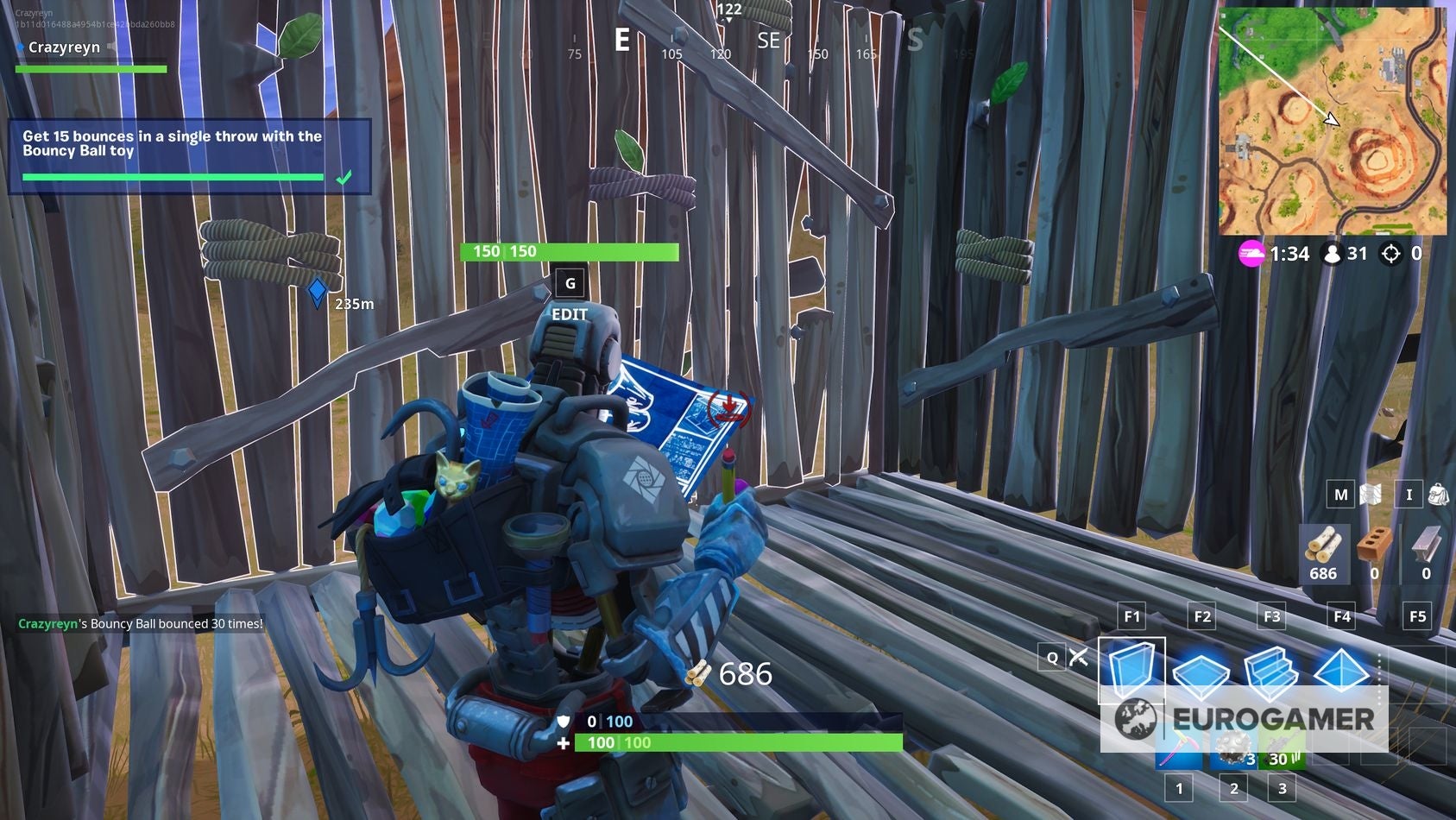 If for whatever reason that didn't work, aim in a slightly different part of the room. And if that fails, or you are struggling to build a small room like this, try and throw it inside a house anywhere on the map. Most have a small enough room you can try this in and get the same result.
Struggling still? Then try chucking it down the side of a large mountain - such as the map's volcano. Either way, once you learn that you need either a slope or multiple walls to ping it off, getting over 15 bounces should be straightforward.
---
Fortnite Chapter 4 Season 2 is here and with it comes a new selection of Battle Pass skins! Take a look at the upcoming Eren Jaeger skin too! Don't forget to complete the new challenges, including winning arcade games, knocking back players with the Kinetic Blade, shooting targets while on a Grind Rail and restoring health or shields on a Grind Rail. Meanwhile, learn what the best weapons are, new map changes, how to get XP fast, use the best PC settings, earn the Victory Umbrella and earn a Victory Crown.
---
How to get Fortnite Bouncy Ball
Before you can complete the 15 bounces challenge, you first need to unlock the Fortnite Bouncy Ball.
The Bouncy Ball is a Season 8 Battle Pass reward, and you need to complete a total of 26 tiers before the Bouncy Ball unlocks.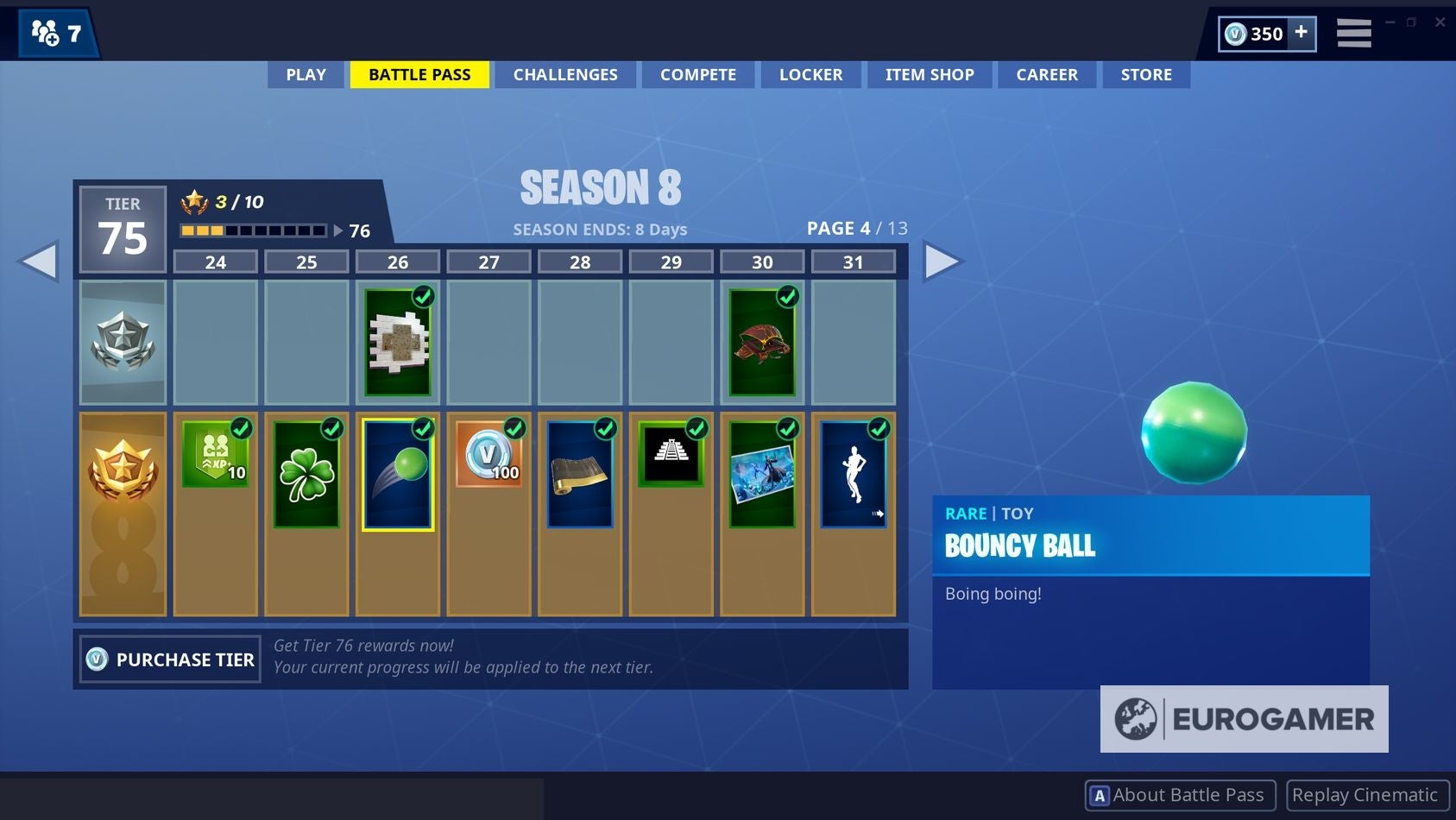 Once you have unlocked it, then you need to equip it. Head to the Locker screen, then find it among your emotes. Remember where it is, so when you need to complete the 15 Bounces challenge, you can do it quickly.