Everything announced at The Game Awards 2020
Perfect Dark! Mass Effect! Vin Diesel! Much more!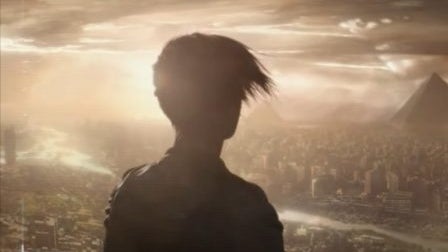 A brand new Perfect Dark game from Microsoft, a first look at the next Mass Effect and a prehistoric take on Fast & Furious all featured in last night's announcement-packed The Game Awards 2020, which I'm still telling myself wasn't all just some 2020-induced dream.
If you're catching up today, or would just like a reminder of all the weird reveals that really did actually happen, here's everything unveiled in last night's show.
Perhaps the biggest surprise of the night was of a big return for Perfect Dark, now in development at the recently-founded Microsoft studio The Initiative. We saw an early concept video for the game, which looks to be set in the near future, and got confirmation that agent Jo Dark would be back for the first time in over decade:
Speaking of Microsoft, we also finally got confirmation that Master Chief was joining Fortnite, alongside a replica of the iconic Blood Gulch map for you to play a Capture the Flag-esque mode on.
And in other Xbox news, we got welcome confirmation the excellent Microsoft Flight Simulator would land on Xbox Series X/S next summer, while you can get the Cyberpunk 2077 car in Forza Horizon 4 today.
BioWare brought a couple of big - if rather vague - trailers to the show. Firstly, it once again teased its next Dragon Age in a stylish new cinematic. The video seemed to suggest the game may end up just being called Dragon Age, even though it clearly continues the saga's story post-Inquisition.
Then, to round out the show, BioWare shared a first teaser for its next Mass Effect game. This video appears to confirm a return to the original trilogy's Milky Way setting - and ends with the reveal of a very familiar blue face. Much more on what all this means here.
Outside of appearing in some nice musical medleys, Nintendo was pretty light on announcements - though it did confirm Final Fantasy character Sephiroth was the next character coming to Super Smash Bros. Ultimate. Separately, Capcom confirmed a Ghosts n' Goblins remake for Nintendo Switch and plans to re-release many classic retro games.
We got our first look at NieR Replicant gameplay, and a initial glimpse at Back 4 Blood - the new game that looks a lot like Left 4 Dead from many of the same people who made Left 4 Dead.
On the subject of spiritual successors, last night saw the reveal of The Callisto Protocol. Developed by Dead Space executive producer Glen Schofield's Striking Distance Studios, it was described as a new take on sci-fi survival horror set in space. Dead Space fans, keep your eyes on this:
Fans of release dates should note Oddworld: Soulstorm is now due spring 2021, Sumo Digital's Hood: Outlaws & Legends is due in May 2021, many Yakuza games are coming to PC and Xbox Game Pass and Super Meat Boy Forever finally releases on the Epic Games Store this month.
The Elder Scrolls Online was shown to be getting Oblivion in an eye-catching trailer featuring the land that was of course the setting of Bethesda's PC and Xbox 360 classic. As ever, these trailers are well worth a watch.
Various announcements were made in the world of Call of Duty, including prop hunt and Nuketown Holiday for the increasingly lengthily-named Call of Duty Black Ops Cold War Season One. Warzone, meanwhile, is getting two new Gulags, one of which is a replica of the original Nuketown.
One of the best trailers for the night - and which had all of us guessing whether it was for a new prehistoric Fast and Furious, a Turok reboot or a bizarre Horizon Zero Dawn spin-off - was this amazing piece of cinematography starring Vin Diesel. Spoilers: it's for Ark 2.
We got a gameplay trailer for Warhammer 40,000: Darktide, which Wes reckoned looked great, and a first look at Crimson Desert, from the developer of Black Desert Online, which did look pretty incredible.
I really liked the look of Open Roads, the next game from Gone Home and Tacoma developer Fullbright which stars the vocal talents of Kaitlyn Dever and Keri Russell. Published by Annapurna, it is exactly what you'd hope for from a game featuring all of the above.
Also impressive was Season, which looks to be a very different game from developer Scavengers Studio to its previous survival/battle royale outing Darwin Project. Host Geoff Keighley called it a game about "exploring and recording disappearing cultures".
Another game very different from its predecessor is It Takes Two, a fantastical adventure starring a couple in a fractured relationship who are turned into dolls. It's the next game from Hazelight, which previously made prison break adventure A Way Out.
Speaking of changes, we got a look at Disco Elysium: The Final Cut, a free upgrade to the game as well as a standalone release which will add in full voice acting, as well as a Director's Cut release for Sea of Solitude, which arrives for Nintendo Switch in March.
Another nice freebie is today's addition of the Swedish Chef from The Muppets joining Overcooked! All You Can Eat, available for a limited time. The chef even made an appearance during the awards, though we weren't quite sure what he was saying.
2020 smash hit Among Us unveiled its upcoming new map set on an airship, with ladders and floating platforms for you to hang around and be sus in:
We also got our first look at gameplay of Ruined King, the single-player League of Legends RPG and Dungeon of the Endless, Amplitude's spiritual successor Endless Dungeon.
Other things you may have missed include a Just Cause mobile game, an Evil Dead game, a weird western from the Shadow Warrior team Flying Wild Hogs named Evil West and that classic Unreal Tournament weapons are back... via Warframe.
Oh, and there were some awards. Anything take your fancy?