Prop Hunt, Nuketown Holiday and 2v2 Gunfight confirmed for Call of Duty: Black Ops Cold War Season One
To arms!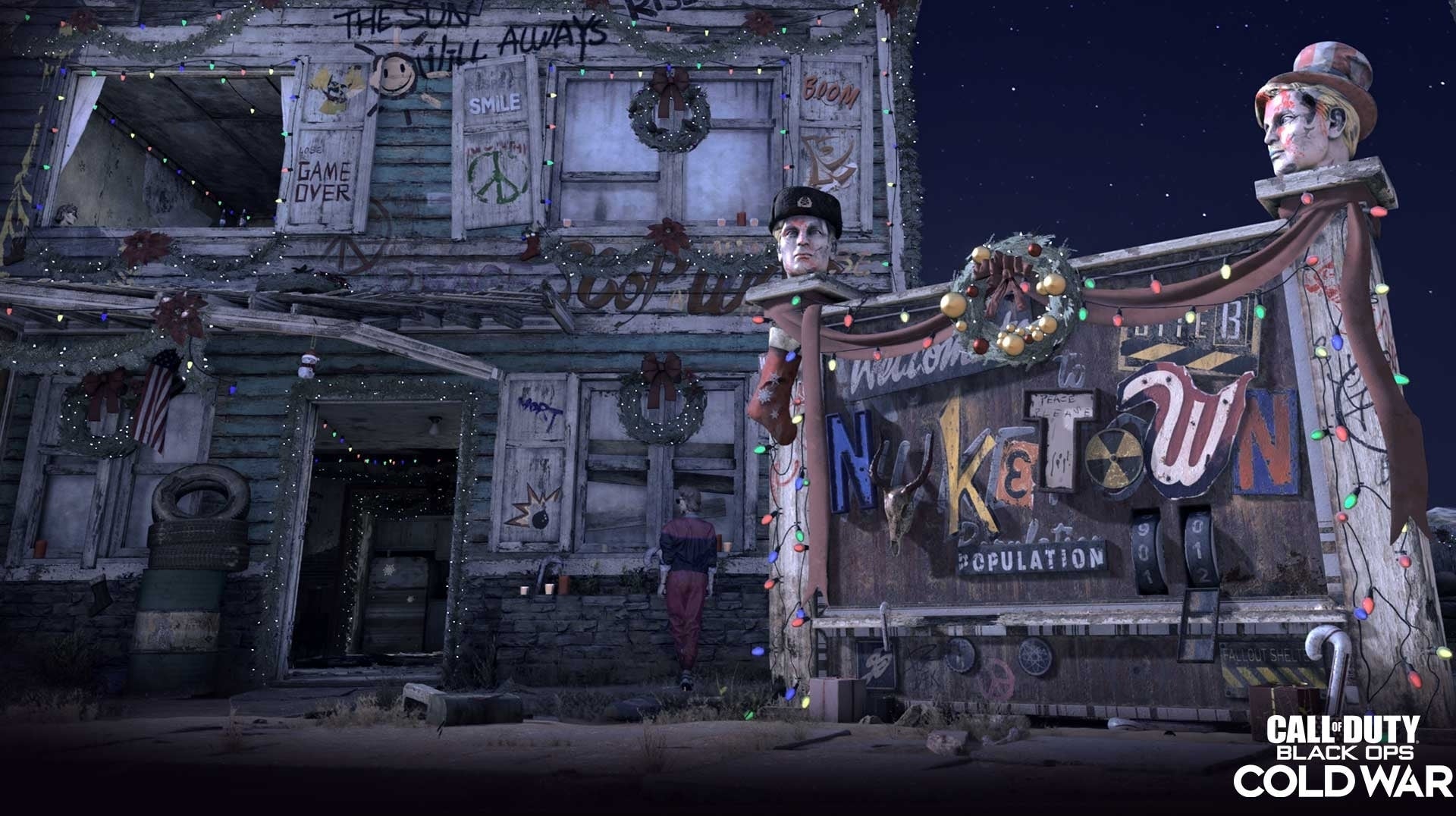 Activision has announced everything coming to Call of Duty: Black Ops Cold War in season one.
Season one, which begins on 16th December, adds three new operators: the already-announced Stitch, Bulldozer, and Zeyna.
There are five new weapons: the MAC 10 SMG (launch week), the Groza assault rifle (launch week), the Streetsweeper shotgun (in season), the Sledgehammer melee (in season), and the Wakizashi melee (in season).
You get the MAC 10 at tier 15 of the season one battle pass just by playing, and the Groza at tier 31 just by playing. You get the Streetsweeper, Sledgehammer, and the Wakizashi either by completing a related challenge, or by buying a bundle with a blueprint from the weapon family when it appears in the store.
Meanwhile, Black Ops Cold War is getting the excellent 2v2 Gunfight mode from Modern Warfare in one of four brand-new maps. It's also getting fan-favourite Black Ops mode Prop Hunt in launch week. And there's a brand new 6v6 mode called Dropkick coming in season one. Here's the official blurb on Dropkick:
"This frantic game of nuclear hot potato features two teams each vying for control of a special and extremely important briefcase. The round begins with each team racing to the location of the nuclear briefcase and attempting to pick it up. Anyone grabbing the briefcase is automatically equipped with a powerful pistol, but it's ideally up to the rest of the team to keep the briefcase-carrier safe. The team with the case gains access to launch codes, as well as an ever-increasing score for their team.
"If you die while your team controls the briefcase, you will not respawn until your carrier has been eliminated and the briefcase has been dropped. If your team isn't carrying the case, it must be flushed out and retrieved before it's too late. Once one team reaches the score limit by controlling and owning the briefcase, orders to execute a nuclear strike are confirmed, and the round is won... in a highly explosive manner! The first team to 200 score wins."
There are eight new multiplayer maps coming in season one: The Pines (6v6) (launch week), Raid (6v6) (launch week), Nuketown '84 Holiday (6v6) (launch week), four Gunfight maps, and a new Fireteam map called Sanatorium.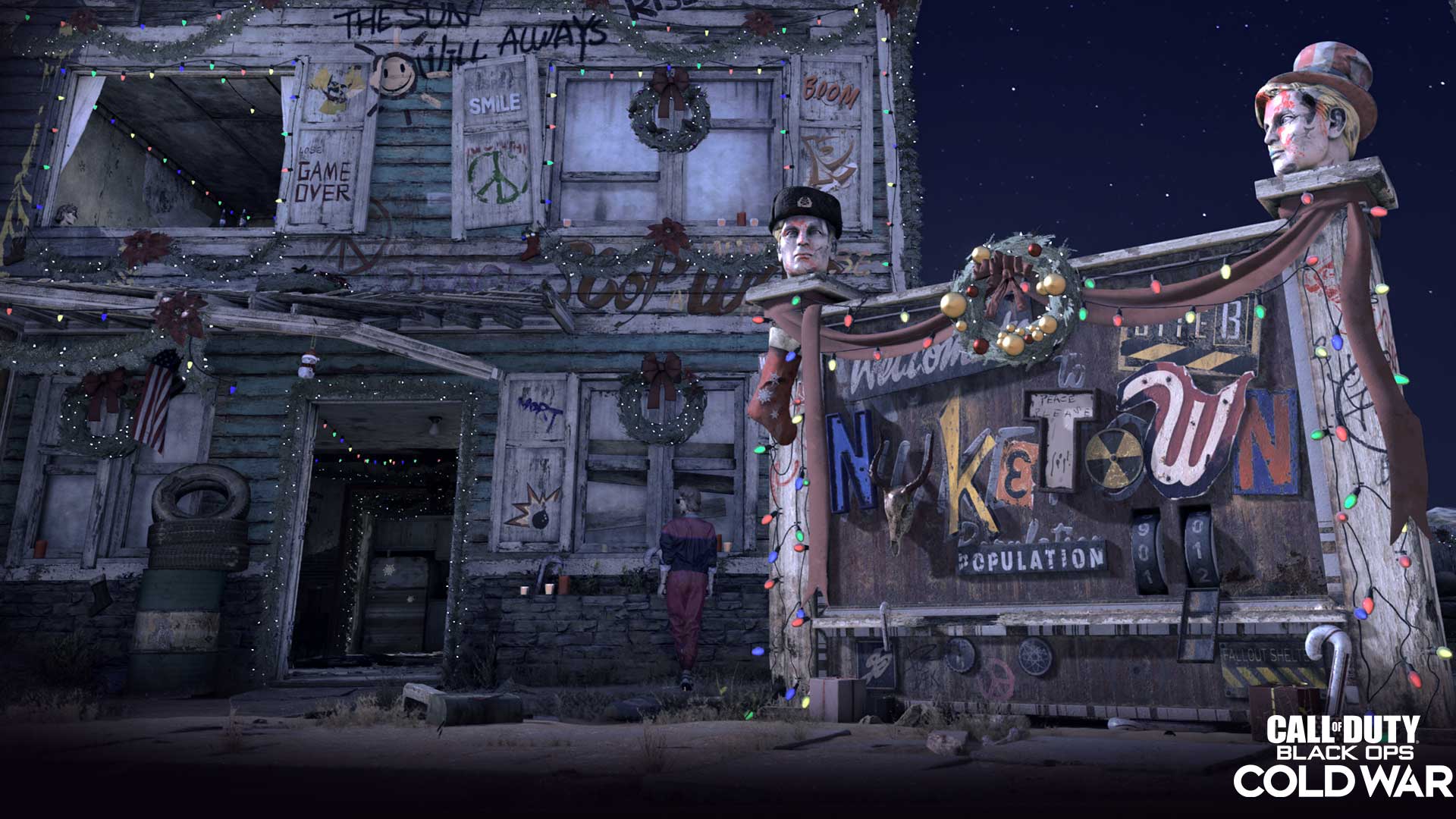 There's a new scorestreak, the H.A.R.P., coming in launch week. This is a plane that shows both enemy positions and their directions on the mini-map. And there's a new vehicle, the Tactical Raft, coming in season one. This is a fast-moving boat you'll find in the lake in the Sanatorium Fireteam map.
Moving on to Zombies, there's a limited-time Christmas mode that turns Die Maschine into a winter wonderland, and another limited-time mode called Cranked. Here, if you spend too long without killing a zombie you'll blow up.