Warzone Haunting release time, Scream and Donnie Darko bundles and what's new in Warzone's Halloween event
I can't wait to hear you scream.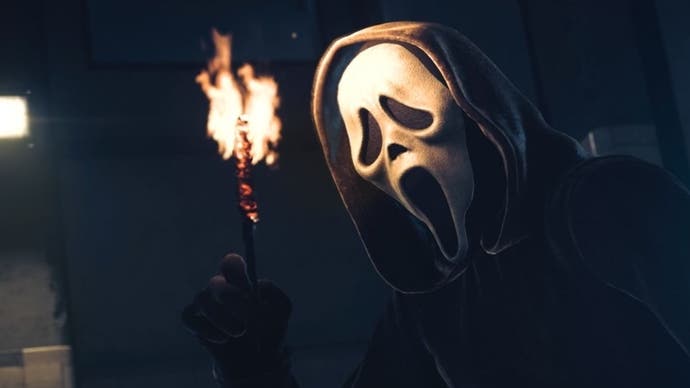 Ready for a scare? Here's everything there's to know about The Haunting in Warzone, including the Scream and Donnie Darko bundles.
The Haunting is this year's Warzone Halloween event.
Launching in late October, it will transform the map in a number of ways through several playlists, infusing some old-time favourites with a Halloween-themed aesthetic.
There will also be several new challenges on offer for both Black Ops Cold War and Warzone, rewarding you with blueprints and a new SMG if you complete them all in either game. Here's everything you should know about Warzone's The Haunting release time and both Scream and Donnie Darko bundle available.
---
Currently, as of Warzone Season 4, you can no longer complete this activity. If you're looking for more help, check out our on-going best Warzone weapons page and the Vanguard Royale meta.
---
On this page:
When does the Warzone Halloween event come out? Black Ops - Cold War and Warzone The Haunting release time in BST, CEST, EDT and PDT explained
Warzone's The Haunting start date is Tuesday, October 19th and the update is expected at the following times:
UK: 6pm (BST)
Europe and the Middle East: 7pm (CEST)
East Coast US: 1pm, EDT)
West Coast US: 10am (PDT)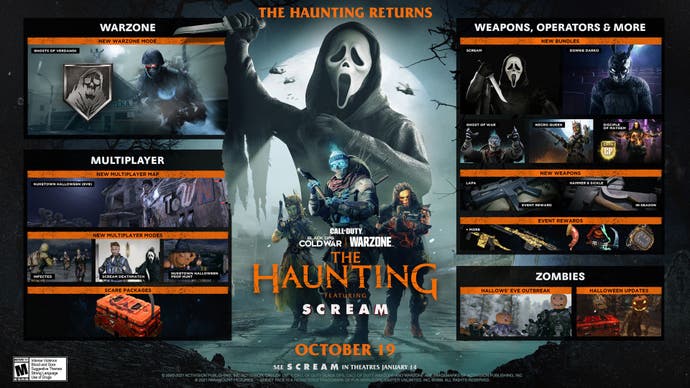 These times are based on when previous events go live. In terms of downloads, provided you have updated either Black Ops Cold War or Warzone within the past week, you should have everything you need to play the event right away! No extra downloads required this time around.
Warzone's The Haunting end date
Warzone's The Haunting runs between Tuesday, October 19th to Tuesday, November 2nd, 2021.
With the event running across two weeks, expect new playlists and bundles to come in and out of rotation - so if you're keen to get your hands on something, keep tabs on the game for the duration!
Warzone's The Haunting update details explained
Following on the steps of Haunting of Verdansk, you can expect activities across both Warzone and Black Ops Cold War, including sets of challenges with a new SMG and blueprints up for grabs, map changes and much more. This includes:
The Haunting event: Two sets of nine challenges at launch (one for Warzone and one for Black Ops Cold War) with 19 items to earn, including Weapon Blueprints
New weapon: Completing all nine challenges in either game will reward you with the LAPA SMG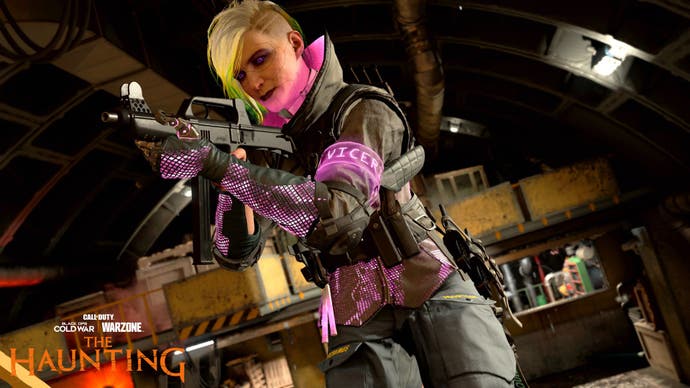 Ghosts of Verdansk Limited-Time mode: A 'Haunted' version of Verdansk in Warzone, following up as a spiritual successor to Zombie Royale, has you fighting other players and ghostly enemies as well
"Exclusive to this mode, manage your Fear level by playing well and staying in Sacred Ground, lest your Operator succumb to the darkness," says an official blurb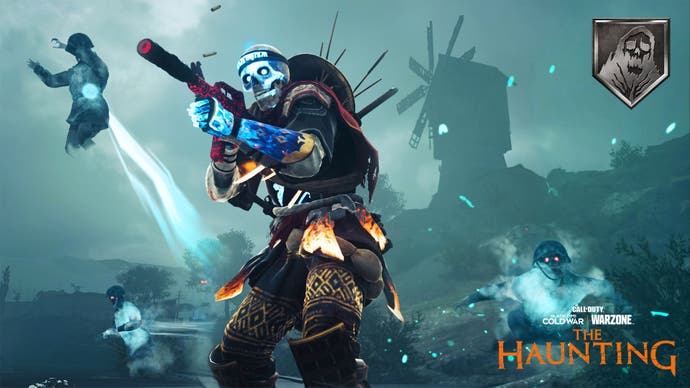 New Black Ops Cold War map theme: Nuketown Halloween
New Limited-Time modes: Infected, Prop Hunt Halloween and Scream Deathmatch
New Outbreak challenge: Hallows' Eve
New weapon: Hammer and Sickle melee weapon (Tuesday, November 2nd)
New store bundles with a Halloween theme, including those based on movie franchises such as Scream and Donnie Darko
---
Warzone Season 5 is almost here! If you want to learn more about firepower from previously, we explain the best Welgun loadout, best Cooper Carbine loadout, best Gorenko Anti-Tank Rifle loadout, best STG44 loadout, best MP40 loadout, best Automaton loadout, best BAR loadout, best Combat Shotgun loadout, best Type 100 loadout, and best Kar98k loadouts.
---
Scream and Donnie Dark bundles and skins in Warzone and Black Ops: Cold War explained
Ghostface, known for the iconic horror movie series Scream, as well as Frank the Rabbit from the film Donnie Darko, are now part of Warzone and Black Ops Cold War.
Similarly to Rambo or John McClane, Ghostface is its own operator. Frank the Rabbit, on the other hand, lives as a skin for Baker.
As with those skins, these aren't tied to a challenge but a purchasable bundle for each, detailed below (prices are still TBA):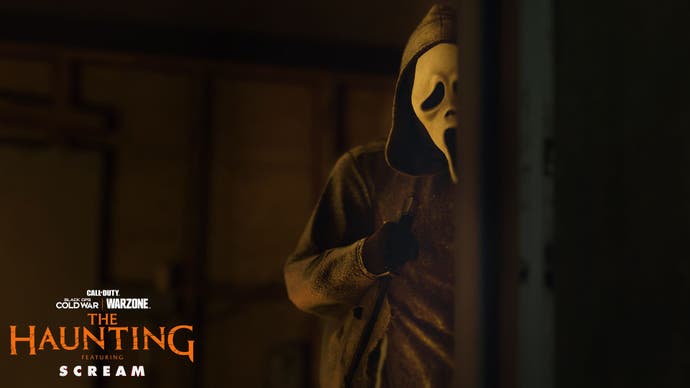 Limited-Time Scream Operator Bundle (Tuesday, October 19th)
New operator: Ghostface (Scream)
Three weapon blueprints: Ghost Blade (knife), other two blueprints are TBA
Finishing move: Violent End
Weapon charm: Cordless Phone
Wrist accessory: Scary Hours (watch)
Animated calling card and emblem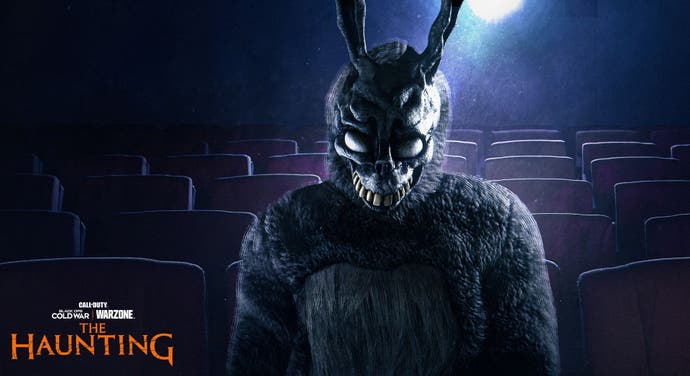 Tracer Pack: Donnie Darko Limited-Time Bundle (Tuesday, October 24th)
New operator skin for Baker: Frank the Rabbit (Donnie Darko)
Three weapon blueprints: one Sniper Rifle, one SMG and one Assault Rifle (all three are TBA)
Finishing move: Sky is Falling
Weapon charm: TBA
Wrist accessory: TBA
Animated calling card and emblem
Make the most out of your time during the Haunting!