Classic Unreal Tournament weapons are coming to Warframe
Taking flak.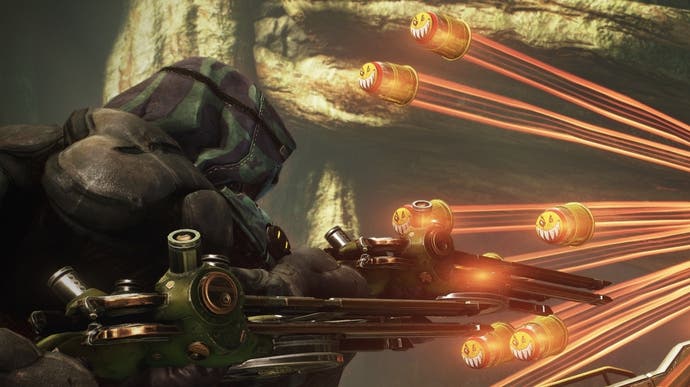 Warframe is joining the Epic Games Store, and will get a pack of three classic weapons from Unreal Tournament to celebrate.
There's history to this crossover, of course. Warframe developer Digital Extremes once worked with Epic on the original Unreal Tournament, more than two decades ago.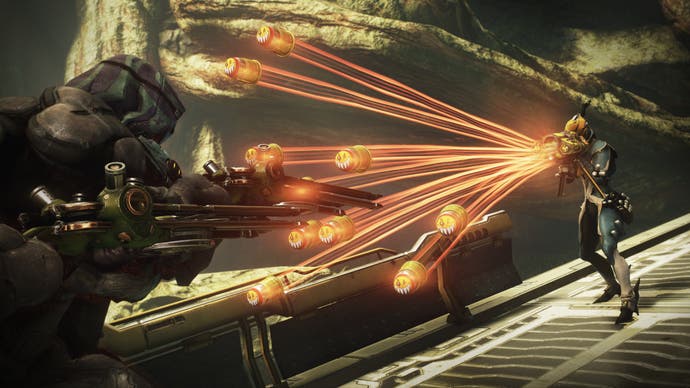 Now, the hugely-popular Warframe will host UT's Flak Cannon, Rocket Launcher and Shock Rifle. These weapons will be free and exclusive to the Epic Games Store for a limited time, until 24th December.
In-universe, these weapons have Warframe names: the Drakgoon, Ogris and Stahlta. But they're clearly based on their UT originals, and will come with skins to mimic their classic looks. Even the flak cannon shells have their smiley faces!
"When we started working with Epic Games on Solar Winds and Epic Pinball, we had no clue they would lead to the collaborative decade of work that would blossom into the Epic's Unreal franchise," said Digital Extremes boss James Schmalz, who worked on UT back in the day. "Fast forward nearly two decades to our current success, Warframe, and it's humbling to see a couple of those early weapons we created introduced into our universe. To see some of that collaboration happening again today is incredibly exciting."
Back in September, Warframe announced it would shrink its size by "at least" 15GB on PC, while more recently the game detailed its PlayStation 5 and Xbox Series X/S enhancements.