Fortnite Tomato throwing explained: How to hit a player with a Tomato
Confused by where to find Tomatos in Fortnite? This article can help.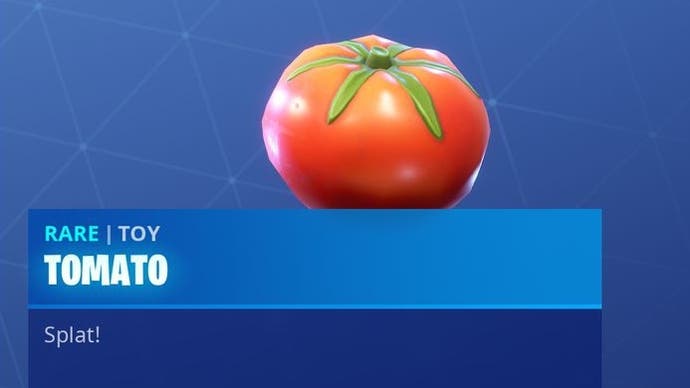 Where to find throwing tomatoes in Fortnite
Tomatoes are one of the new Toys introduced to Fortnite in the Season 6 Battle Pass.
Like the previous season's Toys, it takes a little while to unlock, and will appear in your inventory as soon as you hit Tier 28 - so not the most immediately accessible unlockable.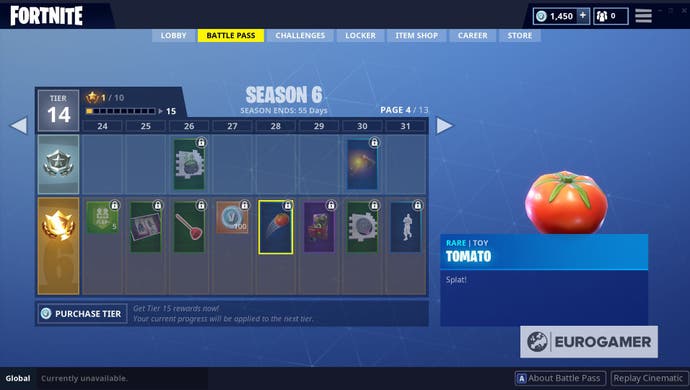 Like Toys from previous seasons, you have to equip it before you can use it. Head to your inventory, then Emotes, and assign it to one of the slots.
Now whenever you use it in a match, you'll throw a tomato wherever you're aiming.
---
Fortnite Chapter 4 Season 4 is here! To help you get started with this heist themed season, we have guides on how to alert a Securitry Camera, secure data from Forecast Towers and destroy weakened walls or security gates. There's also a new Victory Umbrella! Meanwhile, learn what the best weapons are, the current Augments, how to get XP fast, use the best PC settings and earn a Victory Crown.
---
How to hit a player with a Tomato in Fortnite
Here's the specifics of what you have to do for the Week 3 Challenge:
Hit a player with a Tomato 15m away or more (1 total, 5 Battle Stars)
Unlocking and equipping a Tomato is probably the hardest part, as hitting another player is pretty simple - just aim and throw.
The good news is it doesn't have to be an adversary - someone on your own team will do. Load in with duos or a squad, pick an isolated part of the map, and keep throwing them until you are the required distance before it unlocks.
If you're a solo only player, then try playing a mode such as 50v50, and find other players to lob tomatoes at. There won't be any co-ordination, so they might be not paying attention to you lobbing fruit at the them, but at least there is little risk in this mode if you miss a few times.
When you do it the once, the Challenge is unlocked. Nicely done!