Genshin Impact 3.6 livestream date and time, what to expect from 3.6 Banners
Get ready for new Banners and events.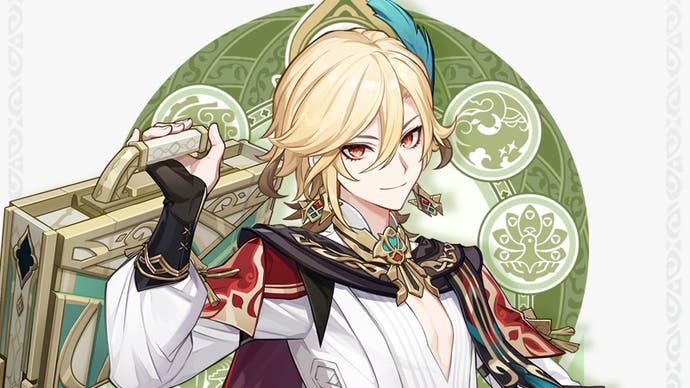 The Genshin Impact 3.6 livestream date and time has been announced, and as always, will provide information on the upcoming Banner schedule and events included with the free update.
3.6 is expected to debut 5-Star and 4-Star characters in new Banners, as well as provide the usual new and returning events.
We'll cover the exact 3.6 livestream time and date in Genshin Impact below, and also provide all the information we know about upcoming Banners from reliable leakers.
Update: If you're after the limited-time 3.6 livestream codes, be sure you check out our Genshin Impact codes page for the three codes that drop during the stream for x300 Primogems and other rewards! For all other details, visit our 3.6 Banners and events schedule.
On this page:
Genshin Impact 3.6 livestream date and time in UK, BST, CET, EDT and PDT
The Genshin Impact 3.6 livestream is on Friday, 31st March at 1pm (BST) on the official Genshin Impact Twitch channel.
In other timezones, the Genshin Impact 3.6 livestream time airs at:
UK: 1pm (GMT)
Europe: 2pm (CET)
East Coast US: 8am (EDT)
West Coast US: 5am (PDT)
The 3.6 livestream is then set to go live on the official Youtube channel an hour hour later at 2pm (BST).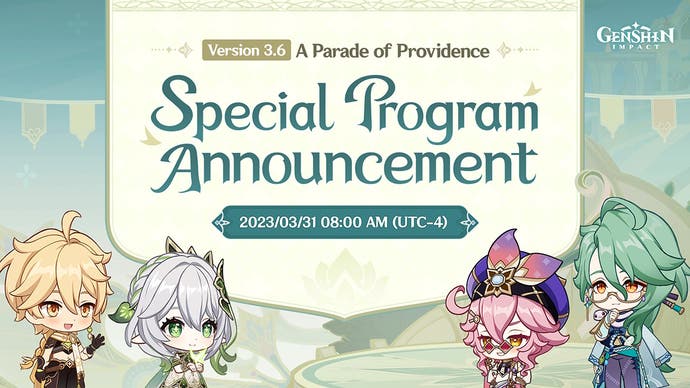 As well as upcoming Banner and event details, the 3.6 livestream will provide limited codes that will expire less than a day after the stream ends. You can visit our Genshin Impact codes page to stay up to date with these intermitent drops throughout the stream.
---
Version 3.7 is here, so redeem those new codes for Primogems if you want Yoimiya or Yae Miko - and check them out on our tier list. You'll need luck from the Pity and 50/50 systems to Wish with Fate for them and future Banners, and you always need the right Adventure Rank for events. Elsewhere, we have tips and tricks for beginners, Dendroculus locations, fishing locations, and TCG card locations.
---
What to expect from Genshin Impact 3.6 Banners
We'll have to wait for the 3.6 livestream for official details on who the character event Banners will be, but there has been some leakers and official marketing providing information on the possible upcoming 3.6 Banners for Phase 1 and Phase 2.
As their drip marketing has started on Genshin Impact's Twitter, and beta leaks have shown them in action, we're pretty confident that Kveh and Baizhu will be included in the next Genshin Impact Banners.
According to leaks compiled by the saveyourprimos website, Baizhu is a 5-Star Dendro catalyst user, and Kveh is a 4-Star Dendro claymore user.
◆ Baizhu
◆ Beyond Mortality
◆ Owner of Bubu Pharmacy
◆ Dendro
◆ Lagenaria#GenshinImpact #HoYoverse #Baizhu pic.twitter.com/VZJYnkPnw1

— Genshin Impact (@GenshinImpact) February 24, 2023
We're less confident on who the rerun Banners will be, but according to the same information on the saveyourprimos website, here's what reruns we could be getting in the next Banners:
Eula might also be a possibility, but a recent leak from reliable Uncle Lu says that she'll actually get a rerun in the 3.8 Banners.
[Reliable - Uncle Lu]

Eula will have a rerun in 3.8.

— SYP 💎🙌 Please tag 3.5 𝕤𝕡𝕠𝕚𝕝𝕖𝕣𝕤. (@SaveYourPrimos) March 20, 2023
Just like the character Banners, we only have speculation and rumours on what the next weapon Banners will feature in Genshin Impact.
According to beta leaks detailed on honeyhunterworld, we're getting a new 5-Star Catalyst, the Jadefall's Splendor, which will almost certainly be Baizhu's signature weapon.
The other three 5-Star featured weapons on the next Banners depends on what 5-Star characters get reruns.
Depending on who gets a rerun, here's what the next 5-Star weapon Banners could be:
Amos' Bow (Ganyu's signature weapon)
A Thousand Floating Dreams catalyst (Nahida's signature weapon)
Key of Khaj-Nisut sword (Nilou's signature weapon)
Song of Broken Pines claymore (Eula's signature weapon)
Tullaytullah's Remembrance catalyst (Wanderer's signature weapon)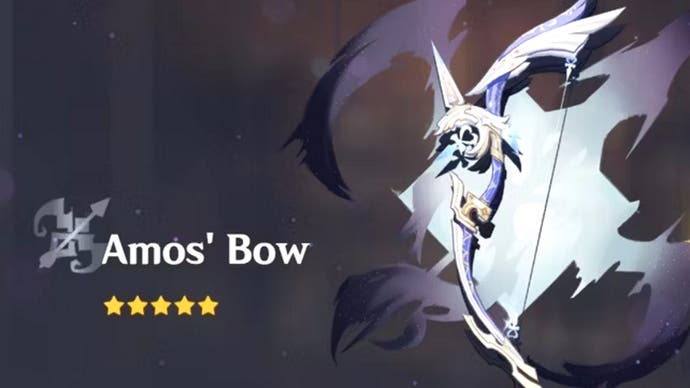 As a reminder, none of this information is official, so we'll have to wait until the 3.6 livestream for solid details on who and what will be on the next Banners in Genshin Impact.