Animal Crossing Sturgeon: How to catch and find the river mouth location
How to find the fish before it leaves at the end of the month.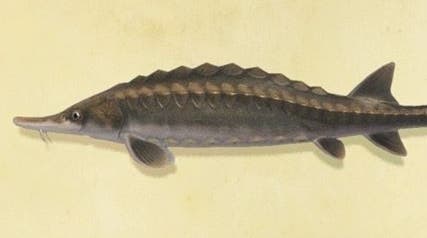 Sturgeon is one of the more elusive fish to find in Animal Crossing: New Horizons.
As it only appears six months out of the year, time is of the essence when it comes to finding one - otherwise you'll have some wait on your hands.
This page explains everything you need to know about catching a Sturgeon - from times to the location - so you can get it before it leaves your island.
On this page:
If you're looking for help with other fish leaving the Northern Hemisphere at the same time, our Stringfish page can help.
Where and when can I catch a Sturgeon in Animal Crossing: New Horizons?
You can find a Sturgeon at the following times and place: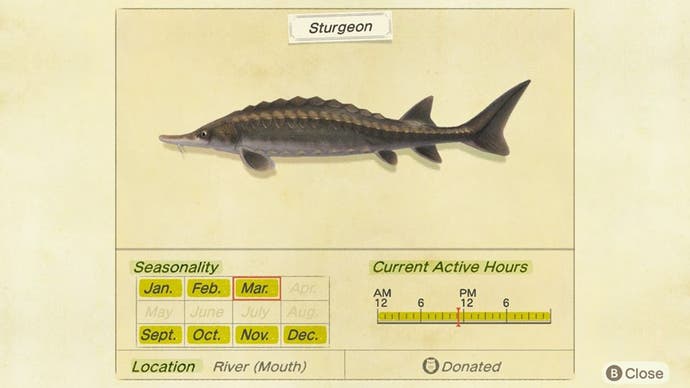 Sturgeon months: September to March (Northern Hemisphere), March to September (Southern Hemisphere)
Sturgeon times: 24 hours
Sturgeon location: River (Mouth)
Sturgeon selling price: 10,000 Bells
That's the essentials of catching a Sturgeon - but it's one thing to know how to get one, and actually finding it...
Where is the river mouth, and how do you catch a Sturgeon there?
The river mouth is the location where the river meets the sea. You'll notice at this point the river widens out and can see the bottom of clearer, with rocks covering the bed - it's within this small area the Sturgeon will make an appearance.
Specifically, you should stand on the beach, and focus on the river next to you, but not so far up where it straightens out (which is the river) or further out past the tide (which is the sea).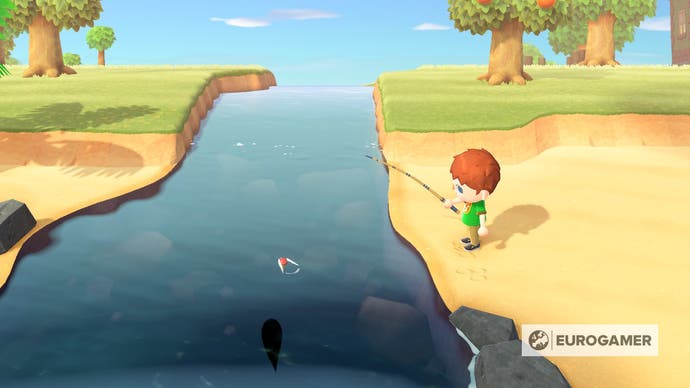 The Sturgeon appears around the clock, making it more accessible than most. It's a large fish so should be easy to spot, though if you can't see any, run away from the river and back toward it to 'refresh' what appears there.
If nothing is showing up, remember you use fish bait to force a fish to spawn at your location.
---
The Animal Crossing 2.0 update and Happy Home Paradise is here! We can help you with the new additions - including where to find Brewster, Gyroids, new villagers, ordinances, new fences, storage shed, new hairstyles, Froggy Chair, group stretching and Kapp'n boat tours. Cooking is now unlockable, so you need to know how to make both flour and sugar, as well as how to grow carrots, potatoes and tomatoes. Meanwhile, if you're new to Animal Crossing, our New Horizons tips can help with the basics. From the off, there's fish and bugs to catch, flowers and fruit to grow with. One long term goal is building your Happy Home Academy score. Finally, you need tools such as the new ladder and vaulting pole to fully explore.
---
As with any rare fish, catching what you need requires luck and a lot of patience. Catch everything you see and eventually it will appear.
Expect to catch a lot of other fish along the way, and be prepared to make a selling trip to make some room - or just dump it on the side of the river to sort later.
Our advice is to start attempting to catch this as soon as you can, as marathon fishing sessions can be taxing as you come up to the end-of-the-month deadline.
Good luck! Once you're done, remember to make sure you have caught all other fish leaving at the end of the month - which, for those in the Northern Hemisphere, includes the Stringfish.