UK chart: Crysis 3 beats Metal Gear Rising: Revengeance
But neither outsold Aliens: Colonial Marines' opening total.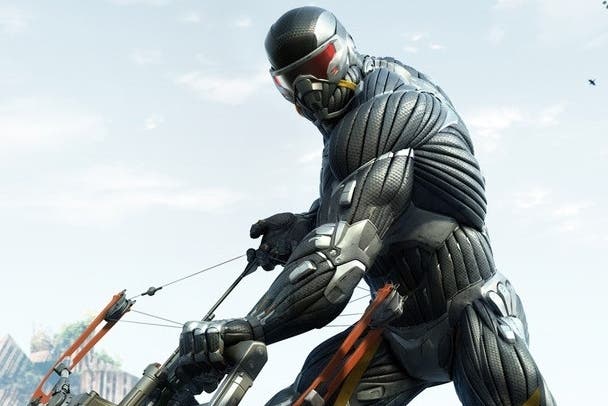 Crysis 3 has shot to the top of the UK all-format charts, beating fellow newcomer Metal Gear Rising: Revengeance.
Just 5500 copies separated the top two - and it's worth remembering that Crysis 3 was also available on PC.
But neither sold as many as Aliens: Colonial Marines did last week, when it topped the chart.
Aliens fell to fifth position this week, behind FIFA 13 and Black Ops 2, third and fourth respectively.
Meanwhile, PlayStation Vita-exclusive Persona 4 Golden made it to 32nd place.
Dead Space 3 was sixth, Far Cry 3 seventh and Need for Speed: Most Wanted eighth. Assassin's Creed 3 and Hitman Absolution rounded out the top ten.
The full top 40 lies below.
| This Week | Last Week | Title | Platform(s) |
| --- | --- | --- | --- |
| 1 | New entry | Crysis 3 | PC, PS3, Xbox 360 |
| 2 | New entry | Metal Gear Rising: Revengeance | PS3, Xbox 360 |
| 3 | 3 | FIFA 13 | PS3, Wii U, Xbox 360 |
| 4 | 4 | Call of Duty: Black Ops 2 | PC, PS3, Wii U, Xbox 360 |
| 5 | 1 | Aliens: Colonial Marines | PC, PS3, Xbox 360 |
| 6 | 2 | Dead Space 3 | PC, PS3, Xbox 360 |
| 7 | 5 | Far Cry 3 | PC, PS3, Xbox 360 |
| 8 | 7 | Need for Speed: Most Wanted | PC, PS3, Xbox 360 |
| 9 | 6 | Assassin's Creed 3 | PC, PS3, Wii U, Xbox 360 |
| 10 | 11 | Hitman: Absolution | PC, PS3, Xbox 360 |
| 11 | 8 | Just Dance 4 | PS3, Wii, Xbox 360 |
| 12 | 12 | The Elder Scrolls 5: Skyrim | PC, PS3, Xbox 360 |
| 13 | 9 | Sonic & All-Stars Racing Transformed | 3DS, PC, PS3, PS Vita, Xbox 360 |
| 14 | 13 | Skylanders Giants | PS3, Wii, Xbox 360 |
| 15 | 15 | Lego Batman 2: DC Super Heroes | DS, PC, PS2, PS3, PSP, Wii, Xbox 360 |
| 16 | 10 | Halo 4 | Xbox 360 |
| 17 | 16 | Lego Lord of the Rings | 3DS, DS, PS3, Xbox 360 |
| 18 | 20 | Grand Theft Auto 4 | PC, PS3, Xbox 360 |
| 19 | 36 | The Sims 3 | PC, 3DS |
| 20 | 21 | Forza 4 | Xbox 360 |
| 21 | 30 | New Super Mario Bros. 2 | 3DS |
| 22 | 19 | Dishonored | PC, PS3, Xbox 360 |
| 23 | 22 | Medal of Honor: Warfighter | PC, PS3, Xbox 360 |
| 24 | 18 | Football Manager 2013 | PC |
| 25 | 23 | Grand Theft Auto Episdodes - Liberty City | PC, PS3, Xbox 360 |
| 26 | 31 | Mario & Sonic: London 2012 Olympic Games | 3DS, Wii |
| 27 | 14 | Hitman: HD Trilogy | PS3, Xbox 360 |
| 28 | 28 | WWE 13 | PS3, Xbox 360 |
| 29 | 17 | Forza Horizon | Xbox 360 |
| 30 | 24 | Dead Island: GOTY Edition | PC, PS3, Xbox 360 |
| 31 | Re-entry | Red Dead Redemption: GOTY Edition | PS3, Xbox 360 |
| 32 | New entry | Persona 4: Golden | Vita |
| 33 | 34 | Battlefield 3 | PC, PS3, Xbox 360 |
| 34 | 40 | Paper Mario: Sticker Star | 3DS |
| 35 | 26 | Borderlands 2 | PC, PS3, Xbox 360 |
| 36 | 33 | Sleeping Dogs | PC, PS3, Xbox 360 |
| 37 | 38 | Disney Epic Mickey 2: The Power of Two | PC, PS3, Wii, Xbox 360 |
| 38 | 37 | PES 2013 | PC, PS3, Xbox 360 |
| 39 | 29 | Super Scribblenauts | DS |
| 40 | Re-entry | The Sims 3: Seasons | PC |