Fortnite Trick Shot Challenges list for Week 7
All the available challenges in Chapter 2 Season 1's seventh week.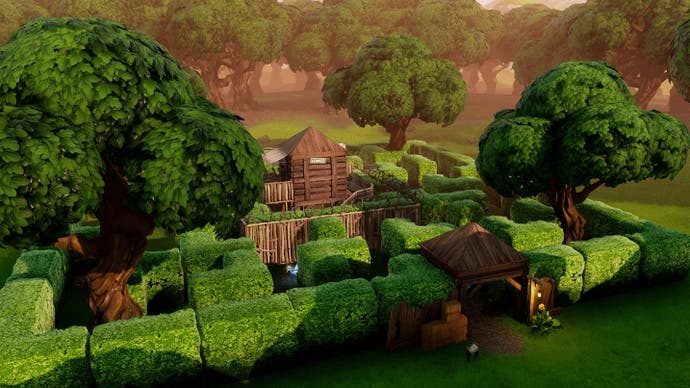 Fortnite Trick Shot Challenges gives you a new set of objectives in the seventh week of Fortnite Chapter 2.
These challenges focus using a variety of items and gaining eliminations, as well as visiting the likes of a Pipeman, the Hayman, and the Timber Tent.
Completing a challenge will reward you with a nice amount of XP, helping you level up your Fortnite Chapter 2 Battle Pass.
Fortnite Trick Shot Challenge list
The following Week 7 'Trick Shot' Challenges went live on November 21st, 2019. (Thanks to Lucas7yoshi on Twitter for confirming the full list.)
Fortnite Trick Shot Challenge list:
| Trick Shot challenge | Total |
| --- | --- |
| Eliminations while at 50 Health or less | 3 |
| Consume Foraged apples at The Orchard | 3 |
| Eliminations at Weeping Woods or a Landmark | 3 |
| Dance at the Pipeman, the Hayman, and the Timber Tent | 1 |
| Gain Health with a small fry, Flopper and a Slurp Fish | 1 |
| Eliminations with Pistols | 3 |
| Visit Named Locations in a single match | 3 |
| Damage with Shotguns | 500 |
| Save yourself from fall damage by landing in a Hideout | 1 |
| Heal yourself within 10 seconds after taking damage from an opponent | 1 |
Completing eight Trick Shot Challenges will reward you with a Trick Shot loading screen.
As with other Challenges, once you have this you can the hidden letter in the loading screen.
---
Fortnite Chapter 4 Season 2 is here and with it comes Force Abilites and Lightsabers in the Star Wars 2023 event and a new selection of Battle Pass skins! Take a look at the Eren Jaeger skin too! If this is something you want, take a look at our challenge guides that show you the Jaeger's Family Basement location, plus how to find and use ODM Gear. Don't forget to complete the new challenges, including winning arcade games, knocking back players with the Kinetic Blade, shooting targets while on a Grind Rail and restoring health or shields on a Grind Rail. Meanwhile, learn what the best weapons are, new map changes, how to get XP fast, use the best PC settings, earn the Victory Umbrella and earn a Victory Crown.
---