Fortnite Chapter 2 Season 3 release time, and every teaser for the new Fortnite season so far
Everything you need to know about the release of the next Fortnite season!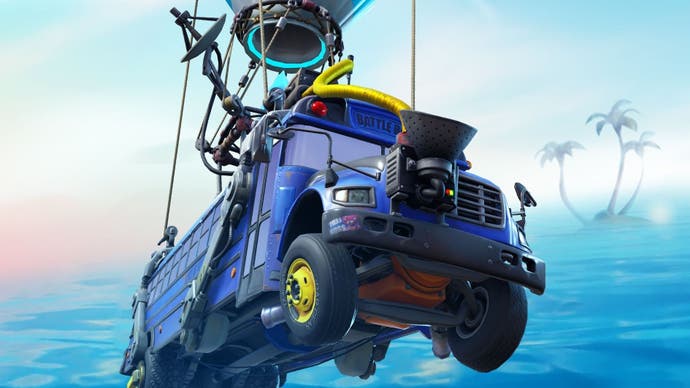 Fortnite Season 3 continues on from what is by far the coolest live event in Fortnite history - The Device.
Not only does this new season promise a collection of new battle pass skins to unlock and challenges to complete, but there's the promise of some very exciting Fortnite lore developments on the way.
With expectations running high, we have the Fortnite Chapter 2 Season 3 release date following the extension at the beginning of June and some ideas on what awaits us.
On this page:
When is the new Season of Fortnite coming out? Fortnite Season 3 release date and estimated start time
For multiple reasons, the debut of Fortnite Season 3, much like Season 2, has been pushed back a number of weeks, but now the time for a new season has finally arrived!
After announcing an extension on Wednesday, 3rd June, developer Epic Games confirmed, on the same day, that the Fortnite Chapter 2 Season 3 release date is Wednesday, 17th June.
The start time for Fortnite Chapter 2 Season 3 is yet to be confirmed, but, if it follows the trend from the previous season, then the times could be:
UK: 9am (BST / UK)
Europe: 10am (CEST / West Europe)
East Coast US: 4am (EST / East Coast US)
West Coast US: 1am (PST / West Coast US)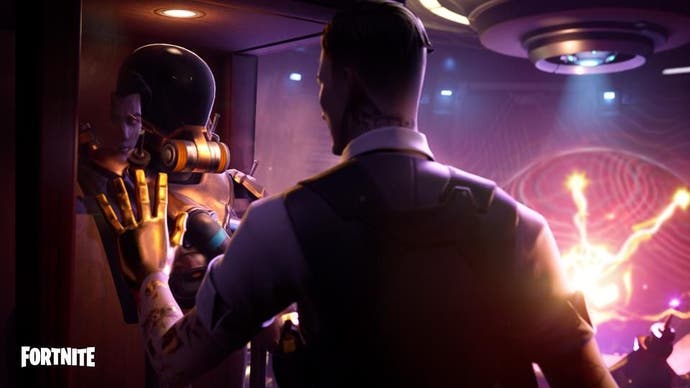 After a period of downtime, including a sizable patch to download, the new season will launch a couple of hours after the above times.
As always, all previous challenges will vanish when a new season begins, swo make sure you've unlocked all the rewards you desire before the date.
How does Fortnite Season 2 tease the events of Season 3?
Building on the conflict between A.L.T.E.R and E.G.O in Season, Chapter 2 Season 2 focused on the rival spy agencies, Ghost, who work for E.G.O, and Shadow, who work for A.L.T.E.R.
Unless it's for a major event, the story of Fortnite stays in the background of the game, but this very much changed in Season 2. The majority of skins from the battle pass allowed you to pick a side - Ghost or Shadow - and hidden bases could be found across the map, which were occupied by both henchmen and leaders of both agencies.
This included the introduction of a new game mode called Spy Games, which allows players to battle each other when working for one of the two agencies.
As the season continued characters began to switch sides and it was revealed that Midas was constructing a doomsday machine beneath The Agency, which was located on the island in the centre of the map.
All of this concluded with the live event - The Device - on Monday, 15th June. During this event we finally got to see the doomsday machine, the titular Device, in action as it went to work doing something to the Storm.
We won't spoil the whole event for you here (because it's definitely worth watching), but the boat is still out on whether or not Midas was successfully in his plans.
Thank you to InTheLittleWood from YouTube for this video.
---
Fortnite Chapter 4 Season 2 is here and with it comes Force Abilites and Lightsabers in the Star Wars 2023 event and a new selection of Battle Pass skins! Take a look at the Eren Jaeger skin too! If this is something you want, take a look at our challenge guides that show you the Jaeger's Family Basement location, plus how to find and use ODM Gear. Don't forget to complete the new challenges, including winning arcade games, knocking back players with the Kinetic Blade, shooting targets while on a Grind Rail and restoring health or shields on a Grind Rail. Meanwhile, learn what the best weapons are, new map changes, how to get XP fast, use the best PC settings, earn the Victory Umbrella and earn a Victory Crown.
---
What is coming in Fortnite Chapter 2 Season 3? Theme, teasers and theories so far
Like previous Fortnite seasons, Epic Games has been dropping a number of hints about what will occur in Chapter 2 Season 3.
The theories around Season 3 began back in April, then twitter user and Fortnite dataminer, FireMonkey posted a number of teaser images for Season 3.
These images heavily suggested that, during Season 3, we could expect the island to be flooded and this has further hinted at when, during May, large puddles of water started appearing across the map.
Though many fans believe that Epic were hinting at a water inspired season at least a year ago.
If you haven't watched The Device live event yet, then I highly suggest doing so before continuing.
Season 3 being themed around water was confirmed by The Device transforming The Storm into a wall of water. This water wall acts in a similar manner to The Storm, slowly encroaching on the map as the match continues, but, if you're inside, all you can do is swim.
Unsurprisingly, the only way to escape the water wall is to swim.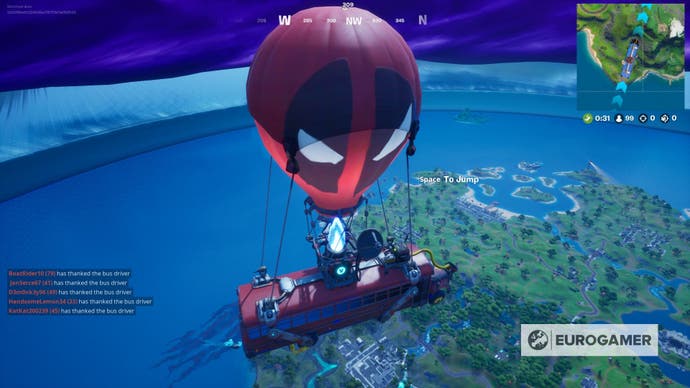 The Agency has also been destroyed by the use of The Device and, where the doomsday machine once sat, is now just a pool of water. If you visit the dedicated page for Midas on the battle pass skins, however, you can see the damage remains of the device in the background.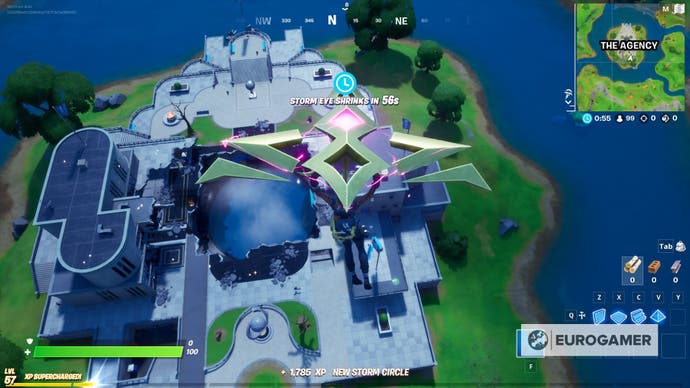 Epic Games has also used TikTok to confirm this water theming; posting a video of the Fortnite logo and Season 3 release date with a water background as a shark swims by.
The developer has dropped more hints about Season 3 via Twitter by posting a number of pictures since the conclusion of The Device live event. None of these posts are accompanied by text, so it's up to us to figure out what's going on.
The first picture appears to be some sort of golden object. It also appears to be a photo taken with a telescopic lense, suggesting that at least one spy agency has managed to survive into the new season.
Couple this with a picture of a trident posted by Jason Momoa to his instagram, it's believed that these pictures are hinting at an upcoming Aquaman skin.
The second picture posted to the official Fortnite twitter is of a round metal ball, which looks like it could be a smaller version of The Device.
Jumping over to Fortnite itself, a zoomed out version of this picture can be found when you first load up the game, which reveals that the metal ball is being held by an unknown individual. This person appears to be wearing either a diving or space suit.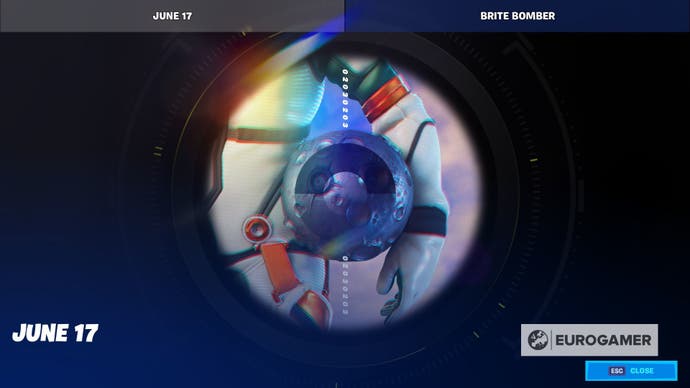 A third picture was later posted on the Fortnite twitter, which shows an upturned boat.
Once again this picture was expanded upon in Fortnite, with the new version revealing what looks like a wooden structure, which, if the pipes are anything to go by, was built on the factory in Slurpy Swamp.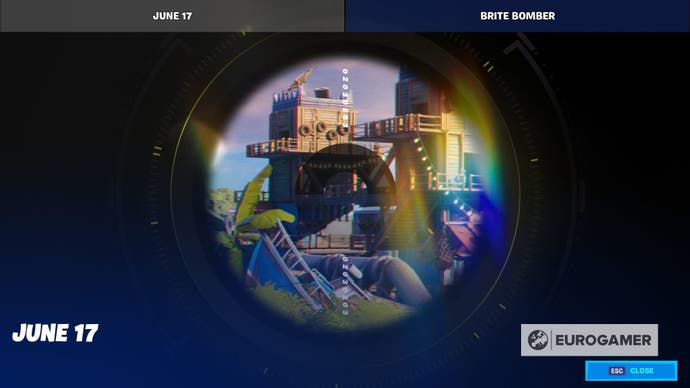 What hasn't been touched on yet, however, are the two cutscenes involving Jonesy - sorry, John Jones - that were part of The Device event. These scenes were short, but there's no denying that both are highly important to Fortnite lore and the question - what exactly is going on in Fortnite?
In the first of these scenes we overhear Jonesy referring to 'the loop.' This phrase was previously used during Chapter 1 by The Visitor and it appeared to refer to the matches in Fortnite being time loops. The destruction of the original Fortnite map was an attempt to break this loop, but it only resulted in the creation of the new map.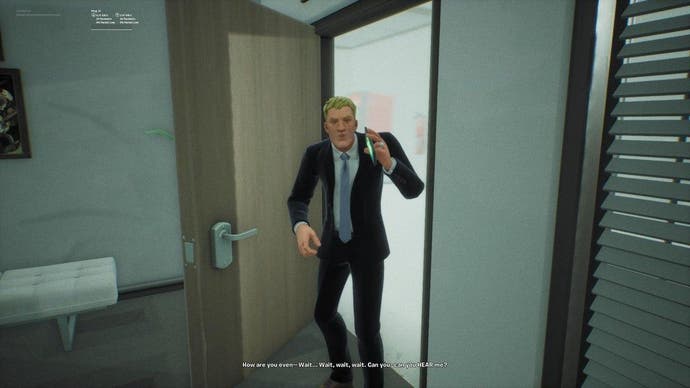 Jonesy's dialogue also suggests that there's more to The Storm than we first thought too. (Though it has turned to water, so that's not much of a surprise really.)
What's truly interesting is that it appears that, to witness, these scenes with Jonesy, that our avatars actually travelled physically to his office. This is highly supportive of the dimension travelling theories that have been made by multiple Fortnite fans.
Hopefully we'll get closer to the truth in Fortnite Chapter 2 Season 3!