Fortnite Reboot Van locations and how Fortnite respawns work
How and where to respawn in Fortnite with Reboot Vans.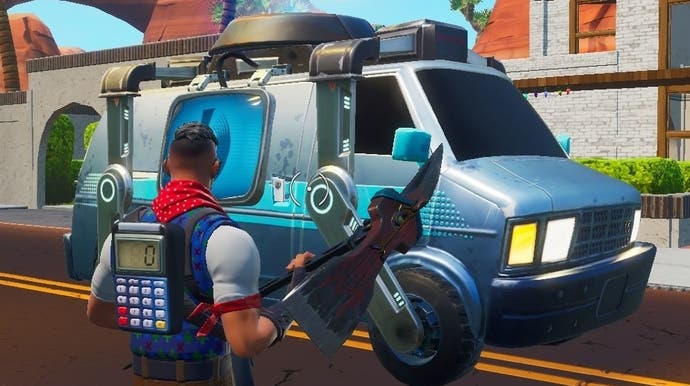 Fortnite Reboot Vans allow you to revive fallen teammates - something you couldn't do in the Battle Royale mode when it first launched.
There's a few steps to the process - involving collecting a Reboot Card and then finding a Reboot Van location - but it means you aren't out of the fight when all your health is gone.
If you're just getting started, our Fortnite Battle Royale tips and tricks can provide some helpful hints.
Fortnite Reboot Van locations
Fortnite Reboot Vans can be found in practically all named locations across Fortnite's map. The Reboot Van locations are as follows: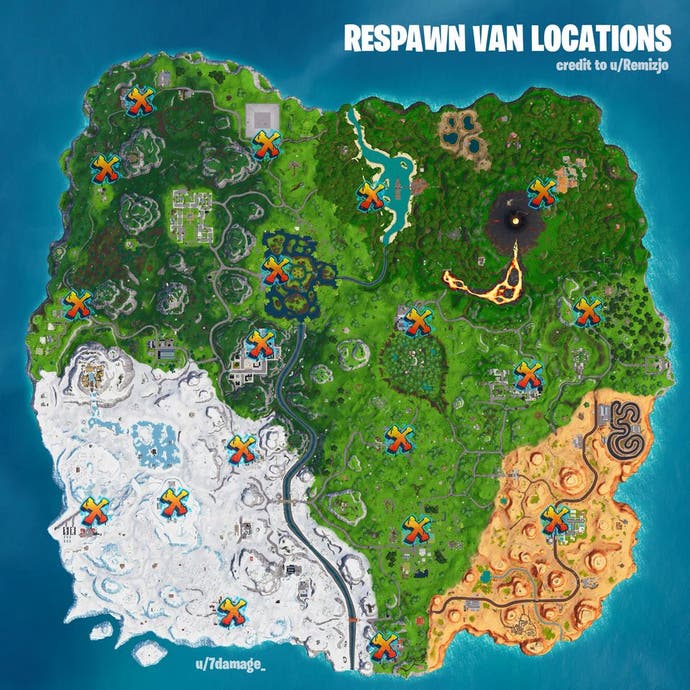 Thanks to Remizjo / 7damage_ on reddit for the above image.
Remember Reboot Vans appear in Duo and Squad modes, and not Solos or LTMs with respawning active - so if you don't see them, remember which mode you're playing in!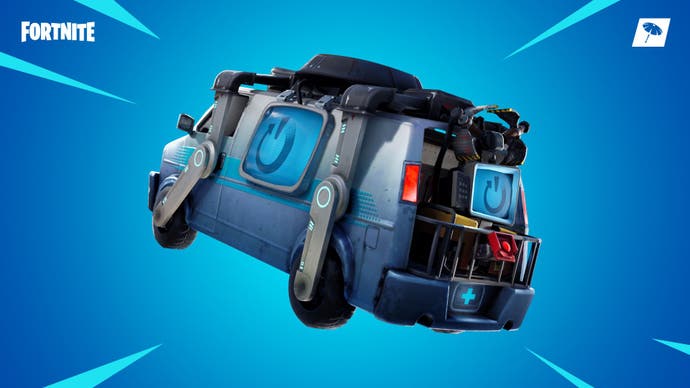 ---
Fortnite Chapter 4 Season 2 is here and with it comes Force Abilites and Lightsabers in the Star Wars 2023 event and a new selection of Battle Pass skins! Take a look at the Eren Jaeger skin too! If this is something you want, take a look at our challenge guides that show you the Jaeger's Family Basement location, plus how to find and use ODM Gear. Don't forget to complete the new challenges, including winning arcade games, knocking back players with the Kinetic Blade, shooting targets while on a Grind Rail and restoring health or shields on a Grind Rail. Meanwhile, learn what the best weapons are, new map changes, how to get XP fast, use the best PC settings, earn the Victory Umbrella and earn a Victory Crown.
---
Fortnite Reboot Vans and respawning explained
Now that we know Fortnite Reboot Van locations, how exactly do they work? Here is what you need to do:
When you're in a squad and you're eliminated from the match, you will spawn a Reboot Card.
This Reboot Card needs to be collected by a teammate within 90 seconds, otherwise it will disappear.
Once you have the Reboot Card in your possession, you take it to a Reboot Van location.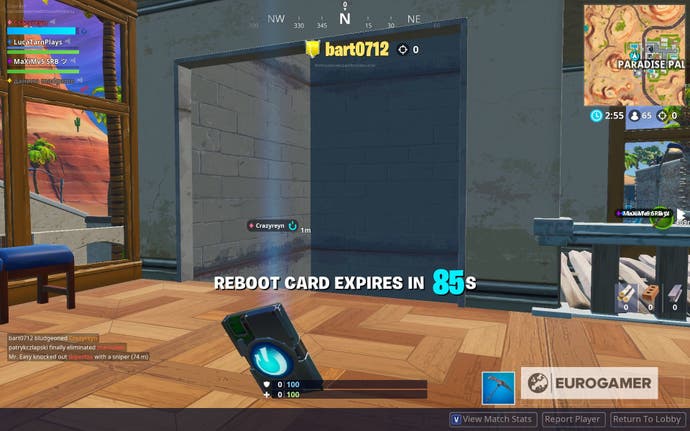 That's there's a little more to Reboot Vans than that, of course - here's what else you need to know about Reboot Vans:
Once you have a Reboot Card, anyone from your squad can then use a Reboot Van to revive them - it doesn't have to be the person who collected the Reboot Card.
If you have multiple Reboot Cards, a single use of the Reboot Van will revive everyone at once, as seen here:
It takes 10 seconds to use a Reboot Van, so make sure there are no enemies nearby first - you'll be very exposed!
Once a Reboot Van has been used, it will be inactive for 120 seconds.
Players re-entering a match from a Reboot Van will have 100 Health, a Common Pistol, some Light Ammo and Wood. All their possessions get dropped upon elimination, remember?
Reboot Vans will appear in Duo and Squad modes, and not Solos or LTMs with respawning active.
Hopefully Reboot Vans will give you an extra incentive to keep observing once you're eliminated from a match - remember you're not down and out yet!