Fortnite Item Shop - August 15 update details
Here's what's on sale in the Fortnite Item Shop.
The Fortnite Item Shop allows you to purchase new cosmetic items, such as skins, gliders and emotes.
Though things in the Item Shop are cosmetic - meaning they won't improve the way you play, or give you or other players a competitive advantage - they are amongst the most discussed and sought-after aspects of the game.
If you're just getting started, our Fortnite Battle Royale tips and tricks can provide some helpful hints.
How the Fortnite Item Shop works, and when the Fortnite Item Shop update time is
Every day, the Fortnite Item Shop is updated with a new stock of items. These items are only available for a 24 hour period, where after then, the store will refresh with an entire new set of things to purchase.
The Fortnite Item Shop update times are as follows:
UK: 1:01am (BST)
Europe: 2:01am (CEST)
East Coast US: 8pm (EDT)
West Coast US: 5pm (PDT)
Though items will go out of rotation, they won't be gone forever. However, nor the game or developer Epic Games will say when items will return back on sale, meaning if you really want something, you should give some thought about buying it there and then.
All purchases require V-Bucks, Fortnite's in-game currency. You can get V-Bucks through gameplay - by playing the premium Battle Pass or playing Save the World - or buying them with real world money.
Fortnite Item Shop update - August 15
Remember, the following items are only on sale for 24 hours, when a new set of items will replace them.
Fortnite Item Shop update for Wednesday, August 15th: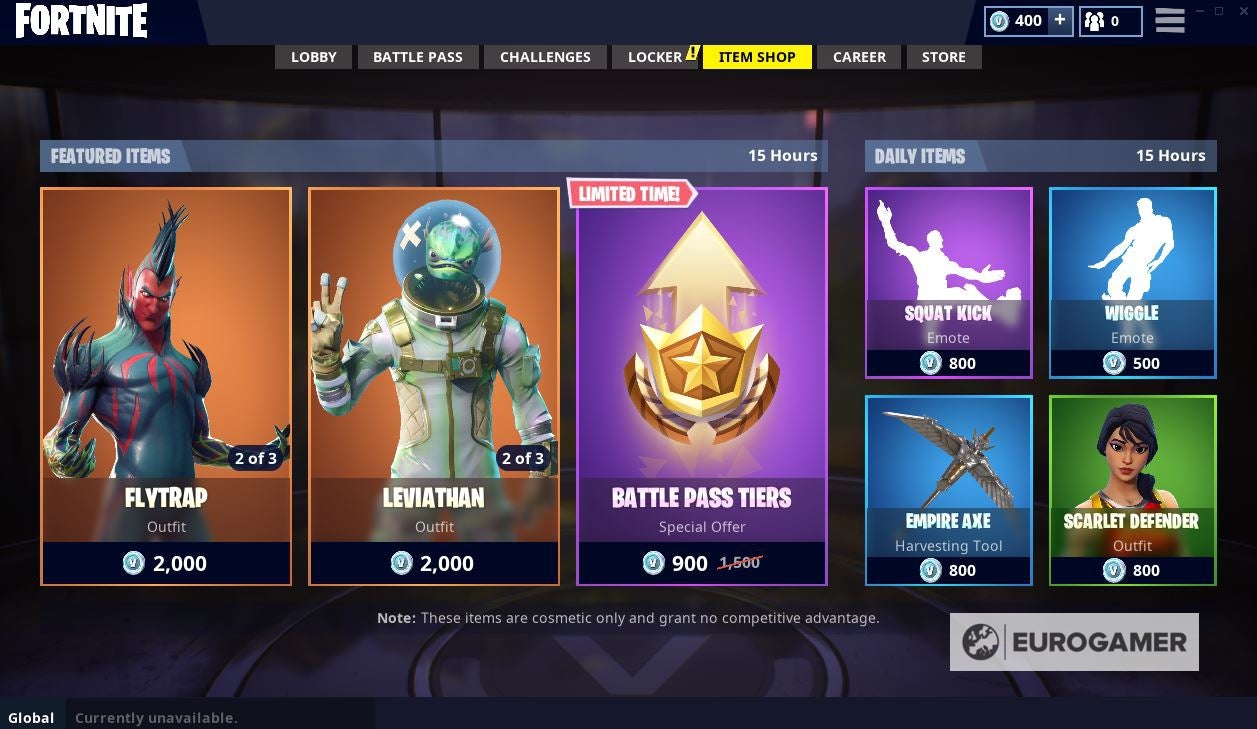 Featured Items (1 day left): Venus Flyer (glider, 1,200), Flytrap (outfit, 2,000), Tendril (axe, 800)
Featured Items (1 day left): Global Axe (axe, 1,200), Leviathan (outfit, 2,000), Planetary Globe (glider, 1,200)
Featured Items: Battle Pass Tiers (900, down from 1,500)
Squat Kick (emote, 1,500)
Wiggle (emote, 500)
Empire Axe (axe, 800)
Scarlet Defender (outfit, 800)
---
Fortnite Chapter 4 Season 2 is here and with it comes a new selection of Battle Pass skins! Take a look at the upcoming Eren Jaeger skin too! Don't forget to complete the new challenges, including winning arcade games, knocking back players with the Kinetic Blade, shooting targets while on a Grind Rail and restoring health or shields on a Grind Rail. Meanwhile, learn what the best weapons are, new map changes, how to get XP fast, use the best PC settings, earn the Victory Umbrella and earn a Victory Crown.
---
What has previously been on sale in the Fortnite Item Shop?
The following list details previous Fortnite Item Shop sales - useful if you busy and missed a store update, or were curious to see when a particular item was last available on sale.
Fortnite Item Shop update for Monday, August 13th: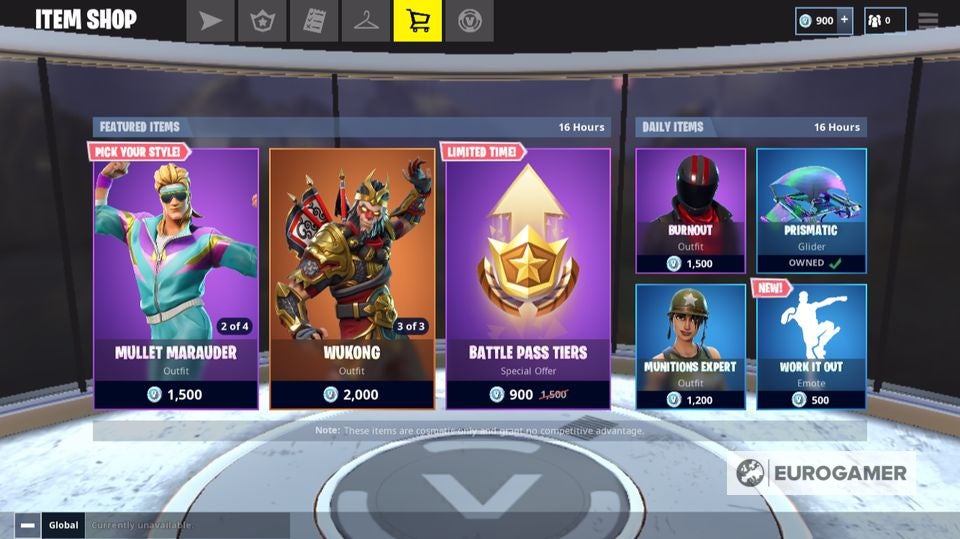 Featured Items (1 day left): Windbreaker (glider, 500), Mullet Marauder (outfit, 1,500), Aerobic Assassin (outfit, 1,500), Axercise (axe, 500)
Featured Items (1 day left): Royale Dragon (glider, 2,000), Jingu Bang (axe, 1,200), Wukong (outfit, 2,000)
Featured Items (1 day left): Battle Pass Tiers (900, down from 1,500)
Burnout (outfit, 1,500)
Prismatic (glider, 800)
Munitions Expert (outfit, 1,200)
Work It Out (emote, 500)
Fortnite Item Shop update for Friday, August 10th: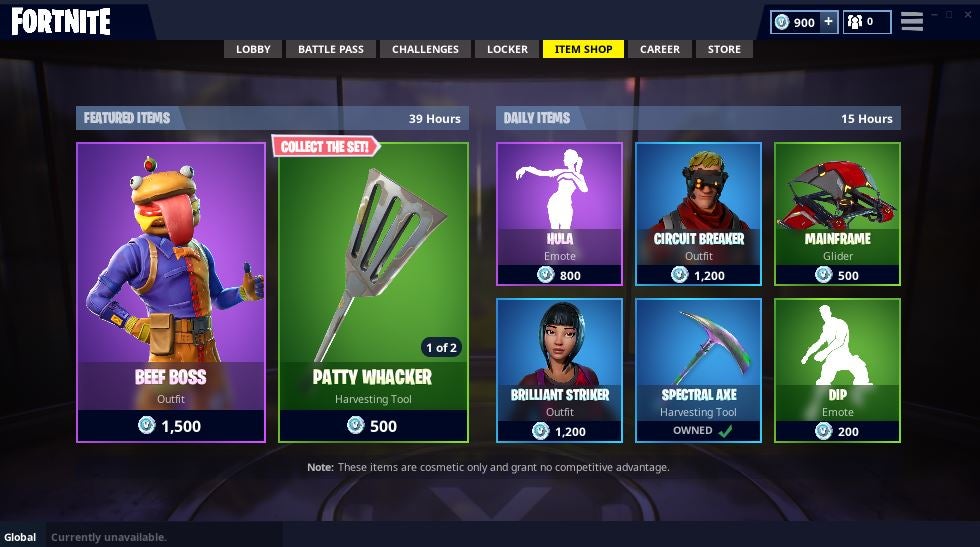 Featured Items (2 days left): Beef Boss (outfit, 1,500)
Featured Items (2 days left): Patty Whacker (axe, 500), Flying Saucer (glider, 1,200)
Hula (outfit, 800)
Circuit Breaker (outfit, 1,200)
Mainframe (glider, 500)
Brilliant Striker (outfit, 1,200)
Spectral Axe (axe, 800)
Dip (emote, 200)
Fortnite Item Shop update for August 9th: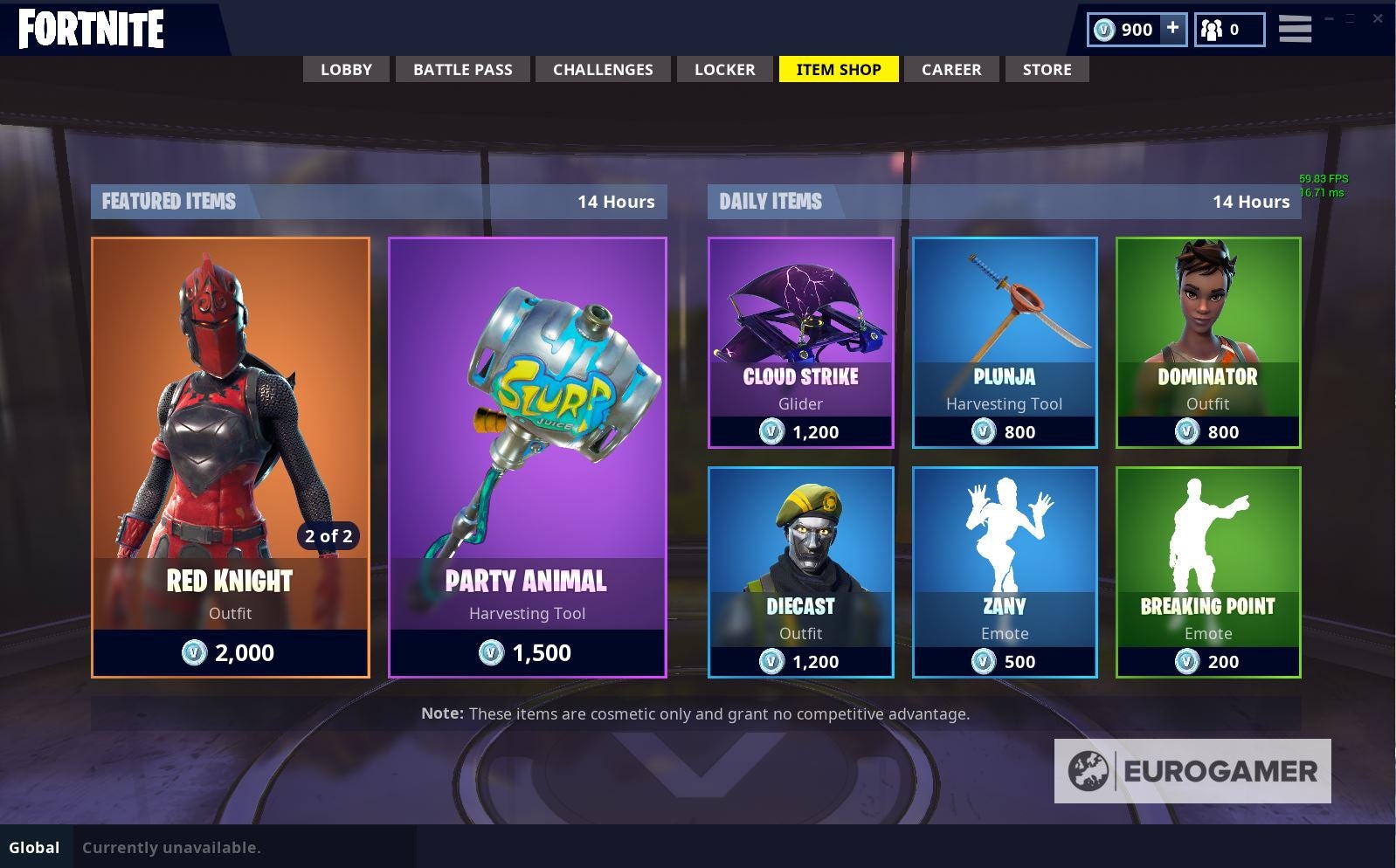 Featured Items (1 day left): Crimson Axe (axe, 800), Red Knight (outfit 2,000)
Featured Items (1 day left): Party Animal (axe, 1,500)
Cloud Strike (glider, 1,200)
Plunja (axe, 800)
Dominator (outfit, 800)
Diecast (outfit, 1,200)
Zany (emote, 500)
Breaking Point (emote, 200)
Fortnite Item Shop update for August 8th: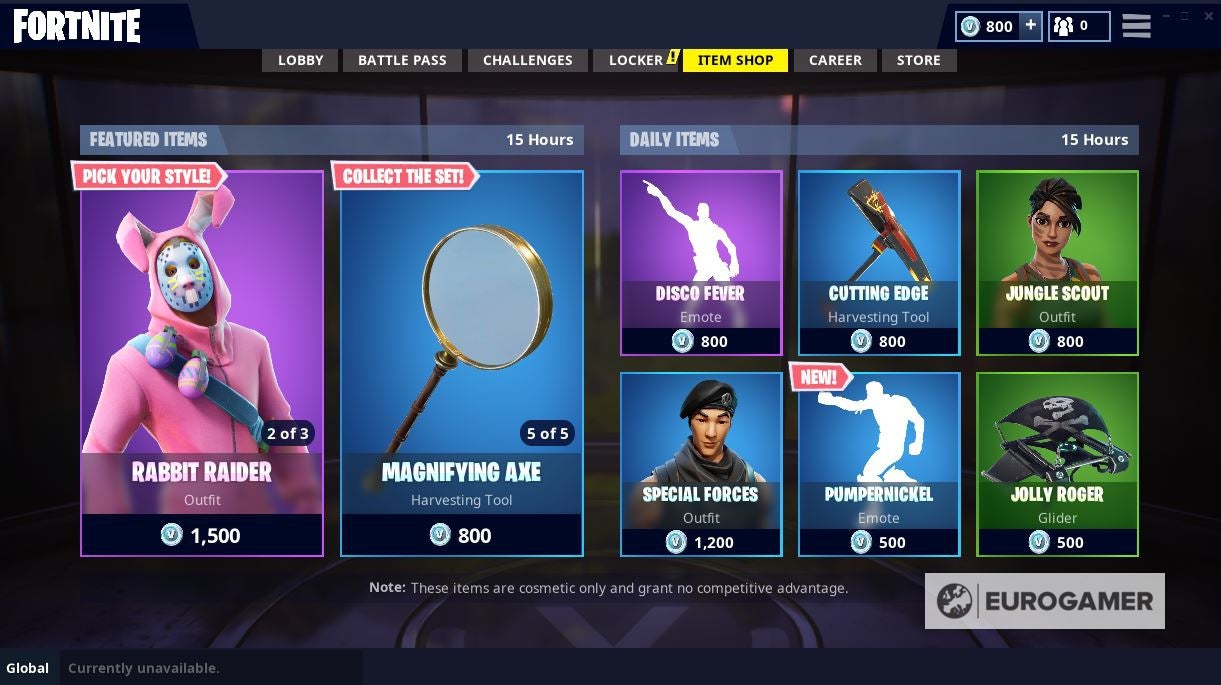 Featured Items (1 day left): Carrot Stick (axe, 800), Rabbit Raider (outfit, 1500), Bunny Brawler (outfit, 1500)
Featured Items (1 day left): Noir (outfit 1,500), Sluth (outfit 1,500), Gumshoe (outfit 1,500), Magnifying Axe (axe, 800) Viceroy Mark 1 (glider, 1,200)
Disco Fever (emote, 800)
Cutting Edge (axe, 800)
Jungle Scout (outfit, 800)
Special Forces (outfit, 1,200)
Pumpernickel (emote, 500)
Jolly Roger (glider, 500)
Fortnite Item Shop update for August 7th: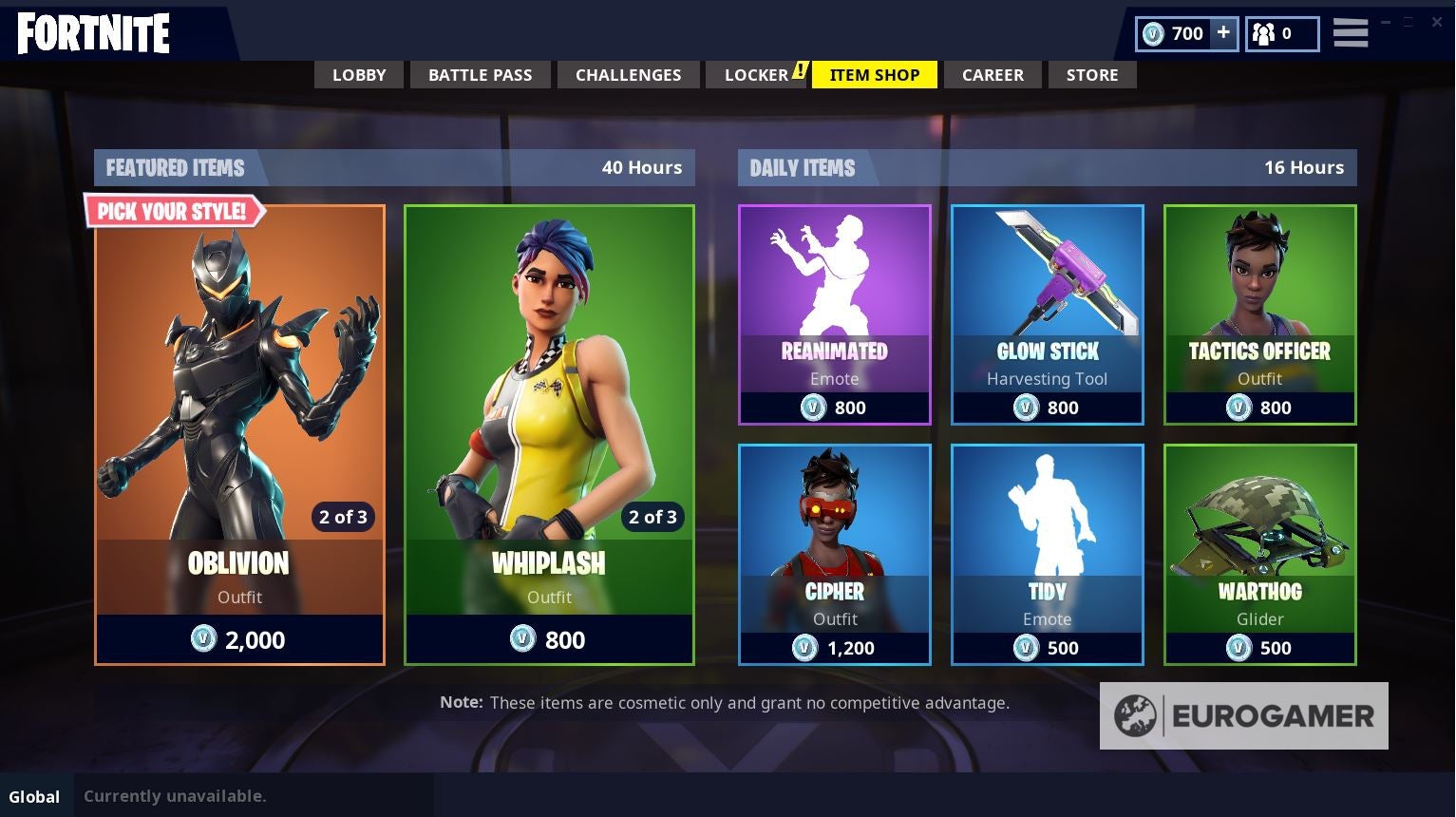 Featured Items (2 days left): Oblivion + Destablizer set (2,000)
Featured Items (2 days left): Criterion + Stabilizer set (2,000)
Featured Items (2 days left): Whiplash (outfit, 800), Checker (glider, 500), Victory Lap (axe, 500)
Reanimated (emote, 800)
Glow Stick (axe, 800)
Tactics Officer (outfit, 800)
Cipher (outfit, 1,200)
Tidy (emote, 500)
Warthog (glider, 500)
Fortnite Item Shop update for August 6th:
Featured Items (1 Day left): Archetype Outfit (1,500)
Featured Items (1 Day left): Servo Glider (1,200) + Caliper Harvesting Tool (500)
Highland Warrior Outfit (1,500)
True Heart Emote (800)
Dragon Axe Harvesting Tool (800)
Half Shell Glider (800)
Flippin' Sexy Emote (500)
Commando Outfit (800)
Fortnite Item Shop update for August 5th:
Featured Items (2 Days left): Archetype Outfit (1,500)
Featured Items (2 Days left): Servo Glider (1,200) + Caliper Harvesting Tool (500)
Squat Kick Emote (800)
Snorkel Ops Outfit (1,200)
Survival Specialist Outfit (1,200)
Tooth Pick Harvesting Tool (800)
Hot Rod Glider (800)
Jubilation Emote (200)
Fortnite Item Shop update for August 4th: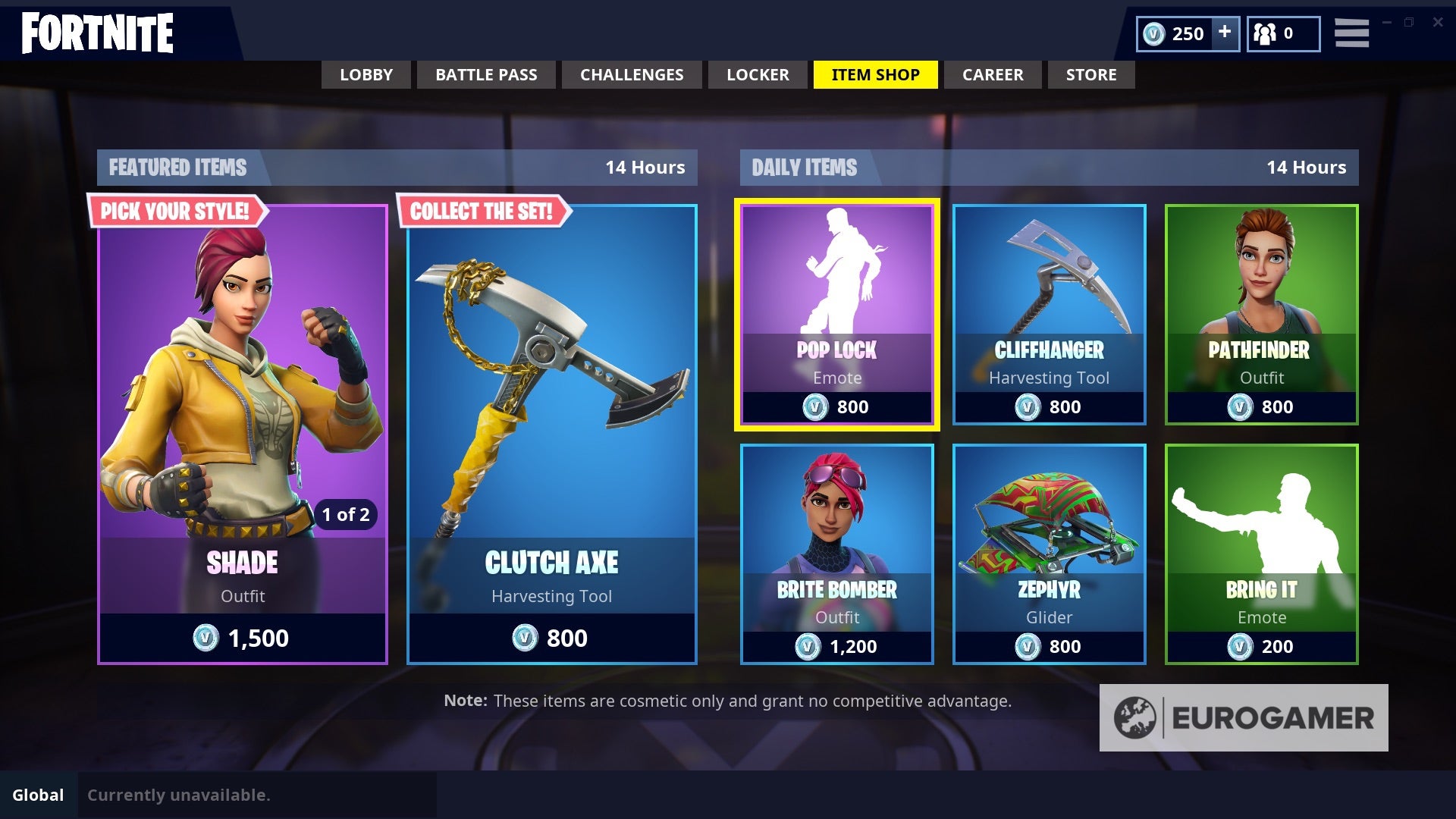 Featured Items (1 Day left): Maverick Outfit (1,500) + Shade Outfit (1,500)
Featured Items (1 Day left): Clutch Axe Harvesting Tool (800)
Pop Lock Emote (800)
Brite Bomber Outfit (1,200)
Cliffhanger Harvesting Tool (800)
Zephyr Glider (800)
Pathfinder Outfit (800)
Bring It Emote (200)
Fortnite Item Shop update for August 3rd: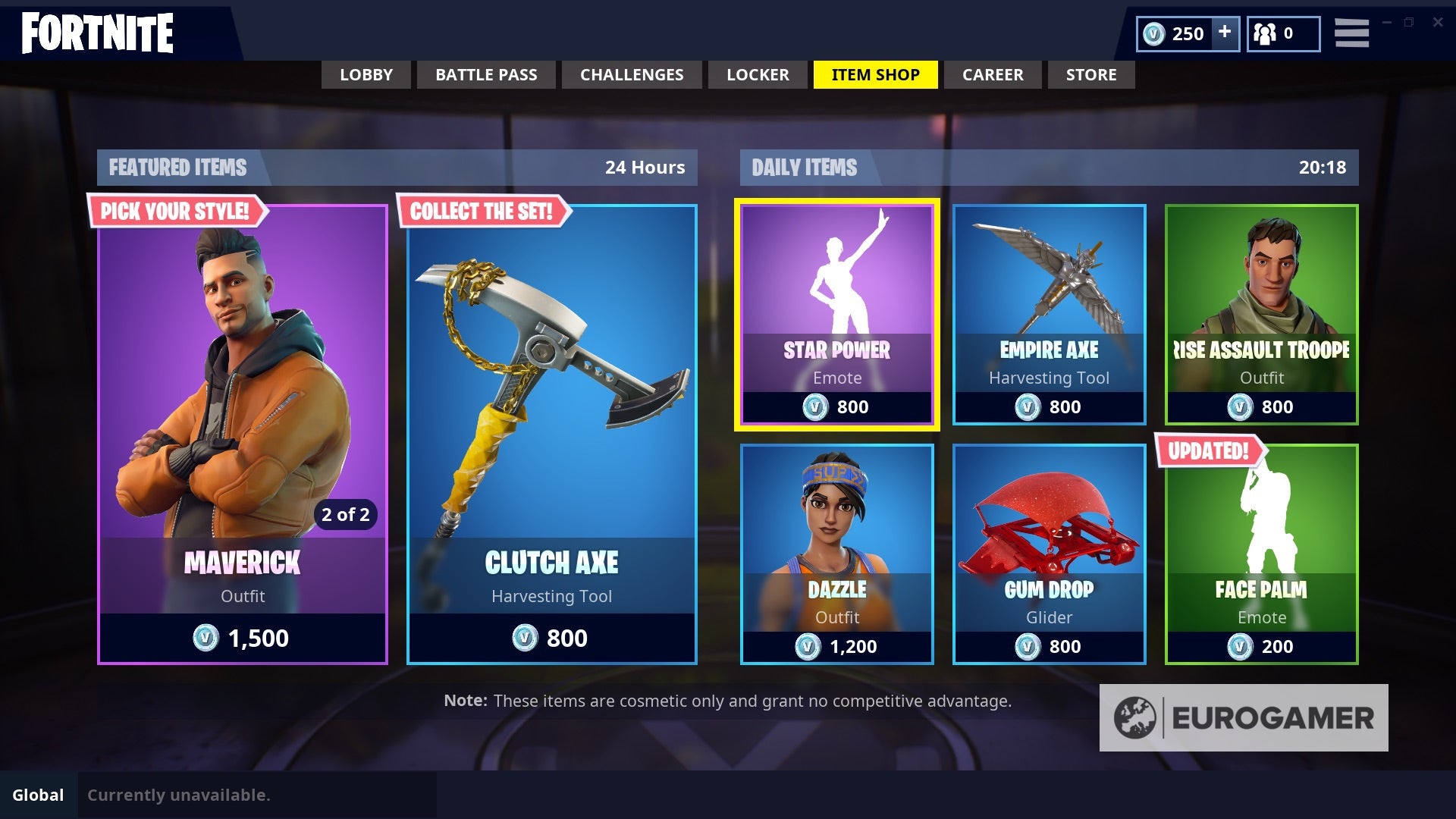 Featured Items (2 Days left): Maverick Outfit (1,500) + Shade Outfit (1,500)
Featured Items (2 Days left): Clutch Axe Harvesting Tool (800)
Star Power Emote (800)
Dazzle Outfit (1,200)
Empire Axe Harvesting Tool (800)
Gum Drop Glider (800)
Highrise Assault Trooper Outfit (800)
Face Palm Emote (200)
Fortnite Item Shop update for August 2nd: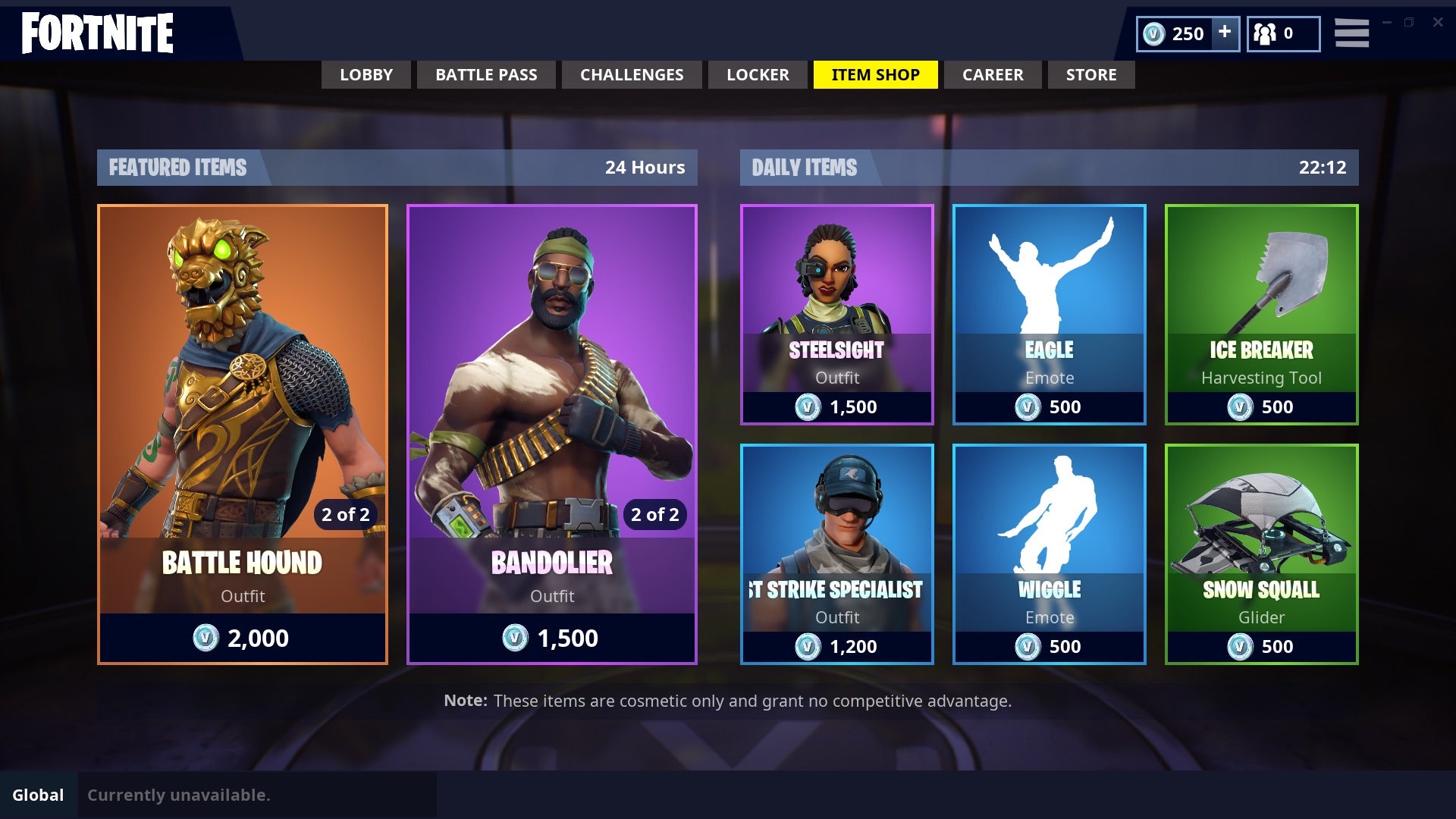 Featured Items (1 Day left): Battle Hound Outfit (2,000) + Silver Fang Harvesting Tool (800)
Featured Items (1 Day left): Bandolier Outfit (1,500) + Stop Axe Harvesting Tool (800)
Steelsight Outfit (1,500)
First Strike Specialist Outfit (1,200)
Eagle Emote (500)
Wiggle Emote (500)
Ice Breaker Harvesting Tool (500)
Snow Squall Glider (500)
Fortnite Item Shop update for August 1st: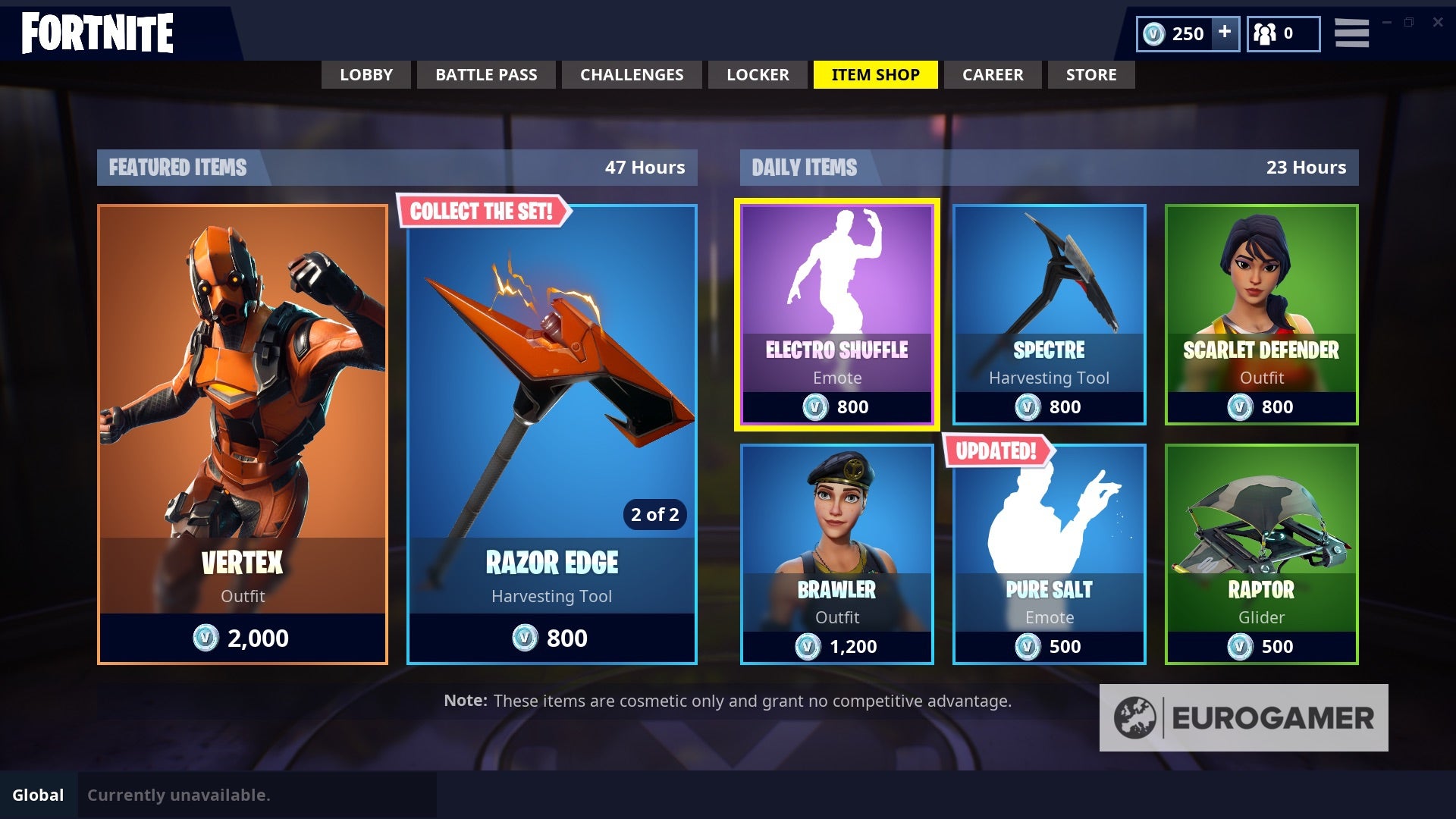 Featured Items (1 Day left): Vertex Outfit (2,000) + Razor Edge Harvesting Tool (800)
Electro Shuffle Emote (800)
Brawler Outfit (1,200)
Spectre Harvesting Tool (800)
Pure Salt Emote (500)
Scarlet Defender Outfit (800)
Raptor Glider (500)
Fortnite Item Shop update for July 31st: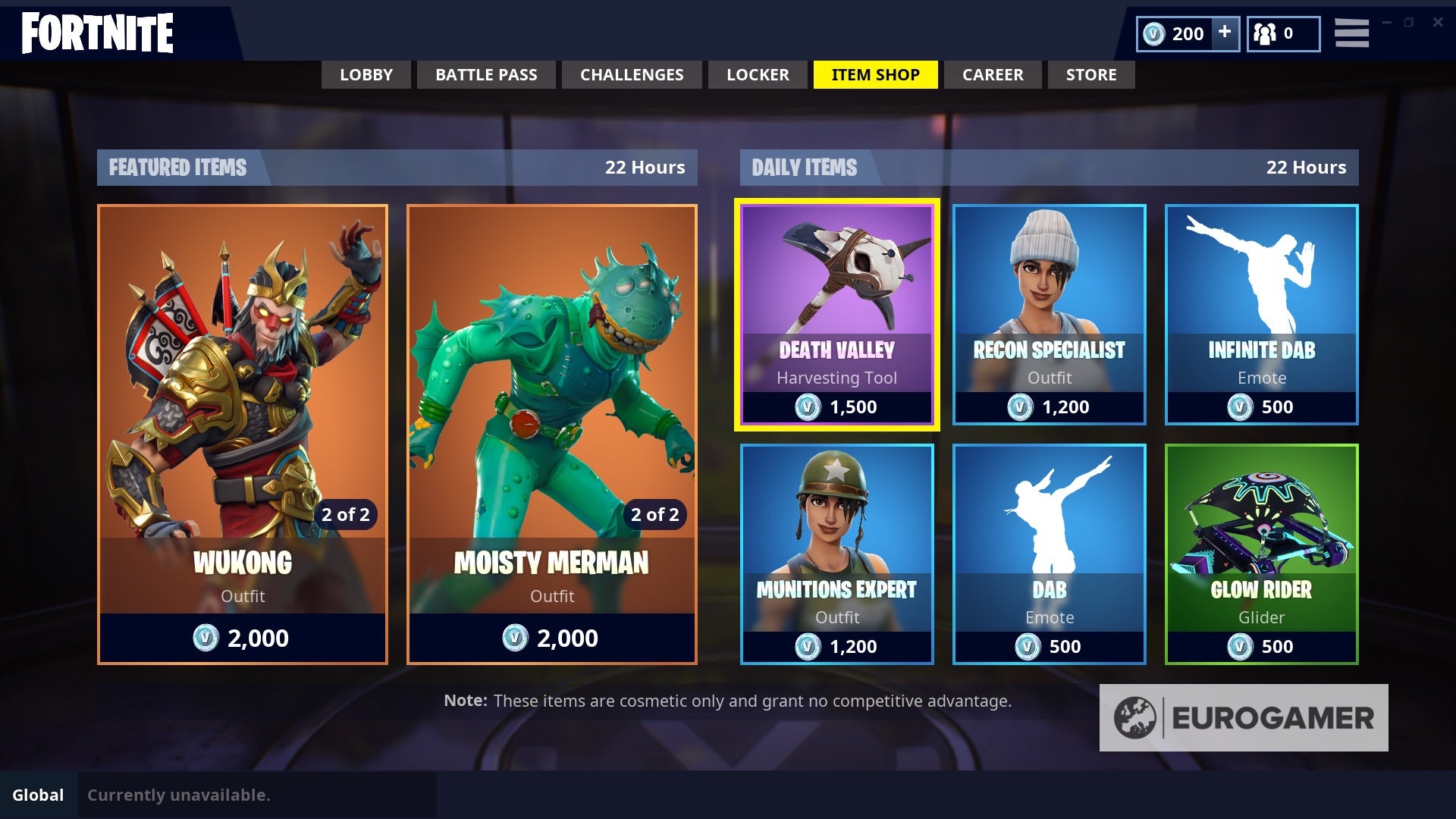 Featured Items (1 Day left): Wukong Outfit (2,000) + Royal Dragon Glider (2,000)
Featured Items (1 Day left): Moisty Merman Outfit (2,000) + Director's Cut Harvesting Tool (800)
Death Valley Harvesting Tool (1,500)
Munitions Expert Outfit (1,200)
Recon Specialist Outfit (1,200)
Dab Emote (500)
Infinite Dab Emote (500)
Glow Rider Glider (500)
Fortnite Item Shop update for July 30th: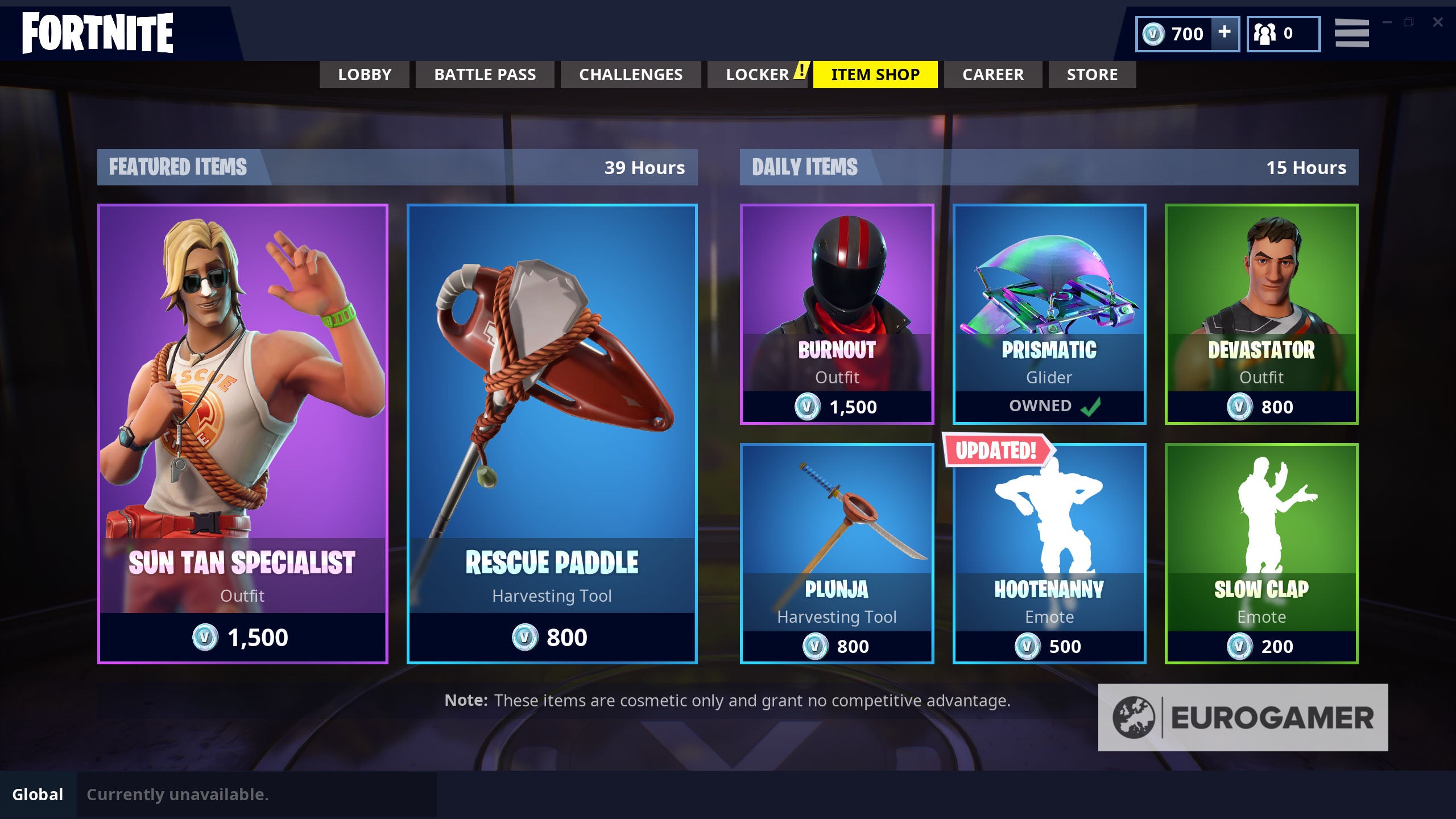 Featured Items (1 Days left): Sun Tan Specialist Outfit (1,500) + Rescue Paddle Harvesting Tool (800)
Burnout Outfit (1500)
Prismatic Glider (800)
Devastator Outfit (800)
Plunja Harvesting Tool (800)
Hootenanny Emote (500)
Slow Clap Emote (200)
Fortnite Item Shop update for July 29th: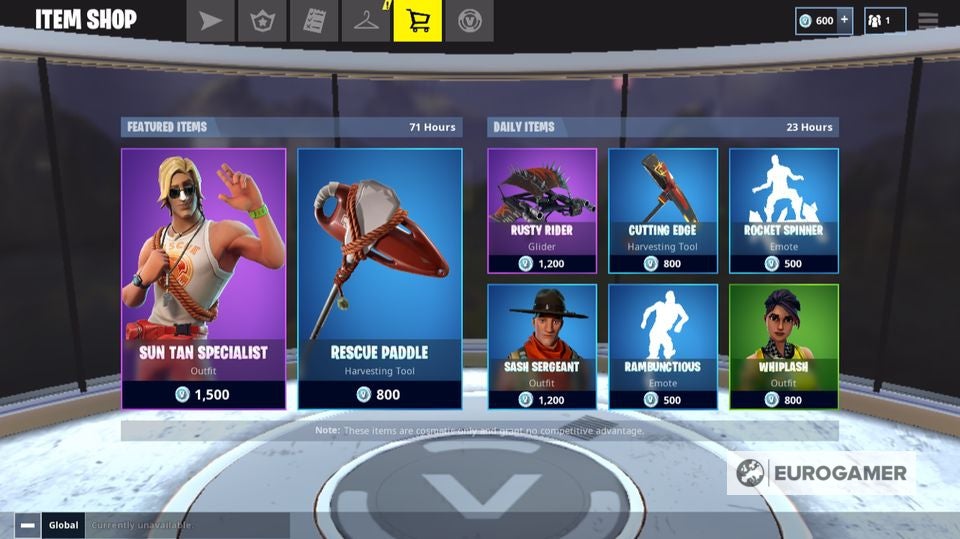 Featured Items (2 Days left): Sun Tan Specialist Outfit (1,500) + Rescue Paddle Harvesting Tool (800)
Rusty Rider Glider (1200)
Cutting Edge Harvesting Tool (800)
Rocket Spinner Emote (500)
Sash Sergeant Outfit (1200)
Rambunctious Emote (500)
Whiplash Outfit (800)
Fortnite Item Shop update for July 28th: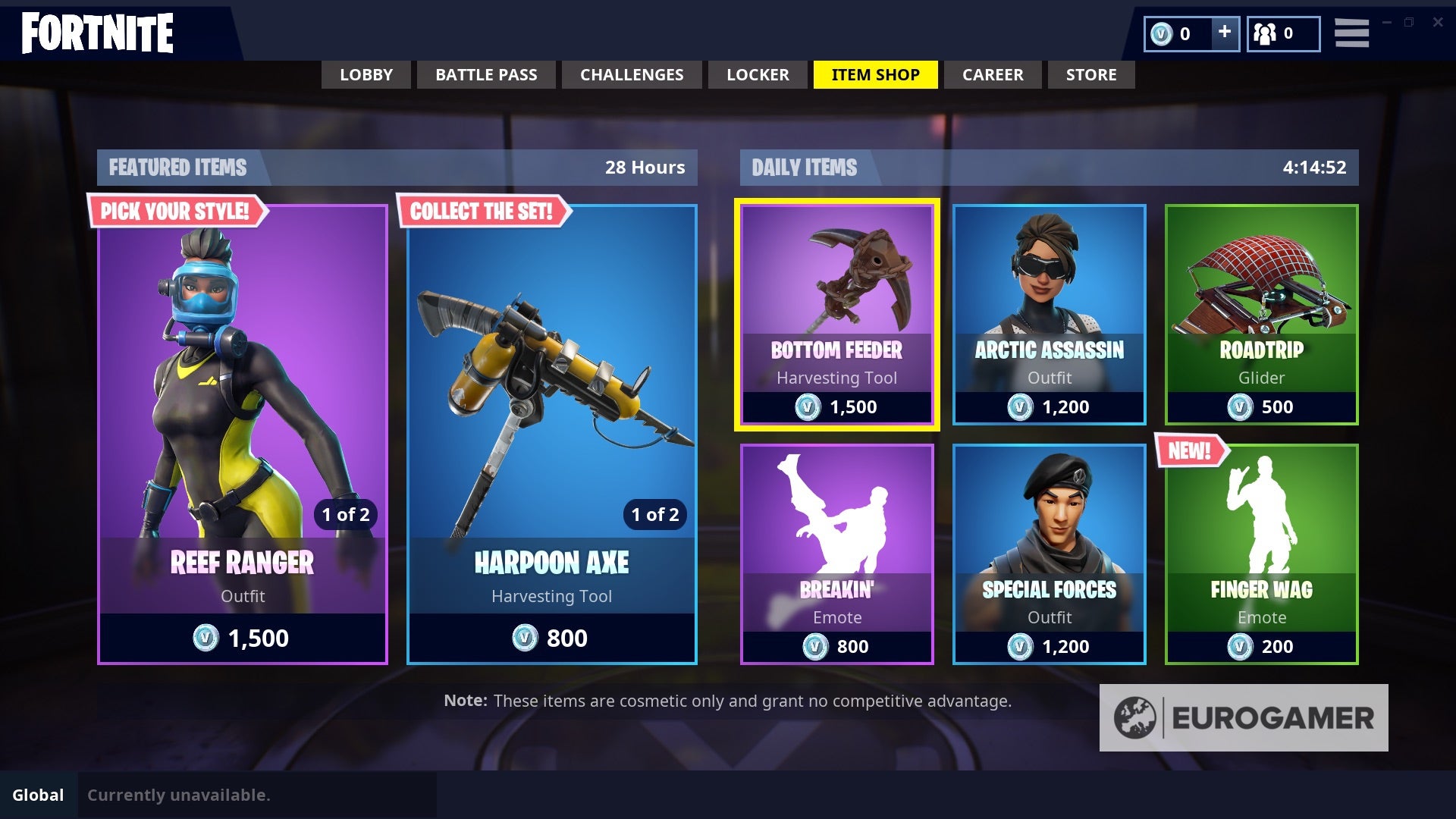 Featured Items (1 Days left): Reef Ranger Outfit (1,500) + Wreck Raider Outfit (1,500)
Featured Items (1 Days left): Harpoon Axe Harvesting Tool (800) + Laser Chomp Glider (1,500)
Bottom Feeder Harvesting Tool (1,500)
Breakin' Emote (800)
Arctic Assassin Outfit (1,200)
Special Forces Outfit (1,200)
Roadtrip Glider (500)
Finger Wag Emote (200)
Fortnite Item Shop update for July 27th: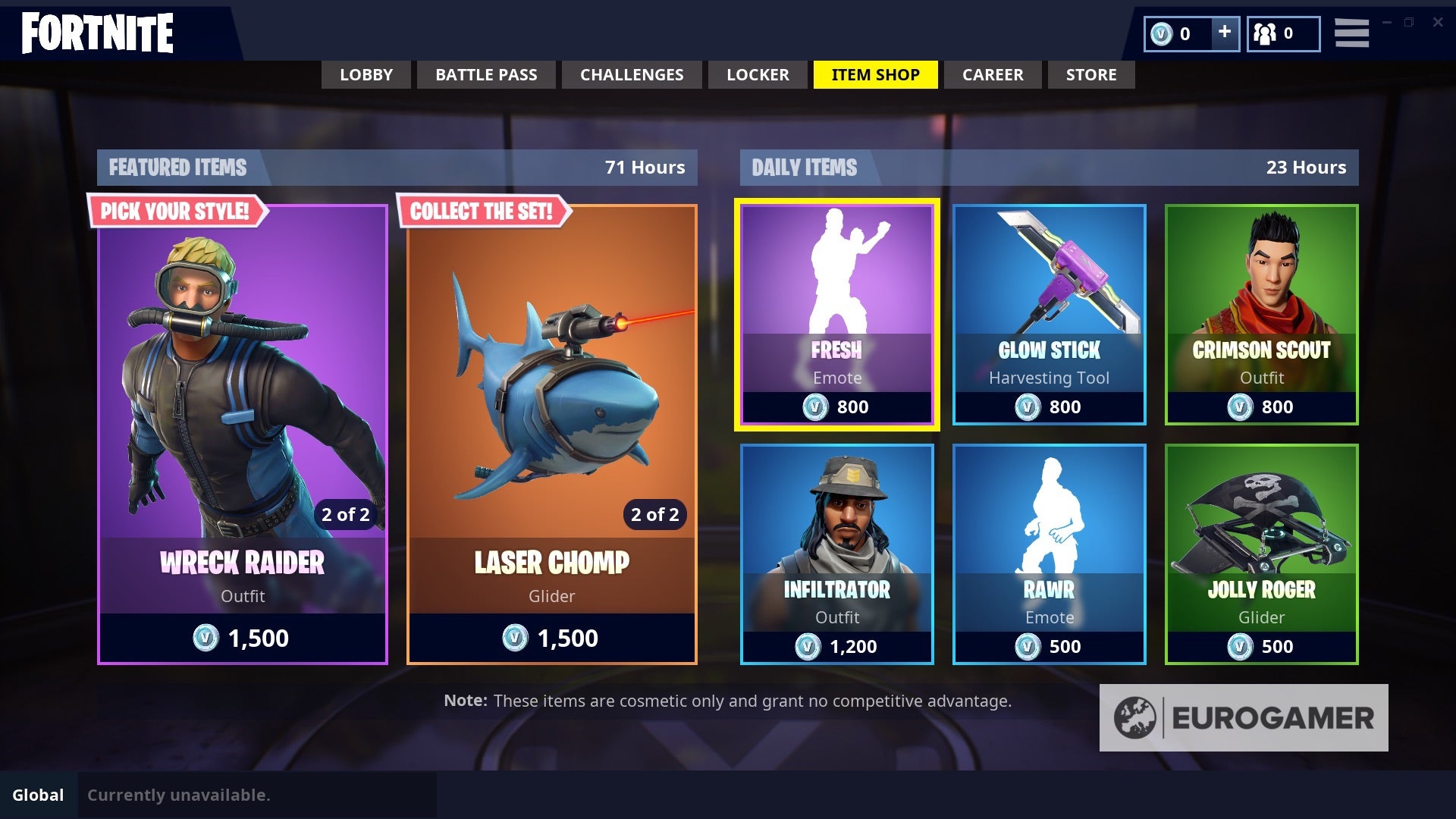 Featured Items (2 Days left): Reef Ranger Outfit (1,500) + Wreck Raider Outfit (1,500)
Featured Items (2 Days left): Harpoon Axe Harvesting Tool (800) + Laser Chomp Glider (1,500)
Fresh Emote (800)
Infiltrator Outfit (1,200)
Glow Stick Harvesting Tool (800)
Rawr Emote (500)
Crimson Scout Outfit (800)
Jolly Roger Glider (500)
Fortnite Item Shop update for July 26th: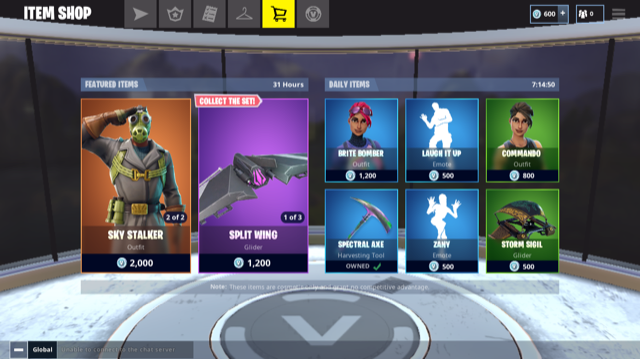 Featured Items (1 Day left): Sky Stalker Outfit (2,000) + Propeller Axe Harvesting Tool (800)
Featured Items (1 Day left): Fate Outfit (2,000) + Split Wing Glider (1,200) + Fated Frame Harvesting Tool (800)
Brite Bomber Outfit (1,200)
Spectral Axe Harvesting Tool (800)
Laugh It Up Emote (500)
Zany Emote (500)
Commando Outfit (800)
Storm Sigil Glider (500)
Fortnite Item Shop update for July 25th: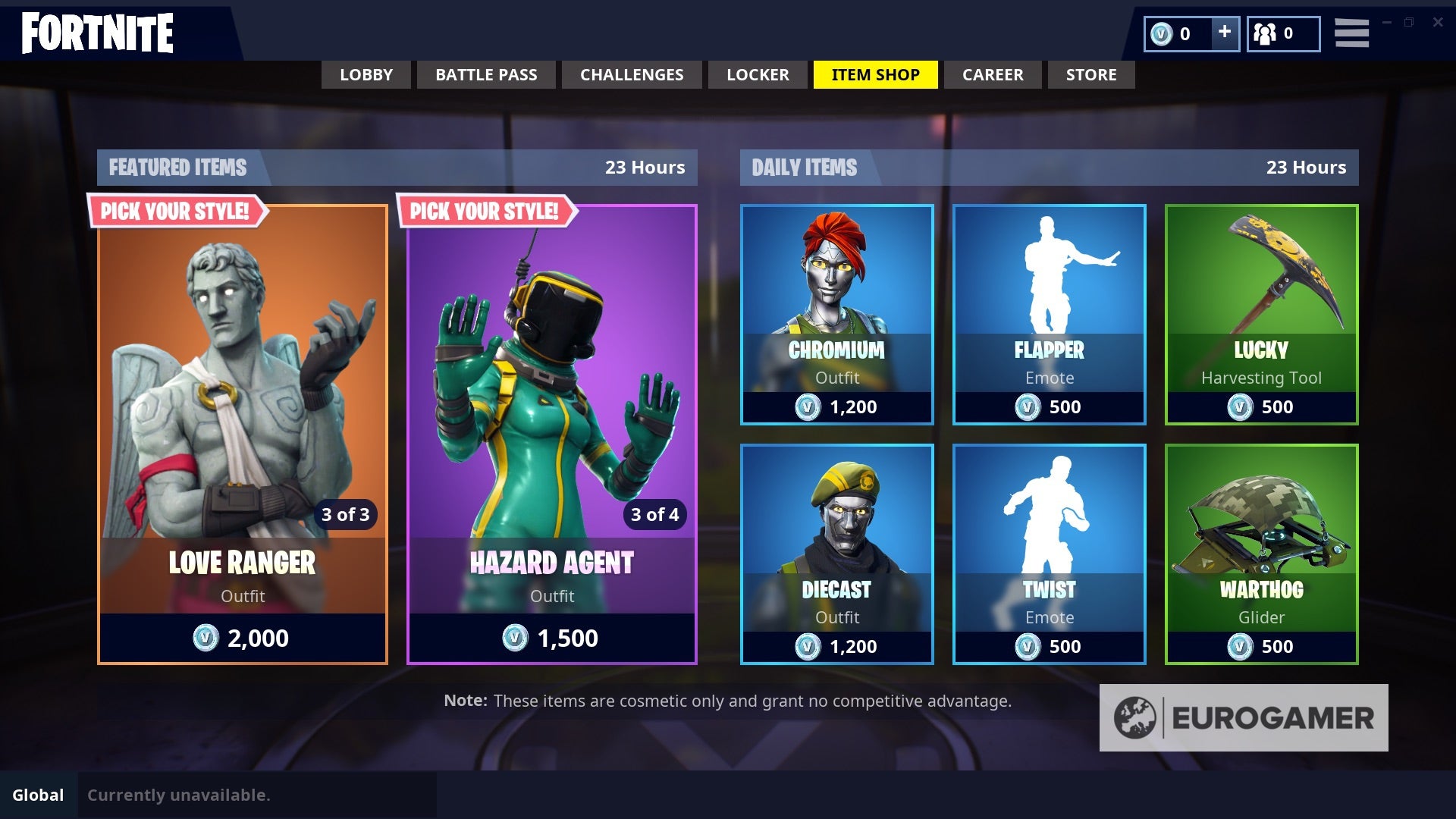 Featured Items (1 Day left): Love Ranger Outfit (2,000) + Cuddle Team Leader Outfit (2,000) + Tat Axe Harvesting Tool (800)
Featured Items (1 Day left): Toxic Trooper Outfit (1,500) + Hazard Agent Outfit (1,500) + Meltdown Glider (500) + Autocleave Harvesting Tool (800)
Chromium Outfit (1,200)
Diecast Outfit (1,200)
Flapper Emote (500)
Twist Emote (500)
Lucky Harvesting Tool (500)
Warthog Glider (500)
Fortnite Item Shop update for July 24th: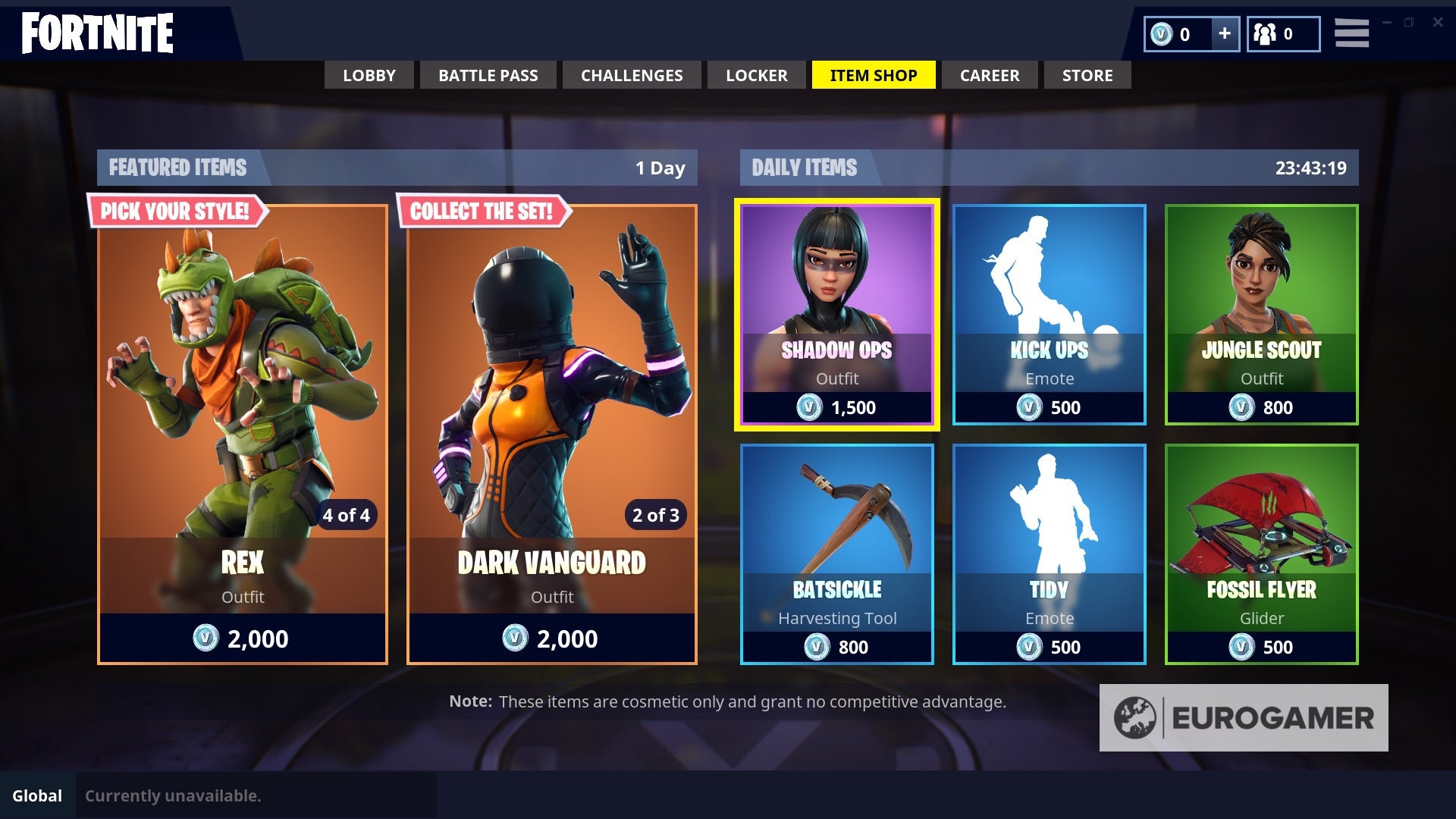 Featured Items (1 Day left): Rex Outfit (2,000) + Tricera Ops Outfit (2,000) + Pterodactyl Glider (1,200) + Bitemark Harvesting Tool (1,200)
Featured Items (1 Day left): Dark Vanguard Outfit (2,000) + Orbital Shuttle Glider (1,200) + Deep Space Lander Glider (1,200)
Shadow Ops Outfit (1,500)
Kick Ups Emote (500)
Jungle Scout Outfit (800)
Batsickle Harvesting Tool (800)
Tidy Emote (500)
Fossil Flyer Glider (500)
Fortnite Item Shop update for July 23rd: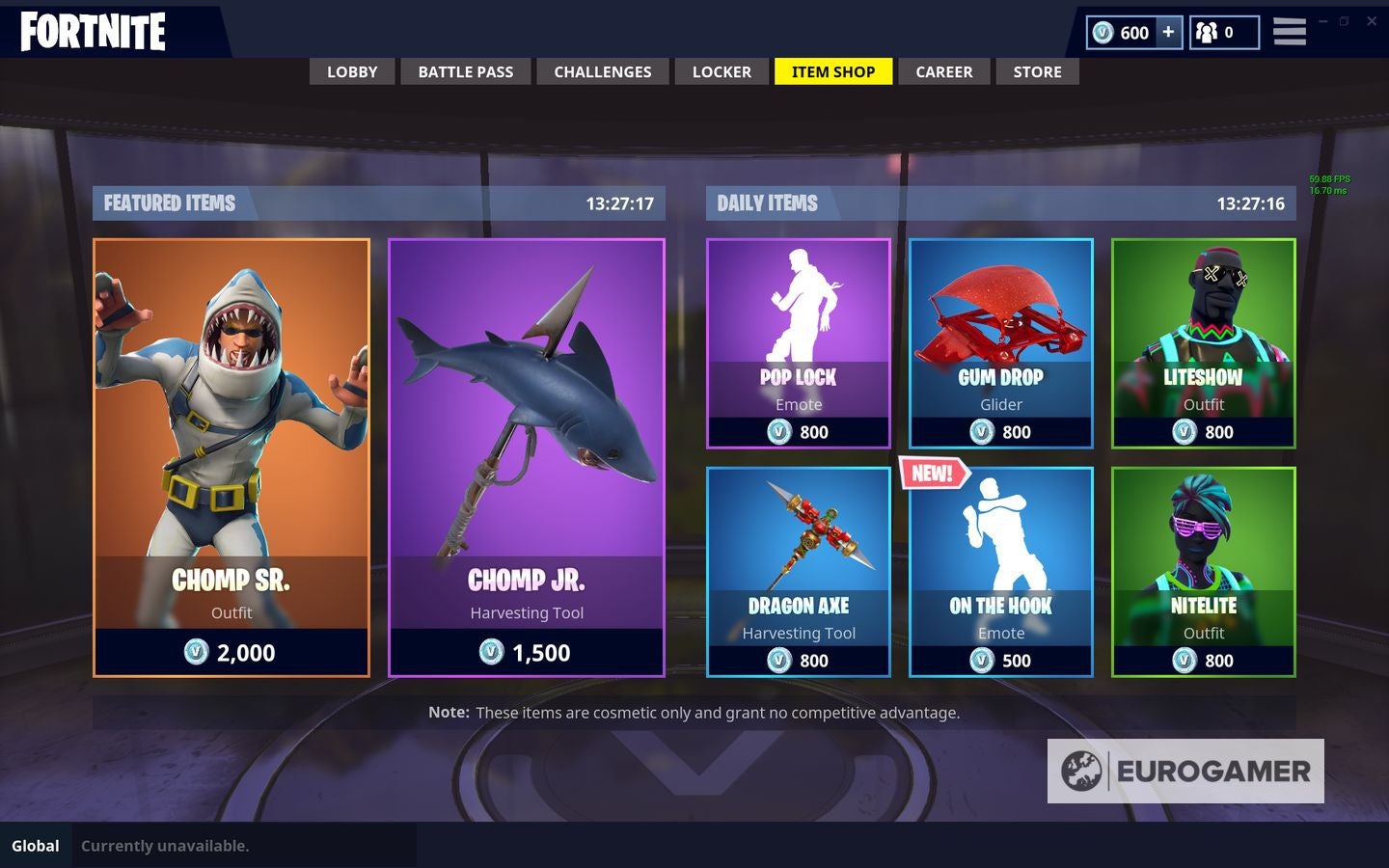 Featured Items (1 Day left): Chomp Sr. (2000) + Chomp. Jr (1,500)
Pop Lock Emote (800)
Gum Drop Glider (800)
Liteshow Outfit (800)
Dragon Axe Harvesting Tool (800)
On The Hook Emote (500)
Nitelite Outfit (800)
Fortnite Item Shop update for July 22nd: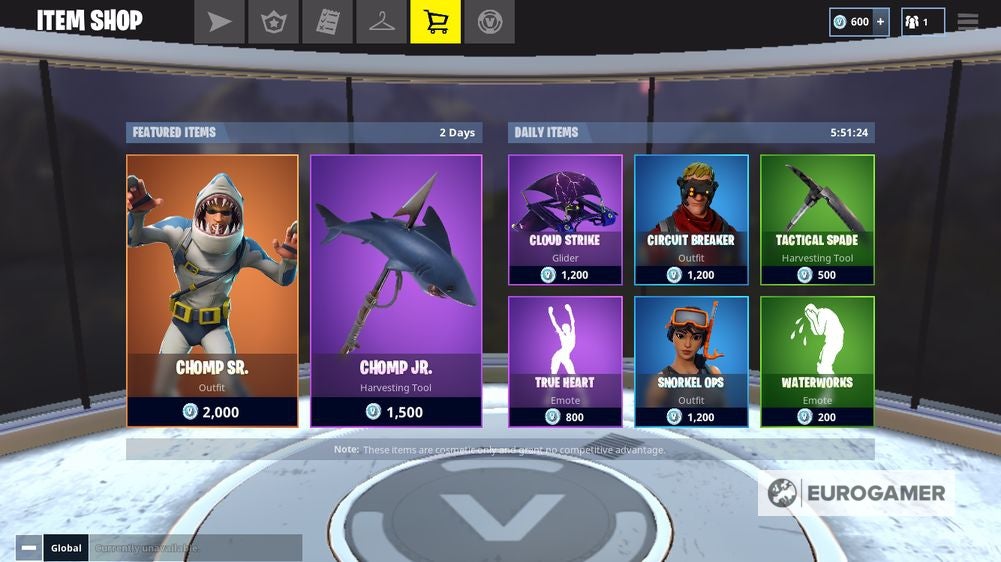 Featured Items (2 Days left): Chomp Sr. (2000) + Chomp. Jr (1,500)
Cloud Strike Glider (1,200)
Circuit Breaker Outfit (1,200)
Tactical Spade Harvesting Tool (500)
True Heart Emote (800)
Snorkel Ops Outfit (1,200)
Waterworks Emote (200)
Fortnite Item Shop update for July 21st: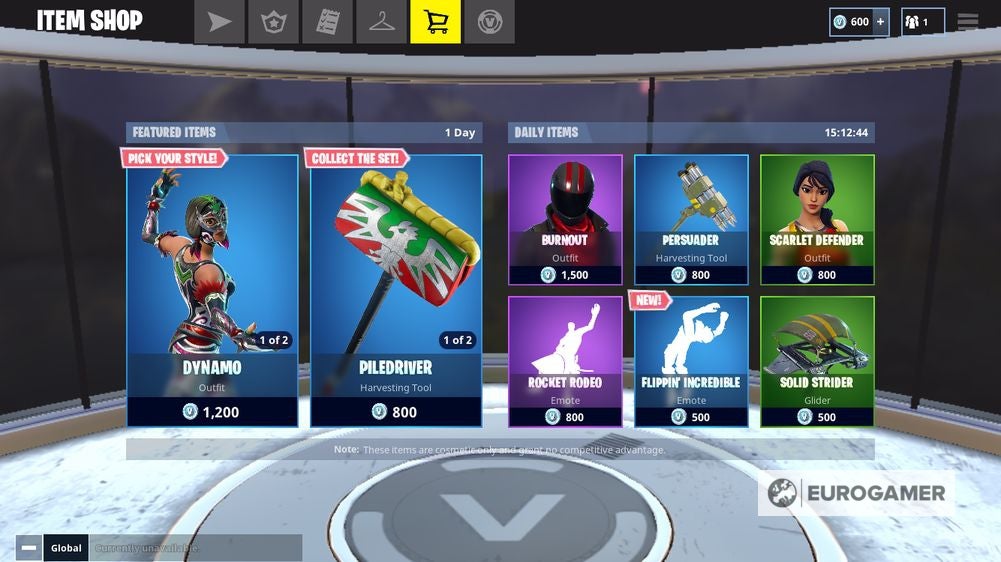 Featured Items (1 Day left): Masked Fury Outfit (1,200) + Libre Glider (800)
Featured Items (1 Day left): Dynamo Outfit (1,200) + Piledriver (800)
Burnout Outfit (1,500)
Persuader Harvesting Tool (800)
Scarlet Defender Outfit (800)
Rocket Rodeo Emote (800)
Flippin' Incredible Emote (500)
Solid Strider Glider (500)
Fortnite Item Shop update for July 20th: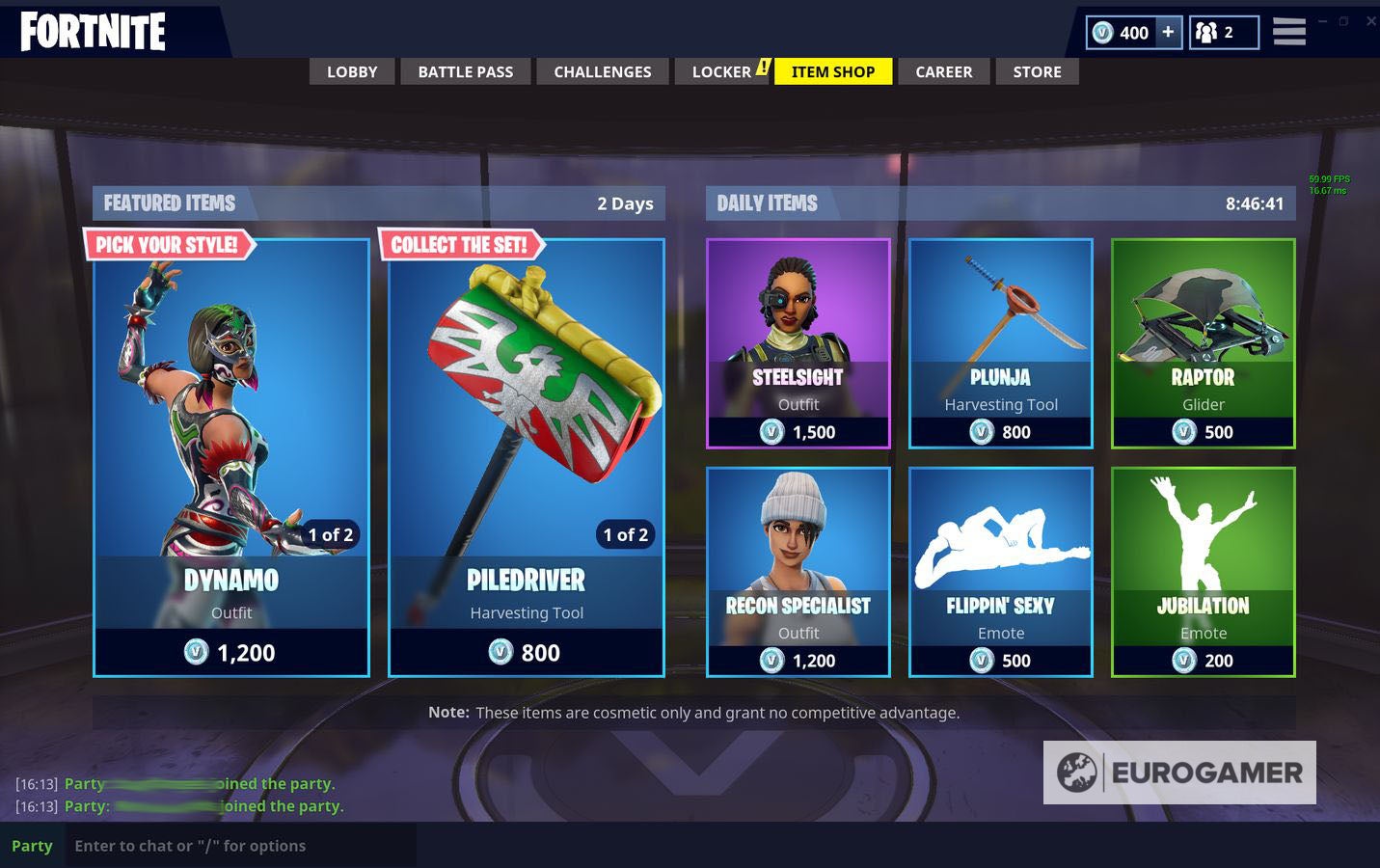 Featured Items (1 Day left): Masked Fury Outfit (1,200) + Libre Glider (800)
Featured Items (1 Day left): Dynamo Outfit (1,200) + Piledriver (800)
Steelsight Outfit (1,500)
Plunja Harvesting Tool (800)
Raptor Glider (500)
Recon Specialist Outfit (1,200)
Flippin' Sexy Emote (500)
Jubilation Emote (200)