Fortnite Giant Umbrella locations explained: Where to bounce off a giant beach umbrella in different matches in Fortnite
Where to visit Giant Beach Umbrella locations in Fortnite.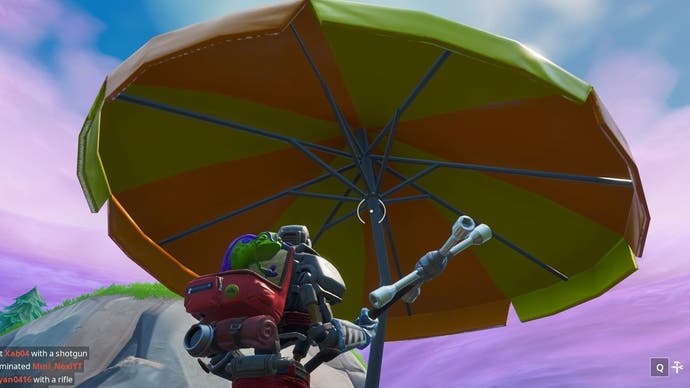 Finding Giant Beach Umbrella locations is one of many Fortnite Challenges to complete.
It tasks you with bouncing off Giant Beach Umbrellas that are placed somewhere on the map. You have to find any one of these across five different matches to complete the Challenge.
---
Note this particular challenge is no longer able to be completed. What's new? Chapter 4 Season 2 has arrived! New additions include the Grind Rails and Kinetic Blades, along with the new Battle Pass, character collection and Eren Jaeger skin. It's a good idea to know how to get XP fast in Fortnite.
---
Fortnite Giant Beach Umbrella locations
Compared to other challenges in the 14 Days of Summer event, finding Giant Beach Umbrellas isn't too difficult - they are visible from the Battle Bus, thanks to their height of around 3-4 times your character, and being bright yellow.
Here are the Fortnite Giant Beach Umbrella locations at a glance: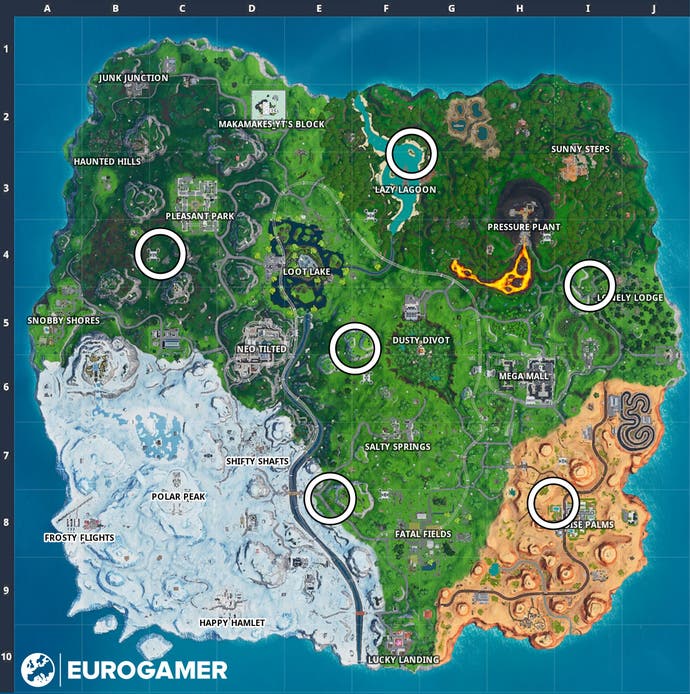 The Fortnite Giant Beach Umbrella locations are:
On an island just north of Lazy Lagoon
Next to the Sky Platform south-west of Pleasant Park
On the mountain west of Dusty Divot
West of Lonely Lodge, at the foot of a mountain
South-west of Salty Springs
Just north-west of Paradise Palms
The challenge is visit any of these five over the course of five different matches - if you like, you can visit the same one five times, and it'll count each time.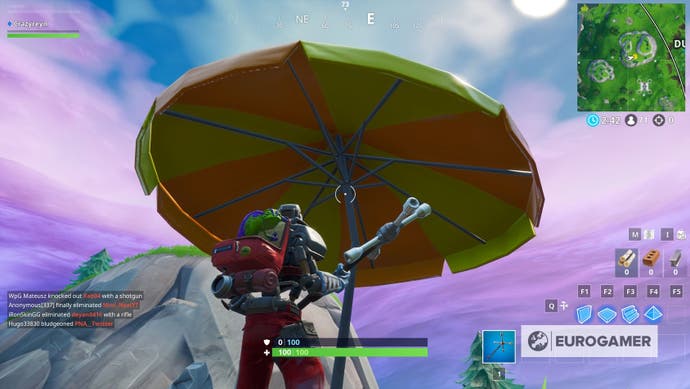 What else you need to know about Fortnite Giant Beach Umbrella locations
To bounce from a Giant Beach Umbrella, you have to drop onto it from above. Doing so then adds one to your challenge total for that match.
Considering their height, there are only a few ways to get on top of them. The most viable is to drop in from the Battle Bus; you should see them easily from a distance, so zero in on one at the start of the match, bounce off, and continue playing as normal.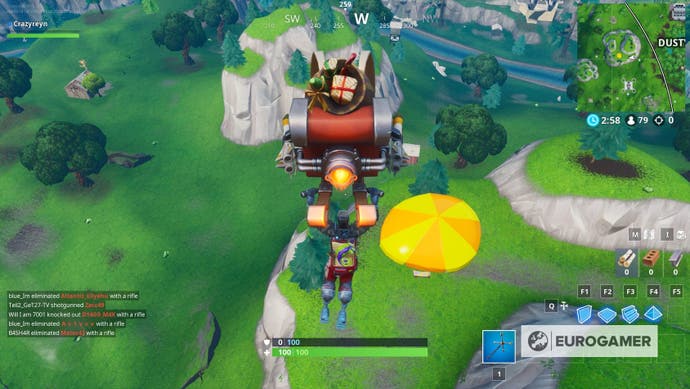 Otherwise, you may have to consider building up the side then leaping off, or in the case of certain Umbrella locations, you can use the Sky Platforms as a means of floating up and onto them.
Looking for more help with the 14 Days of Summer event? All our pages in one place:
Remember to get these done fast. Fortnite Season 10 is almost upon us!
All done? There are more Fortnite Challenges and Fortbyte locations to complete.
---
Fortnite Chapter 4 Season 4 is here! To help you get started with this heist themed season, we have guides on how to alert a Securitry Camera, secure data from Forecast Towers and destroy weakened walls or security gates. There's also a new Victory Umbrella! Meanwhile, learn what the best weapons are, the current Augments, how to get XP fast, use the best PC settings and earn a Victory Crown.
---