UK Top 40: FIFA 12 back top while Lollipop Chainsaw scores fourth
Vita-exclusive Gravity Rush lands 11th.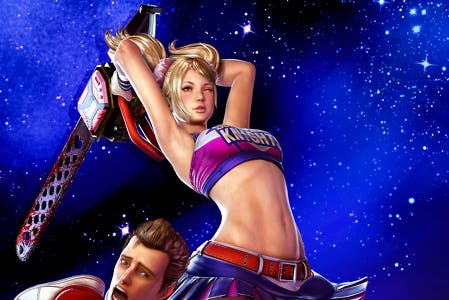 Bonkers zombie-killer Lollipop Chainsaw has sliced into the UK all-format charts in fourth place.
FIFA 12, fuelled by Euro 2012 mania, shot back up into first place.
9/10 PlayStation Vita puzzler Gravity Rush managed an 11th place finish, despite chart company Chart-Track only counting physical sales of the game (it also launched as a download on PlayStation Network last Friday).
Nintendo 3DS online dungeon crawler Heroes of Ruin, last week's other new release, missed the top 40. It turned up in fifth place on the 3DS-specfic software chart.
Tom Clancy's Ghost Recon fell to second place, ahead of Max Payne 3 in third. Battlefield 3 was fifth, Diablo 3 was sixth. Game of Thrones, Sniper Elite V2, Mario & Sonic London Olympics and DiRT Showdown also scored top 10 finishes.
The full chart lies below.
| This Week | Last Week | Title | Platform(s) |
| --- | --- | --- | --- |
| 1 | 3 | FIFA 12 | PS3, Xbox 360 |
| 2 | 1 | Ghost Recon: Future Soldier | PC, PS3, Xbox 360 |
| 3 | 2 | Max Payne 3 | PC, PS3, Xbox 360 |
| 4 | New entry | Lollipop Chainsaw | PS3, Xbox 360 |
| 5 | 4 | Battlefield 3 | PC, PS3, Xbox 360 |
| 6 | 22 | Diablo 3 | Mac, PC |
| 7 | 6 | Game of Thrones | PC, PS3, Xbox 360 |
| 8 | 5 | Sniper Elite V2 | PS3, Xbox 360 |
| 9 | 9 | Mario & Sonic: London 2012 Olympic Games | Wii |
| 10 | 10 | DiRT Showdown | PS3, Xbox 360 |
| 11 | New entry | Gravity Rush | Vita |
| 12 | 11 | Assassin's Creed: Revelations | PC, PS3, Xbox 360 |
| 13 | 8 | FIFA Street | PS3, Xbox 360 |
| 14 | 7 | Call of Duty: Modern Warfare 3 | DS, PC, PS3, Wii, Xbox 360 |
| 15 | 17 | Tiger Woods PGA Tour 13 | PS3, Xbox 360 |
| 16 | 12 | Dragon's Dogma | PS3, Xbox 360 |
| 17 | 16 | Skylanders: Spyro's Adventure | 3DS, PS3, Wii, Xbox 360 |
| 18 | 14 | Call of Duty: Black Ops | PC, PS3, Wii, Xbox 360 |
| 19 | 13 | Mass Effect 3 | PC, PS3, Xbox 360 |
| 20 | 26 | Batman: Arkham City | PS3, Xbox 360 |
| 21 | 24 | Rayman Origins | PS3, Wii, Xbox 360 |
| 22 | 19 | Just Dance 3 | Wii, Xbox 360 |
| 23 | 21 | The Elder Scrolls 5: Skyrim | PC, PS3, Xbox 360 |
| 24 | 25 | Kinect Star Wars | Xbox 360 |
| 25 | 18 | Saints Row: The Third | PC, PS3, Xbox 360 |
| 26 | Re-entry | Sonic Generations | 3DS, PS3, Xbox 360 |
| 27 | 37 | Moshi Monsters: Moshling Zoo | DS |
| 28 | 30 | Forza Motorsport 4 | Xbox 360 |
| 29 | 29 | Football Manager 2012 | PC, PSP |
| 30 | 34 | Super Mario 3D Land | 3DS |
| 31 | 39 | Mario Kart 7 | 3DS |
| 32 | 28 | Final Fantasy 13-2 | PS3, Xbox 360 |
| 33 | 23 | WWE '12 | PS3, Xbox 360 |
| 34 | 35 | Mario Kart Wii | Wii |
| 35 | Re-entry | Lego Pirates of the Caribbean | DS, 3DS, PS3, Wii, Xbox 360 |
| 36 | 15 | Prototype 2 | PC, PS3, Xbox 360 |
| 37 | 27 | Mario Tennis Open | 3DS |
| 38 | 38 | Sniper: Ghost Warrior | PC, PS3, Xbox 360 |
| 39 | 36 | Grand Theft Auto Episodes - Liberty City | PS3, Xbox 360 |
| 40 | 33 | Skate 3 | PS3, Xbox 360 |